News & Tours
PGA Tour plans to counter rival tour with lucrative series for top players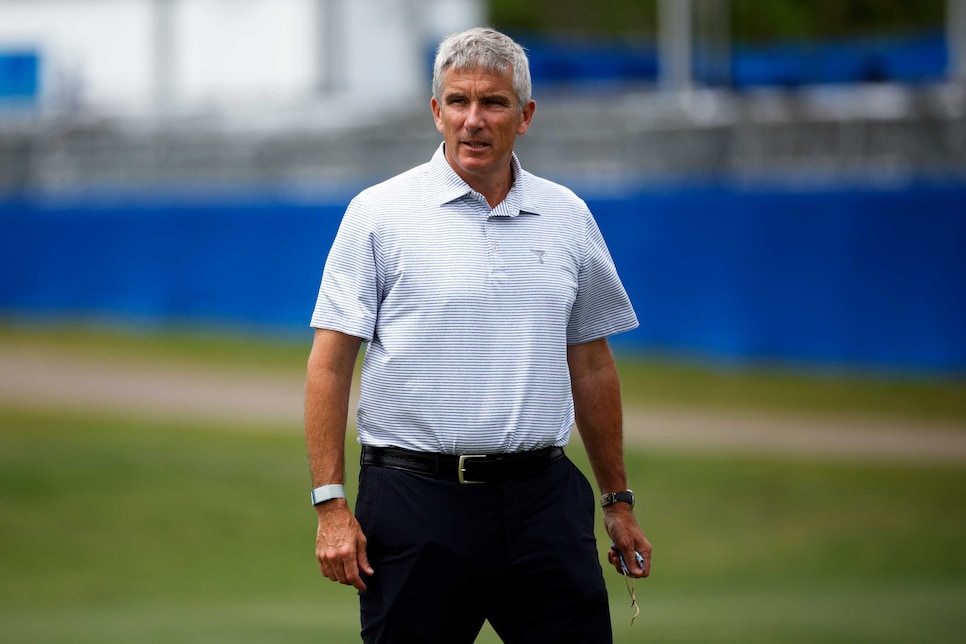 PGA TOUR Commissioner Jay Monahan looks on during a pro-am prior to the Zurich Classic of New Orleans in April.
Chris Graythen
PGA Tour players were informed of wholesale changes to the tour schedule and FedEx Cup that will begin in the fall of 2023, according to multiple players present at a mandatory meeting ahead of this week's Travelers Championship in Cromwell, Conn.
Starting next year, the PGA Tour schedule will include eight limited-field no-cut events, with purses of $20 million or more each, for the top 50 finishers in the prior season's FedEx Cup standings. Some of those events will be in the heart of the season, while others will be in the fall. Those outside the top 50 will compete in an alternate series of tournaments, where they will fight to keep their cards and earn better status for the following season. This change in structure would happen in conjunction with the tour returning to a season based on the calendar year, something Golf Digest has reported was being considered. The tour switched from a calendar-based schedule to a wraparound campaign in 2013-14.
That was one of few tangible takeaways from a meeting that lasted 90 minutes and, according to those in attendance, featured far more questions than answers. PGA Tour commissioner Jay Monahan spoke for about 30 minutes and reiterated his belief that the PGA Tour is in a great position. He described the tour as "under attack" but assured players that they are "strong when we are united," and that the tour has long-standing strong relationships with its corporate partners.
Monahan did acknowledge that the LIV Golf series had applied for Official World Golf Ranking points. Whether they receive those will be up to the eight-person board of the OWGR, which includes Monahan, DP World Tour CEO Keith Pelley, along with representatives from the USGA, R&A, PGA of America, Augusta National Golf Club and the International Federation of PGA Tours. The OWGR board is chaired by Peter Dawson, the former CEO of the R&A.
The OWGR question is seen as a sizable domino in the ever-shifting landscape of professional golf. There will be a significant waiting period while the board decides to give points for LIV Golf events. Should they rule against doing so, and the PGA Tour's suspension of LIV players holds up in court—players at the meeting were told that the PGA Tour's lawyers feel good about their position—the only chance LIV players will have to earn World Ranking points will be the major championships. And those opportunities will become scarce, as the OWGR is used to fill out major fields beyond those already exempt.
PGA Tour officials acknowledged talk of further integration between the PGA Tour and the DP World Tour, which sources have told Golf Digest is under consideration from both sides, but discuss in any detail. The DP World Tour has also received significant pressure from its rank-and-file members to engage with LIV Golf, for they see the DPWT as the loser in a tit-for-tat battle between the PGA Tour and LIV.
The DPWT question is, however, expected to be discussed at length at a PGA Tour policy board meeting slated for Tuesday afternoon. Monahan will give a press conference from the Travelers on Wednesday at 1 p.m.