Takeaways
Chesson Hadley's 'sweet girl' putter, DJ's faulty glove and Brooks Koepka makes another early exit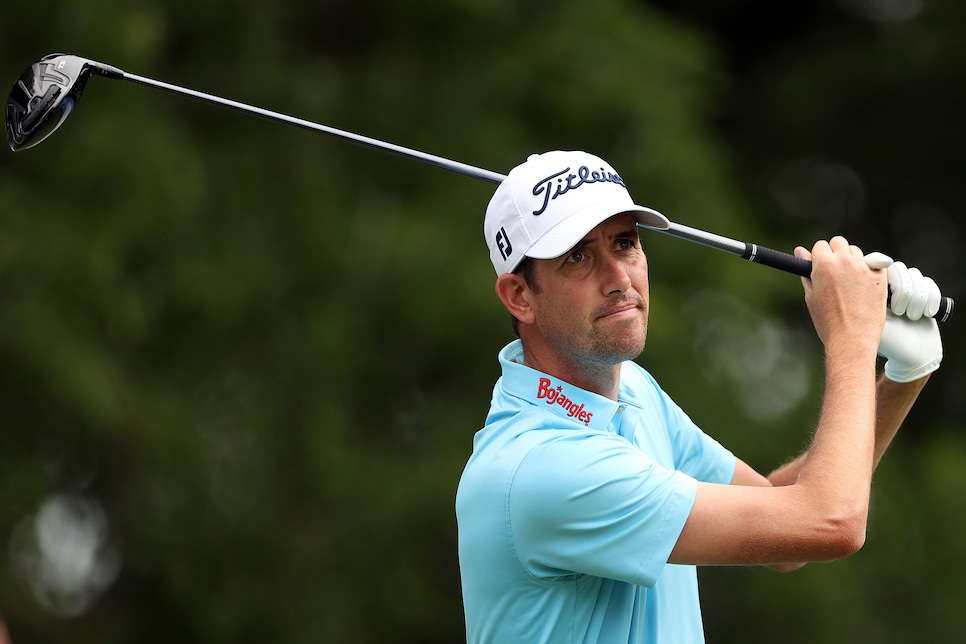 Chesson Hadley hits his tee shot on the second hole during round one of the AT&T Byron Nelson.
Matthew Stockman
Chesson Hadley cracked himself up. After taking the solo lead at 11 under by backing up a first-round 65 with a 66 on Friday in the Palmetto Championship, he was describing how hot he's been with his putter. "So, if I can just keep riding the putter—she's a sweet girl. So, I'll just ride her until … you know."
While trying to answer the next question, he paused and laughed. "I'm just kind of thinking about that last comment I made now," he said. "Use that. Absolutely."
There you go Chesson. It's for all the world to see now.
There was actually a sweet story behind the putter, which he and his caddie have dubbed "Nana Jr." He had one putter he named "Nana" after his grandmother. He said she passed away earlier this year, and when he went to another putter, he still had to honor her.
"She is just like the most lovely and sweet, kind woman," Hadley said. "That's how I want my putter to be—lovely and sweet and kind, right? She's just good to you, right? So, she's Nana."
Hadley, 33, was in an extremely good mood after coming out of some dark days of late. His first 36-hole lead ever comes after he's missed 12 cuts in 18 starts this year, including five straight from mid-April to this week. He took three weeks off after the Byron Nelson and came back rejuvenated.
"You don't believe you can do that during your midst of five missed cuts," Hadley said. "You don't, I promise you. I was thinking about a lot of other things other than golf.
"But I have done this before. I have won on the PGA Tour [2014 Puerto Rico Open]. I've won golf tournaments over my career. When you start playing well, you remember those things, and I'm starting to get some feels like that again. Obviously, we're a long way from the winner's circle, and that's not what I'm saying. I'm so thankful to just feel that again, like I belong out here type of thing."
It hasn't been Hadley's putter that's the problem. He ranks 14th on tour in strokes gained on the greens. But he's 187th in SG/off-the-tee and 192nd in SG/tee-to-green.
Hadley is one of those guys whom the more you hear talk, the more you'd like to see more of him. He had a fantastic description on the vagaries of the game.
"Sometimes the ball just looks different," he said. "You haven't done anything, and you just wake up one day, and it just looks different for some reason. That just changes everything."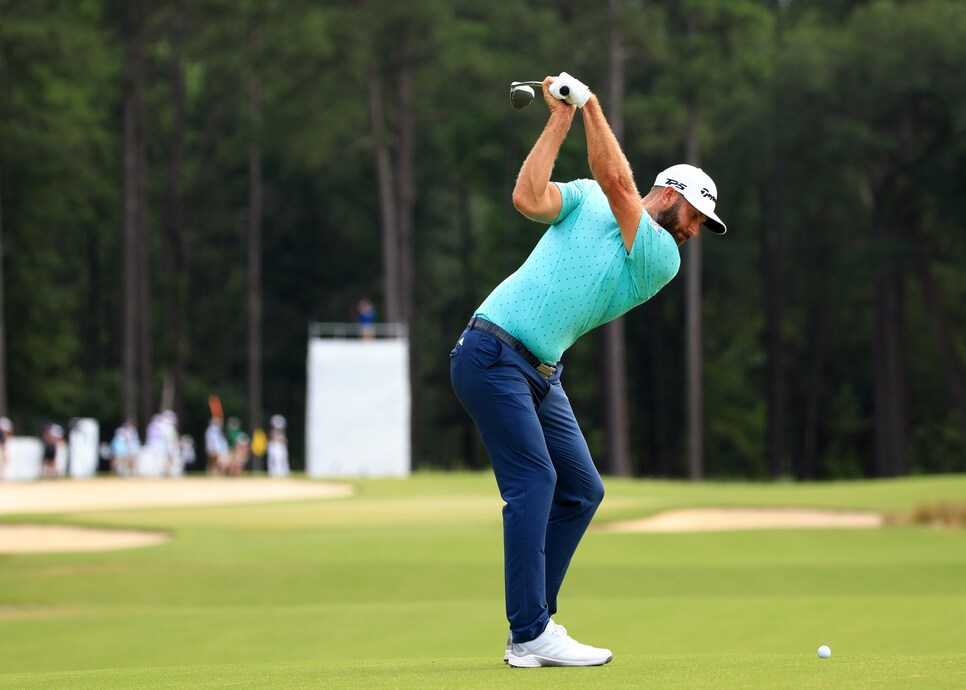 Dustin Johnson plays his shot from the 12th fairway during the second round of the Palmetto Championship.
Mike Ehrmann
Three more takeaways from Round 2 of the Palmetto Championship:
Dustin Johnson seemed a whole lot better off than J.T. Poston. When a short but torrential rain shower arrived in the second round, Johnson stood calmly at No. 14 under an umbrella while Poston got soaked because his caddie didn't pack a jacket or umbrella. By the time the shower was over, Johnson was back to putting in sunshine.
All good, right? Not exactly. Apparently, DJ's glove—and maybe his 3-iron grip—got just wet enough that when he hit his tee shot on the par-4 18th, his hand slipped. The ball shot left, and in another glitch of back luck, it ended up in an unplayable lie in one of the few bushes on the hole. Johnson had to take a drop, missed the green and ended up making a double-bogey 6 that dropped him two shots back of Hadley.
It was an ugly finish for DJ, who also missed a 6-foot birdie putt at 17 and finished with a 68.
Still, the World No. 1 clearly is the favorite this weekend to win for the first time ever in his home state of South Carolina. Hadley has only one win in his career, and there are bunch of journeymen or young guys behind them whose career wins combined don't add to DJ's 24.
Another early exit for Koepka in a 'rep'
It's not as if Brooks Koepka is trying to miss cuts. Or that it doesn't eat at him. It's just that, clearly, he can't quite find a way to get his mind right for regular PGA Tour events the way he does the majors.
After shooting 72-73 at Conagree, Koepka has another weekend off, and it's becoming a bit too much of a trend. Koepka now has missed six cuts this season—the most in a single campaign in his career. And though he termed this week as a 'rep" for next week's U.S. Open test at Torrey Pines, it sure seems like he'd want to get more competitive work in.
And let's be mindful of Brooks' career record: eight PGA Tour wins, four of which have come in majors (two in U.S. Open, two in PGA Championship). Though we also should note that the last regular victory was not long ago, in February in Phoenix.
Koepka, making his first start after tying for second in the PGA at Kiawah Island, didn't shy away from the discussion on Friday.
"I don't know, I just have a harder time focusing in regular PGA Tour events than I do majors," he said. "Majors, I know I'm locked in from the moment I hit the first tee shot. Even walking from the first tee shot to the ball, my head is still going on what I need to do. Out here I kind of lose focus for a little bit.
"I've got to figure it out. That's why I struggle, I think, in regular events. It's the focus and the energy, the excitement level just isn't there when it would be in a major. It's different. I thrive off that bigger stage, that big moment where there's a bunch of fans and a tough golf course. I love it.
"I mean, this golf course is tough enough. It's firm. It's blowing. You know, just needed to be better."
For those concerned about the state of Koepka's surgically repaired knee heading into Torrey Pines, he said "it's in a really good spot."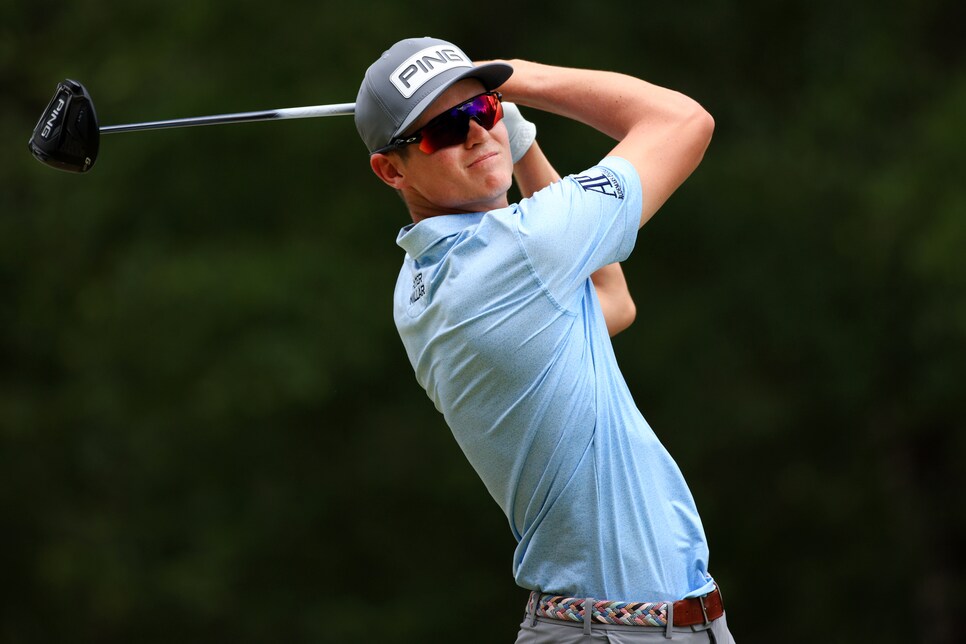 Wilco Nienaber plays his shot from the 12th tee during the second round of the Palmetto Championship.
Mike Ehrmann
"I like where it's at," he said. "I've done enough rehab, strength's coming around. I mean, I can almost squat down to read a putt like normal. Didn't do it too much this week just because I don't want to screw it up for next week."
Bomber Wilco Nienaber is hanging around
Wilco Nienaber's driving stats produce outright laughter because they're so ridiculous. The 21-year-old South African is making his PGA Tour debut this week, and in his first round at Congaree, he shot 68. He led the field in SG/off-the-tee on Thursday and average 340 yards—14 more than No. 2 Jhonattan Vegas.
Nienaber already has won on the Sunshine Tour, but he's most famous for one shot—a 439-yard drive in the European Tour's 2020 Joburg Open.
Playing really late in the day in the second round, Nienaber wasn't backing off. He started on the back nine, opened with a bogey, but turned it around with two birdies and ended up shooting even-par going out. Then he got on a heater starting at No. 1, going birdie-birdie-eagle.
According to the tour's ShotLink, Nienaber hit his drive at the first 346 yards into a waste bunker. And then from basically pin-high to the right, he holed out a wedge from 75 feet for a 2. At that point, he was seven under for the tournament. He stood at the number through 15 holes until making a bogey at his 16th hole, when play was suspended by weather. Nienaber was five shots behind Hadley and three back of Johnson.
Nienaber, ranked 143rd in the world, got into the field this week on a sponsor's exemption after quaifying for next week's U.S. Open.