Takeaways
Scott Stallings gets a boost from old sticks, J.T. Poston eyes going wire-to-wire and Emiliano Grillo enjoys a late surge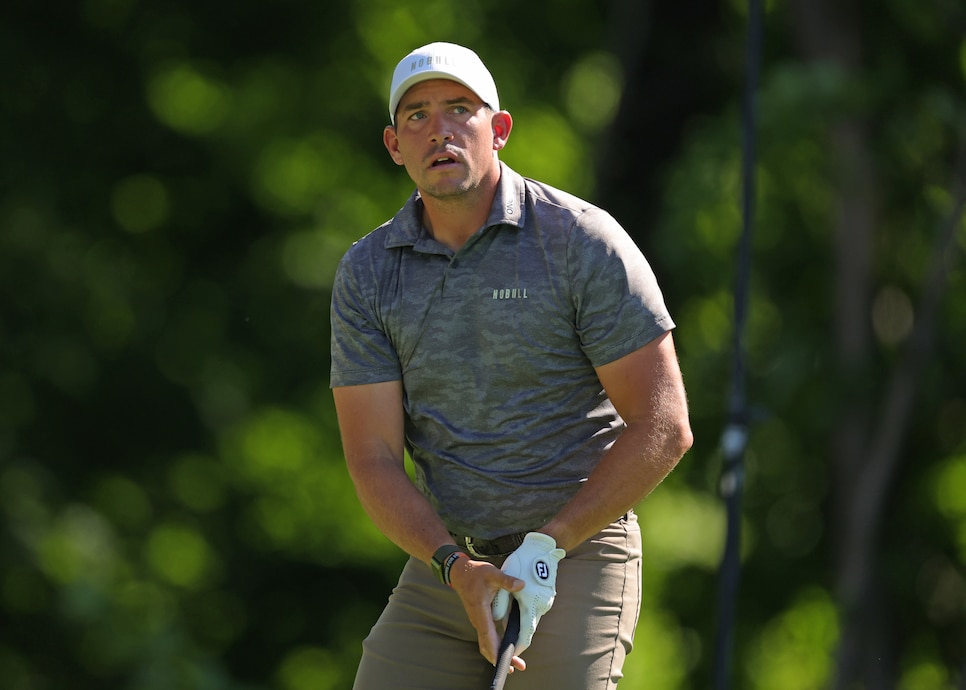 Scott Stallings watches his tee shot on the second hole during the first round of the John Deere Classic.
Stacy Revere
The overnight postage bill must have been outrageous. The results, though, have been equally astounding.
In working with PGA Tour stats guru Hunter Stewart, Scott Stallings got a rather blunt assessment: His mid-iron game, with a set of clubs he'd been playing for more than a year, had badly deteriorated. To wit: Last season, Stallings ranked 40th on the tour in greens in regulation; this year, he's 148th.
"Where is your old set of irons?" was Stewart's question.
That's all Stallings needed. Early last week, he called a friend at home and asked him to retrieve the old sticks. There were three sets to choose from, so the friend shipped all of them. Stallings didn't even get a chance to hit them before taking to the course in the first round of the Travelers Championship. He opened with a 74, but then reeled off scores of 64-68-63 to finish tied for eighth.
The quick success was no fluke. This week in the John Deere Classic in Silvis, Ill., Stallings opened with 67-66 and on Saturday birdied Nos. 15-17 to shoot seven-under-par 64 and stand in a three-way tie for second at 16 under, three shots behind leader J.T. Poston.
Stallings, 37, heads into the final round on Sunday at TPC Deere Run with his first chance to win in more than eight years, and he's shot six straight rounds in the 60s. For the week, he's hit an impressive 83.33 percent of the greens.
"I have no idea what tomorrow holds," Stallings said. "But I showed up here Tuesday morning and told my caddie, 'if we're here for anything other than to have a chance to win on Sunday then we don't need to be here.'"
Admittedly succumbing to a golfer's natural itch to get better, Stallings got away from his old irons—Titleist T100s—about a year ago.
"I think all golfers are certifiably insane to an extent because we know something is good," Stallings said, "and there is always kind of the double-edged sword of always trying to get a little bit better. … Basically, I tried this other set for about a year and went back to it last week and ended up third in approach to the green.
"I had some nice weeks, but just kind of inconsistent through the middle of the bag for me," Stallings added. "Nothing is wrong with the way the club is made. It's just as far as the way I deliver it in there. I think I match up a little bit better with the older one. I had some good tournaments and good success with it, so it's nice to see that we were correct."
In contention to secure a win for the first time since the 2014 Farmers Insurance Open at Torrey Pines, Stallings is a markedly different person and golfer since lifting that last trophy. He endured some significant health issues in the early 2000s, including back problems and acute adrenal fatigue. He admittedly wasn't taking care of himself, gulping down double-digits cans a day of Dr Pepper.
In contemplating on Saturday what it would mean to win again, Stallings was understandably philosophical.
"I feel like I definitely got a second chance at my career," he said. "All the changes and everything that I made throughout my body and life and everything—that had nothing to do with golf whatsoever.
"If I got a chance to play, if I got a chance to further my career on tour, it was an added bonus. But I needed to make the change to be the husband and father that my kids and wife deserve, and to try to be a good steward of my body and take care of things I need to and golf is secondary."
Poston's late eagle gives him some breathing room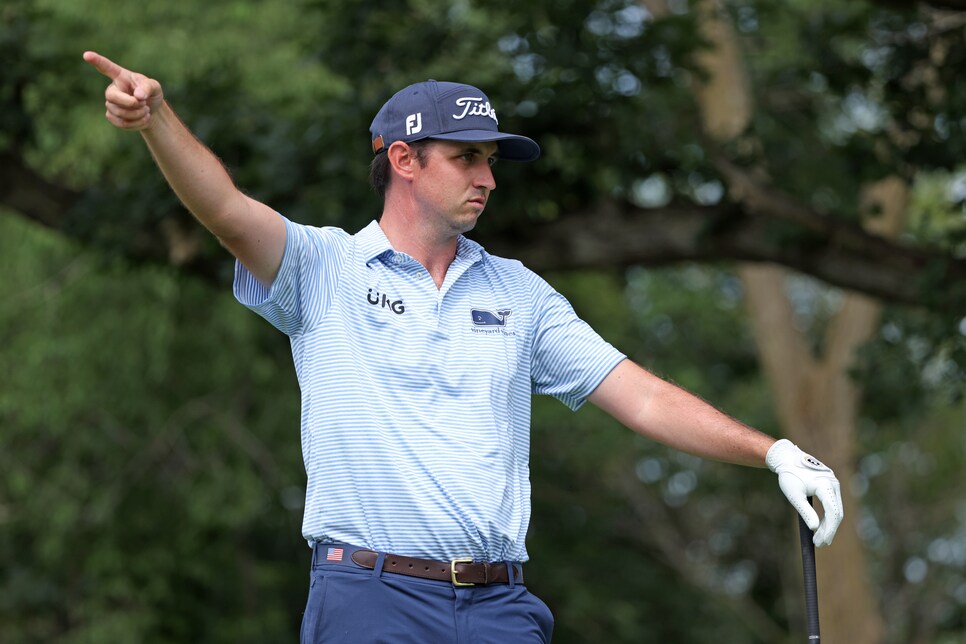 J.T. Poston reacts to his shot from the 15th tee during the third round of the John Deere Classic.
Dylan Buell
The way J.T. Poston remembers it, he didn't have the lead at any time during the week until late in the fourth round of his first and only tour victory at the 2019 Wyndham Championship. This week could not be more different, with the 29-year-old having led after each round, with scores of 62-65-67.
Notable, of course, is that those numbers have kept creeping up, and if not for a late eagle at the 17th hole on Saturday, Poston could find himself with a much thinner margin of error. As it is, it seems like anyone at seven shots or closer—and there are 14 pursuers in that range—could produce a big comeback. And it could certainly come from any of the three closest contenders at three behind—Stallings, Emiliano Grillo and Denny McCarthy.
Poston, coming off a tie for second in last week's Travelers, seemed to show a bit of the Sunday nerves on Saturday, especially on the greens, where he lost 0.78 strokes to the field, despite hitting 17 greens in regulation. (He's No. 1 for the week in strokes gained/tee-to-green). The struggles included a wayward drive at 15 and a missed seven-footer for par there. But he was buoyed by the eagle on 17, where he hit a 301-yard drive, a 236-yard approach and drained the 14-foot eagle putt.
"That was huge, kind of going into tomorrow I think," Poston said. "I wasn't quite as sharp today off the tee and had to play a little defensive into some of the greens."
Grillo storms into contention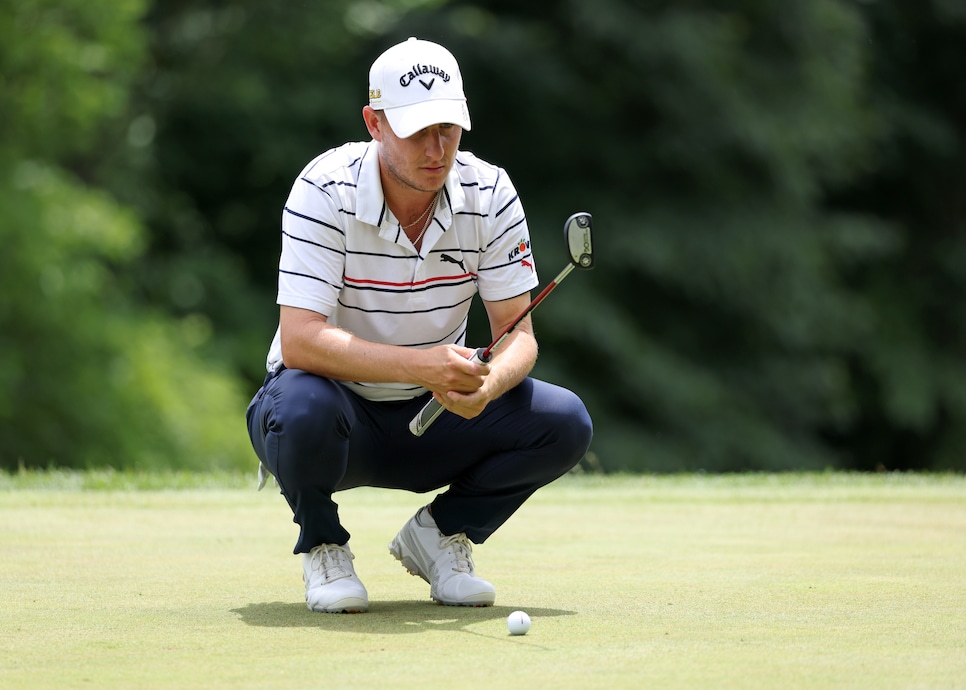 Emiliano Grillolines up a putt on the fifth green during the third round of the John Deere Classic.
Dylan Buell
As of yet, this is not the career anyone expected for Argentina's Emiliano Grillo. A standout junior player and winner of the Web.com Tour Championship, he broke his PGA Tour maiden in only his eighth start, beating Kevin Na in a playoff at the 2015 Frys.com Open.
Since then? Grillo, 29, has too-quietly maintained his tour card without making much noise. He did have six top-three finishes over the previous four years, but the missed weekends have come in waves this season, with 12 cuts compared to 11 checks cashed.
On Saturday, Grillo showed flashes of old by making four birdies over his last five holes in shooting 65. That scorecard alone is why it figures to be quite the shootout down the stretch on Sunday.
"The opportunities are mostly on the back nine," Grillo said. "And that's kind of the strategy for me—to go under par somehow on the front nine and make the most on the back nine."
Sahith Theegala has some mad bounce-back skills
There were plenty of eyes on Sahith Theegala heading into the week, considering a rather crushing loss last Sunday in the Travelers Championship. The tour rookie was in control in his bid for his first win until the 18th hole, when he double bogeyed and lost to Xander Schauffele. The question for the Deere: Would there be an understandable letdown?
The initial answer seemed to be yes when Theegala stumbled to a 74. But in the way this young man seems to be remarkable at escaping trouble on the course, he did so with his tournament prospects, too. The Californian backed up a six-under 65 on Friday with another 65 in the third round to move up 24 spots and into 30th. There won't be a win at TPC Deere Run, but there were more signs Theegala is on a strong upward path.
At even par and looking at missing the weekend through eight holes on Friday, Theegala then ran off six birdies over his last 10 holes, shooting a 30 on his back. On Saturday, he was bogey-free while making three birdies on each side.
"I was really playing some sloppy golf the first 26 holes. … Just nothing was really clicking," Theegla said. "But me and Carl [Smith, his caddie] were talking about it. I've been playing so well, there is no reason any moment that could change, right?"
A Pepperdine alum who swept the three biggest individual NCAA postseason awards in 2020, Theegala had played well earlier this season, but the visibility he gained at the Travelers has seemingly put him at another level with fans. There were plenty of "Go Sahiths!" being heard from the gallery.
"It's been awesome," Theegala, 24, said. "My family texted me that it's been really cool to be on a featured group to get to see me from far away. I was actually shocked how many people came out and watched even today really early."
His results continue to impress. Theegala entered the week at No. 66 in the World Ranking and 37th in the FedEx Cup standings. He's already made 25 starts in the wraparound season, with five top-10s.