PIF-PGA Tour
Jay Monahan knows he'll be called 'hypocrite' for Saudi deal, asserts players who didn't go to LIV Golf still made right decision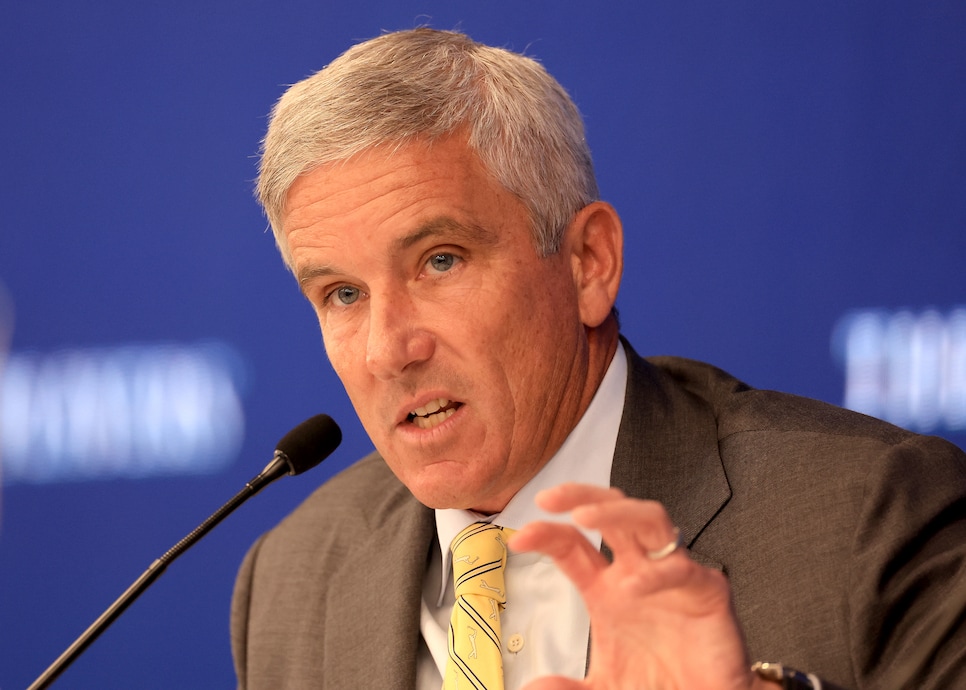 PGA Tour commissioner Jay Monahan is well aware that Tuesday's surprise announcement that the tour will merge with Saudi Arabia's Public Investment Fund—the primary financial backer of LIV Golf—will be seen as a major reversal, to put it lightly.
This week last year, Monahan made an appearance at the RBC Canadian Open's Sunday broadcast to discuss the launch of LIV Golf, the Saudi-backed circuit that held its debut concurrent to the Canadian Open. During his interview with CBS Sports, Monahan was asked about Saudi Arabia's connections to the September 11, 2001 terrorist attacks. "I think you'd have to be living under a rock to not know there are significant implications and as it relates to the families of 9/11—I have two families that are close to me that lost loved ones," Monahan said. "So, my heart goes out to them. And I would, ask any player that has left or any player that would ever consider leaving—have you ever had to apologize for being a member of the PGA Tour?"
However, with the PIF now an official tour partner, Monahan was asked on a call with selected media Tuesday if his stance had changed, and Monahan responded that he understands some may call him a hypocrite following the about-face.
"Listen, I think that as time went on, and you've heard me say a couple times circumstances change," Monahan said. "What changed? I looked at where we were at that point in time, and it was the right point in time to have a conversation. Going back to the origin of LIV, I said this, 'they needed to go down their path and we were going to go down ours.'
"We've done everything we can within our control to improve and grow the PGA Tour, and they have launched LIV; they've proceeded with LIV; they've made progress with LIV. But ultimately it was looking at the broader picture and saying that I don't think it's right or sustainable to have this tension in our sport, and to be able to organize and orient this in a way where, again, we're in a control position, we have an investor, a great and world-class investor, and I recognize everything that I've said in the past and in my prior positions.
"I recognize that people are going to call me a hypocrite. Anytime I said anything, I said it with the information that I had at that moment, and I said it based on someone that's trying to compete for the PGA Tour and our players. I accept those criticisms. But circumstances do change. I think that in looking at the big picture and looking at it this way, that's what got us to this point."
In another point in the call Monahan was asked about the response to Tuesday's news from players who remained loyal to the tour, especially given that those who took LIV Golf's millions will be eligible for reinstatement. Monahan said he was confident the tour players still made the right decision.
"It probably didn't seem this way to them, but as I looked to our players, those players that have been loyal to the PGA Tour, I'm confident that the move that they made was the right decision," Monahan said. "They've helped rearchitect the future of the PGA Tour. They've moved us to a more pro-competitive model.
"We have significantly invested in our business in '23. We're going to do so in '24. As we finalize this process, I think any player that has stayed is going to realize that the money that they're going to make, the strength of this platform, all the things that we talk about are going to put them in a really strong position. They're going to win. They're going to continue to grow, and we're in a control position on their behalf as we move forward in this structure."
As for why players—including Tiger Woods and Rory McIlroy, who helped Monahan save the tour last season—were kept in the dark, Monahan said what was presented Tuesday was merely a framework of what may ultimately come to fruition.
"The binding elements are tied to the litigation," Monahan said. "A lot of these details we've got to work through. If we had announced a definitive agreement this morning and I was calling them in the morning and I had made commitments on behalf of the PGA Tour and not had an opportunity to fully vet them with our Policy Board and with those two individuals in a larger group, then that would be a complete miss on my part, and I recognize that. But this was us reaching a framework agreement. We think it's the right agreement.
"Obviously, Tiger and Rory's perspective is one that I understand very well, and it was part of my thinking throughout these conversations, and it will be a part of my thinking going forward. Now that we're in a framework agreement, I look forward to talking to all of our players, including the two of them, to make certain that this comes off the right way."