As a kid, Ryan Alford didn't have to travel to junior golf events around the country to know what true talent looked like among his peers. Just five minutes down the street from Alford's home in Shreveport, La., lived Sam Burns, a friend and competitor in their nine-hole junior league—who also happened to be growing into one of the best young players in the country.
"A hometown blueprint," Alford calls Burns.
That has not changed as the two former high school teammates have grown into men. Both are 25, their birthdays falling only a month apart, and Burns remains the model for the career Alford covets. With two victories on the PGA Tour in 2021 and a standing at No. 13 in the World Ranking, Burns has established himself as yet another fine talent to be reckoned with.
Alford, meantime, seized his own two wins in '21, albeit on a much smaller stage while playing on the Advocates Pro Golf Association, a mini-tour created to provide competitive opportunities to minorities.
Both guys gave their hometown and alma mater, Calvary Baptist Academy, reason to cheer during a sublime stretch last spring and summer. Alford won his first APGA title at TPC Scottsdale; Burns then captured his maiden PGA Tour win in the Valspar and finished runner-up in his next start at the Byron Nelson; a week after that, Alford won again, on a major track at Valhalla.
"We had our little back and forth about that," Alford says. "It was awesome."
Even so, there was no reason to believe their professional paths would synch up again soon.
That changed in the fall, when the Farmers Insurance Open announced it was extending sponsor's invitations to two players from the APGA Tour—Kamaiu Johnson, who got an exemption last year at Torrey Pines, but didn't play after testing positive for COVID-19, and Alford, who will make his PGA Tour debut on Wednesday.
Burns also is in the field at Torrey, making his sixth official start of the 2021-22 wraparound season, and his play has been impressive. He won the Sanderson Farms Championship in October and has two other top-10s. He'll be coming off a couple weeks of rest after finishing T-19 at Sentry Tournament of Champions in Maui.
The friends already talked about how cool it will be to compete on the same stage again, and the perks are already coming for Alford: They have a Monday practice-round game planned with Kamaiu Johnson and Rickie Fowler.
"My dream is becoming a reality," Alford says.
Alford envisioned a pro golf career since at least eighth grade, when he chose to focus on golf over basketball. Raymond Alford most certainly nudged his son in that direction, the father having taken up golf while attending Grambling State after hearing famous sporting alums tell him to pick a sport he could play at any age. Six years older than Ryan, Raymond Alford Jr. also was a good golfer, and his obstinate little brother simply would not accept being a toddler as an excuse to not win.
"Raymond Jr. was older, so I was putting all I had into him," Raymond Sr. said. "But Ryan was, like, 'Dad, I can beat him.'" The dad chuckled and added, "This is when he was walking around with us with his plastic clubs. He busted all of those clubs because he was trying to hit it as far as us. I had to go buy him a real set."
The training ground was the Jerry Tim Brooks Golf Course (formerly known as Lakeside) that was squeezed between a high school and middle school in Shreveport. Indeed, when the schools needed more land, they claimed half the course to build on, leaving nine holes. Ryan started in The First Tee program there and showed such desire and aptitude that he became an appointed instructor to other kids before he was in high school.
"I just gravitated toward the game," Ryan explains. "In team sports, there are a lot of people to blame if you don't do well. In golf, there's nobody to point a finger at except yourself."
He admits to being picked on from some kids who couldn't fathom why he would choose golf over basketball. "Old man's sport, white man's sport," Ryan recalls them saying. "But I had a bigger picture in mind."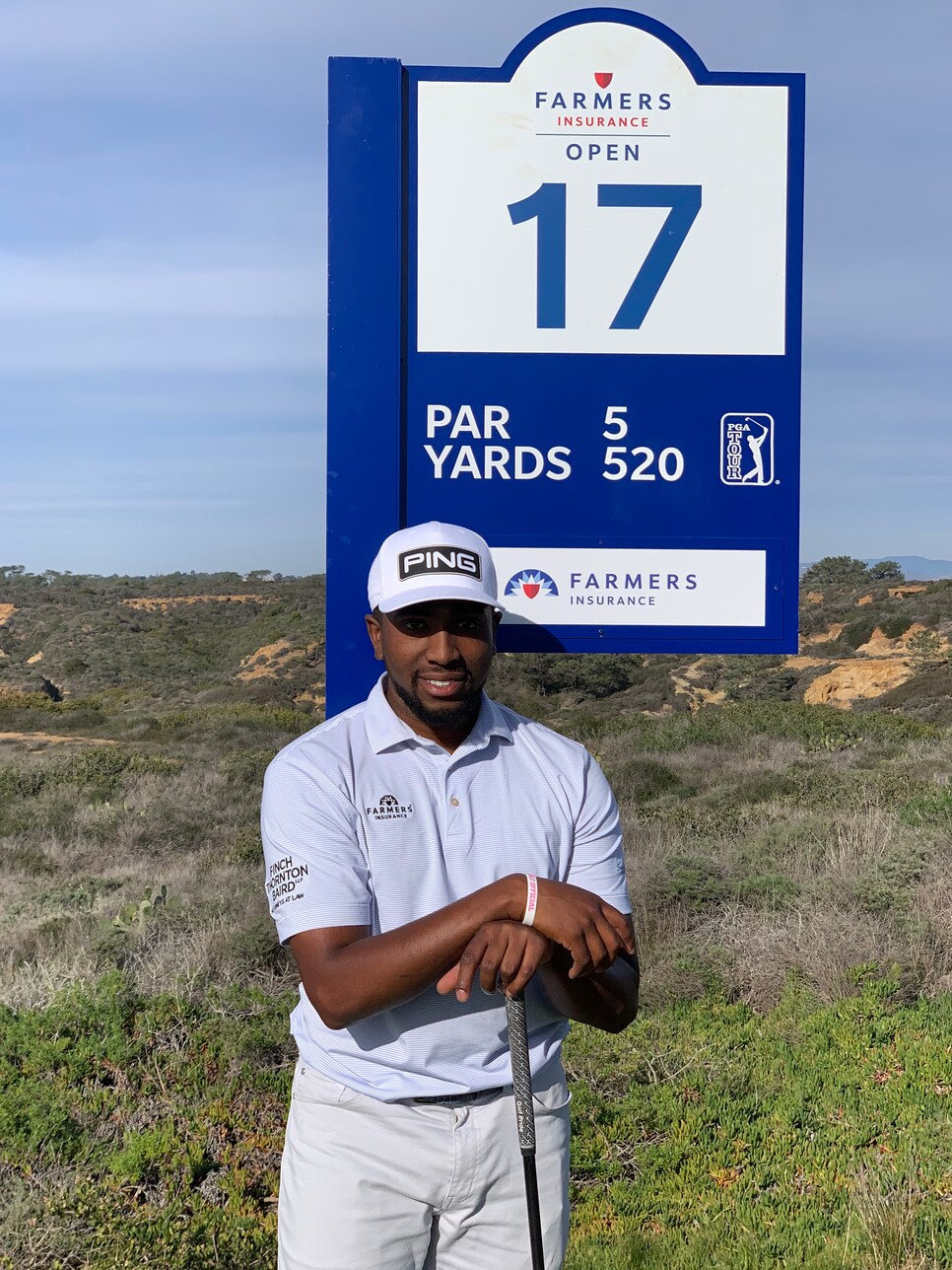 There are golfers on the APGA Tour who've had far more difficult upbringings. Some were homeless for a time; others came from broken homes, had no mentors or lacked the money to pay for golf. That was not Alford's experience. Ryan's father is a retired insurance salesman; his mom, Brondwyn, is a pediatrician. The family has held a country club membership for years. And Ryan insists he never felt out of place walking onto a golf course, be it a private club or muny.
"Everybody had the same dream I had," he says.
He also had plenty of people in Shreveport to provide inspiration. Ryan played rounds with area natives who are major champions, Hal Sutton and David Toms. He's been counseled by Sutton's longtime caddie, Freddie Burns. He played in a number of local pro-ams through the years, including pairings with Lucas Glover, Kevin Na and John Daly. When his swing got off track, he got lessons from teachers at the David Toms Academy.
As kids, Alford, Burns and others sometimes gathered for chipping contests on the backyard green at Sam's house. In high school, they played on the powerhouse Calvary Baptist team that dominated the Louisiana state championship year after year. Burns and Nathan Jeansonne—both of whom would excel in college at LSU—were the squad's stars, and Alford was a steady contributor.
Burns, though, was on a different level. In time, he would become the No. 1-ranked junior in the counry and claim the Jack Nicklaus Award for national college player of the year after a four-win season for the Tigers in 2017.
Alford, meantime, had a best finish of third in the high school state tournament and chose Louisiana Tech for college. But he struggled for a time with swing changes and some coaching turnover. He took a couple of years off before playing in his senior season, in which he posted a 76.81 scoring average that didn't necessarily portend a pro career.
But Alford, who also is doing some volunteer coaching at Tech, has pressed on, his dad saying, "He's not going to give up. He's going to try. If he has a bad day, he's up at 6 in the morning, he's in the gym putting in the time."
After this Farmers opportunity, Alford plans to play a full schedule on the APGA and other mini-tours, while also preparing for Mackenzie Tour and Korn Ferry Tour Q Schools.
Back in Shreveport, there is an Alford golf legacy building. Raymond Sr. took over the lease of the Jerry Tim Brooks course and is focusing on a junior program there of his own design. (He resigned from The First Tee because he said the cost of membership was too high for his small chapter.) Predictably, Ryan pitches in with appearances whenever he can. His dad says he's prouder of that than any results on the course.
"I never was trying to develop a pro golfer," Raymond Sr. said. "I was trying to develop a productive citizen, someone who could make it on his own and have a good life."
In that, he has unquestionably succeeded.