Features
Golf saved Kamaiu Johnson, and his resolve will be rewarded in his PGA Tour debut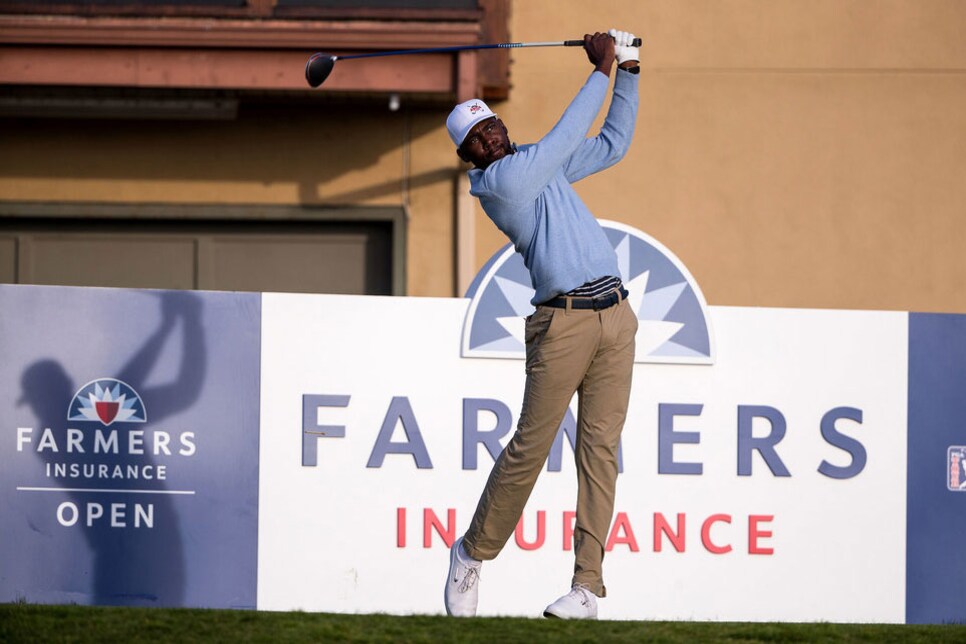 Editor's Note: On Tuesday afternoon, roughtly 36 hours after the publication of this story, the PGA Tour announced that Kamaiu Johnson had tested positive for COVID-19. He subsequently had to withdraw from the Farmers Insurance Open ahead of his scheduled PGA Tour debut.
The story of Kamaiu Johnson's improbable journey to his PGA Tour debut in this week's Farmers Insurance Open at Torrey Pines has to begin with the stick. Not a golf club. A real, honest-to-goodness stick. One that blew off a tree.
If Johnson, a slightly built teenager, had not been swinging a stick near his apartment on the perimeter of the Haliman Golf Course in Tallahassee, Fla., in 2007, Jan Auger would never have noticed him.
If his smooth, effortless action didn't make him look like he'd been playing for years, Auger, the course's general manager, probably wouldn't have interrupted her own round and crossed a couple of fairways to greet the kid, whose expression grew more reticent the closer she got.
"He looked like he was afraid I was going to yell at him," Auger recalled. "He seemed a little sad, to be honest with you, but I took an instant liking to him."
When Auger asked Johnson why he wasn't in school, he fibbed that he was home-schooled. He had, in fact, dropped out in the eighth grade. He lived by the golf course in a two-bedroom apartment with his mother, grandmother and five other kids. He was a former standout baseball player but gave it up when he couldn't afford to keep up with his buddies in travel ball. Before meeting Auger, Johnson played exactly one round of golf with a friend and his dad. He'd never spent any time of any kind with his own father.
Sensing something special in the boy, Auger invited him to the course and told him there'd be a 9-iron and bucket of balls waiting for him. Kamaiu's expression brightened. He soon showed up at the course, and there he found a literal second home—and something more valuable than that. He found a life.
"Golf saved me," Johnson said. "It gave me a reason to live, gave me a purpose."
Now 27, Johnson is working furiously to make up for his late start in the game. For the better part of the last decade, he has been grinding on pro mini-tours, including the Florida Professional Tour and the Advocates Pro Golf Association (APGA), a circuit founded to create opportunities for minority players. He's won a handful of events, including the Tallahassee Open three times.
It's a rough way to make a living. Johnson has found himself homeless on several occasions, hitting up friends for couch space and sometimes sleeping in his mother's 2010 Impala between rounds at tournaments. The average sports fan sees the $1 million first-place checks on the PGA Tour and thinks pro golfers have it made. They don't see the guys on the small tours eating at fast-food joints, sharing cheap hotel rooms and counting every dollar. Johnson estimates he made about $30,000 in 2020—before expenses.
But amid his struggles, Johnson's engaging personality, penchant for hard work and obvious determination have won over important people who, like Auger, felt compelled to lift him up in his quest to reach the PGA Tour. Lately, a bounty of opportunities has come Johnson's way.
A year ago, Farmers Insurance President and CEO Jeff Dailey heard Kamaiu (pronounced ka-my-yoo) telling his story to a group of reporters at Torrey Pines, where the APGA played a concurrent event on the North Course on the Saturday of the PGA Tour's Farmers Open. Dailey was awestruck. "Here is a well-spoken guy who seems like a good human being, a good golfer, and he's never gotten a break at all," Dailey said. "I walked out of that tent thinking that we had to do something for him."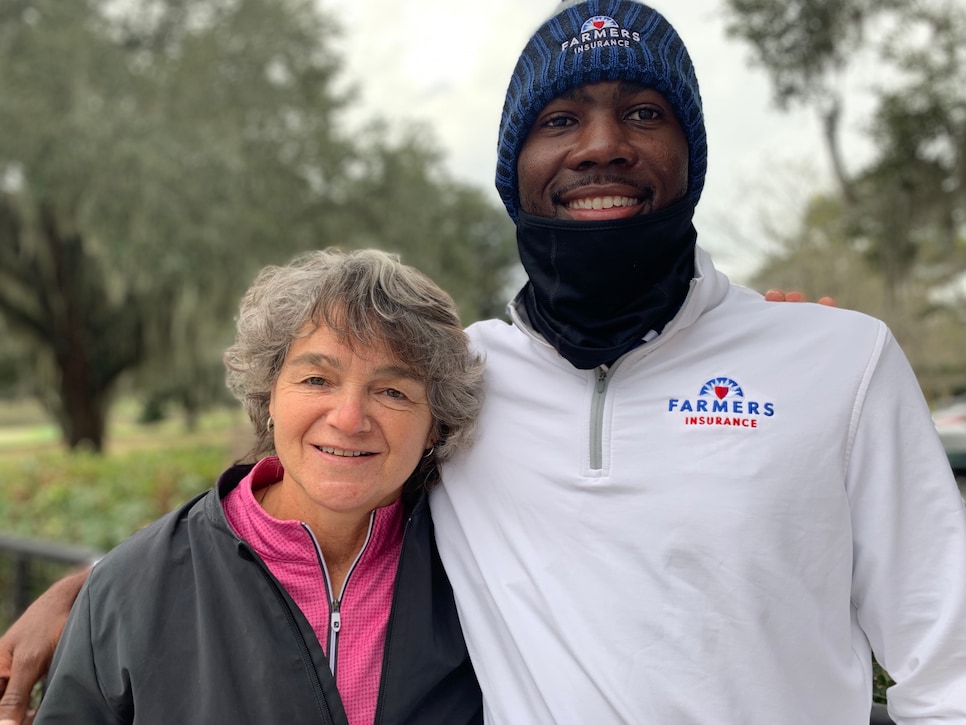 Jan Auger (left) coaxed Kamaiu Johnson to come to the golf course, and he instantly fell in love with the game.
A couple months later, Farmers signed Johnson to an endorsement deal that is paying him $25,000 annually for two years. Though not getting the same kind of cash as Rickie Fowler, he joined the popular star as Farmers' only sports endorsers. Dailey also introduced the golfer to Bill Powers, co-founder of Cambridge Mobile Telematics, a data analysis firm that works with insurance companies. Powers pledged another $20,000 per year for Johnson.
"You can finally make a schedule and there's a financial weight lifted off your shoulders," Johnson said of the sponsorships.
Then came the Webex call Johnson got in November. He'd captured the APGA Tour Championship in September, birdieing the final hole to beat Tim O'Neal by a shot. Johnson was told that Dailey wanted to congratulate him. They got on the video call, and that's when the CEO informed Johnson he'd been chosen for an exemption into the 2021 Farmers at Torrey Pines. It would be his first shot in golf's big leagues. "My favorite day of work all of last year," Dailey said with a laugh.
"It was crazy," Johnson said. "Life-changing, for sure. I thought about everything that I've done to get in this position to try to fulfill my dream of playing on the PGA Tour. It's absolutely incredible."
One of the first people Johnson called with the news was Ramon Alexander, who served as a mentor and "big brother" to the boy in his teenage years. Now a member of the Florida House of Representatives, Alexander welcomed Kamaiu to live with him in Tallahassee when his mother moved back to their tiny hometown of Madison, Fla.
"He cried. I started crying. It was extremely emotional," Alexander said of Johnson telling him about the Farmers invite. "Sometimes an experience can be so overwhelming you can't put it into words. It's a major moment for him."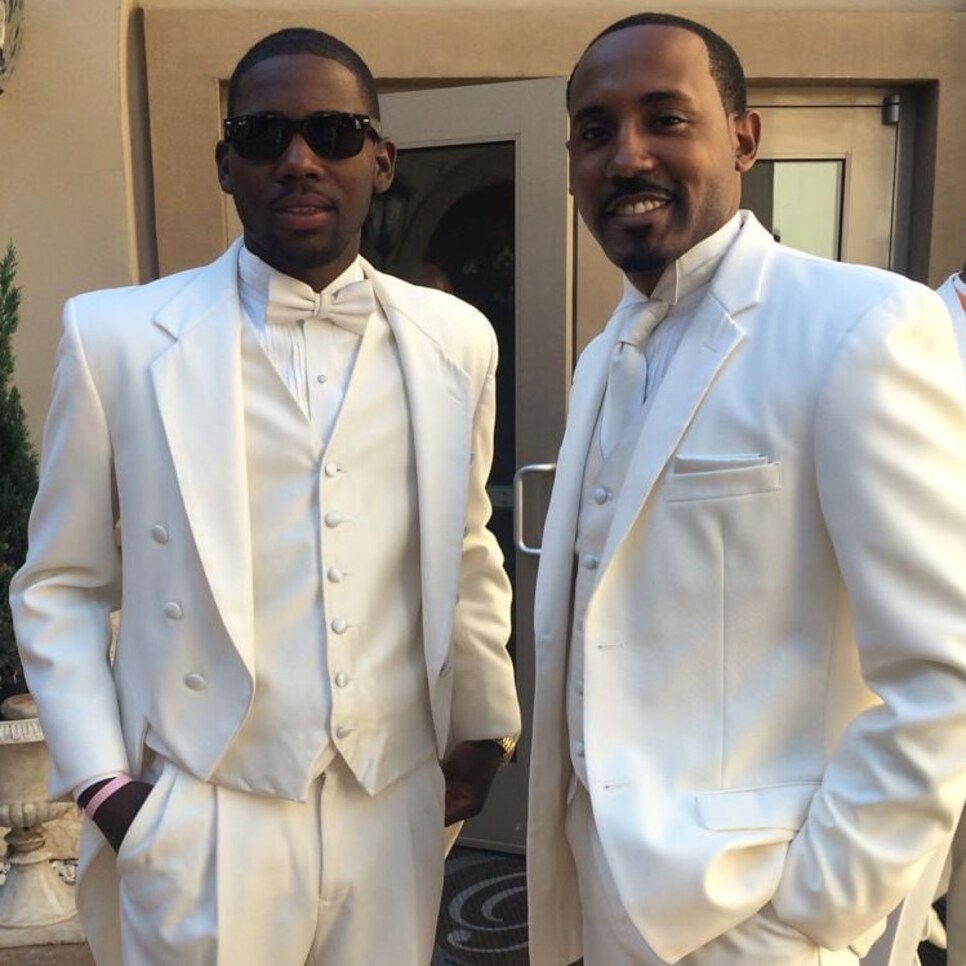 Ramon Alexander (right) mentored Kamaiu Johnson in his teen years. Johnson was a part of Alexander's wedding and is a godfather to his son. (Photo courtesy of Ramon Alexander)
More good things have come along. A few weeks ago, Johnson received his first formal club-fitting by Titleist after playing all these years with off-the-rack equipment. He also recently got an invite from the Korn Ferry Tour into April's Emerald Coast Golf Classic in Florida.
"This is a classic example of preparation meets opportunity," Alexander said. "When you put your head down and focus on the process, God will bring people into your life at the right time and right place."
Auger was that first person for Johnson. After she invited him to the course, she charged him a dollar a week to play and enlisted him to do various chores including washing carts and painting the clubhouse. They endured some parent/child-type struggles at times, like when Kamaiu "borrowed" a golfer's wedges from the clubhouse or forged a pro shop worker's signature to take out a golf cart. Each time, Auger put him on restriction from playing the course. They talked about "delayed gratification."
By the time Kamaiu began living with Alexander at age 16, the golf course and those around it had provided plenty of life lessons. Alexander, a product of The First Tee, founded a non-profit organization, Distinguished Young Gentlemen of America, which works with at-risk youth. Johnson enthusiastically participated, and the group funded the studies that eventually earned him his GED.
Alexander traveled a lot in those days and he raved about how responsible Johnson was, even with his mentor's sporty new car. "Never got a scratch on it," Alexander said. "He never missed a curfew, never disrespected me. In the time he lived with me, I never washed a dish or mowed the lawn. He did it.
"His level of discipline and focus … I'd compare it to someone working on their doctorate degree. His time management, his desire to get better … he's laid it all on the field. Golf saved him, and he's played with a sense of urgency ever since."
With Alexander's guidance, Johnson has started the My My Foundation and the two men plan to stage junior golf tournaments and clinics once the COVID-19 pandemic has passed. Kamaiu, Auger says, is a natural leader and mentor. There is currently a young man among the group at Hilaman Golf Course, Marquis Taylor, who's had an even more difficult upbringing than Kamaiu. Johnson schools Taylor on the course, but also takes him out for pizza and plays video games.
"[Taylor] loves Kamaiu, adores him," Auger said. "For him to do things like that, it really chokes me up. I've told him, 'You don't know how much that means to me,' because he is such a good guy."
Of Johnson's generosity of spirit, Alexander tells the story of Johnson delivering a set of clubs to the house for his young daughter, even if Kamaiu didn't have much money to spare. Auger remembers Kamaiu earning some pro shop chits and buying a hat for another mentor in his life, Hank Sykes.
As a surrogate family member, Auger worries for Johnson's future in golf. She knows he'll be incredibly nervous when he tees off in the first round at Torrey Pines on Thursday. But she also knows from where he came, and the potential he has to do so much more.
"It's unbelievably mind-blowing what he's done with nothing," she said. "It's all his grit and his heart. And he wants it. He really does."
So do all of those who lifted him up along the way.