News
Black athletes share their golf experiences, while hoping kids of color have better and earlier access to game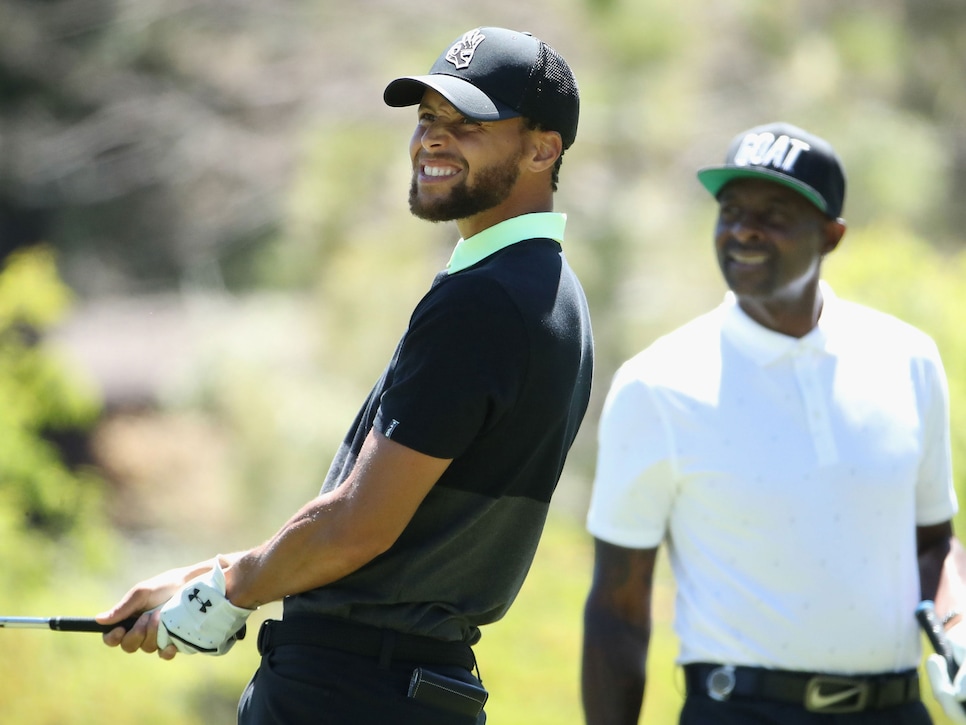 Photo By: Christian Petersen
Jerome Bettis' barber tried. He honestly did.
In the Detroit inner-city neighborhood in which Bettis grew up in the 1970s and '80s, there was one Black man who played golf. He cut Bettis' hair, and he managed one day to cajole the hulking kid who would become a Hall of Fame football player for the Pittsburgh Steelers to accompany him to the driving range. The barber so loved the game that he opened his shop at dawn so that he could flip the "Closed" sign early and squeeze in a round, or even a few holes, before dark.
Bettis went mostly out of courtesy. He'd never been to a golf course. No one but the barber ever said a word about the sport. Even bowling was more familiar because his mother taught it to her boys and the other kids in the neighborhood. Safe and indoors, it kept them out of trouble.
That first driving range experience for Bettis did not go well. Golf was hard. In football, he exploded through people as a running back. In golf, that ball just sat there, staring at him, daring him. It could not be pummeled into submission.
Bettis brushed off the silly sport and didn't dare tell his football buddies he'd even tried it. "They'd have laughed at me, like, 'You're crazy! What are you talking about?!" the 48-year-old said in a recent phone conversation. "The next question would have been, 'Where are you going to play at?' And the one after that would be, 'Where are you going to get the money to play?' "
In one anecdote, Bettis summed up what it has been like for so many people of color when it comes to golf.
The emergence of Tiger Woods and the subsequent formation of youth programs such as The First Tee have changed that landscape to some degree, but there is work still to be done in the estimation of some Black athletes who have come to love the game as adults, but never considered it an option as young people.
In interviews with Golf Digest during the American Century Championship on Lake Tahoe in Nevada, with the images of George Floyd's death in Minneapolis and social-justice protests fresh in the public psyche, a handful of Black sports stars—from 56-year-old former NBA player Dell Curry to 33-year-old female long-driving champion Troy Mullins—shared stories of how they came to enjoy, and yes, obsess, about golf.
Each is unique, but there were running themes throughout.
None of them showed much interest or awareness of the game as kids because they didn't have the access, the money or the mentors to cultivate even the faintest curiosity. Neither was the game considered socially acceptable in their neighborhoods because even if they caught a glimpse of golf on television, no one who looked like them was playing.
"Growing up, I had never been around golf. I hadn't seen a golf course," said Terrell Davis, the Hall of Fame running back and two-time Super Bowl champion with the Denver Broncos. "There was this image about the game of golf—it was an old white man's game. It was expensive, and you had to be in a different economic bracket or social status to play. It was nothing that anybody in my neighborhood talked about."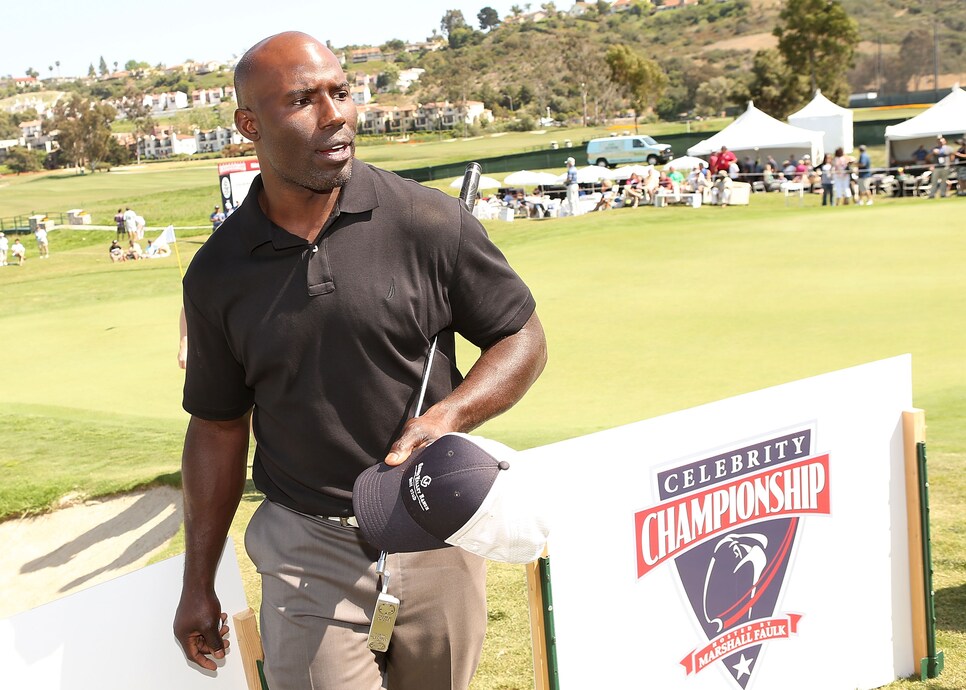 Hall of Fame running back Terrell Davis, shown at the Marshall Faulk Celebrity Championship, started playing golf once he was in the NFL.
Jesse Grant
Jimmy Rollins, the former major league Gold Glove shortstop who spent the bulk of his career with the Philadelphia Phillies, grew up in Alameda, Calif., outside Oakland. He was not introduced to golf as a child, though, he said, as a stick-and-ball kid, he was fascinated at a young age by the skill set it required when he watched on TV.
"That made me think that I wanted to learn, to see if I could apply what I'd seen," Rollins, 41, said. "But there was really nothing that made me want to play. I never had a true desire to buy some clubs and say, 'Let's play golf!' "
Raised in Virginia, Curry saw his white friends take up golf, but he was left out. "I never got invited," he recalled. "I don't want to call it racism, but I wasn't introduced to that part of their lives."
Curry—now most recognized as the father of NBA star Stephen Curry, an accomplished golfer himself—didn't take up golf until a couple of years into his professional career while playing in Charlotte. This time, his teammates openly welcomed him to play.
"I went to the range and must have hit a couple of good shots, because I got the bug pretty quickly," Curry said. "I read every golf magazine I could, learned some techniques, and I was off and running."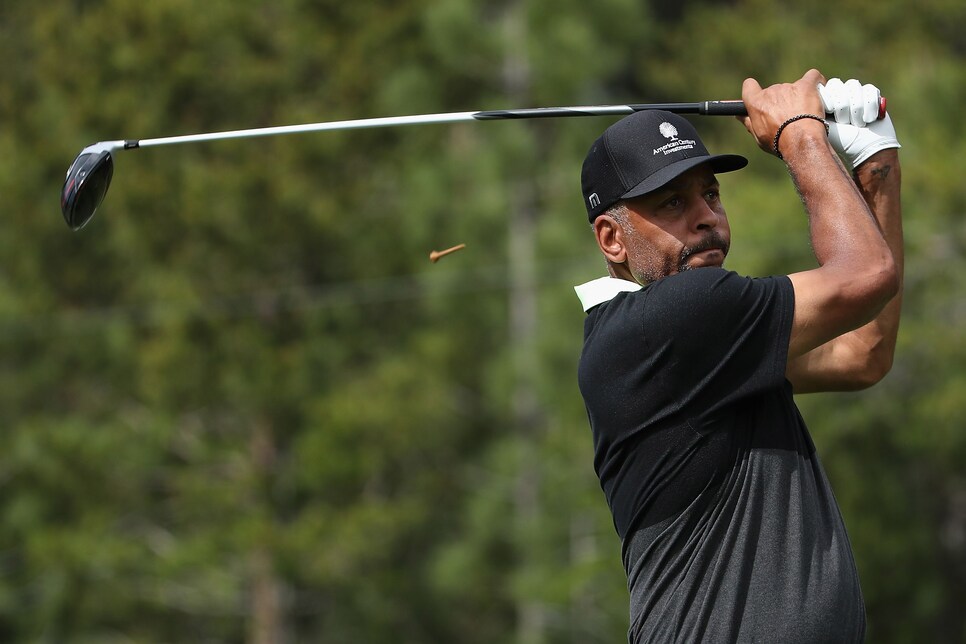 Dell Curry took up golf while playing in the NBA and passed on his love for the game to his sons.
Christian Petersen
Mullins, who won the World Long Drive tour's 2017 Mile High Showdown with a 402-yard drive, didn't take up golf seriously until her early 20s, after she had finished her track-and-field career at Cornell. Raised in Los Angeles, her first exposure to the game came when her mother signed her up for a summer camp in Palm Springs—and she was the only girl and African American in the group. When she won the camp's award for "most improved," she said she thought less about her color than her gender.
"I had to walk up to get my trophy past all these boys!" she remembered with a laugh.
Bettis has the best story about getting started. On the Steelers, quarterback Kordell Stewart was an avid golfer, as was massive center Dermontti Dawson. They goaded Bettis into playing with them, and when he got trounced, he was motivated to get better. At a training camp in the early 2000s in Latrobe, Pa., Arnold Palmer's hometown, Bettis said the proprietor of a driving range kindly left him an overflowing bucket of balls every day, and he swatted them between two-a-day practices.
"A couple hundred balls—every single day," Bettis recalled with a laugh. "I wasn't going to stop until I could hit them consistently."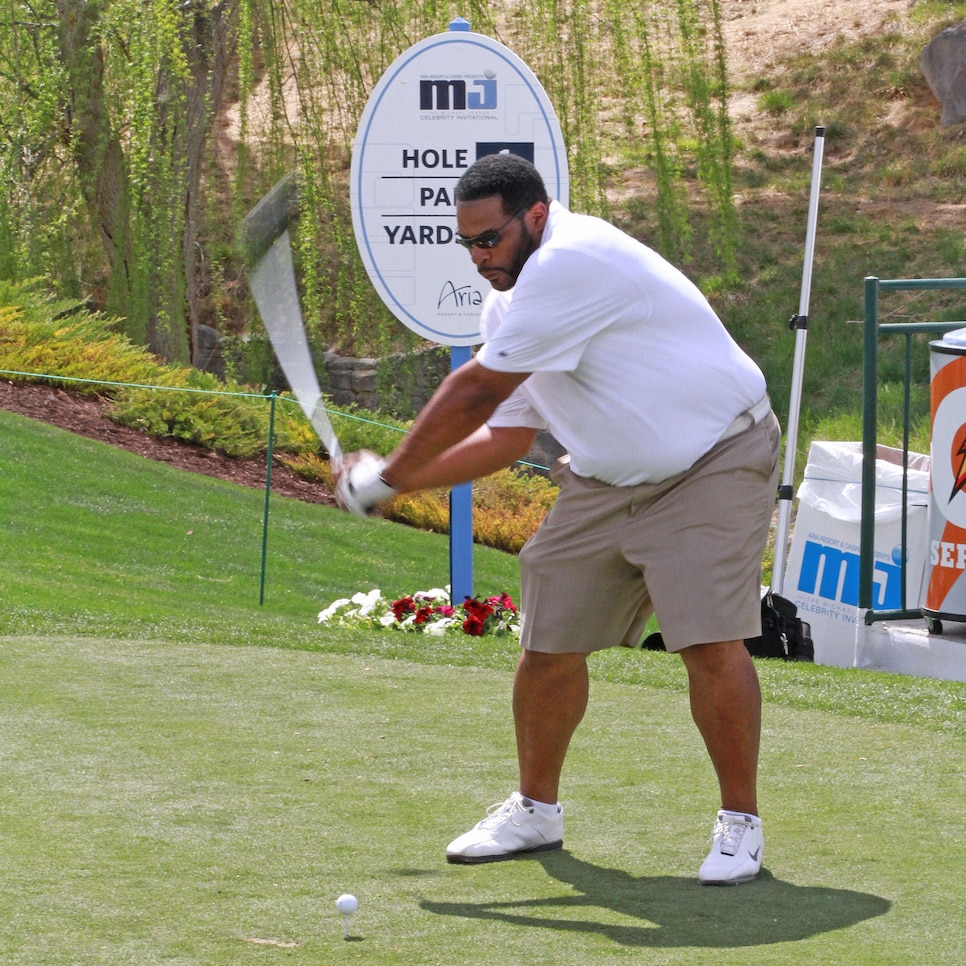 Jerome Bettis, shown at Michael Jordan's celebrity tournament, got better at golf by hitting hundreds of balls while in training camp with the Pittsburgh Steelers.
Marcel Thomas
"I was like, 'What?!' " Bettis said. "That inspired me." He would work to become a low single-digit handicap, and a few years later played in Lake Tahoe with Jordan. He said Jordan still beat him by a couple of strokes, but they both shot in the 70s and he'd reached his goal: "I was in the same ballpark as MJ."
That was an issue for African-American athletes of past generations. Tiger Woods, golf's MJ, hadn't arrived when they were young. But when he did, even as accomplished, highly paid professionals, they were enthralled and inspired by him.
"For me, it started with Tiger," said Rollins, who began playing golf well into a major-league career that began in 2000, perhaps Woods' greatest season. "We saw a person of color who was dominant in the game. He had that big smile, and the fist pumps were closer, culturally, to how we celebrate when we accomplish things. There was nothing wrong with letting your emotions run a little wild. Tiger made it OK to be a black man who wanted to play golf."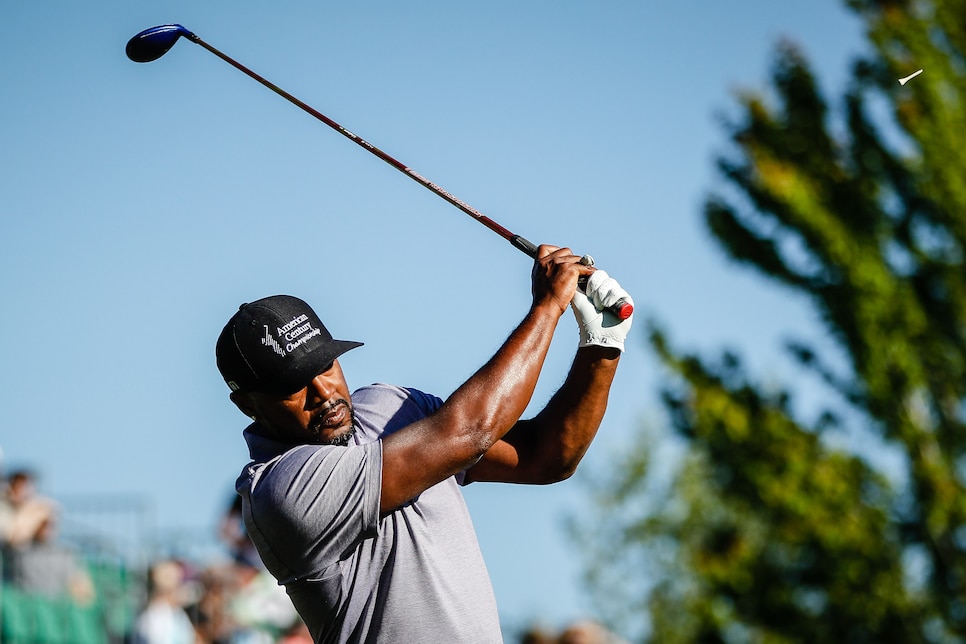 Former major league shortstop Jimmy Rollins watched golf on TV as a kid, but didn't feel the desire to play until he was a professional athlete.
Jonathan Devich
Bettis reminisced about growing up wearing Air Jordan sneakers, and then he was just as happy to put on Tiger's Sunday red shirt or his Nike shoes. "It was Tiger on the scene that changed the perception for African Americans," Bettis said. "Golf was cool. To see that he had broken through, that he was the best in the game, it gave you a sense of pride. That spurred a lot of people on to play."
There are some concerning obstacles, that remain, the most harrowing of which is overt racism.
Bettis retired to Atlanta after his career, and when he began shopping for a golf club to join, he said one assistant pro told him, "You may not want to join here. We have an older, white population. I will tell you they're probably a little bit racist."
"He was being honest with me, and I appreciated that," Bettis said. "It was a dose of reality. I realized I was in the deep South and golf had always been a white, elitist sport. I wasn't shocked by it at all. I knew it existed. I wasn't naïve."
Bettis eventually joined the highly acclaimed Golf Club of Georgia, where he said the membership is a "melting pot." He also has played once at Augusta National with Lou Holtz, a club member and his head coach at Notre Dame. "The best experience ever," he said of playing at the home of the Masters. "I didn't feel uncomfortable at all. The staff there was great."
Mullins said even at the recent American Century Championship, where the field is as diverse in race and gender as any tournament staged on national TV, she felt as if she was singled out for her race. She said after the first round, an official chided and warned her individually for slow play, though she was grouped with golfers she believed were more deliberate—Charles Barkley and sports broadcaster Kathryn Tappen. (Mullins beat both of them handily in the tournament.) Mullins, playing in the event for the first time, said that if any warning was issued, it should have been to the group.
"I find this incredibly inappropriate," she said she told the official.
"I felt every bit my color," Mullins said of the circumstance. "And I think in looking at me as a woman, he felt that he held the right and the power to be aggressive with me."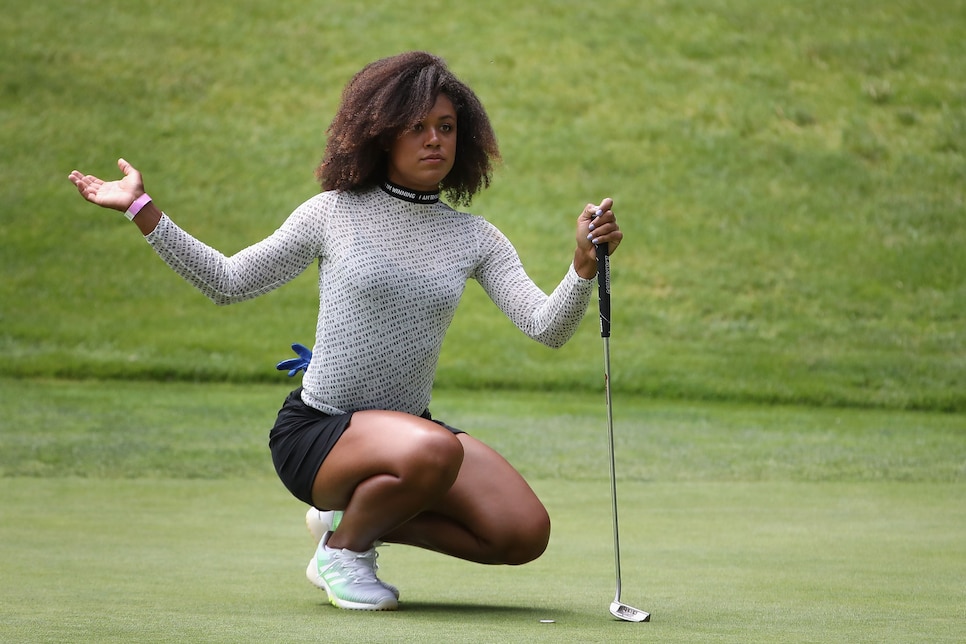 Troy Millins, a World Long Drive competitor who played her first American Century Championship this year, was a track-and-field athlete at Cornell before taking up golf.
Christian Petersen
Racial undertones can be what golfers feel, not just hear. Many accomplished athletes, no matter their color, are invited to exclusive clubs to play because of their celebrity status. Once there, however, it can be a different experience for a Black person. Rollins said he has sometimes been asked to make the rounds to meet members when simple introductions on the course would suffice.
"I was introduced in the clubhouse and to the members as 'This is my new Black friend I'm going to play with,' " Rollins said. "This is where the Black experience comes in. You try to ask yourself, 'Is that just me feeling that way?' But I don't know, because we've seen it before. It goes back to when Blacks were enslaved in this country and put on stage to be shown for purchase. It feels like that again—I'm on display for everyone to see. It's not a natural way of introducing people—'let's go around and introduce you.' I don't want to do that, but I don't want to be a bad guest."
The key for the future, Rollins and others said, is to further develop the programs that introduce younger African-Americans to the game, and thus create a larger group that may influence who are the country club members of the future.
Steph Curry is something of renaissance man in that cause. The 32-year-old Golden State Warriors star has contributed to and promoted The First Tee of Oakland, will reportedly host a Bay Area PGA Tour event beginning in 2021 and is the executive producer and resident golf "pro" on a silly, but golf-themed primetime program, "Holey Moley." Not to be underestimated, he can be seen playing golf by a national TV audience in the American Century Championship.
Tiger Woods is America's favorite black golfer, but Curry might be gaining on him, and that can't be bad for the game, his father contends.
"Steph is one of those people," Dell Curry said, "that African-American kids can look up to, who can get people to spread the word about how important golf is."
Unlike the many Black athletes who came before him, Steph did grow up with a golf club in his hand. Dell Curry cut down putters for his two sons at a young age and they frequently followed him around the course. Dell instilled in them early what he believed to be golf's greatest values: personal connections, hard work, overcoming failure, and having fun.
In examining the issue of how golf can be more inclusive to people of color, Steph Curry said in a statement to Golf Digest that a "long approach" is required.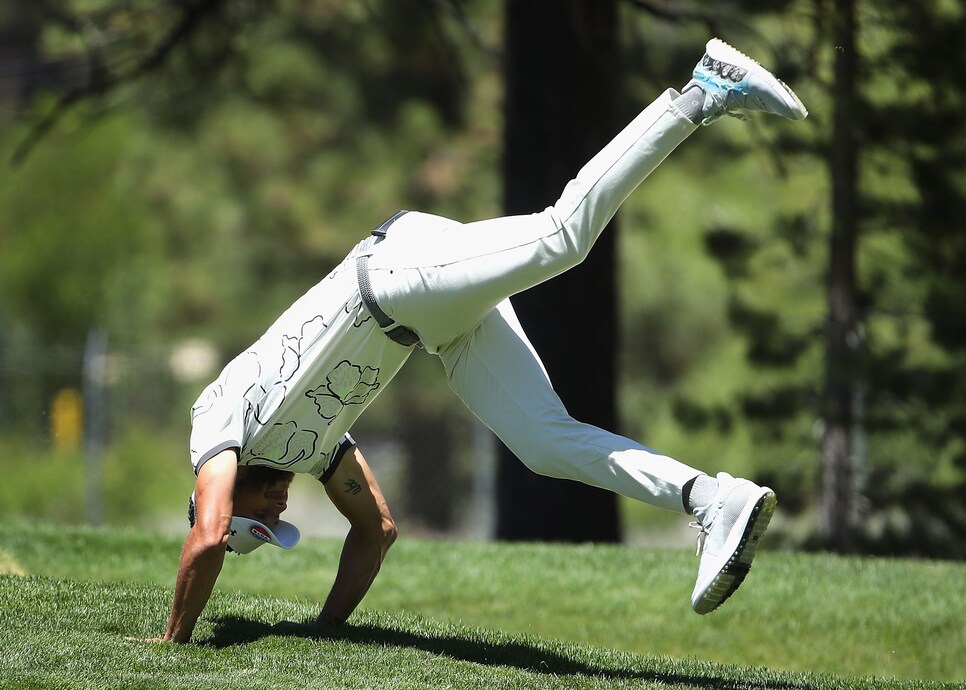 A joyful Stephen Curry celebrates chipping in on the 16th hole during the 2020 American Century Championship.
Christian Petersen
"There is a lot of talent in the black community to play golf," Curry said. "There's just not the access to golf courses and the resources for getting equipment. It's obviously a very expensive sport.
"It's continuing to reach into the grassroots level, to get kids connected with a golf club in their hand through the elementary and middle-school age. A lot of kids get lost in the fray. They don't have anywhere to go. I know there are a lot of amazing organizations that are trying to step in and create those opportunities, but it's going to take a long time to do it."
Decades after Bettis' first range visit, it will still take a barber—or coach or teacher or parent or Tiger Woods or Steph Curry—to encourage a Black child to try and possibly stick with golf.
"It's everybody pitching in," Steph Curry said. "It's getting rid of the old stereotypes about golf. It's seeing people like me from a crossover sport, and how much fun I have playing the game. We need to get more representation on the PGA Tour, and that starts at the grassroots level, to get kids on the right path to play golf."