News
The First Tee: 'There's an opportunity here right now'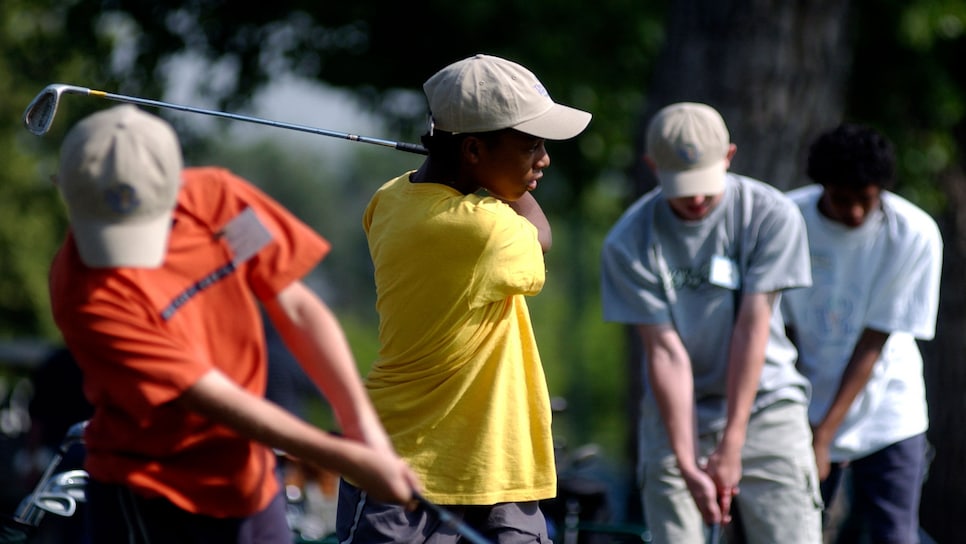 Greg McLaughlin took control of The First Tee program in November 2018. After spending 14 years running the Tiger Woods Foundation and four as president of PGA Tour Champions, he understood he was facing a unique challenge.
It wasn't as if The First Tee hadn't had a good deal of success in its 21 years of existence. It had raised millions of dollars and introduced golf to several million youngsters. But McLaughlin knew then—as he knows now—that there was work to be done.
"We've been good," he said last week. "We need to be better."
The First Tee was launched in 1997, shortly after Woods' historic victory at the Masters, during the initial wave of Tigermania. Although there had been quite a few African-Americans who'd had success on the PGA Tour, none were megastars the way Woods was from the minute he turned pro in August 1996.
Woods was 20 at the time. By the end of that year, Sports Illustrated had named him its Sportsman of the Year, and in April 1997, he won the Masters by 12 shots. "He's a boy among men," Tom Watson said at the time. "And he's showing the men how to do it."
Woods was going to be the golf role model that African-American kids had never had. If young basketball players aspired to "Be Like Mike," young golfers could aspire to "Be Like Tiger."
And thus The First Tee, with backing from the PGA Tour and the World Golf Foundation and with former President George H.W. Bush as its first honorary chairman, was started soon after Woods' stunning win at the Masters.
If you read all the literature put out by the tour on The First Tee or hear the mentions of it during televised tournaments, you would think it has been an unqualified success. There is a lot to be proud of, including the fact that there are currently about 3.8 million kids involved in various First Tee programs around the country.
That number, however, is deceiving. In all, there are 150 First Tee chapters nationwide and about 1,400 First Tee locations located in those chapters that have direct access to golf courses.
Those programs have about 160,000 kids in them, and according to McLaughlin, all have at least "some access" to golf courses—some on 18-hole courses, others on nine-hole courses, some on three- and six-hole courses.
The bulk of First Tee programs are located in elementary and middle schools, Boys & Girls Clubs and YMCAs. There is little access to golf courses in those programs, although some do get kids to driving ranges and putting greens while teaching them the rules and etiquette of golf.
McLaughlin readily acknowledges the issue. "We need to get more of our kids the chance to get on a golf course," he said. "If you want them to really fall in love with the sport, they need to actually play it on a regular basis. We're living in an era nowadays where kids are almost forced to choose one sport by the time they're 12 and play it all year round. The more kids we can get playing, the better chance we have for them to want to pursue golf."
I suggested to McLaughlin that now would be a good time to ask (tell?) tournament directors at stops on the PGA Tour, Korn Ferry Tour and PGA Tour Champions that giving First Tee kids access to their golf courses will be considered part of the tour's contract with those clubs.
"Write that!" McLaughlin said. "Please write that! Of course, that would be a great thing for us."
Another issue is diversity. In all, roughly 48 percent of current First Tee members are minorities—about 25 percent are African-American. The number is lower at First Tee facilities with a direct tie to a golf club or public golf course—about 15 percent. About 39 percent of the kids are girls.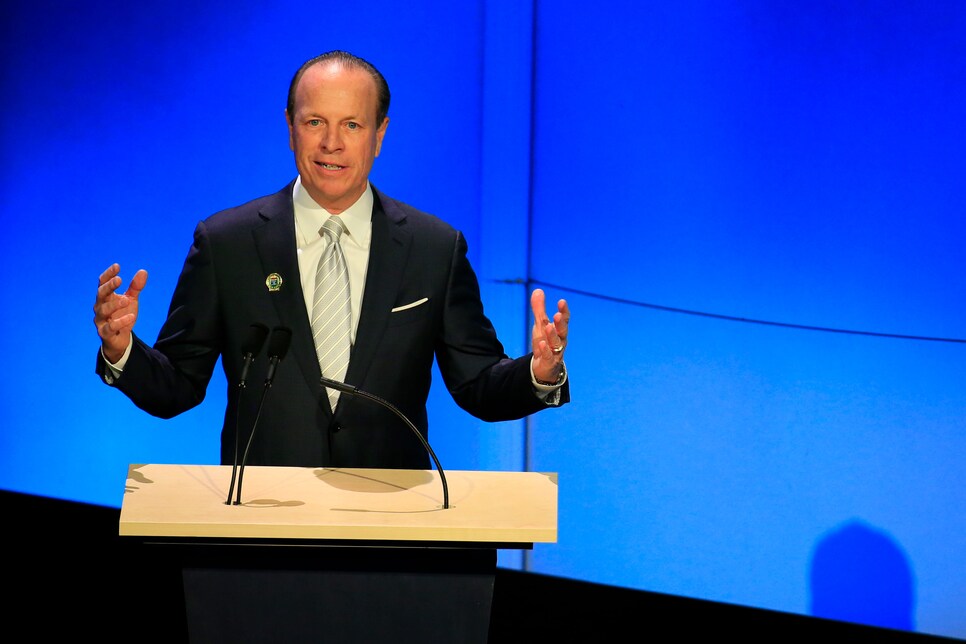 McLaughlin, who started overseeing The First Tee in November 2018, says its priorities include increasing the diversity of its membership and providing participants with better access to golf courses.
Daniel Shirey
"Those are numbers we need to grow, and now is a great time to do it," McLaughlin said. "In the past, there's been a tendency to take the path of least resistance when trying to start up programs—in other words, go where we're welcome. That's been a good strategy in some places, not as good a strategy in others. We need to be more aggressive in terms of becoming more diverse, and now is very much a time to do that."
With all the money raised and all the various chapters around the country, The First Tee has produced only two players—and only one a full-fledged First Tee product—who have reached the PGA Tour. Scott Langley, who is a minority in the sense that he's left-handed, came up through The First Tee and credits much of his success to the program. Cameron Champ, who is the product of a biracial father and a white mother, was in the program briefly as a youngster but advanced so quickly that he didn't remain. Others have gone to college on golf scholarships and have had success as amateurs, but everyone agrees the numbers should be better.
Harold Varner III, who is one of only four minorities on tour right now (Woods, Champ, Joseph Bramlett), who learned to play at what was then Gastonia Municipal Golf Club, where his father paid $100 a summer so the youngster could play the golf course Mondays through Fridays, has talked often about the need for more teaching in The First Tee program.
"Harold would like to see us be more aggressive in that area," McLaughlin said. "I agree with him. We've got about 350 PGA professionals who work with the program, but it would help if we could get more of them involved and get the kids more time with them."
Varner has spoken often about the aspects of The First Tee he admires, but he also thinks there needs to be a more aggressive approach across the board. "In some places, it's like golf day care," he told me once. "If they're trying to get more kids to grow up playing the game, it has to go beyond teaching them etiquette. They have to be taught to play—and to love—golf."
McLaughlin believes that the George Floyd tragedy can represent an opportunity for golf and for The First Tee.
"I was living in L.A. during the Rodney King riots [in 1992]," he said. "This has a different feel. I don't think the people who are protesting right now just want to raise their voices for a while and then go home. I think they want to see real change happen.
PGA Tour commissioner Jay Monahan is the chairman of The First Tee board and former commissioner Tim Finchem the vice-chair. "I think the two of them have the ability to wield a lot of influence helping us get more access to golf courses and more time playing golf for the kids," McLaughlin said. "I know they both want to see that happen.
"There's an opportunity here right now. The combination of people wanting to be outdoors more in the wake of the pandemic and the reaction to George Floyd's death puts us in a position where we can grow the brand and grow golf. We've spent the last two weeks analyzing ways to do a better job in the communities where we already are and how to get into more minority communities and reach more minority kids. We know we need to reach out more to disadvantaged communities."
Former President George W. Bush succeeded his father in 2011 as The First Tee's honorary chairman and still holds the post. I asked McLaughlin about involving former President Barack Obama, also an avid golfer, in the program.
"I had a meeting with President Obama's chief of staff last year about having him do a clinic in Washington or Chicago," McLaughlin said. "He was very open to the idea, but we haven't gotten it done yet. There's going to come a time when President Bush [who is 73] will step aside, and I would think President Obama [who is 58] would be the first person we would approach to see if he would take on that role."
McLaughlin has long had a reputation in golf as someone who gets things done. There's little doubt the tour brought him into The First Tee because it recognizes that there is still a lot that can be done better.
As he says, The First Tee has done good work. But there are still a lot of ways to improve. There is no better time to begin that work than right now.