News
'The last bastion of hope'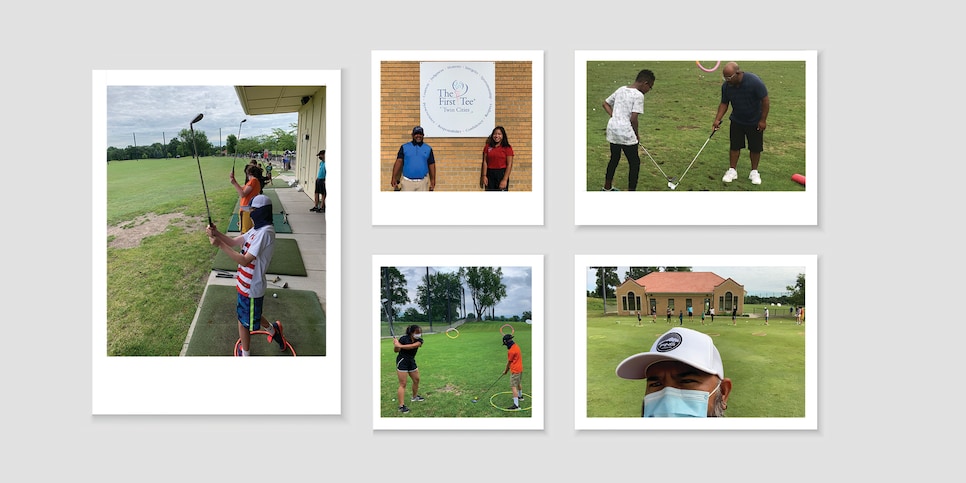 Five miles. It's not that far. Even on city streets you might cover the distance in less time than it takes to get halfway through a bucket of balls.
Five miles is the distance between The First Tee of Twin Cities and the corner where George Floyd was killed by former Minneapolis policeman Derek Chauvin. The First Tee of Twin Cities is one of the more than 1,000 facilities established since 1997 to foster the development of life skills in young people through golf. It has always been about teaching young people that golf's challenges and its environment are a practical metaphor for navigating all that reality is going to put in front of you.
In 2020, life is putting a lot in front of us, especially five miles from The First Tee of Twin Cities.
The summer program, based at St. Paul's Highland National Golf Course, nearly was canceled by the restrictions of the coronavirus pandemic, but Franco Zerna, the program director in his 15th year, was thrilled to see camps and clinics fill up so quickly when the all-clear was given. Some 2,000 kids are part of The First Tee of Twin Cities in Minneapolis and St. Paul every year, and Franco also coaches the local Highland Park high school girls golf team, where 90 percent of the players are former First Tee participants.
"We're basically the last bastion of hope for parents to provide an outlet for the kids," Zerna said. "These are kids where golf has to be the last thing on their minds. A lot of times they're just trying to find a safe place, and here we are giving them this outlet, and it's amazing how they love it. I think it's because they know that the effort they put into it is going to pay off directly. If they do this, they know that's what's going to get the ball to go.
"It's rewarding, and we need that these days. We need that a lot, more than ever."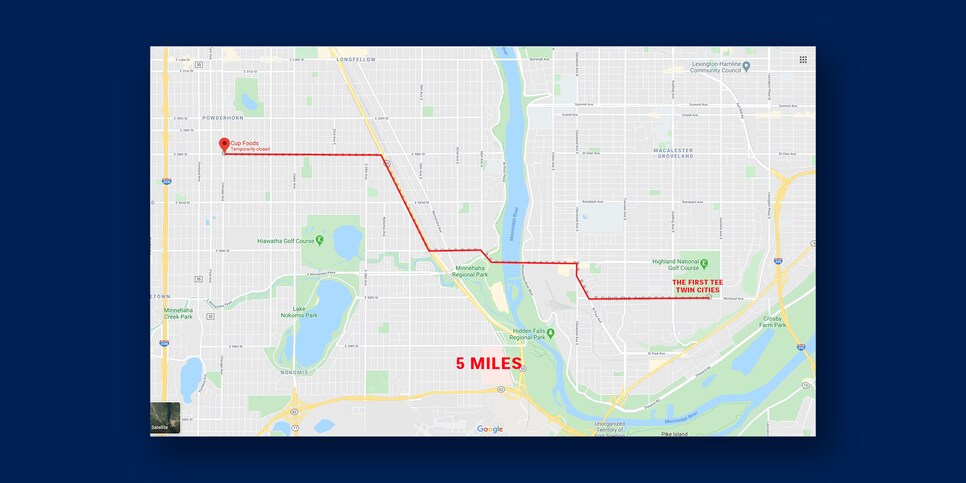 As The First Tee was developed, Joe Louis Barrow, its executive director from 1999-2017, helped foster what's known as the "Nine Core Values": honesty, integrity, sportsmanship, respect, confidence, responsibility, perseverance, courtesy and judgement. Now retired, he looks at the challenges of the moment and wonders what the world would be like if there were more First Tee participants making the decisions. "We'd be in a different place, for sure, a better place," he said. "I think one of the things The First Tee is trying to educate is that the decisions we make are not only about me, it's about all and us, it's not about me."
If you look closely at The First Tee, you realize very quickly that it isn't about training the next great golfers. But if you watch a First Tee session with kids and hula hoops and shouting and laughter and games that often seem more golf-adjacent than skill-intense, you also realize very quickly that for a program based on a solitary activity, the experience here is communal. Of course, it is also pretty easy to suggest that what you're seeing is a false reality. Like your rearview mirror, five miles from The First Tee of Twin Cities is closer than it appears. And yet while those critics on the outside might label The First Tee as golf's well-orchestrated apology for decades of exclusion, in its almost quarter century of existence, The First Tee today comes a lot closer to projecting golf's better self.
"We teach at The First Tee the importance of diversity and inclusion," Barrow said. "That you can learn from diverse people rather than only in your silo and only in your comfort zone."
Natalie Braga, a senior at Highland Park, has been with The First Tee of Twin Cities since she was 4 years old. A Chinese-American, she's now working with First Tee kids as a coach this summer. A month ago, she participated in the protest marches after the death of George Floyd.
"I think when I went to the protests it was more of an emotional transformation, and I became more dedicated to learning more of the history, and thinking about what I can do with my life to prevent days like this from happening in the future," she said. She hasn't directly talked to the kids about Floyd's death and systemic racism and what happens when those Nine Core Values come face to face with fear and hate. But she also wonders whether she even has to. Sometimes at The First Tee, the teacher becomes the student.
"I think their perspective on this is very interesting because they're in their childhood and growing up around this," she said. "I'm sure they're aware of what's going on, but when you're with these kids, you see that racism isn't natural, it isn't in them. These kids just want to have fun. And it's really fun to see them not care about race."
It's admittedly simplistic or maybe even insensitive to suggest that golf might play some kind of seminal role in how the national conversation about systemic racism progresses. Throughout its history, golf has exuded racist practices, sometimes subtle, sometimes decidedly not. Even in the Twin Cities, while black golfers were a fixture at the city's municipal courses since their opening in 1916, they weren't allowed in those clubhouses until well after World War II, not even for a drink of water. The St. Paul Open repeatedly denied entry to prominent black golfers like Ted Rhodes and Solomon Hughes until 1952.
The First Tee on a national scale has worked to change not only that attitude but its practical effects. According to Greg McLaughlin, CEO of The First Tee Foundation and the World Golf Foundation, 52 percent of the participants in First Tee programs are non-caucasian. That almost triples the participation rate of minorities among all golfers as counted by the National Golf Foundation. He said the George Floyd tragedy and how race has become a central issue for the country has not been lost on how The First Tee thinks about its mission going forward.
"We believe The First Tee is one of the most diverse youth organizations in the United States," he said. "We feel like we've made a huge imprint in the under-served and under-repesented communities. I think we have a great opportunity, but I also feel like we have a tremendous foothold right now to expand the work that we've been doing. No. 1 we know this is a marathon, not a sprint. We have to be very intentional about reaching out into these communities. And of course that requires resources, too."
Zerna, who is Filipino, knows that perception has been an obstacle toward participation as much as it is toward funding The First Tee as a non-profit operation. But he also knows that the game's ultimate nature, its own natural core values, are universal. The golf ball and the golf course do not discriminate.
"Even for me, in the midst of the coronavirus and then the protesting, golf for me was an escape," he said. "Just the simple act of fixing a ball mark makes you feel better, more in control of things than you do outside the golf course. I just wish that what golfers do on the golf course we could take into the world. That would be utopia, that would be great. It's why we smooth out the bunkers so the next guy won't land in your footprint. And this is exactly what we're teaching the kids. Take that to your life outside."
Outside suddenly seems very far away, farther than five miles, especially when it feels like no one is smoothing out the footprints in the bunkers out there. Zerna says he doesn't want to get political, but he knows what's been going on around the kids at his camps and clinics, what they must be thinking and feeling. "There are too many people hurting," he said. "You can feel the tension in the air.
"We don't want to be polarizing, but it's just human dignity, man. Respect. It's what it is to be human. We have to make sure that we're a refuge for them and that we will leave them with the tools to where they will say that I have what I need to navigate through this. But we can't be too heavy handed."
And then Zerna talks about The First Tee's lessons for staying cool on the golf course in the midst of a bad moment. It's called the Four Rs: Replay, Relax, Ready, Re-do. He also knows if there had been that kind of poise in the moment from the men who were supposed to protect him, George Floyd might be alive.
"That's when it gets really hard to talk about," Zerna said. "There are things sometimes you can't control. It's like in golf, you can't control the wind. Well, you can't control other people, too. You can only control how you approach stuff and what you do. But, man, it's heart-wrenching sometimes.
"But with golf sometimes the frustrating part is what makes it so rewarding."
Five miles. It's not that far, or is it? Probably 15 minutes in a car from the corner of East 38th Street and Chicago Avenue, where what once was just a Cup Foods convenience store is now a powerful statement of just how much Black Lives Matter. But if you're walking, five miles is just about how far you've gone when you reach the 18th green after starting on the first tee.
"Kids need these core values now more than ever, trust and honesty and respect," Zerna said. "Those are big things. That's what golf teaches these kids. I don't want to sound too corny, but it's life enhancing. It really is.
"In these times especially, maybe what these kids are showing us is that there's hope."