APGA Tour
The mini-tour fighting to give Black golfers a chance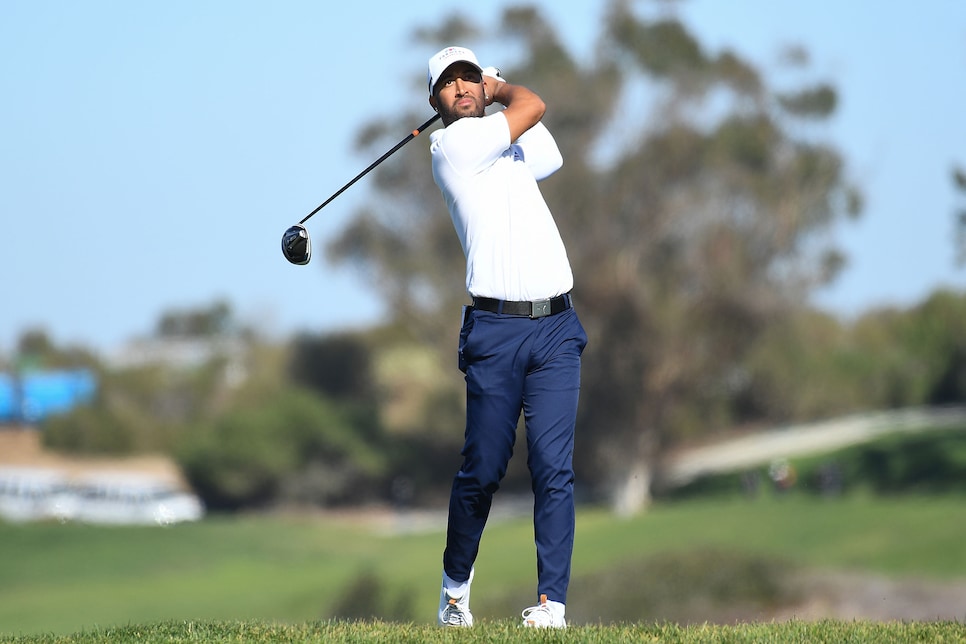 Photo By: Icon Sportswire
A stranger approached, his face and shoulders and steps carrying the weight of an impalpable hurt. It was the look of men who have fallen on hard times, a look, Ken Bentley remembers, that seemed far from fresh. Someone had pointed the man in Bentley's direction at the Pacific Palms Course in Los Angeles, where Bentley was running a tournament for his fledgling golf circuit. Bentley figured the stranger would ask for money or help or employment, not knowing he was the one about to receive enlightenment.
"Clearly he was going through a tough spell, he told me he lost his job. But he spoke with purpose," Bentley says. "Kind of caught me off guard, tell you the truth."
The man had heard of Bentley and his mission. He reached into his pocket and emptied its contents into Bentley's hand.
"This is all I can do," the stranger said, "but I wanted to do something."
The stranger walked away. Bentley glanced down. Cradled in his palm were five $1 bills.
The idea sprung from a gathering in the desert. A vice president at Nestle USA, Bentley organized a buddies' outing in Las Vegas and invited former PGA Tour player Adrian Stills to join. Stills was on Bentley's mind. Bentley had just watched the documentary "Uneven Fairways: The Story of the Negro Leagues of Golf," and was perplexed why the game, more than a decade after Tiger Woods' arrival, remained overwhelmingly white. Perhaps no person was more equipped to handle this question than Stills, who at that point was the last player of Black heritage to make it through the PGA Tour's Qualifying School, a drought that extended for 25 years (Joseph Bramlett would eventually become the next in 2010). Stills, fielding a question he had often wondered himself, rattled off a list of reasons, many that began with "lack." A lack of money, opportunity, grassroots development, mentorship. But in Stills' estimation, the chief problem was a lack of patronage.
Stills had come up through the United Golf Association, a league for African Americans when the PGA of America had its "Caucasian Only" rule on what would become the PGA Tour. Painful as the PGA's segregation was, the UGA presented an infrastructure for Black golfers. To foster their games, yes, but to also build camaraderie and a sense of inclusion when the game kept them out. In a similar vein, there needed to be a modern-day ecosystem to nurture talent in the Black community, Stills asserted, to get more minorities on tour.
"So I told him, 'Well, let's do it,' " Bentley says.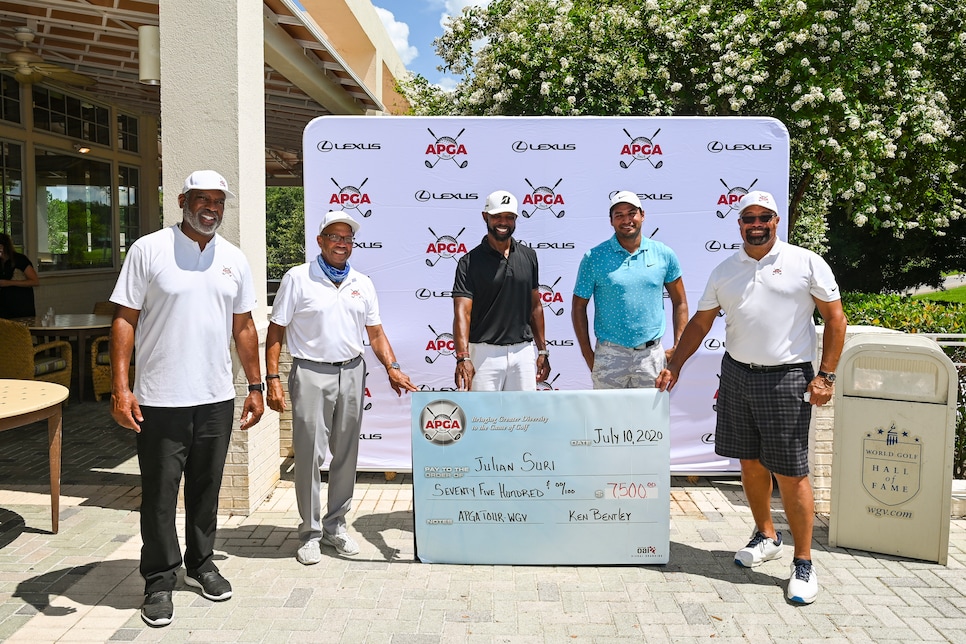 Ken Bentley (second from left) helped found the APGA in 2008 with Adrian Stills (far right) in 2008. The two are pictures with Cole Smith, executive director of the APGA Tour, (far left) and APGA players Tim O'Neal and Julian Suri at an event in 2020.
Keyur Khamar
Bentley and Stills established the Advocates Pro Golf Association in 2008, a non-profit organization "with the mission to bring greater diversity to the game of golf." Its primary function is the APGA Tour, which provides a competitive environment for minorities—the tour is about 70 percent black, Bentley said, with another 10 percent identifying as Latino—with reduced entrance fees. The APGA rolled out a three-tournament schedule in 2010 held on inner-city venues with Bentley getting $40,000 worth of grants from Nestle and Farmers Insurance to serve as prize money. That schedule has grown to 13 tournaments in 2021 and includes stops at Valhalla, Torrey Pines and five TPC courses. The total purse is up to $350,000, with a season-long points race sponsored by Lexus dangling another $35,000.
Along with that growth has been an expanding respect given to the APGA and its constituents. Many familiar with the minor-league workings of the game consider the APGA just below the PGA Tour Latinoamérica and Mackenzie Tour—both feeder circuits for the Korn Ferry Tour—from a competitive standpoint, with the collective skill level becoming more formidable by the year.
"The depth might not be the same, but our best players can hang with anybody," says Tim O'Neal, a Korn Ferry Tour vet who won the Advocates' Lexus Cup in 2020. Adds APGA regular Doug Smith: "This isn't the place to find your game. Guys go low out here. It's cutthroat."
The sentiments are not embellishment. Rather, they're backed up by the recent performance of Willie Mack at the Farmers Insurance Open (top photo). Mack was a late entrant into the field after fellow APGA pro Kamaiu Johnson withdrew with a positive COVID-19 test. Despite the short notice and little practice, Mack was one under through 14 holes on the tougher South course at Torrey Pines before stumbling at the finish. "He might have missed the cut, but he basically shot what Brooks Koepka shot," Smith says (Koepka finished four over to miss the cut, Mack five over). "Then Koepka wins the next week [in Phoenix]. Doubters are just going to look at the missed cut, but Willie was right there."
Mack will get another chance at next week's Genesis Invitational, with Johnson and Kevin Hall playing in this week's AT&T Pebble Beach Pro-Am. Every PGA Tour start increases the APGA's visibility and validity and, in turn, the players it champions. It also gets Bentley closer to one of the APGA's objectives. Though Tony Finau, Harold Varner III and Bramlett have passed through its events, a full-fledged APGA member has yet to earn his PGA Tour card. Over the winter the APGA board put together a five-year plan to rectify that. It is a goal, Bentley acknowledges, that can't just be wished into existence.
"What we are dealing with is systemic," Bentley says.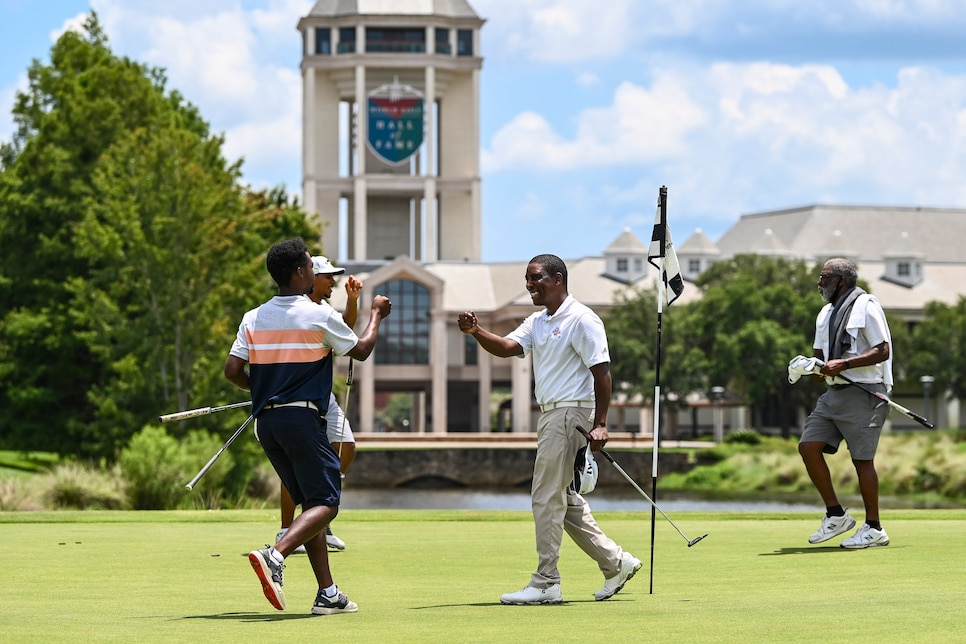 Kevin Hall, a former Big Ten champion in college who has played in a handful of PGA Tour events, sees the APGA Tour has been a valuable outlet for Black and minority tour pros trying to develop their games.
Keyur Khamar
A survey of the APGA players found many of them played outdated equipment. A likewise large contingent had never been properly fitted for their clubs. They were practicing on range mats at The First Tee courses, facilities that, while welcoming to newcomers, are wildly inadequate for professionals. There was no access to coaches or trainers or launch monitors or diet regimens. No wonder his players weren't graduating to the next levels, Bentley realized. They were showing up for battle with bows and arrows against high-powered machinery. If they got into battle at all.
The sadistic paradox of minor-league golf is it costs a lot to compete for so little. O'Neal, who has more than three decades of experience, says a full year of expenses hovers at $75,000. "I can't tell you how many good players gave up because they tried for a year and didn't have the money," O'Neal says. The expenditures are what you'd expect: Travel, lodging, food, tournament fees. The beast hides in how quickly they pile up.
"Nothing more disrespectful when someone says 'Well, why don't you just Monday qualify," says Smith, who was the first African-American to play golf at the University of Louisville. "OK, cool. Roll off $250 for the pre-qualifier, $500 for the qualifier. The pre is on a Thursday, so you're riding into town on Tuesday to get a few practice rounds in. Make it through that, you're waiting around 'til Monday. That's six nights at a hotel, $100 a night. You've got to eat, got to pay to hit balls, got to pay for practice rounds. If you don't go stupid low on Monday, you're not making it.
"So you've paid $1,800 to spend six nights in a Days Inn to shoot a 66, which, congrats, is good enough for you to miss the playoff by two shots. By the way, keep your head up, because you have to do it again next week."
To try and make it without the backing of a country club or benefactor is like trying to reach the moon in a canoe. Practically no one comes from money on the APGA; many were born into poverty. Both Johnson and Mack were homeless at points in their lives, and others have spent parts of their professional careers sleeping in cars. They can't afford, literally or figuratively, the costs of qualifiers or bigger tours, instead playing in local one- or two-day events. These tournaments don't offer life-changing opportunities, but they at least afford a man a chance to eat.
"It is a daily grind," says Hall, a former Big Ten champ who is also deaf, losing his hearing when he was 2 after contracting H-flu meningitis. "It is a constant stress to play well and make money."
The APGA leadership is well aware of this crux and has begun to chip away at the dynamic. There have been partnerships with Trackman and Arccos to furnish players with modern technology. Teachers are offering assistance when they can. A handful of manufacturers have brought APGA members to their test sites to get fitted.
Bentley and his team are making inroads. Yet every progression seems to be met with another obstacle or reminder of what lies ahead.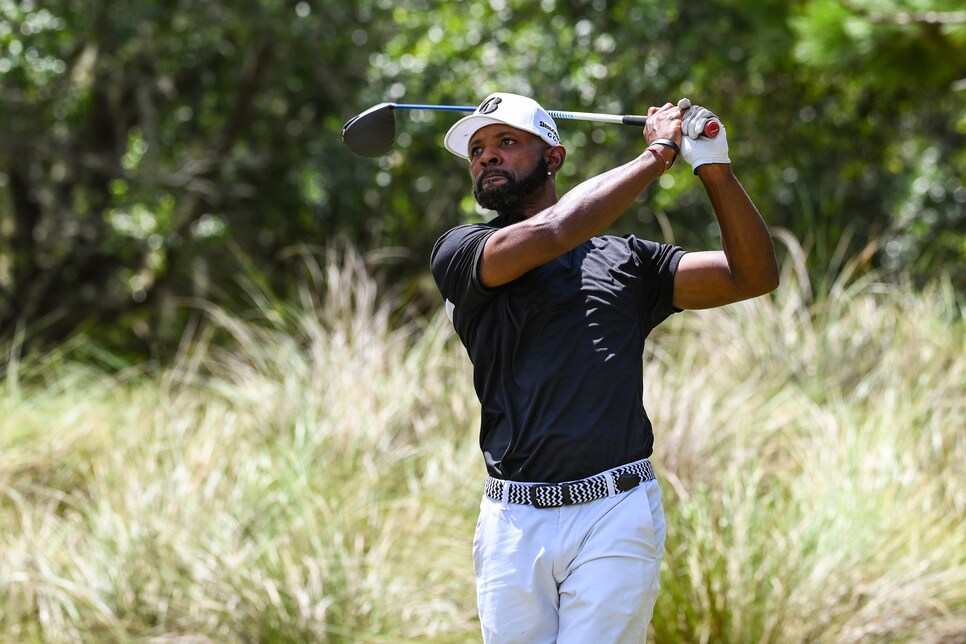 Tim O'Neal is in the later stages of his pro career and wonders how it might have been different if the APGA Tour had been around when he was younger.
Keyur Khamar
At one of the aforementioned manufacturing trips, a worker was astonished at how well the APGA players were striking it. "I asked him, 'Why? They're professionals,'" Bentley recalls, although the insinuation was quite clear. "It's like he thought we were a bunch of charity cases." Individual donations to the APGA have been up, but corporate sponsors were stagnant over the past year. It is a bit confounding, especially after numerous companies pledged their support in the wake of last year's national protests for racial justice.
Then there are the exemptions from PGA Tour and Korn Ferry Tour events. They are welcomed, obviously. In that same breath, APGA leadership expresses vexation that they are mostly one-offs. When the invites do come, there are those who say said exemptions are not warranted.
"You go online and read that Kamaiu and Willie are only getting their shots because of affirmative action," Smith says. "People totally dismiss their work, their play, their stories. Instead they just chalk it all up to a byproduct of their color."
Smith himself has mixed feelings about the exemptions, albeit on the other side of the spectrum. "I know a few tournaments stepped up when Kamaiu got COVID. Part of me wants to say 'Good for them.' But I also wonder, 'Why did it take for this man to get sick for you to give him a chance? Are you doing it because you believe in him, or because you're trying to get some publicity?' "
"We need a real investment, not just something for PR's sake," Bentley said. "More than one-offs. If we really want to see these guys succeed, they need some type of rhythm. That's how progress is brought."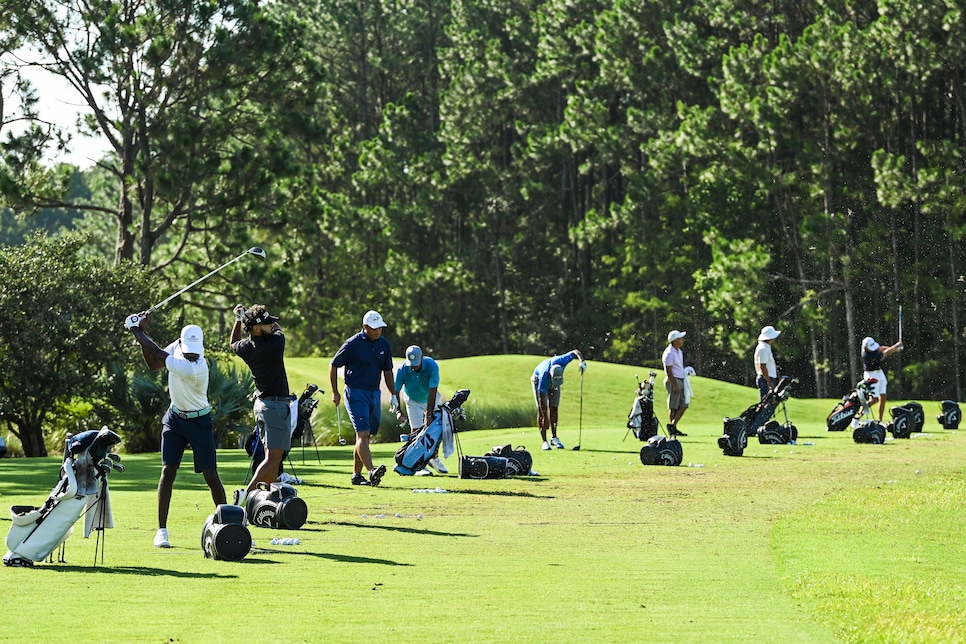 Kamaiu Johnson and Trey Valentine practice on the range with other players during the final round of a 2020 APGA Tour event at the World Golf Village in St. Augustine, Fla.
Keyur Khamar
True as Bentley's words may be, they also short-change his efforts. Though the APGA Tour is the organization's gemstone, it has built other avenues for change. There are youth clinics in conjunction with each event hosting anywhere from 75 to 100 boys and girls, many coming to a golf course for the first time. The APGA runs a scholarship essay contest, and through the pandemic it has continued its youth outreach with online courses. Tournament sites also feature pop-up wellness centers and career fairs for the community.
The job search extends to APGA membership. The players recognize the long odds, no matter one's race, of reaching the upper echelon of the sport as competitors. What is in reach, or at least should be, is a spot in the industry. The PGA of America and PGA Tour have opened communication lines about possible career opportunities, and Bentley has brought in job recruiters to expedite the process.
"You always hear the PGA of America has 29,000 club professionals. What you never hear is less than 200 of them are Black," says Smith, who works as a director of mobile sales and operations with TruSpec and also hosts the podcasts "Beyond the Fairway" and "Birdies Not BS" with Cheyenne Woods. "We know money and access are big problems for kids getting into the game. But we also need to be represented to get them inspired."
Important as these endeavors are, those around the APGA know their face is the tour. It's seen an influx of membership applications the past year as players of all backgrounds have looked for opportunities with other developmental circuits suspending operations during the pandemic. Bentley says the tour's budget constraints keep full-time memberships to 60 players, although 120 different individuals played in at least one event in 2020. Each event leaves five spots open to high school and college golfers, hoping to give them a taste of what awaits.
As Smith mentioned, the competition is fierce. There is also a palpable camaraderie, the camaraderie the APGA desired to replicate from the days of the UGA. Most players travel together and share rooms. They serve as each other's swing gurus, and the success of one is the success of the group. "We all want to beat each other's brains out when we compete, but we enjoy each other's company," Hall says.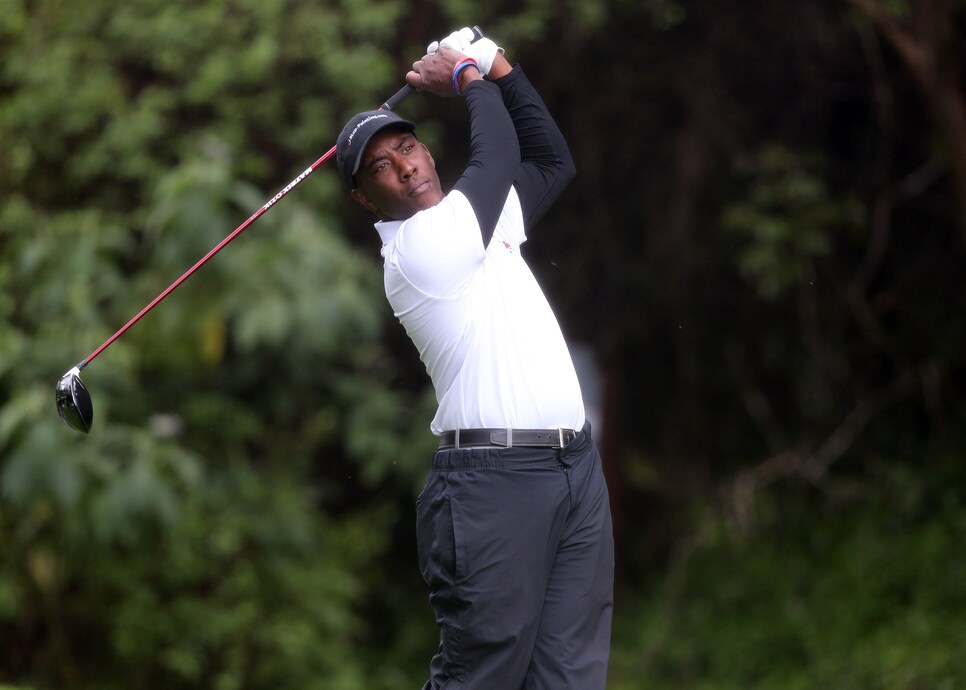 Kevin Hall hits a tee shot during the second round of the 2017 Genesis Open.
Icon Sportswire
Nearing 50, O'Neal wishes the APGA would have been around during his prime and can't help but ponder how his career might have been different had this support system existed. "I got a few opportunities, but mostly did it alone," O'Neal says, who's had a few cups of coffee at the PGA Tour. "I never want anyone to wonder 'What if?'" Which is why he's become a statesman for the league, letting the shortcomings of his dream be the spark that helps others attain theirs. "We take care of one another, that's what families do," he says.
That includes Bentley, who through the years has paid players' medical expenses and arranged travel accommodations when guys were really hurting. It's a direction he gets from the stranger at Pacific Palms. He thinks about that man a lot, and for some time he wondered if he was wrong to accept the money. But then he thinks about the stranger's departure, that the walk that seemed so heavy now had purpose.
"What he had, he gave," Bentley says. "He gave what he couldn't, really. It was a reminder that people are good and want to be part of something bigger than themselves."