News
Kevin Hall, the tour's first deaf golfer, is not giving up on his chase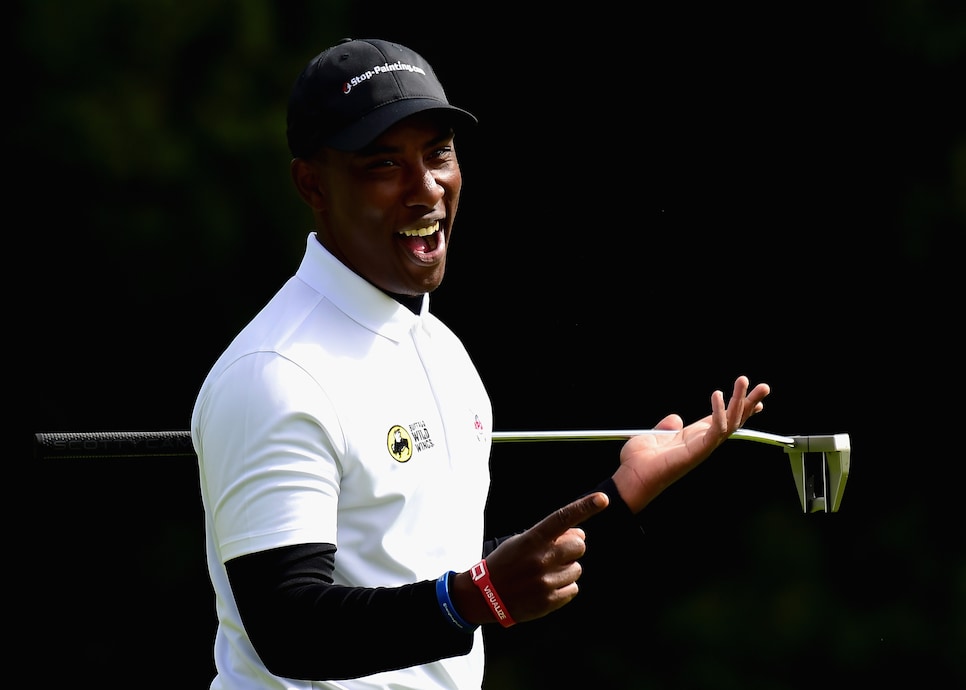 Time is of no concern to Kevin Hall. There may be an internal clock, sure, ticking to a point of no return. But Hall can't control its perpetually moving hands, so why bother. Besides, there's work to be done. His dream, after all, is closer than it's ever been.
Hall has spent 14 years chasing it: membership on the PGA Tour. He's enjoyed a handful of starts on tour during his career, but has mostly toiled in the sport's minors. Not the Web.com, Latinoamérica or Mackenzie circuits, mind you, where decent money can be had. Hall has ventured in the wilderness, those provincial tours where you carry your own bag and are chased off the course by the men's 45-and-older Thursday beer league. It's not a glamorous life, one that chews and spits out the most skilled of players. That's includes Hall, who once captured the Big Ten Championship by 11 shots at Ohio State.
Golf's graveyard is filled with tales of former prodigies, yet Hall's story has a different tone. His transcends what happens inside the ropes.
"Golf is what I do, but in the grand scheme of things, God is using me to serve as an inspiration to others," Hall says. "To stay the course and preserve."
That's because, in a game that's embarrassingly restrictive, Hall breaks its conventions. He is an African American, one of the few competing at the elite level. The obstacles that presents, all of which he's hurdled, alone makes him a success. There's a bigger piece, though, one that's primarily been the conduit to his fame: Hall is deaf, losing his hearing when he was 2 after contacting H-flu meningitis. The initial diagnosis was death, or life as a vegetable.
Hall knows these facets are a part of who he is. They don't define him, but they do construct a unique framework.
"People will always see me as deaf and black," Hall said in a 2006 AP interview. "I don't think people will see me as just another golfer. It just won't happen. That's my story. I guess it will always be my story."
Well, yes and no. They are elements, important at that, but Hall's narrative is one he controls. Though it appeared complete—there's rarely a surprise ending for those logging 14 years in the minors—last season proved Hall is not done writing his epic. In 2018, for the first time in his career, he will have status on the Web.com Tour. Reaching golf's biggest stage is no longer a pipe dream; he will get his chance.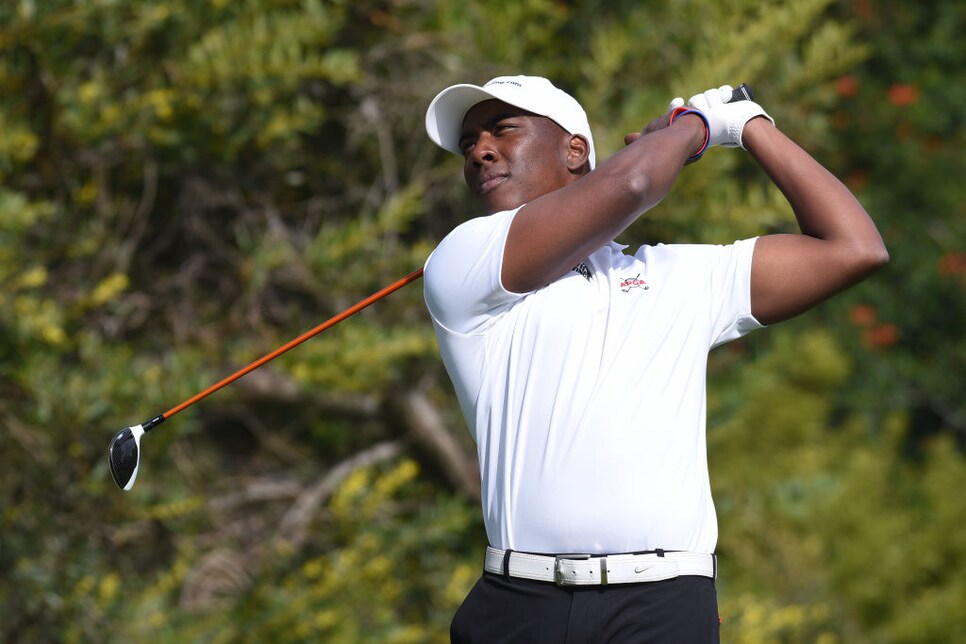 A possibility that started, of all places, on the PGA Tour.
During the Genesis Open last February, Hall was honored with the tournament's Charlie Sifford exemption, given annually to a minority golfer. Hall had played in tour events before, including the Memorial and Pebble Beach, but those came shortly after the end of his college career in the 2000s. In those days, Hall believed mixing it with the big boys would be the norm. An 11-year wait between tour appearances, and the inherent struggles that period suggests, provided a newfound appreciation.
"There were times during the week I just had to stand still and take in the scene," Hall says. "Just looking at the best players in the world, looking at the iconic course and getting the opportunity to compete."
Hall understandably battled nerves on Day 1, making the turn in 41 and finishing with an eight-over 79. But he didn't let Thursday ruin the experience, bouncing back on Friday with a respectable 72 in tough conditions.
"Putting your game on display on such a grand stage is not for the faint of heart," Hall says. "The experience alone helped me throughout the year."
Indeed, after countless, often futile rounds on tours like the Swing Thought, Advocate and Florida Pro Golf, Hall found his eureka in Los Angeles. A conviction that helped at Web.com Tour Q School, where Hall overcame an opening-round 77 with 71, 66 and 68 to finish T-10 at the second stage, good enough to earn his conditional status.
"When I knew I was just a solid back nine away from making it to the final stage, Riviera was on my mind and it helped me handle the pressure coming in," Hall said. "It is a blessing because I've dreamt of this moment for a long time and it has happened.
"Even though it's only conditional status, it is still an accomplishment and an opportunity to ultimately make it to the PGA Tour."
But that's the rub: Though Hall is closer than he's ever been, there's still more work ahead. He labored at Q School's final stage, failing to secure full Web.com status after finishing T-136. He'll still get a share of starts—he hasn't competed on the tour since 2008—but will have to rely on sponsor exemptions and Monday qualifiers.
"It'll be a very tough road," Hall admits, "but such is life."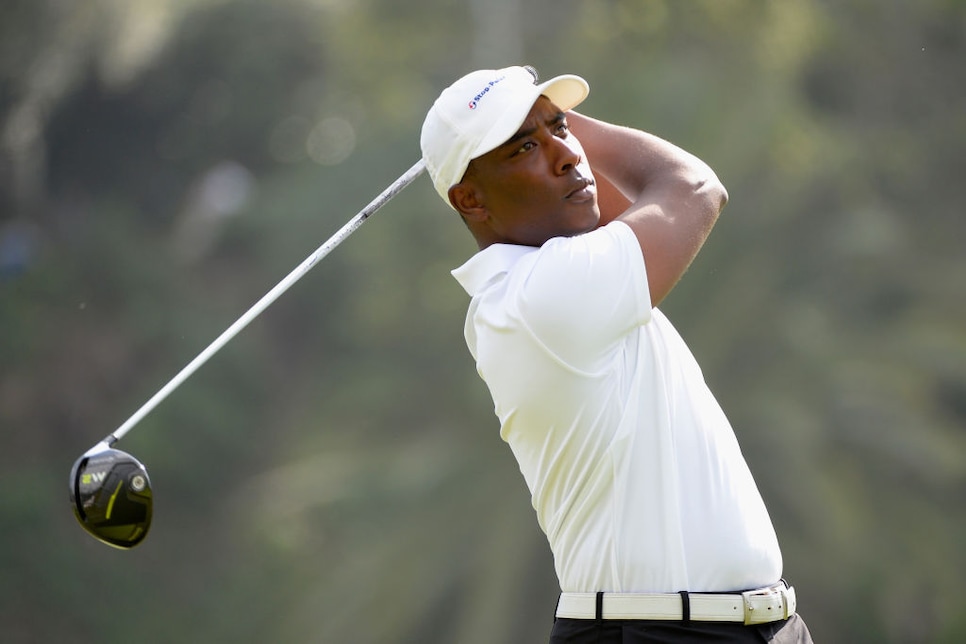 Hall turned 35 last fall. Some players maintain formidability at that age. In that same breath, the list of late-30s breakthroughs is light reading. Hall may not feel Father Time, but He's peeking around the corner.
For Hall, however, competing on the golf course is the only life he's ever wanted.
"I play professional golf because it has been a dream of mine since I was a little kid," Hall says. "The passion I have for the game, the work I put into it and the joy I get from competing, I do for myself."
He also recognizes the power he holds, that—because of his race and hearing impairment—others are invested. Any success he finds will mean something more. A sentiment that can be weighty at times, but one that also can lift him up.
"In the back of my mind, I know that my story inspires people," Hall says. "It is very helpful during times when things are a little bleak and discouraging. So, knowing that people are out there supporting me and my journey really encourages me to shake it off and keep on keeping on."
The Web.com Tour begins its campaign in the Bahamas at Emerald Bay this weekend, but Hall will be watching from home, not high enough on the priority list to make this his first start in 2018. Which is fine. He's waited a long time to get where he's at. He doesn't mind waiting a bit longer to get where he wants to go.