Sleepless nights
PGA Championship 2023: How is Ryan Fox on the Oak Hill leaderboard given all he's been through the last month?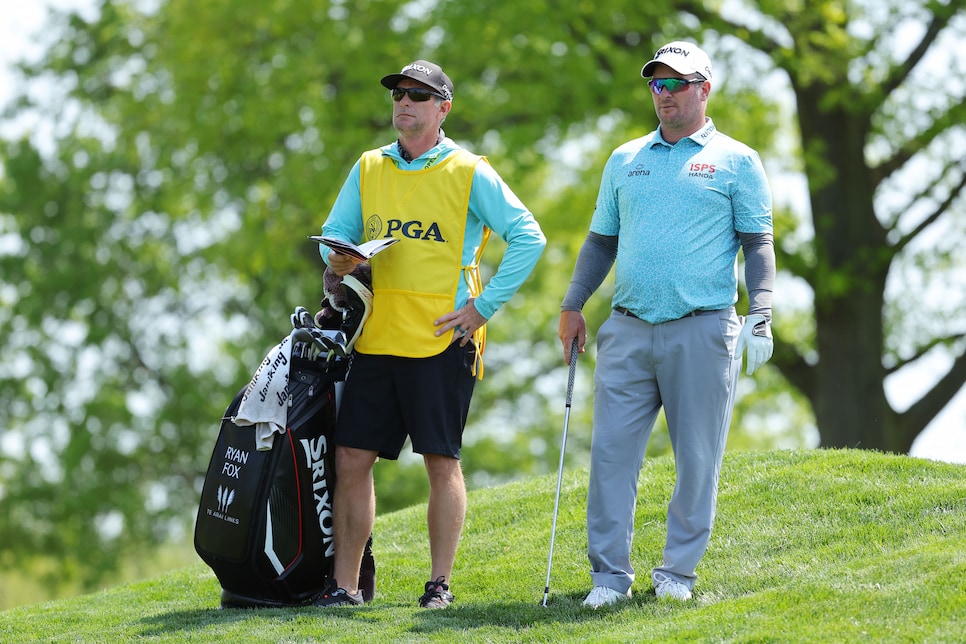 ROCHESTER, N.Y. — Ryan Fox stepped up Thursday as the obligatory mystery man that tends to pop up on a first-round leaderboard of a major championship—though he shouldn't be.
By saying he shouldn't be, we mean that he shouldn't be a mystery man. After all, the guy is ranked 41st in the world. And, yeah, we also mean he probably shouldn't be on the leaderboard in the 105th PGA Championship after events of the last month.
But there he was leading the PGA outright at one point before settling for a rather handsome two-under 68 at Oak Hill Country Club, just two behind clubhouse leader Bryson DeChambeau.
A native of New Zealand, the 36-year-old Fox had spent the previous four weeks at home recovering from pneumonia. He started feeling poorly at the Masters, where he finished T-26 after rounds of 74 and 73 on the weekend. He traveled to Hilton Head but could handle only nine holes at the RBC Heritage four days later before withdrawing. He didn't find out just how sick he was until he returned to Auckland, where he started a round of antibiotics.
Two weeks later, his second daughter, Margot, was born.
"So I had a few sleepless nights and not a lot of practice," he said, not complaining so much as pointing out what had been going on in his life. "One of the days I was supposed to go to practice, Auckland flooded for the third time this year. So I think I drove around Auckland 27 kilometers in four hours in chaos. It wasn't quite the ideal preparation for a major, but I was kind of hoping the fact I needed a break after a busy start to the year and being mentally fresh would have been important this week."
He arrived in Chicago from Auckland Sunday evening, flew to New York Monday and got in 36 holes of practice on the East Course. Still feeling less than 100 percent and jet-lagged, not to mention sensing some rust on his game, Fox somehow cobbled together a strong opening round to start his fifth PGA appearance, tying his second-lowest round in the championship.
A three-time winner on the DP World Tour, Fox held the outright lead when he converted his fourth birdie at the short par-4 14th hole, holing a 15-footer from off the green after missing the fairway wide right. He gave one back at the 17th after taking four to reach the green but saved bogey from five feet. He needed only 24 putts on the day after hitting only nine greens in regulation.
"I generally like playing the week before a major, and I've always been after a decent break always been a little rusty coming back. I did expect that," he said. "But I also thought this is kind of a golf course you don't have to shoot 20 under around. If you can shoot around par this week, you're going to be there or thereabouts. I kind of had that in the back of my head and just go, well, if you make bogeys, it doesn't really matter. Just limit your mistakes. I managed to hit a few good shots out there and ride a really hot putter. I'm standing here talking to you guys now, so it's not bad."
MORE FROM GOLF DIGEST @ THE PGA CHAMPIONSHIP