Extra Eyes
PGA Championship 2023: How a trip to Tiger Woods' house might help Rory McIlroy this week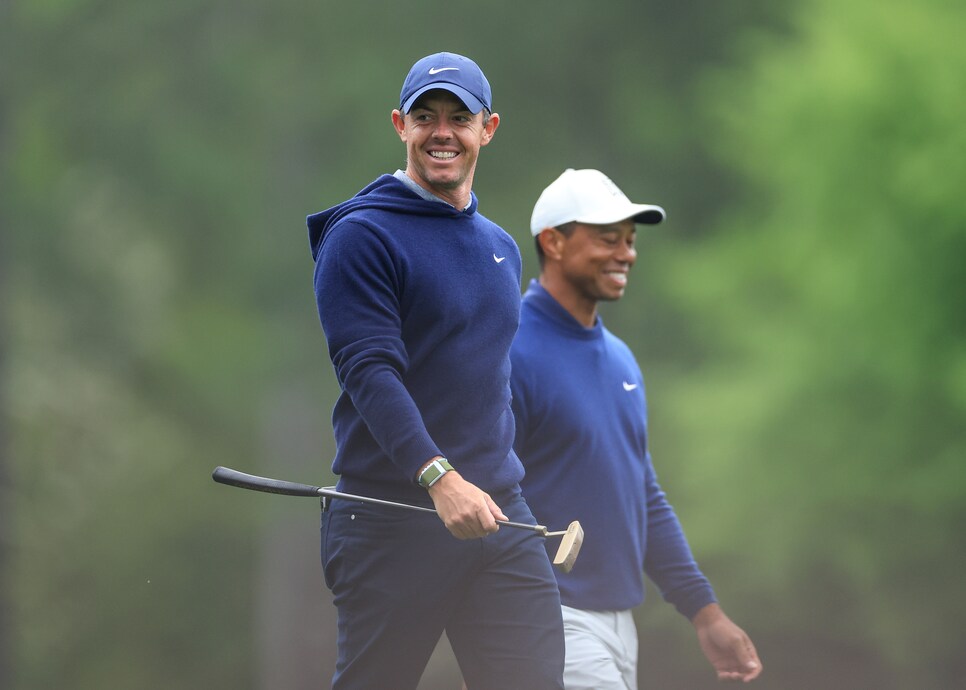 The past few months have been a struggle for Rory McIlroy. Missed cuts at the Masters and the Players, plus a T-47 in his last start at Quail Hollow, are not the kind of results you expect from McIlroy heading into the heart of the season.
The Ulsterman talked about fighting a two-way miss during his press conference on Tuesday ahead of the 2023 PGA Championship. He said his clubhead was getting out of position at the top of his swing, and that's led to some improper sequencing.
Turns out, McIlroy hasn't just been working on fine-tuning his swing alone, nor just with swing coach Michael Bannon. His buddy Tiger Woods is now involved.
Eamon Lynch reported on Golf Channel on Tuesday morning that Tiger texted McIlroy to relay that he noticed something in his swing during McIlroy's struggles on the weekend at Quail Hollow. Well, when a 15-time major champion has something to say about your golf swing, you bet you're going to do whatever you can to listen. So apparently McIlroy headed to his buddy's house and was all ears in an hours-long session before McIlroy headed up to Oak Hill for the PGA.
Here's more from Lynch's Golf Channel report:
And here's McIlroy's full quote about what he's been working on with Bannon over the past couple of weeks. Bannon is based in Northern Ireland but has been in Florida working with his student over the past few weeks:
"Yeah, just club getting a little bit out of position at the top and then sort of the sequence of events that follow from there. Clubface was getting a bit too open on the way back, really struggling to square it on the way down, and then sort of re-closure was getting a little too fast, throwing my hands on it, and sorta started to get the miss going both ways, especially at Quail Hollow.
"So trying to sort of tighten the start lines up a little bit, keep a little bit more strength in the club face, feel a little bit more squareness throughout the swing. That's sort of what I've been working on over the last week or so."
Tiger will not be teeing it up at Oak Hill this week after he revealed he underwent successful surgery after the Masters on his right foot. That doesn't mean Tiger won't have an effect on the proceedings at the year's second major. If his talk with McIlroy unlocked something to help him win his first major since 2014, you bet Tiger will get credit from his buddy. And rightfully so.
He might also get more work as a swing coach while he's sidelined for the rest of the major season … be careful what you're good at, Tiger!