Slow start
PGA Championship 2023: The most disappointing part of Jordan Spieth's opening 73 isn't what you'd think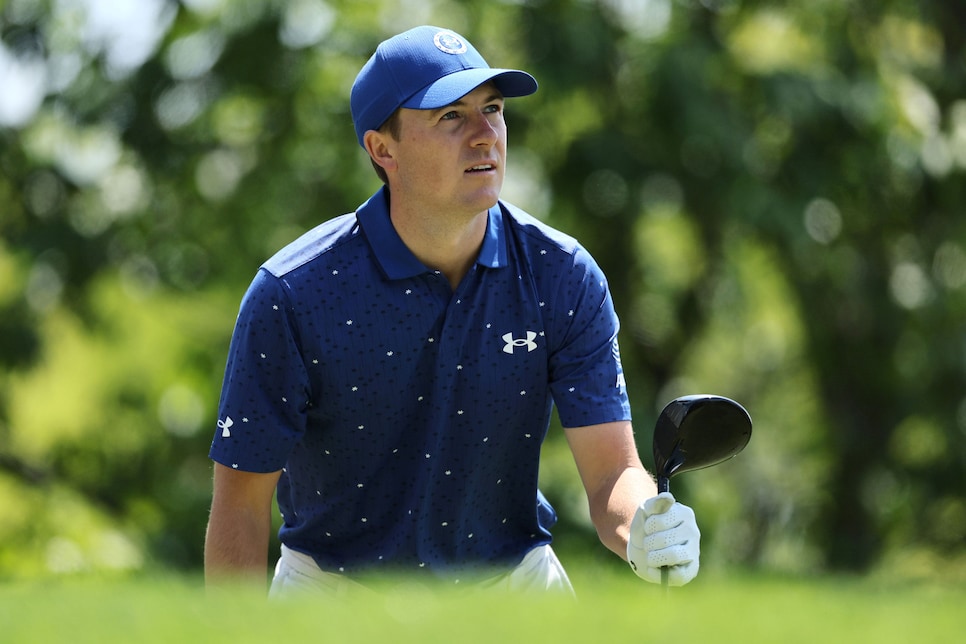 ROCHESTER, N.Y. — Annoyed would be the word that best describes Jordan Spieth's mood after his opening three-over-par 73 Thursday in the 105th PGA Championship. As emotions go, that might bode well for him the rest of the week at Oak Hill Country Club.
Despite a left wrist injury that limited his preparation, Spieth was able to hold his own for most of the day on the unforgiving East Course, hitting a variety of shots in the manner he intended. It was the results of some of those shots that left him feeling rather abandoned by the golf gods who usually save their benevolence for injured golfers.
"I played really well. That was probably the best I've ever played to shoot three over in my entire life," Spieth, making his 11th start in the championship, told Golf Digest. "I played three holes in a row where the wind switched on me, and you've got to protect because you can't be above the hole— holes 1, 2 and 3—and I played those in three over without missing a shot. My two best swings of the day were drives at 1 and 4 and the ended up in lips of bunkers. It was just one of those weird days where things happened. I had five lip-outs.
"I came in thinking I was probably the least prepared I'd ever been for a major, so I was hoping to get the golf gods on my side. I got the opposite. I played better than I thought I would and didn't quite get the results. I guess it happens."
Vying to complete the career Grand Slam (apologies, obligatory reference), Spieth, 29, had withdrawn from his hometown event, the AT&T Byron Nelson in Dallas, last week to rest and receive treatment for his ailing wrist. As he has done since he arrived at Oak Hill, he had his wrist wrapped in athletic tape over black therapeutic kinesiology tape and had a strand of KT tape running up his arm to just below his elbow.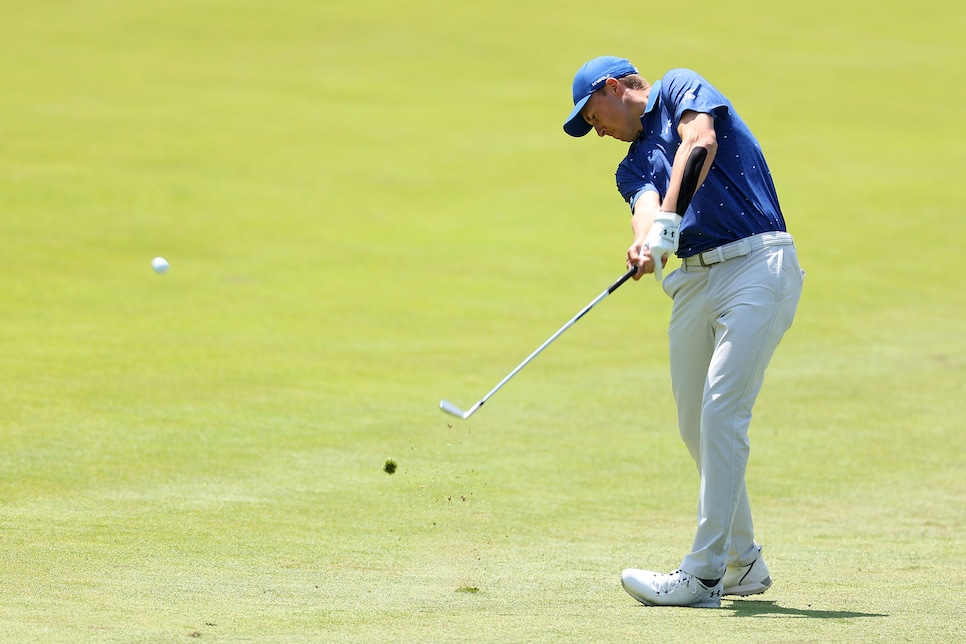 While his injured left wrist was heavily bandaged, Jordan Spieth didn't seem to feel any pain during his opening round at Oak Hill. That said, he was disappointed with his opening-round 73.
Michael Reaves
Largely, he escaped aggravating the injury with the exception of having to play from a plugged bunker lie at the par-4 third, where he suffered one of his three bogeys, and then caught a bit of the lip hitting out of the fairway bunker at No. 4. "It was the kind of shot I wanted to try to avoid," he said, "but the only way to avoid that was to play it backwards."
The world's 10th-ranked golfer, Spieth countered the three bogeys and the double bogey at the par-4 first with birdies at Nos. 13 and eight after beginning his round with at the 10th hole. In the early wave, he ranked 27th in strokes gained/tee to green at 2.454, a stat that is going to rankle his mood a bit more knowing that he hit it well enough to be closer to par.
"It stinks because I played well, and if I was a little closer to even I could really look forward and now I have to play a little guarded and get into the weekend and then see about trying to make a move," he said.
After a long day following a frost delay that pushed starting times back nearly two hours, Spieth planned to return to the range after a late lunch with his father for some "half-speed swings."
"I want to keep with the motion and stay dialed in," he said. "I'm behind the eight-ball [preparation-wise] so I'm trying to make up for lost time while still making sure I can go all four days [health-wise]. I'll do a few swings, hit a few putts and then concentrate on recovery, and then tomorrow see about just trying to get off to a good start."
MORE FROM GOLF DIGEST @ THE PGA CHAMPIONSHIP