Course Strategy
PGA Championship 2023: What it's going to take to beat Oak Hill (and win a major) on Sunday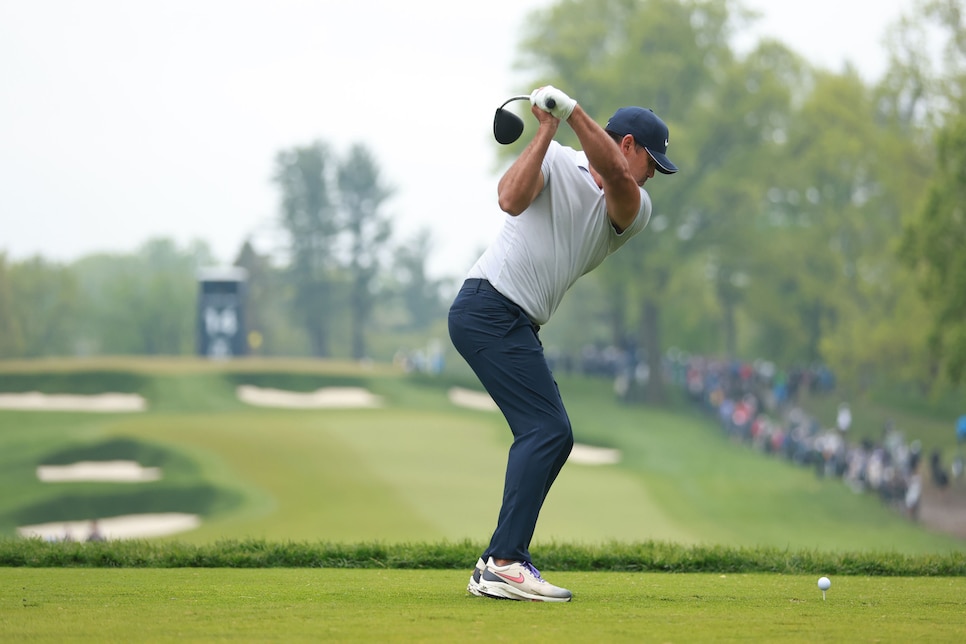 ROCHESTER, N.Y. — Saturday's first notable victim at the PGA Championship was the biggest of all: Scottie Scheffler. The World No. 2 seemed to be poised for a serious run at his second major, and for all we know he still might be, but the East Course at Oak Hill ensured if he's going to win the Wanamaker Trophy, he's going to have to rally from behind.
Almost immediately after Scheffler went off in the last twosome, he sustained a series of body blows: A drive that got caught up in the "intermediate" (read: still bad) rough on the first hole led to a tough approach and a three-putt, an approach into a bunker on the second yielded another bogey. Wayward drives doomed him on Nos. 6 and 7. Before he could catch his breath, he was four over, and it was all he could do to fight his way to a 73 that dropped him from first into fifth.
Make no mistake—the combination of thick rough and merciless rain was Scheffler's undoing, and he wasn't the only one. Other players fought the course to a relative draw, the embodiments of the "live to fight another day" cliché, but only Brooks Koepka thrived on a day seemingly tailored to deliver misery. After heavy rains in the morning gave way to slightly (but only slightly) lighter rains in the afternoon, the field average was 72.618 on the par-70 course, equivalent with Friday's 72.8, but arguably far more difficult considering the bottom half of contenders had been cut. Only nine players broke par in the end, and according to Elias Sports Bureau, "it has been over 20 years since the third round of a PGA Championship had less than 10 players shooting under par."
But if Saturday represented Oak Hill's standing tall, Sunday presents an opportunity for revenge. Contrary to the defensive posture needed to play the Donald Ross course over the opening 54 holes, aggressiveness in pursuit of the championship will be rewarded in the final round, and the fangs of a hard course will be withdrawn. With clear skies forecast and the wind diminishing by the time Koepka and Viktor Hovland tee off in the final twosome at 2:30 p.m. EDT, it should present the first real opportunity for the contenders to go on the attack, fight the course on their terms, and perhaps post a low score to win the tournament more in the style of their usual PGA Tour stops.
There are a few key strategic points to understand heading into the PGA's final act. For starters, the eventual winner will have to take advantage of the two par 5s; only four players in the top 19 made birdie on the par-5 fourth hole in Round 3, and that number was just three on the par-5 13th. These are not short holes, but they should be far more gettable on Sunday. And there's another paradoxical element here, which is that the rain that dogged the players on Saturday should soften the conditions such that fewer balls roll into the rough off the tee. Additionally, the par 3s are likely to be more receptive for pin hunters.
This isn't to say anyone should throw caution to the wind; Oak Hill won't suddenly become your local muny. Fairways and greens are of utmost importance, and even on a sunny, windless day, the makeup of this course means even small errors can yield big numbers. But subtle differences matter, and in the fourth round, we should see more of a green-light mentality with some gettable hole locations and favorable weather.
None of that was true on Saturday, when endurance was the name of the game, and one theme repeated over and over: Against Oak Hill, you could only withstand so much. Even when the going was good, it would get to you eventually.
Which brings us to another lesson for the field, one Corey Conners learned well: You must avoid the fairway bunkers and their steep faces. It's even more crucial then simply finding the fairways; Rory McIlroy has hit only 13 of 42 and is still on the leaderboard.
The metronomic fairway-to-green execution that had lifted the straight-shooting Conners to a tie for first after 36 holes served him well for 15 holes. But just when you thought he might have the grit to withstand Saturday's elements, though, he made a single mistake by driving into a fairway bunker on 16, drilled his next shot into the steep face, hacked out to more rough, and emerged from the carnage with a double bogey that cost him the lead. He's at five under now, having shot a respectable 70, but he'll be chasing Koepka and Hovland.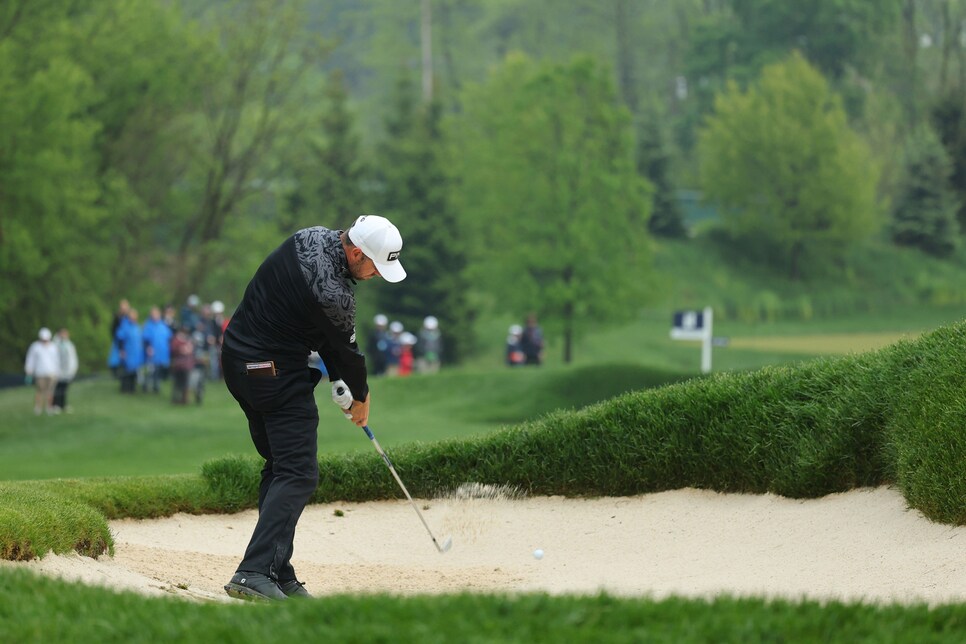 Corey Conners lost his third-round lead after hitting his bunker shot into the lip en route to a double bogey on the par-4 16th.
Michael Reaves
"I didn't make great contact there," he said of his fiasco on 16. "I saw everybody looking up in the air. I did that as well. I thought it maybe skipped up. But you know, didn't see anything land and was pretty certain it was embedded there. The ball was below my feet and didn't quite adjust for that. Wish I could have that one back."
For a moment, Hovland appeared to have weathered two early bogeys and brought the fight to the course, making birdie on 8, 11, and 12 to reach six under and hover in or near the lead. On the last hole, though, he found thick grass off the tee, hacked to a greenside bunker and needed a tricky three-footer just to stave off a double. He, too, fell out of the lead with his 70, though he'll retain his spot in the last group since he finished in front of Conners.
"I don't think this is a course where you can kind of get too crazy," Hovland said, under-selling the difficulty. "You have to, you know, play smart, play for middle of the greens and give yourself a lot of looks and hopefully get that putter hot."
The list goes on; Justin Rose made two bogeys on the way en route to a 69; Justin Suh, maybe in a little over his head in a young career, made five bogeys to fall out of the top five; Bryson DeChambeau's double bogey on the monstrous sixth put a pin in his momentum early. And these are the "success" stories—further down the leaderboard, pure carnage.
There's no doubt Oak Hill has fight left in it; this is a dragon that will have to be slain. But the good news is that the field might finally see some vulnerability—just a taste, but enough to make a difference—in this championship's final hour.
MORE FROM GOLF DIGEST @ THE PGA CHAMPIONSHIP