ROCHESTER, N.Y. — When the caddies arrived at scoring, holding the umbrellas that spent very little time shielding them from the elements on an incessantly rainy day at Oak Hill, the best word to describe them was "sodden." That works mentally just as well as it does physically, and it was perhaps unsurprising that some of them were not in the mood to talk to a reporter who wondered, Gee, just how bad is it out there?
Adam Hayes, Jon Rahm's caddie, wasn't very receptive when I asked for a moment of his time, but the look he gave me wasn't one of annoyance, just pure exhaustion. He wanted no part of any interaction, but then, recovering himself slightly, he summed up his experience in the few words he had in him.
"It's tough. It's brutal. There you go."
"He sacrifices," Rahm said a few feet away, taking up the mantle for the man who had protected him from the elements all day. "He must be carrying about 35 pounds of water on him right now. You know, it's the little things that maybe I don't even realize, just making sure the grips are dry, the clubheads are dry and positioning himself to help me out as much as possible. On a day like today, it's a lot harder for them, I would say, than it is for us."
"Firstly, you need six hands to carry the umbrellas, and all the towels," said Theunis Bezuidenhout, caddieing this week for Thriston Lawrence. "But it's more teamwork, like Thriston cleans his clubs while I hold the umbrella, it's just making his life easier out there, trying to keep him dry as much as possible. But six hands would have been nice. I didn't even try to stay dry, it's impossible."
Inside the player's locker room, Nick Pugh, Lucas Herbert's caddie, greeted my question with a look of mock surprise.
"No, it was easy out there, what are you talking about?" he deadpanned.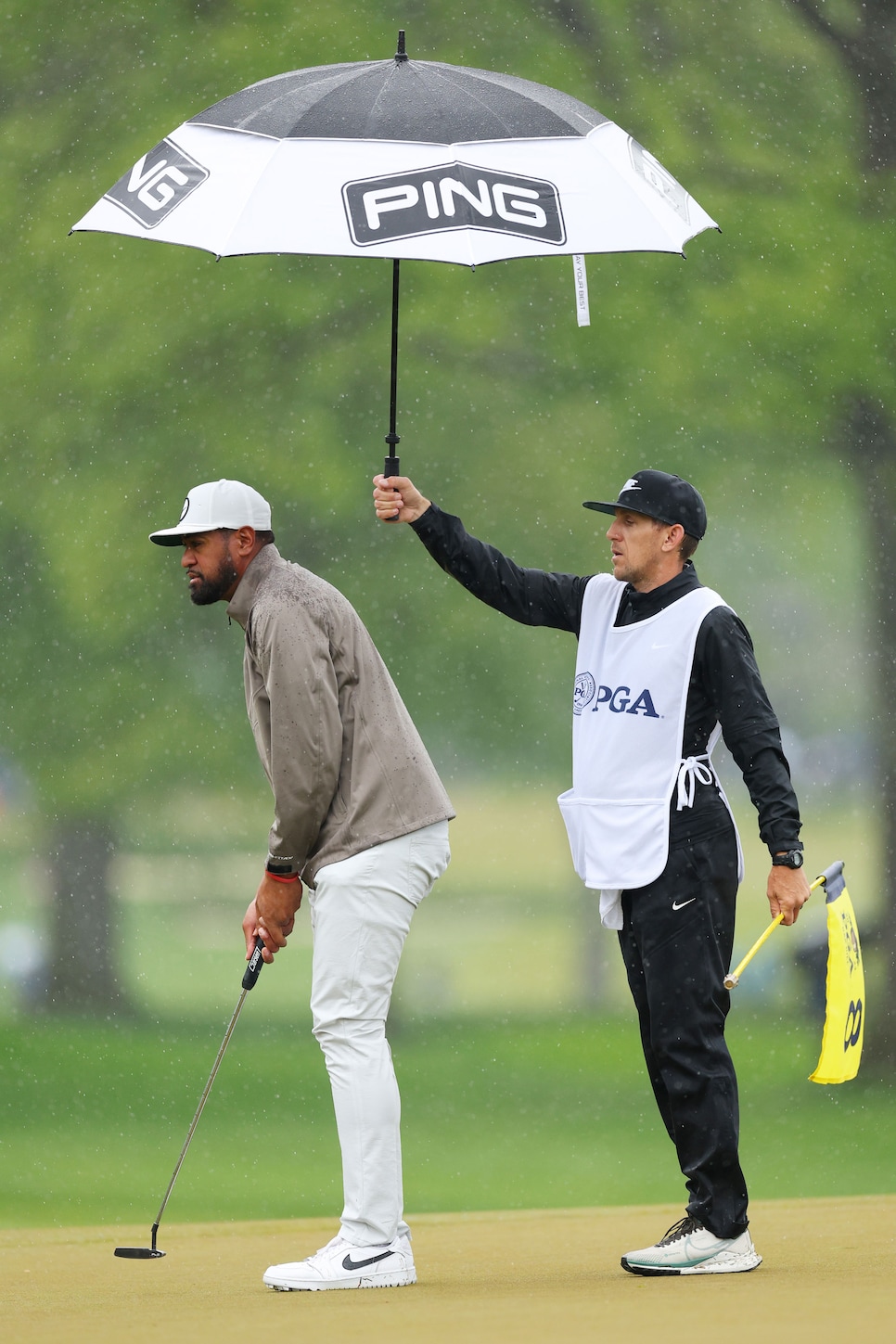 Caddie Mark Urbanek holds an umbrella for Tony Finau during Saturday's rainy third round at Oak Hill.
Andrew Redington
Pugh managed to keep his long white beard fairly dry, but the same couldn't be said for his bag. "That thing is probably twice the weight it was when we started the round," he said inside player's locker room, before lifting up a club to show me the wet, almost pruny grip. "And the bottom three inches of the club is just soaked. To give you an idea, the wedges started to rust after nine holes."
He then took inventory of all the detritus around him.
"That's four towels—no, five towels, and we got rid of one more on the ninth—three hats, and the bag's saturated. Now, to be honest, the real work begins. You've got to take the bag home and you've got to dry everything back out. You use the old trick of getting the hair dryer out, sticking it down the bag, and leaving it going for a couple hours. Put it on a cold setting, or you'll learn that lesson the hard way."
'Now, to be honest, the real work begins. You've got to take the bag home and you've got to dry everything back out. You use the old trick of getting the hair dryer out, sticking it down the bag, and leaving it going for a couple hours.'
—Nick Pugh, caddie to Lucas Herbert
As far as the mental game, Pugh actually found some benefit in the conditions.
"It actually kind of takes away any distractions," he laughed. "You've got so much shit to think about, you haven't got time to look around and do anything else. And luckily I'm not the one hitting the golf shots, so I can concentrate on keeping the bag dry and let him get on with what he's doing."
Dean Burmester's caddie Jason Reynolds wasn't quite so keen on the mental side of the struggle.
"F***ing brutal," he said, before repeating that sentiment twice more. "There's no words, it's just f***ing brutal."
At this point, his cadence slowed down, as if the point needed more emphasis.
"It. Is. F***ing. Brutal."
"From the start?" I asked.
"Just from the start. You're running around, you're trying to keep everything dry. Your player is losing his head because the course is demanding. For us, as caddies, we don't take the umbrella whatsoever, we just accept that we're going to get wet. But then when you're standing there over a shot, you've discussed everything, and your player goes and hits, he leaves you with the umbrella, you've got four towels on you, then he takes off after hitting a bad shot. Now you're left with everything and you don't have enough hands. It's just mentally draining."
As it happened, Burmester, Rahm and Herbert all shot two-over 72s, while Lawrence came in with a 73—very solid scores, considering the conditions. These caddies managed to grind out decent results, but it wasn't easy, and their struggles are a cautionary tale as the leaders take the course on a day that doesn't promise to get much sunnier. If Saturday is typically "moving day," the movement will come at a very wet price, and nobody will shoulder the burden quite as much as the men carrying the bags.
MORE FROM GOLF DIGEST @ THE PGA CHAMPIONSHIP