Live Blog
PGA Championship 2023 live updates: Brooks Koepka shoots 66 and takes one-shot lead into final round at Oak Hill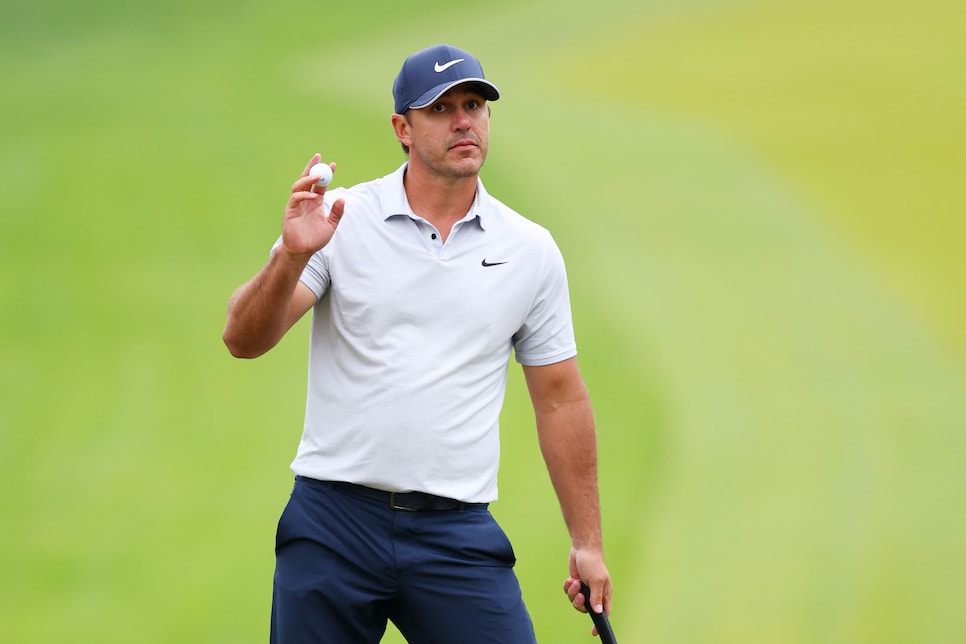 Brooks Koepka will be trying to win his fifth maor championship on Sunday.
Andrew Redington
Brooks Koepka walked and talked like a man without a purpose last summer. He'd bolted the PGA Tour for LIV Golf, couldn't sniff a win there for a few months, and the Netflix series "Full Swing" caught him in a melancholy mood in when he talked about not being able to compete with the best.
We all know those doubts are in the past now. Koepka has two wins in LIV over his last seven starts, and the major beast is back, as Koepka takes a one-shot lead into the final round of the 105th PGA Championship at Oak Hill in Rochester, N.Y. On a cold and rainy day, the 33-year-old from Florida recorded the lowest score of the day for the second straight round, shooting a second consecutive four-under-par 66 on Saturday. In doing so, Koepka stands alone with a six-under total, with third-round leader Corey Conners (70) and Norway's Viktor Hovland (70) at one behind.
(Scroll down for live updates)
It's another two strokes to Bryson DeChambeau (70), while Scottie Scheffler (73) and Justin Rose (69) are tied at two under. Scheffler, the World No. 2, made four bogeys on his front and didn't record a birdie until the 14th.
"I was just told that I think only Tiger [Woods] and Jack [Nicklaus] have won three [PGAs], so that would be pretty special to be in a list or category with them," said Koepka, who won his PGAs back-to-back—in 2018 at Bellerive and 2019 at Bethpage Black.
Woods and Nicklaus share the record for PGA wins with four each.
7:20 p.m. — The PGA's third round is over, and the winner today was the weather and Oak Hill. Corey Conners (70) and Scottie Scheffler (73) each couldn't make birdie putts at 18, so it will be four-time major champ and two-time PGA winner Brooks Koepka taking a one-shot lead into Sunday ahead of Viktor Hovland (whom he'll be paired with) and Correy Conners. Bryson DeChambeau is three back at three under, iwth Scheffler and Justin Rose at two under.
7:11 p.m. — Jim Nantz just said that it looks like MIchael Block will play with Rory McIlroy on Sunday. Doesn't get much better than that.
7:10 p.m. — As if he needed any advantages, Brooks Koepka could go into the final round with a one-stroke lead after Viktor Hovland bogeyed the 18th to shoot 70 and stand at five under. The only man who can catch Koepka is Conners if he were to birdie the last hole, and he's in the fairway nicely at 18.
6:52 p.m. — There's a new favorite to win on Sunday. It's Brooks Koepka, who just burned the edge for a birdie at 18 and finished off a 66 to stand at six under. That's now tied for first with Viktor Hovland, with Conners ending up wiht a double bogey at 16 to drop to one back. DeChambeau only had a wedge in his hand into 18, but pulled a bad approach and settled for par. He's alone in fourth, three back, after a 70.
6:41 — Tough ruling going on right now. Conners' ball was plugged in the grass just above the hole, so he has to take a free drop out of the sand, but no closer to the hole. He's still going to have horrible lie and be hitting his third shot on 16. A bogey is now almost a given, and it could get worse.
6:37 p.m. — Koepka keeps up the pace by making a 47-foot birdie at 17 to get to six under. And Conners is now in BIG trouble. He just drilled his second shot from a fairway bunker into the bank and its plugged. They're searching for it now.
6:34 p.m. — The Block Party will continue on Sunday. The teaching pro from California, Michael Block, just missed a birdie at 18 and shot his third straight 70 to be at even for the tournament and solo ninth. Can he possibly keep it up? If he does, he'd automatically qualify for next year's PGA—and win $500,000.
6:31 p.m. — A smooth birdie by Corey Conners on 15 makes him the first man to reach seven under, and he's in the lead alone. Given the conditions, it's remarkable he doesn't have a bogey in the round.
6:24 p.m. — Scottie Scheffler has a birdie! He finally makes one at the 14th. It's hist first bird since the 15th hole of the second round, and he's four back. But now he comes up short in the bunker at the par-3 16th. "A complete mishit," says Dottie Pepper. "The sound was horrible!"
5:52 p.m. — It's back-to-back birdies for Brooks Koepka as he takes advantage of the par-5 13th to get to five under, just one shot back of Hovland and Conners. At three under for the round, Koepka has the low round of the day at Oak Hill as he looks to avenge his disappointing Masters finish, when he faded from the lead on Sunday.
5:43 p.m. — Corey Conners hasn't made a bogey yet today but has now been caught, as Viktor Hovland stiffs it inside five feet and makes birdie at the 12th. A Norwegian and a Canadian are leading the PGA Championship, not only looking to become the first from their respective countries to win the championship, but the first non-American winner since Jason Day in 2015.
5:38 p.m. — Rory McIlroy makes it three birdies in his last five holes with a three at the 16th to get inside the top five. He's now two under for the week, four back of Conners. After struggling off the tee in the first two rounds, Rory has turned it around today and is ranked third in the field, gaining a couple shots. Meanwhile, Brooks Koepka rolls in a 15-footer for birdie at the 14th to get to four under, two back.
5:30 p.m. — One hole after a brutal lip out, Viktor Hovland rolls his 17-foot birdie putt in at the par-3 11th to get it to five under, just one shot back of Corey Conners. Justin Rose gets too cute with a short-sided flop shot at the 13th and makes bogey to drop back to three under.
5:15 p.m. — Viktor Hovland hits another quality iron shot at the 10th, leaving a straightforward 12-footer for birdie. Through two rounds this week, Hovland led the field in strokes gained/approach, gaining 3.71 shots per round, which is also his career best mark through 36 holes in a tour event. Too much speed on the putt led to a power lip out, so the Norwegian will stay two back of Conners.
4:57 p.m. — With the rain clearing out, all of a sudden the birdies are flying at Oak Hill. Corey Conners makes one at the eighth to keep his lead at two, while Viktor Hovland and Justin Rose add their own to keep pace. Rory stuffs one at the 13th to get to one under for the championship, and PGA professional Michael Block rolls one in at the 11th to get into a tie for 11th. With softer greens and brightening skies, we may see the best scoring of the week for the rest of the day.
4:50 p.m. — Frank Nobilo shares on the telecast that PGA professional Michael Block's hourly rate for a lesson is $125. Two over for the championship, he's currently tied for 19th, and should he stay in that position, he'll take home about $215,000. If we call it four days of work averaging five hours per round, Block's hourly rate this week is $10,750. Not a bad raise.
4:42 p.m. — Allen's Creek might be getting a new name, folks. Coming off a bogey, Scottie Scheffler pulled his left into the left rough at the seventh. He tried advancing it near the green but the ball came out dead and found the creek. Luckily for Scottie, the ball didn't stay in the creek, as it skipped off the surface and trundled to the other side. He wasn't able to take advantage of the break, though, as he makes his fourth bogey in his first seven holes.
4:30 p.m. — After starting his championship with 24 straight bogey-free holes, Scottie Scheffler has now made three bogeys in his first six holes in the third round. He falls back to two under, three shots back after starting the round in a tie for the lead. In better news, the skies appear to be lightening up and players are beginning to shed the rain gear.
4:21 p.m. — Justin Rose! The 42-year-old Englishman rolls in a 35-footer on the eighth to make it back-to-back birdies. He's two under on the day and three under for the week, just two shots back of Corey Conners. Rose is looking to become the first Englishman to win the PGA since it became a stroke play championship in 1958. Heck, no English player has won the PGA since James Barnes in … 1919. For an 11-time PGA Tour winner, U.S. Open champion and Ryder Cup stalwart, a second major win would put him squarely in the Hall of Fame discussion.
4:11 p.m. — A day after playing as the toughest hole in any round at the PGA in the last 20 years, the par-4 sixth is playing slightly less difficult today, averaging only half a stroke over par. Though that number will tick up after Bryson DeChambeau finds the water off the tee en route to a double bogey to knock him back to two under, three back of Corey Conners. Playing alongside DeChambeau, Brooks Koepka makes a solid par to stay two under on the round and one shot back.
3:50 p.m. — And here comes Brooks Koepka. With back-to-back birdies on Nos. 4 and 5, the four-time major champ has moved to four under. He's now tied for second with his LIV playing partner Bryson DeChambeau and Viktor Hovland, one behind Corey Conners. This is a second consecutive major that Koepka has been in serious contention. He had a four-shot lead midway through the third round at the Masters last month before finishing runner-up to Jon Rahm. The good news for him this week? He's currently 10 shots ahead of the Spaniard so he shouldn't have to worry about him winning this time.
3:40 p.m. — After moving to two under, Rory McIlroy gives those shots back with bogeys on six and eight. Scheffler adds a second bogey as well to fall back to three under. He trails Corey Conners and Viktor Hovland by two.
3:05 p.m. — If there's one weakness in Scottie Scheffler's game it's that he misses a fair share of short putts. He avoided that through two days at Oak Hill, but it bit him on his opening hole of Saturday as he missed a three-footer for par. Scheffler dropped back to four under, one back of playing partner Corey Conners and Viktor Hovland, who rolled in an eight-footer for par to get his day started on a much more positive note.
2:55 p.m. — Uh-oh. Rory McIlroy makes another birdie on the par-3 fifth hole to move to two under. Maybe wearing his hat backwards was the key to breaking this long winless drought in majors all along? OK, probably not, but we don't expect him to turn it around after this fantastic start to Saturday.
2:52 p.m. — And the leaders are off! Scottie Scheffler gets a nice bounce out of the left rough into the first cut, but Corey Conners tugs his farther and doesn't get the same kick. We're guessing these guys have been watching some of the coverage this morning, but in case they haven't, here's a little of what they can expect:
2:40 p.m. — It was an interesting scene on the first tee as Bryson DeChambeau and Brooks Koepka both heard some boos from the fans at Oak Hill upon being announced. DeChambeau definitely heard more, but it didn't let it phase him, striping a drive down the middle. There was just one problem: he hit it right into the group in front of Callum Tarren and Taylor Pendrith, who were apparently held up by a ruling. Fortunately, no one was hurt, but we'll have to see how the crowd treats these guys all day.
2:30 p.m. — Rory McIlroy has joined the backward hat brigade and is into red figures for the first time all week after a rare birdie on the difficult par-3 third. A long major championship course in soft(er) conditions? We've seen this story before.
2:25 p.m. — Michael Block, the best story of the week, begins his third round with one of his worst shots of the week, a pull off the trees down the left. Cue the "At least he didn't BLOCK it!" jokes. Block avoids disaster and starts with bogey. On the flip side, World No. 1 Jon Rahm finishes up his round in strong fashion with birdies on three of his final six holes. It's another disappointing round, but he should move (way) up from his current tie for 49th place as this wet, nasty day goes on.
1:59 p.m. — Considering the scoring on Saturday, starting with a par is something the late groups will sign for. That's exactly what Rory McIlroy and Shane Lowry did at No. 1, keeping them both at even par and inside the top 10. It's still very much raining, by the way. McIlroy actually took relief from casual water in the first fairway. As long as the greens are still puttable, they'll keep playing.
1:40 p.m. — We're getting closer and closer to the final groups teeing off, and it sounds like the rain might just miss them. That would truly be an all-time lucky break, but part of the deal in major championships. It could have just as easily flipped, which would have allowed these early starters to make a serious move. Instead, if the rain stops and it's a more beningn afternoon, the likes of Scottie Scheffler, Corey Conners and Viktor Hovland will have a prime chance to pull away.
1:11 p.m. — Morikawa remains the closest to the leaders with his one under through three holes start, which has him at level par, five back. Actually, Jaeger just climbed back to even, too, making his second birdie of the day at No. 4. He now owns the best round on the course along with Tommy Fleetwood, who made a 70 FOOTER on the impossibly-hard par-4 sixth to get to one over for the tournament.
12:46 p.m. — Well folks, it's (checks notes) still raining. A lot. Oak Hill was already producing loads of carnage but the Saturday weather has dialed up the difficulty to 11. Shoutout to Thomas Pieters, who is still keeping together a two under round, though it looks like it's about to become a one under round at the par-5 13th shortly. That's still tied for the best round on the course right now, with Pieters being joined by a few of the afternoon wave guys who are off to solid starts. Collin Morikawa birdied the first to get back to even par for the week, while Stephan Jaeger did the same to get to one over. Sahith Theegala, after an opening bogey, has gone birdie-birdie to get to one over for the championship.
11:53 a.m. — Jon Rahm just doesn't have it this week, and frankly it's a little strange to see. We're so used to Rahm playing well. It does make sense, though. When the weather gets cold your body tightens up, and your swing gets shorter. Rahm's already short swing starts getting really, really quick. Nothing is clicking, either off the tee and into the greens, and he's not happy about it...
11:32 a.m. — A few hours in, and judging by the morning wave, anything around even par will be a great score today. Granted the morning wave isn't full of players on their top form, and rumor has it the rain will lighten up slightly by the afternoon, but Friday will be a slog no matter which way you cut it.
11:14 a.m. — *sigh* The curse of the live blog continues. Four under through six holes, Thomas Pieters had 218 yards from the left rough for his second shot — and 216 yards for his third. That's right. He advanced the ball two yards, which is what happens when the ball is propped up in the rough more than you realize, and your club slides under it.
10:50 a.m. — Apparently Thomas Pieters didn't get the memo about low scores being hard to come by. Pieters birdied the first, third, fourth, and fifth holes. That's four under on the day, if you're keeping track, four more than the next lowest score on the day so far.
10:34 a.m. — Credit where it's due, the upstate New York golf fans are out in force today, despite the truly torrid weather. They seem less phased that the players, especially this legend...
10:21 a.m. — Oak Hill does not look easy today. In the cold, miserable, wet weather, U.S. Ryder Cup captain Zach Johnson is two-over through six, as is Phil Mickelson. Jordan Spieth is one-over through seven, while his playing partner Justin Thomas is even on that day, which is currently the low score on the course during round three (yes, I know it's early).
MORE FROM GOLF DIGEST @ THE PGA CHAMPIONSHIP