PGA Championship
PGA Championship 2022: Tiger Woods just did something he's never done as a pro in a major (and it's not good)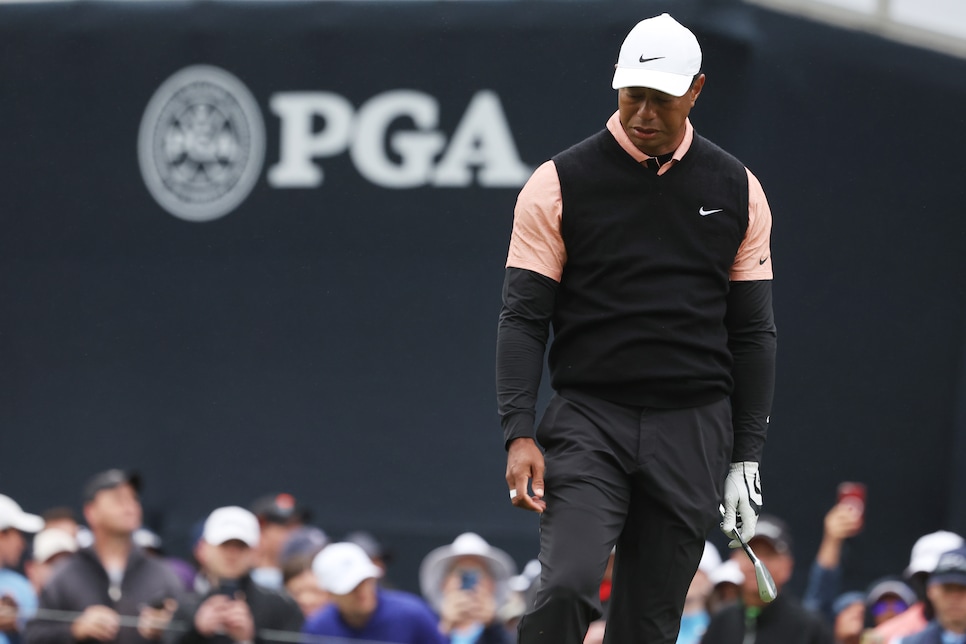 Maddie Meyer/PGA of America
Tiger Woods' all-world grit was on full display Friday evening at Southern Hills, when he rallied to make the cut on the number with a back-nine 34. Turns out, he (and all of us watching) might have been better off had he missed the weekend instead.
On a chilly, rainy Saturday in Tulsa, Woods has struggled mightily, not only with the golf itself but with the walk. He was clearly in pain throughout the round, much like he was on the weekend at Augusta National, where he shot a pair of 78s to finish in solo 47th, just five spots away from dead last.
Woods appeared to be on a similar path this weekend at Southern Hills, where he shot a third-round 79 to freefall down the leader board. Fortunately, he called off the dogs, withdrawing from the tournament on Saturday night, citing pain and discomfort in his right foot.
It was clear from the beginning of the third round that it just wasn't going to be Woods' day. After making bogey at the second hole, he managed three straight pars before making a triple bogey at the par-3 sixth. Bogeys on the seventh and ninth holes gave him a front-nine 41, and the ninth-hole bogey began a streak that Woods would like to soon forget. He proceeded to bogey the next four consecutive holes, giving him five straight bogeys, which is something he's never done as a professional in a major. ESPN made reference to the stat right before Woods missed his par putt at the par-5 13th, and it was soon confirmed by stats guru Justin Ray on Twitter.
While he's never accomplished the unfortunate feat as a pro in the majors, he did do it once in his final U.S. Open as an amateur. In 1996 at Oakland Hills, a 20-year-old Woods was tied for the lead through 14 holes of his opening round, but he fell apart down the stretch, making three bogeys, one double bogey and a quadruple bogey in his final five holes. That gave him a first-round 76, which he bounced back from the following day with a 69 to make the cut. He eventually finished in a tie for 82nd.
Woods did stop the bleeding in his third round with a par at No. 14 and then his first birdie of the day at the 15th, which yielded a bit of a wry smile and an index-finger raise from the 15-time major champion. Even in (likely) excruciating pain and without his best stuff, he still kept his sense of humor.