Live Blog
PGA Championship 2022 live updates: Mito Pereira grabs three-shot lead heading into Sunday as Rory McIlroy and Justin Thomas falter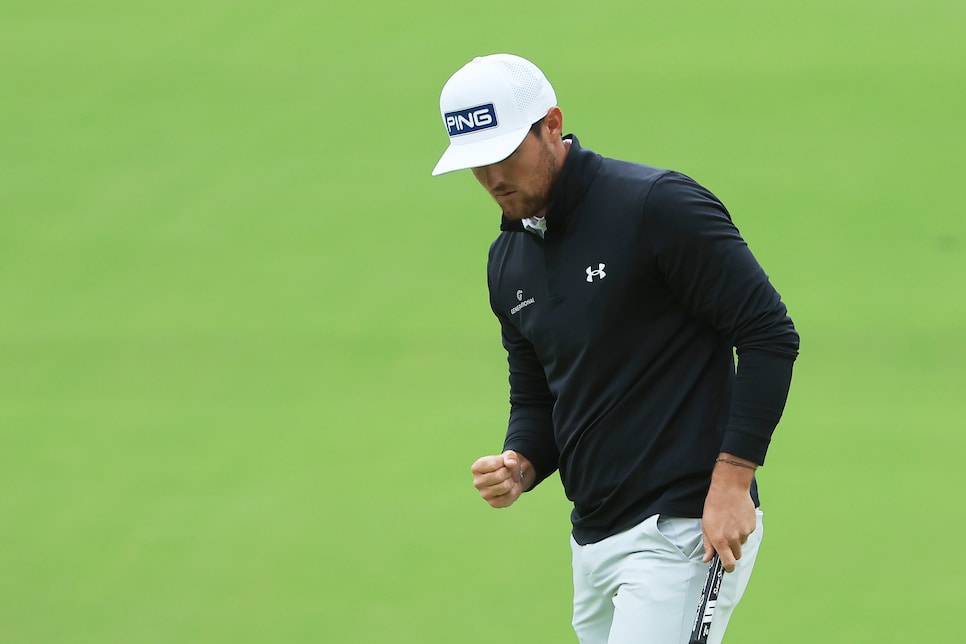 TULSA, OKLAHOMA - MAY 21: Mito Pereira of Chile reacts on the 16th green during the third round of the 2022 PGA Championship at Southern Hills Country Club on May 21, 2022 in Tulsa, Oklahoma. (Photo by Sam Greenwood/Getty Images)
Sam Greenwood
After two days of some typically-hot weather in Tulsa, temperatures have dropped considerably on Saturday at the PGA Championship. Out with the buckets of sweat, in with the sweater vests and long sleeves at Southern Hills.
Due to dangerous weather in the area this morning, tee times were actually pushed back by 37 minutes. The first man off was Brian Harman, who is playing as a single in the third round. He pegged it at 7:37 a.m. central time, 8:37 a.m. ET.
(Scroll down for latest updates)
It will be twosomes the rest of the way from there, all going off the par-4 first hole. Tiger Woods and Shaun Norris, teeing off nine groups after Harman, have gotten their third round underway. Jason Day, Jon Rahm and Brooks Koepka are among the bigger names set to tee it up shortly after.
We're still just over four hours from the leaders, with the final twosome of the day—Will Zalatoris and Mito Pereira—going off at 2:50 p.m. ET. While Zalatoris has gotten semi-used to this type of pressure by now, it will be Pereira's first time on a stage this large, which will make it fascinating to watch.
PGA Championship 2022 live updates (all times eastern time):
7:20 p.m.: Mito Pereira punctuates a wild round with one final birdie on No. 18 to move back to nine under. What a performance by this 27-year-old from Chile, who will take a three-shot lead into the final round. He will be paired with Matt Fitzpatrick (-6), while Will Zalatoris (-6) and Cameron Young (-5) will be paired in the penultimate group. Incredibly, all four of those players are searching for their first PGA Tour title, let alone first major. Of course, we must mention that Fitzpatrick has seven DP World Tour titles before we get attacked like Paul Azinger. Abe Ancer, who is a PGA Tour winner, sits at four under, followed by Seamus Power at three under. Then a trio of major champs (Bubba Watson, Justin Thomas and Stewart Cink) at two under. Well, it's been fun. See you tomorrow!
7:11 p.m.: If it feels like we haven't talked about Bubba Watson in a while, well, that's because there hasn't been much good to talk about. Watson three-putts on No. 18 for a third bogey in his final four holes. The 73 drops him to two under, six shots behind Pereira. Also six back? Justin Thomas, who also bogeys 18 to finish at two under. JT's 74 is certainly one of the most disappointing/surprising scores of the day following his first 36 holes. Perhaps only matched by McIlroy's 74, which leaves the first-round leader at even par heading into Sunday.
7:03 p.m.: Will Zalatoris hits the worst tee shot on the drivable 17th that we've seen in hours, but he responds with a brilliant second shot to three feet. The birdie moves him back to six under, two back of Pereira, who plays the hole very conservatively and makes par. Hey, he's got the lead at a major so who are we to question him?
6:55 p.m.: FITZY!!! Matt Fitzpatrick caps a superb round with a rare birdie at No. 18. The Saturday 67 has him at six under and in solo second. At the very least, it looks like he'll play in the final group on Sunday at a major for the first time in his career.
6:52 p.m.: Zalatoris pays for his poor drive on No. 16 and makes bogey to drop back to five under. And he drops a shot to Pereira, who remains at eight under after a nifty sand save. Up ahead on 18, Fitzpatrick will have a chance to be the first to post six under after a laser approach to the back plateau from 234 yards.
6:45 p.m.: Don't forget about Abe Ancer! He rolls in a 10-footer on No. 17 to move to four under. Playing partner Rory McIlroy, however, is unable to take advantage of the short par 4 so he remains one under. Behind them on 16, Justin Thomas rolls in a bomb... but it's just for par as he stays at two under. And Mito Pereira might not need to do much to increase his lead with Will Zalatoris in a bit of trouble after two shots on 16.
6:36 p.m.: After missing a great look at a third consecutive birdie, Pereira gets a nice bounce out of the rough on his tee shot on No. 16. Zalatoris isn't as fortunate as his sails farther right and looks like he'll have some tree troubles. Up ahead, Matt Fitzpatrick joins Cam Young at five under with a birdie on No. 17. The Englishman is a seven-time winner on the DP World Tour, but is still looking for his first PGA Tour win. Considering he leads the tour in strokes gained this season, it wouldn't be too surprising if he picks it up this week.
6:26 p.m.: Don't count out Rory McIlroy just yet! The four-time major champ makes a bomb on No. 16 to move back into red numbers for the week. What a crazy back nine it's been for McIlroy whose three birdies were canceled out by a triple bogey on No. 11.
6:22 p.m.: So much for Mito's slump. After rolling in a 20-footer for birdie on No. 13, he hits one to eight feet on the difficult par-3 14th and converts. Just like that Pereira is back to eight under and with a two-shot lead over Will Zalatoris. Maybe this dude just needed a little adversity. In any event, this has been an awfully impressive showing thus far for this PGA Tour rookie.
6:18 p.m.: Just when Rory McIlroy gets something cooking with a couple birdies in a row, he hits one to five feet on No. 15 and. . . bricks the putt. Rory remains at a very, very disappointing even par considering he was five under after Day 1. Up ahead, Cam Young makes a solid par at No. 18 to be the first person to post five under through three rounds. This is setting up for quite a Sunday for Young and his dad David, the longtime head pro at Sleepy Hollow Country Club. Oh, and for Jim Nantz, who loves a neat family story as much as anyone. Here are some of his highlights—with some really groovy music:
6:05 p.m.: What a dramatic series of events! Cameron Young drives the 17th green and. . . buries the eagle putt to move to within one shot at five under. Then moments later, Will Zalatoris and Mito Pereira make lengthy birdie putts on the par-5 13th. Suddently, it's a shootout! OK, not really, but that was fun. After all that excitement, Pereira maintains his one shot lead over Zalatoris, but Young is now tied with Bubba Watson for third.
5:55 p.m.: This has been a really compelling last hour. With ANOTHER bogey, at 12, Pereira's lead is down to one. There are now nine guys four shots or closer to the lead when Mito once had a margin of five. Two of those guys have won majors: Watson, who's one back, and Justin Thomas (three back).
5:30 p.m.: A third straight bogey, at 10, for Mito, who came up achingly short on his approach in the bunker. Lead is only two over Bubba and Zalatoris. As noted by Nick Faldo, Pereira suffered three bogeys over his first 43 holes, then he made three straight. Majors pressure for the rookie? You think?
5:21 p.m.: Count another big name out. And this one is going to sting for a while. Rory McIlroy offered up more fodder for those who think he's lost his majors touch with this bad Saturday round in which he just suffered a triple bogey at the par-3 11th. He's six over on the three par-3s today—and six over for the round after opening on Thursday with a 65. Shots behind the leader Pereira: 10.
5:17 p.m.: Mito did NOT take advantage of that drop break, instead overspinning his approach way off the front of the green. (The falloffs are nutty here.) Plays it safe on third, misses the putt, and that's two straight bogeys. The lead is down to two over Bubba Watson, who's been a relative rock so far, with only one bogey over the first nine. (Update as we write: Did we say rock? Bubba is going to bogey 10 and drop three behind again.)
5:02 p.m.: Pereira has looked so calm and. collected while everyone else looks frazzled, but he's showing a few cracks at the moment. He missed a 12-foot par putt at No. 8 to bogey, and now he's got some bother at the ninth, working on a free drop back out of the spectator crossing zone. But wow ... he's now getting relief to where he can drop it in the fairway despite driving into the rough. Lesson: Know the rules; they can sometimes help you.
4:26 p.m.: Whatever magic Zalatoris was feeling with the putter is gone. He missed another makeable putt at 6 to suffer a bogey and Pereira's lead is four after he makes a nervy one for par. "This leaderboard is going in the wrong direction," says Frank Nobilo. Yep, for anyone who actually wants some excitement the rest of this day.
4:18 p.m.: Jordan Spieth is done. Done for the day. And done with any chance of completing the career Grand Slam this week. A favorite at Southern Hills for some, Spieth backed up with a four-over 74 today, looking out of sorts for nearly the entire round after a double bogey out of the gate. He's five over and stands 15 shots behind Pereira.
4:08 p.m.: Way too early to think Pereira is going to run away with this, but a birdie at 5 puts him three up on Zalatoris and at double-digits under par, which many thought no one coudl reach this week. The Chilean's run is problematic for anybody who's scuffling—like Rory, who's two over in the round and now eight back.
3:52 p.m.: Mito is passing the early major-championship-Saturday-with-the-lead pressure test in a big way so far. A huge up and down par save at the fourth keeps the Chilean at nine under, which now has him two up on Zalatoris, who made his second bogey of the day at No. 4. Quite the turn of events early.
Oh dear. Rory McIlroy just rinsed one at the par-3 sixth, which might lead to a week-killing double bogey. Remember when he won this thing on Thursday?
3:37 p.m.: While we were away (apologies) quite a bit happened! Mito Pereira grabbed the lead with a birdie at the second, and he's kept it with a par at No. 3. Zalatoris has recovered from a bogey at No. 1 with two straight pars, though he had a great look at birdie at the third, right up until CBS said that he had made 22 straight putts inside of 10 feet. Instant kiss of death, so naturally Zalatoris missed.
At the fourth, Justin Thomas rolls in a long one for birdie to get back to six under. Bubba Watson is hanging in there at even par for the day, five under overall. Same for Ancer and McIlroy, who are each even on the day through four holes and four under for the tournament. Stewart Cink also just joined the four under party, as did Davis Riley. Cameron Young, who was one over through four, has made back-to-back birdies to climb up to three under.
3:03 p.m.: Ancer and McIlroy save pars at the second, while Gary Woodland seems to be the only player making a mini move early. He's one under through five holes, which has him at three under for the championship. That's now just five off of the lead of Will Zalatoris, who just bogeyed the absolute brute of a first hole at Southern Hills after not making a single bogey on Friday. Mito Pereira, meanwhile, saves a par to tie for the lead.
2:55 p.m.: Bubba Watson nearly picks up right where he left off yesterday, leaving his birdie putt on No. 1 a few revolutions short but right in the heart. Two-putt par keeps him at five under, where he's now joined by parnter Justin Thomas, who failed to get up and down for par after sailing his approach over the first green.
2:44 p.m.: Abraham Ancer begins his day with a stress-free par to stay at four under, while his partner, Rory McIlroy, saves a rather high-stress par from the greenside bunker. Same score on the card.
2:26 p.m.: Tiger Woods declined to meet with the media following his third round, though CBS' Amanda Renner was able to catch up with him off camera. Per Renner, Woods did not give a definitive answer on whether or not he'll play on Sunday, saying he and his team would evaluate that decision this evening and tomorrow morning. Woods said he's quite sore, so we'll see if he wants his body to withstand another 18 holes while completely out of contention. Tournament reps are great, but not at the expense of health.
Meanwhile, back at the ranch, we are just 20 minutes from the final twosome of Will Zalatoris and Mito Pereira getting their third round underway. Rory McIlroy and Abraham Ancer are set to let it fly any second now, and Justin Thomas and Bubba Watson will follow suit 10 minutes later. Things are finally about to get interesting.
2:03 p.m.: Kind of similar to Friday, Tiger Woods' fight down the stretch has been impressive. Of course, the grit over the last five or so holes has just been to break 80 ... whereas Friday's battle was a bit more impressive to make the cut.
Tiger played his final five holes in 1-under par (birdieing the par-4 15th hole) after an eight-hole stretch where from the sixth through the 13th where he was 8-over par.
That's a nine-over 79 to wrap up his third round. Tiger admitted in his post-round interview after Day 2 that he was in more pain than he was after two days at Augusta. It seems like that pain was really tough to bear on Saturday during a real struggle.
1:52 p.m.: One of the wildest sequences from a brutal morning at Southern Hills just happened on the 12th hole. Kramer Hickok was in the left greenside bunker with his ball close to the lip. He couldn't escape ... and the ball came back and hit him in the leg. Thankfully for him, the Rules of Golf no longer penalize a player for this ... but Hickok was penalized by his ball rolling back into a thick clump of sand where he was standing. He could only blast his ball a few inches so it would roll back and give himself a shot ... then he proceeded to hole the third bunker shot!
1:35 p.m.: How about Webb Simpson's 65 today? That will end up being significantly better than the scoring average on Saturday. Right now he's got the round of the day by three shots. What a great round from Webb, who has been struggling a bit this year with injuries but also played well at the Masters through three holes.
1:19 p.m.: What a putt from Tiger at the 15th hole! That was a 37-footer for the 15-time major champ ... that's gotta feel great after a historic day of struggles for the great one.
At the very least, maybe it brings a round in the 70s back into play! That brings Tiger to 9-over with three holes to play.
1:04 p.m.: OK, Tiger finally gets off the bogey train with a par at the par-3 14th hole. It was a nice long iron to the middle of the green and a tidy two-putt. Though he's losing strokes with the putter on Day 3, it's actually the best part of his game: He's losing over 2 strokes off the tee; over 2.7 strokes on approach and over 2.8 strokes around the green.
12:58 p.m.: Oh boy, Tiger Woods has just made a bit of major history in a bad way. He adds a fifth straight bogey to his card at the par-5 13th hole ... which ESPN reports is the first time he's done that in a major. He had a chance to rid the squares from his pencil as he was pin high in two. But he bladed his chip across the green and then wasn't able to get up and down.
Tiger is 10-over through 13 holes ... and we've seen a bit of everything. An embedded ball into the face of a bunker, a triple bogey at the par-3 sixth hole after going into the water. And now five straight bogeys. Sheeshaloo.
12:46 p.m.: We've seen some high scores early on Saturday with the cold, wet conditions in the different winds. But Webb Simpson is proving there are some low scores out there.
The 2012 U.S. Open champ is 4-under through a three-hole stretch with a birdie at the 14th hole -- following an eagle at 13 and a birdie at 12 -- to get to 4-under on the day. Webb also had two birdies on his front nine ... so he's got four birdies and an eagle through 14 holes. That's the round of the morning wave right now by two shots (Lucas Glover is in the clubhouse with a 2-under 68).
12:40 p.m.: Jordan Spieth's third round got off to a tough start with a double-bogey at the first. But this shot will make up for it ... Spieth brought his sorcery to Southern Hills on Saturday.
12:35 p.m.: We are under 80 Watch for Tiger Woods. Bogeys at 10 and 11 have him at 8-over through 11 holes ... which is the second-worst round of the day (shoutout to Sepp Straka for ensuring Tiger wouldn't be DFL).
Tiger hits what feels like his first good shot in a long time out of the greenside bunker at the 12th hole. The 15-time major champ then blocks his 6-footer for par putt left ... for yet another bogey. Dear Lord...
12:19 p.m.: Our boy Canter has now climbed to even par for the tournament thanks to three birdies (and one bogey) through six holes. Ways to go, but it feels like anything in the 66-68 neighborhood will feel more like a 63 today. We'll see if Canter can't keep it up in what is likely the biggest round of his life to date. As for some of the bigger names, just about all of them have hopped on the struggle bus. Jordan Spieth doubled the first, Brooks Koepka just bogeyed No. 3, and Jon Rahm remains one over through four. Collin Morikawa has also fallen all the way to seven over for the week, sitting at three over through 11 holes on the day.
12:02 p.m.: Check that. Woods' ball spun off the front of the ninth green, and his chip for par rolled about 10 feet past the hole. He was able to make it and save bogey for a front-nine 41. Not great.
11:57 a.m.: As if it wasn't playing tough enough, it's beginning to rain at Southern Hills. If you thought you were going to come out and make a huge move on Saturday, you thought wrong. Right now, even par is looking like it could be a really good score, and it might help you actually gain ground on the field. Tiger Woods will not be shooting even par today. After making a par on eight, Woods found a fairway bunker at the ninth and then hit his second directly into the face of the bunker. He was fortunate to get free relief from an embedded ball, and he just put his third on the front of the green. Two-putt bogey looking very likely, which will mean he'll make the turn in six-over 41.
11:41 a.m.: Tiger Woods did some extremely hard work on Friday evening to make the cut, but at this point you have to wonder if it was even worth it. Another bogey at the seventh sees him fall to five over on his round, eight over for the tournament. It's good that he's getting extra reps, but if it's going to be this bad you have to ask if it's even worth putting the extra stress on his body. Knowing Woods, he'll continue to fight. First-team, All Grit.
11:38 a.m.: A couple of major champs, Brooks Koepka and Jon Rahm, have begun their third rounds. Rahm made par on one and then failed to get up and down from a greenside bunker on No. 2, dropping him to three over. Back at the first, Koepka hits the green in regulation from the rough and has a decent look at birdie. It's playing tough out there, folks.
11:26 a.m.: The only player on the course anywhere near the top 20 is England's Laurie Canter, who tied for third at the DP World Tour's Catalunya Championship just three weeks ago. That marked his best finish of 2022. Canter is playing in his first ever PGA Championship this week and just his third major. At one under through three holes, Canter sits in a tie for 30th at one over for the tournament.
11:23 a.m.: Triple bogey for Tiger at the sixth. Ouch.
11:19 a.m.: More water trouble for Woods at the par-3 sixth. His tee shot comes up about 30 yards short, prompting him to ask caddie Joe LaCava "is that in the f---ing water? I mean, how f---ing far is it playing?" Tough start for the 15-time major winner. From the drop zone he misses the green left, and now he has work to do just to save double.
11:06 a.m.: Tiger misses a mile left with his drive at the par-5 fifth, forcing him to have to punch out into the fairway. And by punch out we mean a massive rope hook that these people got a little too comfortable standing in the way of:
I am happy to report that no one was injured in the making of this Tiger Woods rope hook, but still, that is just a wild place to stand. Woods went on to save his par and everyone will live to fight another day.
10:52 a.m.: Tiger appeared poised to get one back at the fourth, where he pumped a drive that left him with just 71 yards to the flag. His controlled wedge shot was vintage Woods, his ball stopping on a dime and leaving him with about eight feet for birdie. But it caught the lip and missed. He settles for par to remain one over through four holes, four over for the week. Meanwhile, his partner, Norris, who hit his drive into a literal ditch, somehow muscled it on to the back edge of the green and then holed a BOMB for birdie. Sums up golf right there. Woods plays the hole perfectly and makes a disappointing par, Norris takes a wild route and somehow makes birdie.
10:34 a.m.: After pars at No. 1, both Tiger Woods and Shaun Norris found a creek off the tee at No. 2. Fortunately, they both avoided serious disaster, knocking their third shots on the green and two-putting for bogey. Woods, who was sweating like Shaq at the free-throw line on Thursday, is now decked out in long sleeves and his famous Nike sweater vest on a chilly day in Tulsa. The wind is already gusting early, too, which should make for a must-watch third round should it continue to gust this afternoon. It's apparently cold enough for Louis Oosthuizen to break out the ski mask:
You can also tell how tough the conditions are by the fact that no one is making a serious climb up the leader board just yet. The low round on the course belongs to Webb Simpson, who is two under through four holes and two over for the championship. Of the 25 players on the course, only two others are under par today (Hideki Matsuyama and Sebastian Munoz).