Fan Favorite
PGA Championship 2022: Only Oklahoma native at Southern Hills overcomes wind, bad luck to get to weekend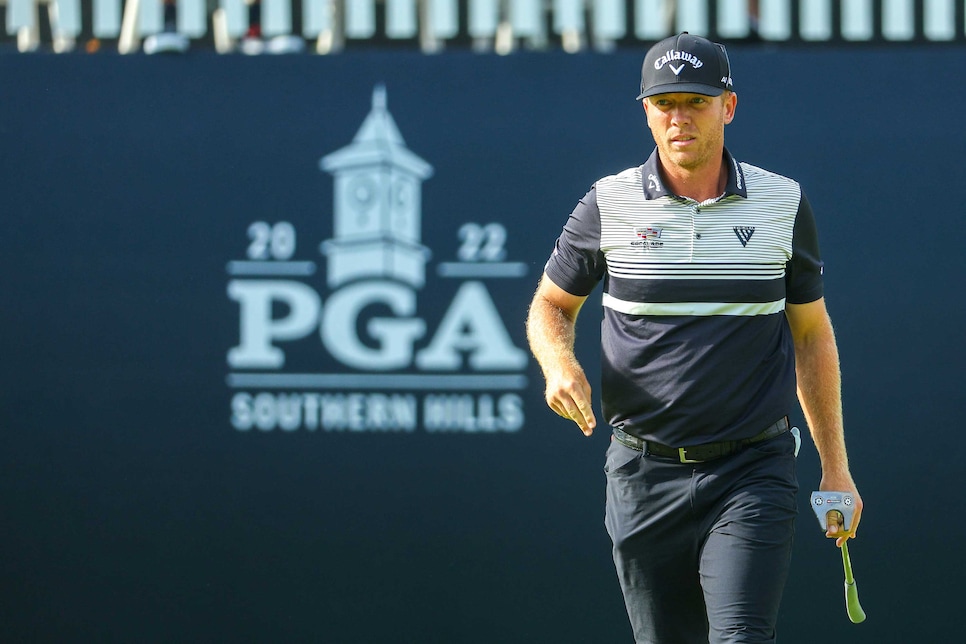 TULSA — It wasn't very long ago—2016, in fact—that Talor Gooch was on the brink of collapse at the second stage of the Web.com Qualifying School, pondering a future career at Best Buy. The Midwest City, Okla., native had no profile to speak of, and at TPC Craig Ranch in Texas, it took every ounce of resilience he had to recover from a poor start and fight his way to status. Success wasn't immediate, but Gooch, now 30, has gradually risen up the ranks of the game, and the view now looks very different than it did back then—35th in the world rankings, a PGA Tour win at last fall's RSM Classic, and a top-five at the Players Championship. Trace the path of that trajectory, and the next big expectation is contending at majors. Where better than Southern Hills Country Club in Tulsa, where he's so close to home he could drive, has gallery support as an Oklahoma State alum and where he's the only born-and-bred Oklahoman in the field?
And yet, some patterns persist. In microcosm, you could argue Gooch's first two days resembled the early part of his career. If something could present an obstacle, it did. First, he was on the wrong side of the draw, facing stiffer wind on Thursday afternoon and Friday morning, which meant giving up an average of one stroke to the field on the first day, an amount likely to double when Friday ends. Next, he happened to be paired with a club professional who could charitably be described as "deliberate," which led to slow play warnings on both days—an added stressor. On top of all that, the forecasted wind led the PGA of America to abstain from cutting the greens on Thursday night, and the slower speed gave him fits all morning.
Despite all that, Gooch managed to grind out a 69-70, and sits at one under par, just five shots off the lead as the afternoon wave prepares to set out. As of 1 p.m., local time he was one of just five players from his wave in the top 23—a rare survivor of an unlucky roll of the dice.
"Rare survivor," though, is a term that describes many PGA Tour golfers, and he channeled his old resilience in staying afloat through two days of adversity.
"I actually could have had a really, really good day," he said after the round, "but with them not being able to cut the greens and roll them, they were pretty bumpy, pretty chewed up out there."
He ran through his litany of near-misses: birdie chances galore that went begging all through the front nine. When his wave had finished, he was fourth in strokes gained/tee to green, but a dismal 81st in putting. The 14th hole, when he hit a low stinging 5-iron to nine feet on the par 3 but then missed the birdie putt, was a study in miniature of his day.
Nevertheless, he was happy with his score, which fits with the mindset he credits with transforming his career. In his words, it's about "falling in love with the next day, falling in love with getting better." It means appreciating each moment, but also living in the present and avoiding the trap of getting ensnared by the sneaky mental poison of future goals.
"Let's get as good as we can today," he said on Monday, "and eventually, those days added up and it turned into a win on the tour."
As for the pace, he tolerated it with sangfroid, but wasn't pleased to be placed on the clock. He knows he's a fast player, and he had a conversation with officials after his round.
"Last year at the PGA, and then again this year, I've had the first tee time of my wave, and on Thursday and Friday both times, we got warned on the front nine that we were getting behind," he said. "And then on the back nine, we're waiting. So I just said, hey, we need to figure this out, because whenever officials come up and say, 'you need to hurry up,' it just adds stress, you know?"
The good news, though, is his ball-striking is among the best in the entire field, and he'll be on a level playing field come Saturday. Or maybe better than level: The smattering of Oklahoma State orange in the gallery grew from Thursday to Friday, and so did the shouts of "Go Pokes!" and the standard "Gooooch!" as he strolled by. If he's in contention come the weekend, he can count on that support ballooning.
The promise of the difficulties waning led one reporter to ask whether he thought the weekend might be comparatively easy. Gooch could only shake his head and smile the kind of smile that's more resigned than it is happy.
"Nothing out here is going to be easy," he said.
With Gooch, it never is, but he's becoming known for thriving anyway.