Making it to the weekend
PGA Championship 2022: How they determine the 36-hole cut at Southern Hills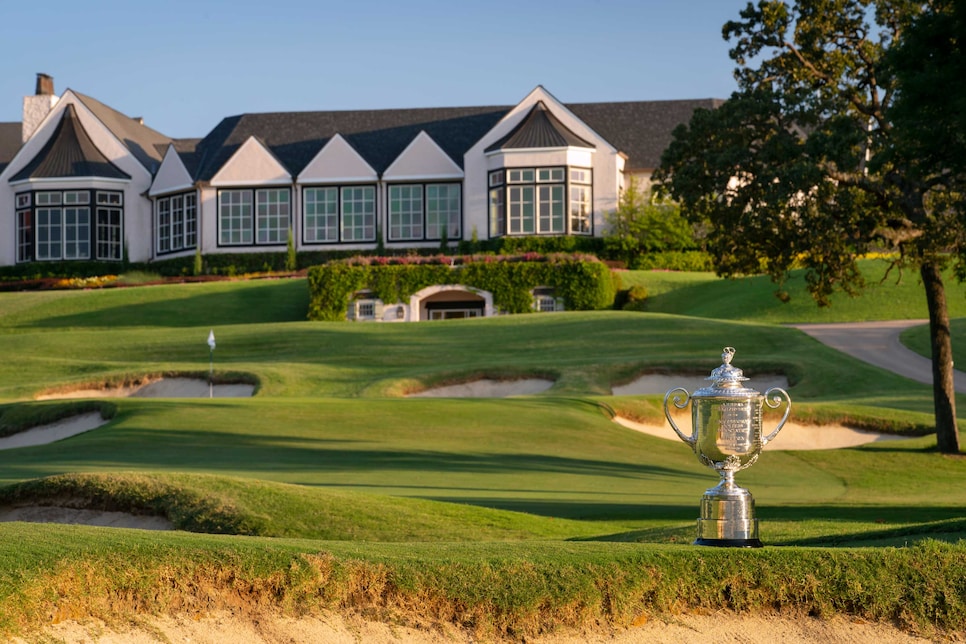 A view of the Wanamaker Trophy from the ninth hole at Southern Hills Country Club.
Gary Kellner
TULSA — To kick off Rory McIlroy's Thursday press conference after the Northern Irishman shot an impressive opening-round 65 and grabbed the Day 1 lead at the PGA Championship, a PGA of America official asked him if that was the quick start he has been looking for, yes or no? It was a question McIlroy couldn't help but answer with some sarcasm.
"Yes or no?" McIlroy said with a smirk. "No, no, I'd rather shoot 74 and try to make the cut tomorrow."
McIlroy's recent habit of rough Thursday play in majors had let to more white-knuckle Fridays than the 33-year-old searching for his fifth career major but first in eight years appreciated. Thankfully for him, that won't be the case at Southern Hills, but it will for a fair number of top-ranked pros who were thought to be contenders the start of the week but now have work to do in Round 2.
Had the cut come after on 18 holes, the list of players who would be packing their bags would include Jon Rahm, Dustin Johnson, Tiger Woods, Brooks Koepka, Patrick Cantlay, Daniel Berger and Billy Horschel. All were three over or worse, with 77 players shooting two-over 72 or better.
How exactly do they determine the cutline at the PGA Championship. According to the tournament's official guidelines:
"Following the first 36 holes of play, the field of 156 players will be reduced to the low 70 scores and ties. Those players will advance to complete the final two rounds."
In other words, the cutline won't be influenced by the play of McIlroy or anyone else at the top of the leader board. The PGA of America does not use a 10-stroke rule to help determine who will be playing all 72 holes.
What will influence the cutline on Friday? Try Mother Nature.
If the forecast in the Tulsa area holds and the winds blow steady in the 15-25 mph range, with gusts up to 40 mph, score will like rise compared to the 72.833 average from Round 1.
As of 11:15 a.m. local time, Datagolf. Was projecting a 59.4 percent chance the cutline comes at four over, with a 30.7 percent chance it goes to five over.
The PGA of America's "cut rule" is the same used at the Open Championship. The U.S. Open makes a cut at the low 60 players and ties. The Masters has a cut at the low 50 players and ties, bumping that number up and eliminating its 10-stroke rule in 2020.
A year ago at Kiawah Island, the PGA Championship cut line fell at five-over 149 with 81 players advancing to the weekend. In 2020 at TPC Harding Park, it was one-over 141 with 79 players advancing, and in 2019 at Bethpage Black, it was four-over 144 with 82 players advancing.
The PGA Championship instituted a cut when the tournament changed from a match-play to stroke-play format in 1958. Originally, however, the championship had a double cut, one after 36 holes and a second cut after 65 holes. The championship reverted back to a single 36-hole cut in 1965 and has had it ever since.
For history buffs, Raymond Floyd and Jack Nicklaus have made the most cuts—27—of any players in PGA Championship history. Floyd made 27 in 31 PGA starts while Nicklaus made 27 in 37 appearances.
Here's the next best players in PGA history:
Tom Watson, 25 of 33
Phil Mickelson, 26 of 29
Hale Irwin, 24 of 26
Arnold Palmer, 24 of 37
Jay Haas, 23 of 28
Tom Kite, 23 of 28
Gary Player, 21 of 23
One of the bigger questions at the PGA is also whether any of the 20 club professionals competing will make the cut. Prior to 2019, only three club pros had made the weekend in the championship since 2011 (Brian Gaffney in 2015, Omar Uresti in 2017 and Ben Kern in 2018). However, at Bethpage, three club pros made the cut: Rob Labritz (T-60), Ryan Vermeer (T-80) and Marty Jertson (82nd). And last year at Kiawah, there were two who played on the weekend: Ben Cook (T-44) and Brad Marek (78).