Live Blog
PGA Championship 2022 live updates: Tiger Woods rallies to make the cut, Will Zalatoris is the solo leader after Day 2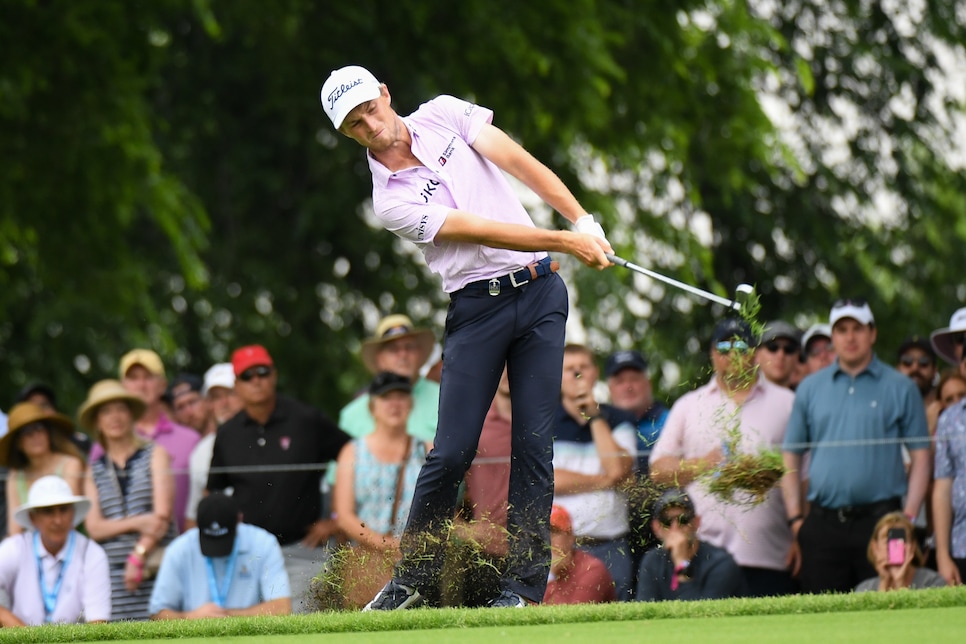 Will Zalatoris hits his shot from the seventh tee during the second round of the 2022 PGA.
Montana Pritchard/PGA of America
Another major, another chance for Will Zalatoris to deliver a big trophy to his growing fan club. Zalatoris shot five-under-par 65 on Friday in the second round to take the solo lead into the weekend of the 104th PGA Championship. How well has he played? His nine-under total is the lowest for a 36-hole leader in the eight majors played at Southern Hills.
Zalatoris is trying capture his first major title after posting four top-6 finishes over the last three years. He tied for eighth in his first PGA Championship start last year at Kiawah Island. "Willy Z" played impressively on Friday, writing down five birdies on his card against no bogeys. What bodes well for him: In the seven previous majors played at Southern Hills, the eventually winner has held the 36-hole lead.
(Scroll down for the latest updates)
Chile's Mito Pereria, appearing in his first PGA, had a shot at a piece of Southern Hills history when narrowly missed a birdie putt at his finishing hole, the ninth, that would have given him only the third 63 scored on the course in a major. He shot 64 and was only one back of Zalatoris.
Tiger Woods will play on the weekend for the second major after coming back from his 2021 car crash. He was outside the cut bubble after a double bogey on the 11th hole, but he made two birdies over the last six holes to shoot 69 and stand at three over.
Maybe the most stunning round was turned in by Bubba Watson, who had a birdie puptt on the 18th to shoot a majors-record 62. He missed by inches and scored 63 to get into solo fourth at five under.
PGA Championship 2022 live updates (all times eastern time):
7:17 p.m.: Another missed green, another one-putt for Woods, who pars 17 and goes to the 18th needing bogey or better to make the cut. Zalatoris, meantime, birdied 17 and has missed the green at 18 in trying to keep the solo lead at nine under.
7:04 p.m.: We don't think even Joaquin Niemann saw this one coming. Mito Pereira missed a makeable birdie at his last hole, the ninth, that would have given him only the third 63 in Southern Hills' major history. The others: Raymond Flord and Tiger Woods. Still, the Chilean shot the week's best score of 64 and holds the clubhouse lead at eight under. (Zalatoris has two holes to play.)
7:02 p.m.: Rejoice Tiger fans. Your guy just birdied the third-hardest hole of the day, the 16th, to now be one shot inside the cutlline. No late fade today. He has five one-putts in a row.
6:42 p.m.: If Tiger makes the cut, we'll remember the bunker shot at 15. Short-sided and looking at jail in the back bunker—and remember the concern about the sand here—Woods fluffed a near-perfect shot to three feet and made the putt. Par. Still inside the cut bubble.
6:30 p.m.: Willy Z actually missed a 15-foot birdie putt at 15 and showed some rare frustration. "Like Velcro!" he says. The greens are definitley slower beause they chose not to cut them overnight. But it's not like Zalatoris hasn't benefitted. Maybe he's feeling the pressure. Pereira birdied to tie at eight under.
6:25 p.m.: Ooooh boy. Don't remember being this on the edge watching a guy trying to make the cut. CLUTCH! 20-footer for par by Tiger at 14.
6:18 p.m.: Back inside the bubble! Tiger birdies the par 5 to get back to four under with five nervy holes to play.
6:10 p.m.: A little background on Guillermo "Mito" Pereira. Chilean won a pro tournament in his home country at 17. Went to Texas Tech. Earned a battlefield promotion from the Korn Ferry to PGA Tour when he won three events in 2020-21 season. This is only his second major start and first in the PGA. Missed the cut in 2019 U.S. Open.
6:03 p.m.: Willy Z is roasting! A birdie at 13 gives him three straight, and that answered the birdie Pereira made just seconds earlier. Tyrell Hatton, BTW, just made his third straight birdie, at 14, and he's three under. Would love to see that guy in one of the final groups on Sunday.
5:55 p.m.: Two enormous putts at 12. Scrambling for par, Tiger makes an 18-footer, and then McIlroy drains a 16-footer for his first birdie of the day. Rory now three back with the par 5 next.
5:46 p.m.: Sorry JT. The wind from the morning has all but disappeared, and now the boys are firing at pins. Will Zalatoris birdied 11 and 12 to take the solo lead at seven under. Mito Pereira birdied 2 and 4 to get to four under for the round—the best score on the course—and is tied with Thomas.
5:39 p.m.: Tiger is officially outside the cutline. On the shortest hole on the course, the par-3 11th, he badly pulled an 8-iron, overpowered his wedge to the green and ended up making a double 5. That puts him at five over, one outside the cut—which means he'll very lilely need a birdie coming in.
5:26 p.m.: We've had some bumper ball. Spieth's shot onto the 10th green was going to go way past the hole, but it plowed into Woods' ball about 12 feet ffrom the cup. And after Tiger made the birdie putt, Spieth drained his too. Spieth looking like he's going to give it back with a terrible tee shot on the par-3 11th. Said Jordan to himself when it was in the air: "That is so cold shanked. What are you doing?" God, we love those sensitive on-course microphones.
5:11 p.m.: The afternoon's marquee group has reached the 10th tee. Woods should have made a birdie at 9 after a fantastic punch shot onto the green, but he missed the remaining 10-footer. With nine holes left, he's hanging right on the good side of the cut number at 4 over. Lose another shot, and he's probably gone for the weekend. The guy who has to be really bummed is Rory, who's at two over for the day, thiree under overall and now T-5. It's looking like Spieth could go either way. He's even for the round but two over for the tournament.
4:57 p.m.: And we've got a first dropped shot for Woods as he's unable to get up and down on the par-3 8th. It's not the worst result in the world considering how difficult the hole is playing, but Tiger was ticked to leave his pitch shot up in the fringe—and to leave his 30-foot par attempt two inches short. Woods falls to four over while playing partners Rory McIlroy and Jordan Spieth make par to stay at three under and two over respectively. Abraham Ancer moves back to four under and Cameron Smith gets to that number for the first time after rattling his approach on nine to three feet.
4:44 p.m.: Watch out for Tommy Tables! Tom Hoge, who picked up his first PGA Tour title earlier this year at Pebble Beach has made three straight birdies to move to five under. He's tied for second with Will Zalatoris, who just made a nifty up and down on No. 8. Back on the tee, Tiger just smoked an iron over the green. He'll have some work to do to remain in red figures for the round.
4:38 p.m.: Woods misses with his approach on No. 7, but he keeps the positive momentum going with a chip to tap-in range. Jordan Spieth also scrambles for par, but Rory McIlroy three-putts to drop to three under. After leading the field in strokes gaine putting on Thursday, well, let's just say he's not doing that today thus far. Elsewhere, Will Zalatoris remains five under and Tom Hoge stays at four under, but Abe Ancer falls back to three under after making a second bogey in three holes.
4:22 p.m.: Tiger juuuuuust misses a birdie attempt from 20 feet on No. 6. Still, par on any of these par 3s is a good result, and Rory and Jordan do the same. Case in point, Abraham Ancer, who bogeyed the par-3 14th to drop back to four under. Back to Tiger, just by moving up a shot so far today, he's already improved some 40 spots on the leaderboard. He's currently T-56 with the top 70 and ties determining the cut at the year's second major.
4:08 p.m.: OK, we've got some signs of life from Tiger as he gets on the board with a birdie at the par-5 fifth hole. After a perfect drive, Woods laid up and then wedged one to five feet. Meanwhile, playing partners Rory and Jordan were unable to do the same. Woods moves to one under on the day and three over for the tournament, one inside the cut line. For now. Up ahead, Abe Ancer has moved to five under to join Will Zalatoris in second place.
3:41 p.m.: We've got a birdie in the marquee group! Jordan Spieth rolls one in from 15 feet on the short par-4 fourth to move to two over. Tiger Woods and Rory McIlroy make two-putt pars to remain at four over and four under, respectively. Elsewhere, Abe Ancer has joined McIlroy at four under, one back of Will Zalatoris and two behind Justin Thomas.
3:25 p.m.: The afternoon's marquee pairing is still searching for a first birdie after three holes. Tiger, Rory and Jordan all make par on No. 3, and they do it in different ways. Tiger with a disappointing approach, but a nice lag to gimme range, Rory with a nice chip to close range, and Spieth a tap-in after missing a good look at birdie. At even par on the day, Woods is actually in front of his two playing partners.
3:05 p.m.: You know how we've been hearing a lot about the routing at Southern Hills? Well, a scary situation happened as Cameron Smith's tee shot on No. 2 apparently hit Aaron Wise in the head on the fly as he was playing No. 7. Fortunately, it seems as if Wise is OK. He parred that hole and then parred No. 8. And although Smith seemed to be shaken up, he's parred his two holes since as well.
2:50 p.m.: Strong finish from England's Matthew Fitzpatrick, who rattles a par putt off the flagstick at the ninth (his 18th) to finish off a one-under 69. Fitzy is at three under, three back of Justin Thomas. His best finish in a major came at the 2016 Masters, where he tied for seventh.
All the supergroups are out on the course now, including Rory McIlroy, Tiger Woods and Jordan Spieth, who just bogeyed the first hole to drop to three over. Woods made par to remain at four over, and McIlroy got up and down for his par to stay at five under.
2:33 p.m.: Don't look now, but Mito Pereira is absolutely cooking early. The 27-year-old just birdied the 10th and 11th holes to begin his round, which vaults him to four under and two off the lead. A popular play in the gambling space because his numbers always pop, there'd be no better time for Mito to come through for his backers than in a major championship.
2:09 p.m.: In a pretty stunning turn of events, two of the top three players in the world are in serious danger of missing the weekend. World No. 1 Scottie Scheffler limps home with a double bogey at the ninth, giving him a five-over 75 that puts him at six over for the week. That will most certainly not be enough to make the cut, and World No. 3 Collin Morikawa could miss the weekend, too, as he sits at four over following his second straight 72. As of right now, 78 players are at three over or better, though many have yet to tee off. Jon Rahm, the final member of this supergroup, secures a clutch par at the ninth for a one-under 69. At two over, he will make the weekend.
1:49 p.m.: Donned in his signature Arkansas Razorback logoed pants, John Daly birdies his second hole of the day, the par-3 11th, to get to one over for the week. Still far too early to discuss the weekend for JD, but if he makes it that far it will be his first made cut in a major since the 2012 PGA Championship.
1:44 p.m.: Justin Thomas bettors, stand up. A birdie at the ninth, his final hole of the day, secures a second straight 67 for the 14-time PGA Tour winner. He is now your solo leader at Southern Hills.
1:37 p.m.: Crushing bogey for Brooks at the last, but still some solid work to (sort of) get back in the tournament. His three-under 67 will put him at two over heading into the weekend, which should be firmly inside the cut line by day's end and, depending on what Rory McIlroy and others do this weekend, likely in the neighborhood of 7-8 shots off the lead. Not dead yet, but it still will take a miracle. Good news is he will avoid missing back-to-back major cuts, something he's only done once during his career—in his first two majors.
Meanwhile, back at the seventh, Scottie Scheffler is going in the wrong direction. The World No. 1 just made his fourth bogey on the front nine alone (his back), and he's now in danger of missing the cut at four over with just two holes to play.
1:12 p.m.: Outside of a Niemann bogey, it's been a quiet 20 minutes at Southern Hills. JT made his par at the par-3 sixth and Brooks Koepka saved a hell of a par at the seventh to stay at two over for the championship. In a bit of a shocker, Dustin Johnson just rinsed one at the seventh hole, his 16th, all but assuring he will miss the cut. He's already at six over. Certainly didn't get the better end of the draw, but simply didn't have his best stuff, either.
12:49 p.m.: Rory McIlroy finally has company at five under. Justin Thomas, the 2017 PGA champion, just made birdie at the par-5 fifth to join McIlroy at the top. Remember, Thomas is on the bad side of "the draw," and he's still tied for the lead. Scary thought for the rest of the field.
12:33 p.m.: BROOOOKS might be back, folks. Another birdie for the two-time PGA champ at the par-5 fifth, which gets him to three under on his round and two over for the tournament. That is currently the best round on the golf course.
12:30 p.m.: Niemann flies the green at the 18th, which usually equals death. But the young Chilean gets up and down to stay at four under. Really strong front nine from him.
12:18 p.m.: Big time birdie for Joaquin Niemann at the 17th. He's now tied with Justin Thomas at four under, along with Will Zalatoris and Tom Hoge, who don't tee off until later this afternoon. Niemann's alreay had one big win this year at Riviera, but this would be the biggest win of his career to date.
12:06 p.m.: Just a few moments ago, Brooks Koepka drained a lengthy putt for birdie to get it to two under on the day, three over for the tournament. We have a ways to go, but three over is right around the cut line, with 83 players at three over or better right now. Good to see Koepka not going down without a fight. In the group behind him, Justin Thomas makes his par at the third to remain at four under, one off Rory McIlroy's lead.
11:55 p.m.: Scheffler misses a long par putt and will have to settle for a bogey. Seven shots behind McIlroy. Matt Fitzpatrick will follow that up with a par putt of his own, which definitely didn't look too easy. We're also moving over to CBS. Stay tuned in.
11:45 p.m.: At four over, Dustin Johnson looks to be around the cut-line, which is currently projected to be between three over and five over, depending on the weather the rest of the day. DJ will now drop to +5 after a missed par putt as well. It may be a long day for the golfers at Southern Hills.
11:32 p.m.: On the long par-4 2, Justin Thomas still sits one shot behind Rory McIlroy, who will be teeing off in the afternoon group. Already four under for the day, JT still has plenty of time to catch him (for the time being) and has certainly put himself in great position heading into the weekend. Shane Lowry, also withstanding the elements, misses a very long birdie putt but still has a chance to stick at two over for the day.
11:24 p.m.: After missing a birdie putt, Morikawa prompty follows that up with a shot right into the water off the tee. The PGA feed captures the pro telling himself "great job" as well. We've all been there ...
11:18 p.m.: We've got three birdie putt opportunities from Scottie Scheffler, Jon Rahm and Collin Morikawa. Scheffler starts of the pairing and doesn't put enough on it; he'll par and stick at one over. Next, we have Jon Rahm putting up the hill and ... it's in. He'll birdie and move up to two over. Finally, we have Morikawa at two over. It just misses to the right and he'll end the hole with a par. To recap, just Rahm makes a birdie although all three had a good-to-great chance.
11:09 p.m.: We've got 19 mph wind on the par-3 14 as Joaquin Niemann gets set to tee off. At 2-under par thru the first four holes, Niemann is having a strong showing thus far and gets onto the green dspite Mother Nature trying to disrupt. His best showing at a PGA was just last year when he finished T-30.
11:05 a.m.: Joaquin Niemann makes a disappointing par on the par-5 13, but he remains one off Rory McIlroy's lead at four under. Up ahead on the par-4 18th, Justin Thomas gets very fortunate when his tee shot skirts the creek down the right side. And after a lengthy discussion with caddie Jim Mackay, he finds the green on the difficult par 4 with his approach. There's no Phil Mickelson this week, but at least those watching still have Bones.
10:53 a.m.: ESPN's Andy North just noted that it's been 16 hours since anyone in that top-3 group made a birdie. Of course, that includes Scheffler, Rahm, and Morikawa getting some sleep, but still, that's pretty wild. So far it's 18 pars through six holes for the threesome on Friday. Hey, at least they're not making any bogeys.
10:46 a.m.: Joaquin Niemman has joined Justin Thomas at four under after a second birdie in his first three holes on Friday. The 23-year-old won his second PGA Tour event earlier this year at Riviera and was a factor at the Masters through 36 holes last month. Meanwhile, Thomas has gone one over since his early couple birdies. Still, he's in solid shape as he heads to No. 18 for his ninth hole of the day.
10:32 a.m.: Still not a lot going in that top-3 pairing. In fact, they have as boring of scorecards as possible with each starting their rounds with five consecutive pars. All three remain over par for the tournament, but none are struggling as badly as another top player, Patrick Cantlay. The reigning FedEx Cup champ shot an opening 76 and has already bogeyed two of his first six holes on Friday to drop to eight over. Incredibly, Cantlay doesn't have a top 10 at a major since a T-3 at the 2019 PGA Championship. And barring a miracle, that drought will continue this week.
10:18 a.m.: The pairing of the top-3 players in the world continues to be stuck in the mud as all three (Scheffler, Rahm, and Morikawa) make disappointing pars on the par-5 13th, the easiest hole on the course. A guy who seems like he could reach that ranking someday, 23-year-old Joaquin Niemann birdies his opening hole to move to three under. And Matt Fitzpatrick, known for not minding the wind, is also at three under.
10:08 a.m.: And just like that, we don't have a tie at the top. Justin Thomas bogeys the par-3 14th to fall back to four under. Still, it's a solid start for the former World No. 1, especially in these tricky conditions. Another former World No. 1, Jon Rahm, can't seem to get going at three under, but he's just off the green in two on the par-5 13th. And current World No. 1 Scottie Scheffler remains at one over.
9:55 a.m.: And just like that, we have a tie at the top. Justin Thomas birdies the par-5 13th hole to move to five under. Thomas was forced to lay up after an errant drive, but hit his third from 88 yards to four feet and made the putt. We're pretty sure CBS would be quite happy with a Rory-JT duel over the weekend.
9:48 a.m.: A popular pick coming into this week, Shane Lowry, is starting to make his move. After back-to-back birdies, the Irishman has moved to two under, three back of Rory McIlroy. Also at two under early is Oklahoma State product Talor Gooch and K.H. Lee, who is coming off that spectacular 26-under successful title defense at the AT&T Byron Nelson. Apparently, he can make birdies at courses other than TPC Craig Ranch.
9:35 a.m.: Justin Thomas hits a terrible birdie putt on No. 12, but he rolls in the eight-footer for par to stay at one under on the day and four under overall. But there's not a lot of other players in red numbers out there right now. One guy who is, though, is JT's SB2K buddy Rickie Fowler. After an early birdie he's at even par. There haven't been a lot of great finishes for the 146th-ranked player in the world of late, but one of those was a T-8 at last year's PGA.
9:15 a.m.: OOOOOOOOO-klahoma, where the winds come sweeping down the plains! Seriously, it's getting gusty in Tulsa, meaning the late-early wave looks to be at a big disadvantage this week. Wind will certainly be a factor still later, but maybe not the 35-mph gusts that we're seeing, well, feeling right now.
9:03 a.m.: Justin Thomas continues his strong play from Thursday, hitting his approach on No. 10 to five feet and rolling in the putt for an opening birdie. JT quickly moves to four under, just one behind Rory McIlroy. Up ahead, Brooks Koepka bogeys No. 11 after beginning his round with a birdie on No. 10. Brooks drops back to five over as his slump continues.
8:40 a.m.: OK, some of the big guns are getting their second rounds started. The 8:38 group of Brooks Koepka, Adam Scott and Shane Lowry just teed off No. 10, and they're followed by the threesome of Dustin Johnson, Justin Thomas, and Patrick Cantlay. Of those six, however, only JT got off to a particularly strong start with a three-under-par 67. It's been five years since his win at the 2017 PGA, and in that time, shockingly, he has just one other top-5 finish at a major.
8:15 a.m.: Well, that didn't take long for a first birdie. Ryosuke Kinoshita makes one on the first hole. Look out! The course is GETTABLE today, folks! Unfortunately for the Japanese player, he didn't make many birdies on Thursday on his way to a 79. Anyway, we're underway.