PGA
PGA Championship 2022: Scottie Scheffler, Dustin Johnson, Patrick Cantlay among notable cuts at Southern Hills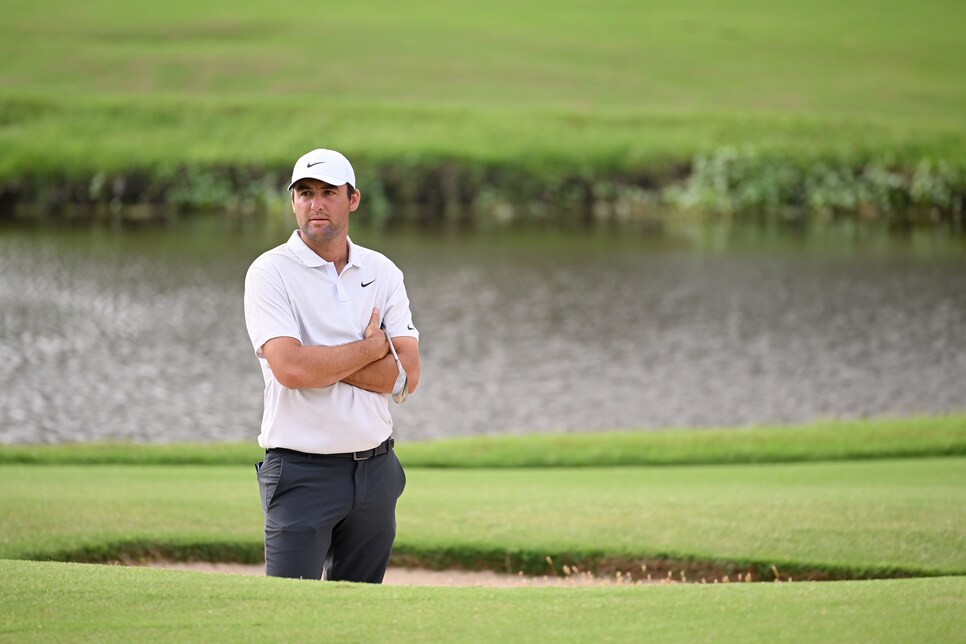 TULSA — The top of the 2022 PGA Championship leaderboard is loaded, with Justin Thomas, Rory McIlroy and Bubba Watson among those chasing Will Zalatoris. But the list of those who failed to advance to the weekend at Southern Hills isn't short on firepower, either.
From fledgling superstars, current and former World No. 1s to the reigning FedEx Cup champ, here are the notables that missed the cut in Tulsa.
Scottie Scheffler - The Masters champ had been lights out on golf's biggest stages, finishing T-8 or better in five of the last seven majors. That looked to continue after an all-time escape to finish his round Thursday evening. But Scheffler shot a 40 on his final nine holes, stumbling to a 75 and cooling the sport's hottest heater.
Dustin Johnson - For the third time in his last six majors starts Johnson won't see the weekend. Johnson was a victim of the late Thursday/early Friday draw, turning in a 73 Thursday and doing the same Friday. This week continued an odd year for Johnson, who came into the week 51st in strokes gained, 85th in scoring and 90th in the FedEx Cup. He has time to get turn his campaign around, but he's running out of events.
Sergio Garcia - The Spaniard expressed his desire to no longer have to play on the PGA Tour. Judging by his recent performances he may be done with majors, too. Garcia has now missed the cut in 11 of his last 16 major championships, with zero top-15s in that stretch.
Patrick Cantlay - We say this as an admirer of the man's work: For how good Cantlay hasbeen over the past five years, his failure to translate that success to the majors is becoming concerning. Cantlay finished T-9 at the Masters and followed with a T-3 at the PGA at Bethpage in 2019. In the 11 majors since his best finish is a distance T-15 at last year's U.S. Open. This week was especially jarring, as Cantlay ejected from Oklahoma with a 76 and 75.
Daniel Berger - Berger has battled back woes throughout the year, so he deserves a bit of leniency. Still, his performance was far from pretty, shooting a 73 on Thursday and struggling mightily Friday to an 80.
Adam Scott - It wasn't that long ago that the Aussie contended for the Wanamaker at Bellerive. Since ultimately finishing third at the St. Louis venue, however, Scott hasn't been a factor at the big events, his best finish a T-22 in his last 10 major starts. Those struggles continued in Tulsa, Scott unable to bounce back from an opening-round 77.
Matthew Wolff - The former prodigy will eventually get right. This week wasn't it. Despite being just down the road from his college town, Wolff went 76-77 to miss the weekend.