News
PGA Championship 2020: Bryson breaks his driver, Brooks goes low and Todd continues hot streak on Day 1 at PGA Championship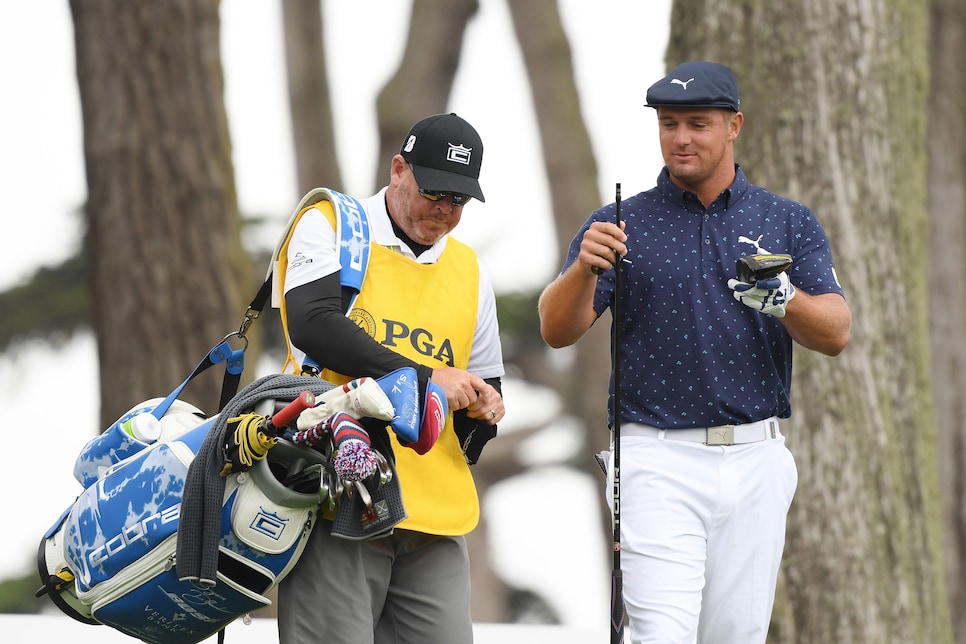 It has been 382 days since we had live action from a men's professional major, so you know we are fired up! TPC Harding Park, across the lake from Olympic Club, is the host venue for the year's first major. It's the San Francisco muny's first major, and this week marks the first time the West Coast city is hosting a PGA Championship. For years, the PGA Championship was branded "Glory's Last Shot." This year, it's appropriate to call it "Glory's First Shot."
A certain 15-time major champion will be looking to inch closer to Jack Nicklaus' major record this week. Tiger Woods tees off at 8:33 a.m. (local time) off the 10th tee alongside Justin Thomas and Rory McIlroy. They'll be just a few eyeballs on that group. Other notable tee times in the morning wave: Koepka, Gary Woodland and Shane Lowry, the past three major champs, are off at 8:11 a.m.; Dustin Johnson, Jordan Spieth and Justin Rose are off one group later at 8:22 a.m. All those groups are off No. 10.
The first groups have teed off! Major golf is officially back! The first groups on the course were: No. 1 tee: Brian Harman, C.T. Pan and Jeff Hart (club pro at Lomas Santa Fe Country Club in Solana Beach, Calif.). No. 10 tee: Scottie Scheffler, Tom Hoge and Danny Balin (club pro out of Fresh Meadow in Lake Success, N.Y.) Scroll down for the latest updates.
LIVE UPDATES (timestamps in eastern time):
10:10 p.m.: Todd makes a difficult two-putt on the 9th to finish out a five-under 65 round. Given the conditions, that's about as well as one can play Harding Park.
That will do it for Day 1 at the PGA Championship. If Thursday was any indicator, we are in for a treat this weekend.
10:05 p.m.: We thought Harding Park would be dominated by bombers and for the most part the leaderboard is filled with muscle. Yet the guy up top, Brendon Todd, is averaging a whopping 271.3 yards off the tee, 134th in the field. And we put the hex on Casey, as the Englishman ends up doubling the final hole for a 68.
9:45 p.m.: Also putting together a solid afternoon is Paul Casey, with five birdies and one bogey. Will have some work to do on 18 but one of the few guys in the second wave to go low. At the eighth (his 17th), Todd makes par at the hardest hole on the course to keep a share of the lead.
9:30 p.m.: This time last year Brendon Todd was 795th in the world. He's won two tournaments and led two others after 54 holes since, and now co-leads the PGA Championship. Never give up on your dreams.
9:10 p.m.: After a rocky front nine Jon Rahm has logged two birdies on the back to get to even par. DeChambeau heads to the last at two under, while Webb Simpson, one of the favorites heading into the week, is struggling at two over at the moment.
8:56 p.m.: Hard to overstate how tough the course is playing at the moment. There are 20 players three under or better but only two currently playing. However, one of those players is Brendon Todd, who just poured in a 40-footer to move to four under.
8:41 p.m.: Can the No. 9 player in the world be considered "sneaky" entering a major? Um, no. But we'd counter with this: our friends in the desert had Adam Scott at 70/1 to win this week. 70/1! This is a former major winner who was playing extremely well pre-COVID, including picking off his 14th PGA Tour victory at Riviera. Obviously, the Aussie not playing in any events during the restart had an effect on his odds, but it was still a ridiculous number for a dude who crushes it in this event (7 top 20s in his last 9 starts). He's now two under through 15 holes and has one more good birdie opportunity coming up. If he gets to three under, or even stays at two, then posts another good one tomorrow, there are going to be some very happy people hanging onto Scott tickets.
8:21 p.m.: Interesting few minutes for Jon Rahm, who was World No. 1 for all of two weeks before Justin Thomas took the top spot from him. First, he made just his second birdie of the day at the 10th to get back to level par. Two holes later, he blocked his tee shot way right and took his anger out on one of the ESPN mics. On his next shot, he hacked one out of the rough and appeared to grab his wrist, as if it were in pain. He seems to be OK now, chipping up to a few feet and saving par. Rahm is one over, six back. By no means out of it, but getting back to even will make dinner taste much, much better.
As for DeChambeau, he responded nicely to his first bogey of the day, nearly holing out for eagle and settling for birdie at the par-4 13th. But he's about to give it right back at 14 thanks to a wayward drive.
7:58 p.m.: OK, there was definitely something to the draw. The wind is starting to howl, as predicted, and the greens are firming up. After a morning/early afternoon littered with birdies, the bogeys have arrived. Unfortunately for Tommy Fleetwood, who was three under, a double bogey just arrived, which he preceded with a bogey. He's now back at even. Ouch.
Bryson DeChambeau gave one back as well, missing the par-3 11th green and failing to get back to up and down. Like we said, some very difficult holes coming up and the conditions ain't getting easier. DeChambeau would sign for three under in the clubhouse right now.
7:32 p.m.: Maybe there really was something to that whole "THE DRAW" thing. Eleven of the top 12 players on the leader board finished their rounds long before the afternoon wave teed off. The lone man who teed off in the afternoon among the top 12? Bryson DeChambeau, who is still smashing his new driver and not missing a beat. He's at four under, but does have a difficult stretch of holes coming up and not a single par 5 left.
7:22 p.m.: Perhaps we jinxed the Harding Park putting as Jon Rahm misses a relatively easy one and is visibly frustrated. The former World No. 1 mutters to himself and is now 2-over at the turn. Perhaps a reachable par-5 on the tenth hole can be that needed pick-me-up.
7:17 p.m.: On an eighth hole par-3, Paul Casey hits a long birdie attempt that just finds its way into the hole. A few moments before, Brendon Todd hits his second birdie in a row to get to 2-under. It's not the prettiest shot, but it gets the job done. Some strong putting by the afternoon crew.
7:03 p.m.: Okay, back to Bryson. On the ninth hole, perhaps the toughest one of the day, DeChambeau hits a long putt for birdie. Bryson goes 3-under for the front-nine and is currently just two shots off the lead. The driver repair seems to be treating him just fine.
6:57 p.m.: In non-Bryson news, Phil Mickelson was having himself a nice little day shooting 1-under through the first seven holes, but he then found a greenside bunker off the tee on the eighth. He's going to have some trouble getting par from this spot, but, with his massive aviators, anything's possible.
6:26 p.m.: "Must be all those swings..." It appears that Bryson DeChambeau has not only broken the game of golf, but his driver as well. On the seventh hole, DeChambeau takes a swing and the head pops off as he leans onto his club to pick up his tee. It's always something with Bryson. The good news is that under the Rules of Golf, he can replace his driver with a back-up from his car.
6:19 p.m.: Bulky Bryson adds another birdie, this at the fifth hole, to get to 2-under. The wind is picking up in the afternoon, but Bryson is proving scoring is possible in the later groups. He's 2-under through 6.
5:53 p.m.: The low round of the afternoon is now held by Shaun Norris, the big-hitting South African pro. Just yesterday, our Dan Rapaport captured Norris warming up on the range at TPC Harding Park. What a legend. Norris is now 3-under through his first eight holes.
5:45 p.m.: Bryson DeChambeau's start has been pretty eventful so far. His drive at the par-4 first hole found the tee box of the second hole, which of course led to a Bryson birdie from the other hole.
Then Bryson hit a mammoth drive at the par-5 third hole, but it rolled just into the rough, and he wasn't able to convert a birdie. That's a trend we've seen with Bulk Bryson in the restart: He can't seem to convert on scoring opportunities on par 5s. In the past 36 rounds, Bryson is 65th in this field in strokes gained/par 5s on par 5s of 500-550 yards; and he's 62nd on SG/par 5s of holes 550-600 yards, per FantasyNational.com. That's a trend that continues for Bryson thus far.
5:39 p.m.: Just as we expected, Rob Labritz, a club pro from GlenArbor Club in New York, has the low round of the afternoon wave thus far. He's 2-under through his first seven holes. Also at 2-under currently are Harold Varner III, Shaun Norris and Adam Hadwin.
Hadwin has been at that number since starting his round like this:
5:10 p.m.: Tiger's round is now over, but he hasn't left the grounds at TPC Harding Park. As he will often do after a morning round, the 15-time major champion is back on the range after his 2-under par 68. Perhaps most amazingly, Tiger hit his driver farther than anyone else in the field in the morning wave, quite literally.
5:00 p.m.: Bryson's opening drive sails onto the second tee box, but recovers with a marvelous approach leaving a 15-footer for bird. Meanwhile, Mike Lorenzo-Vera drops a bomb on 18 to join the ever-growing four-under crowd.
4:47 p.m.: Bryson DeChambeau is set to tee off. Meanwhile, in his post-round press conference, Brooks Koepka takes a not-so-subtle shot at DeChambeau by saying there's no reason to be "scientific" about playing golf. At this point DeChambeau might want to get a restraining order.
4:30 p.m.: Tiger's birdie stays just left of the final hole. But a workman-like 68, a number he and his fans will gladly take from the 15-time major winner. Rory posts an even-par 70, while Thomas bounces back with a birdie at the last to grab a 71.
4:10 p.m.: A birdie try at the final hole comes up just short for Brooks Koepka. Still, the getting was good on Day 1, the two-time defending champ posting a four-under 66, one back of the lead. Which is both predictable and astonishing.
4:00 p.m.: Another birdie from Tiger, this one of the walk-in variety, at the seventh. Tiger walking in birdies during a major championship might be the first thing that's felt normal in 2020.
3:55 p.m.: The cypress trees claim a victim in Justin Thomas, who hits a drive into the towering shrubs that doesn't come down. Even on the day, this could be a gut punch for the World No. 1.
3:40 p.m.: With the afternoon wave getting set to tee off in 20 minutes, a quick check of the leaderboard. Over 30 players are under par, with Jason Day and Bud Cauley sharing the lead. Brooks Koepka is one back with two holes to play, with Scottie Scheffler and Martin Kaymer turning in four-under 66s.
3:25 p.m.: Jason Day finishes with a five-under 65 to take a share of the lead. Day recently parted with longtime coach Colin Swatton, and those early returns have been positive. The Aussie entered San Fran with three consecutive finishes of T-7 or better.
3:20 p.m.: Back-to-back birdies for Tiger, moving him to two under and now three back of the leader thanks to sinking a 20-footer on the par-4 fifth. So far the putting switch has paid off for Woods, ranking in the top 15 players in sg/putting. He follows by splitting the fairway on the sixth. Big Cat is rolling.
3:00 p.m.: Tiger Woods cashes in a tight approach at the par-5 fourth, putting him back to red numbers on the day. Up ahead, Jason Day finds the green at the difficult par-3 eighth, giving the 2015 PGA champ a chance to tie for the lead at five under.
2:50 p.m.: By Wednesday morning, the Xander Schauffele love, at least amongst the gambling community, had reached an absolutely out-of-control level. There was not a single preview piece that didn't mention him as an outright winner pick. Generally speaking, the entire world being on the same player usually spells doom for that player.
However, sometimes everybody is right, which appears to be the case so far at TPC Harding Park. Schauffele is among the group tied at the top at five under, and he remained there with a world-class par save at the long par-4 sixth. Next up is the short par-4 seventh, a big-time birdie opportunity. The man literally everyone bet on might be in the solo lead shortly.
2:18 p.m.: Still very early, but this is shaping up to be a hell of a leader board, and that's without the likes of Jon Rahm, Bryson DeChambeau, Patrick Reed, Tommy Fleetwood, and other marquee names on the course yet: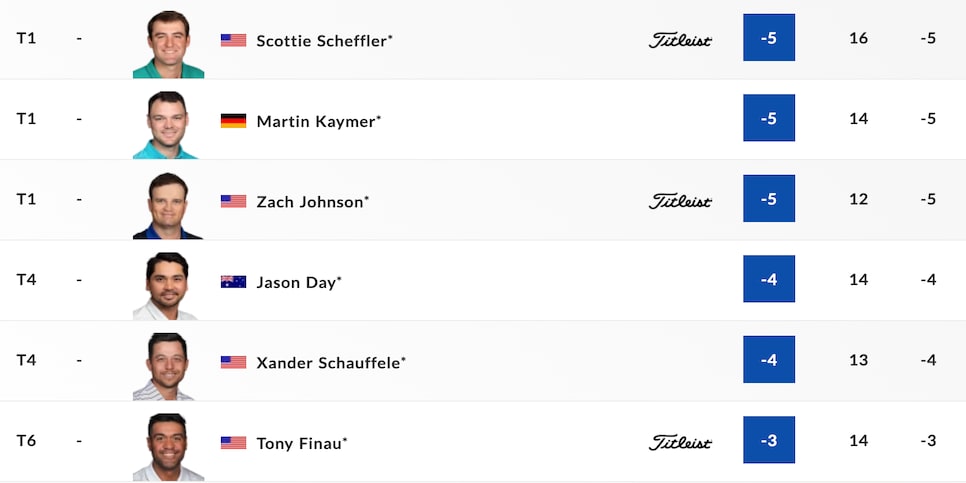 Missing from this screen grab? Brooks Koepka, Gary Woodland and Dustin Johnson, who are all at three under. Henrik Stenson, Justin Thomas and Louis Oosthuzien, who are all at two under. Down at one under is Rory McIlroy, while Tiger Woods has fallen back to even. Decent little day 1 board, some would say.
2:06 p.m.: You know it's a major week when you can barely keep up with all of the action. That's what the last 20 minutes has been like. First we had a ridiculous, 20-foot par save by Tiger Woods at the 18th, which gave him a front-nine 34. Then we had a Brooks Koepka bogey followed by a bounce-back birdie. He's back at three under. As for the leaders? Well, we have a solo leader - Martin Kaymer. Yes, that Martin Kaymer, the former PGA winner and former World No. 1 who has fallen all the way to 128th in the world. He's at five under, one ahead of Scheffler and Zach Johnson. Wild times at Harding Park right now, and it's only Thursday!
1:40 p.m.: LAST MAN IN THE FIELD ALERT: Alex Noren is cruising early in his round, despite getting into the field late on Wednesday after Vaughn Taylor withdrew. Would be cool to see him contend, but he's hardly a "last-man-in-the-field" feel-good story. This is a 10-time European Tour winner who was once ranked as high as eighth in the Official World Golf Ranking. That said, he's fallen all the way to 112th, but is beginning to fight back as of late. The Swede had back-to-back top 10s at the 3M Open and the Barracuda, giving him four top 15s on the PGA Tour this season. Good to see him playing well again.
1:20 p.m.: Much was made about the weather early in the week, and, like an Open Championship, it appears the morning wave has gotten the better end of "THE DRAW." Wind is down, skies are clearing up and the scores are reflecting it. If you take a look at the weather this afternoon in San Fran, winds are expected to readh 20 MPH. Brutal break for those guys, but that's the way it goes. Tiger, DJ, Brooks, Zach Johnson, Jason Day, etc., should thank the golf gods when they hit their knees tonight, provided they finish off their strong rounds.
1:04 p.m.: All week it was big ballpark this, big-boy course that. Welp, guess who is alone at the top (for the time being)? Zach Freaking Johnson. That's right, the man who averages 285.4 yards off the tee, good enough for 188th on tour, is four under through eight at TPC Harding Park. Apparently, experience in majors, plus the ability to grind your face off, still plays in big events. Lot of golf left, but ZJ is red hot, and we would not be surprised to see him remain in contention deep into the weekend.
12:35 p.m.: BANG! Tiger rolls in a 30-footer for birdie on the par-4 13th hole and we promise we'll never question this new putter again. Well, at least for the next 10 minutes. With the birdie, Woods moves to two under and into a share of the early (early) lead. Don't everyone freak out yet. But also, this is a fantastic start in Tiger's quest to win major No. 16.
12:21 p.m.: On what may be TPC Harding Park's most difficult hole, the par-4 12th, Tiger smokes a driver and hits a 7-iron to about eight feet. But he misses the putt for birdie. You're on watch, new putter! Still, Tiger fares better than both his playing partners as Rory and JT make bogey. Elsewhere, Dustin Johnson, Scottie Scheffler, and Bud Cauley share the early lead at two under.
12:03 p.m.: Tiger misses his birdie putt on his second hole. Get that new putter out! Kidding. It was a 25-footer, and he knocked his attempt to tap-in range. All three players in this marquee group make par on the par-3 11th. As for Tiger's putter, according to our equipment guru, E. Michael Johnson, it's a prototype Scotty Cameron Special Select Newport 2 Timeless that Tiger first tested at the British Open last year. We'll have to wait and see how long of a test drive it gets at TPC Harding Park.
11:51 a.m.: After a terrible second shot from the rough with a 5-wood, Tiger hit a brilliant flop shot to set up a short birdie on the par-5 10th and. . . he converts! With the new putter! Yep, Tiger benched the Scotty Cameron that has only been in the bag for his previous 14 major titles for a newer model. But so far, so good. Playing partners Rory McIlroy and Justin Thomas also birdie. Nothing like an easy par 5 to start the day to get your confidence up! But seriously, that's a big make for Tiger with the new flatstick.
11:35 a.m.: Tiger Woods' opening round at TPC Harding Park is underway with a tee shot that just creeps into the left rough. But if you're worried about his back being stiff on a cool San Francisco morning, it looked like a pretty aggressive swing on the par 5, and Woods, along with playing partner Rory McIlroy, even jogged to the first tee. Tiger looks like he's feeling pretty good! Then again, maybe they did that just to stay warm.
11:25 a.m.: Brooks Koepka isn't the only person trying to achieve a rare feet this week. Remember Jordan Spieth? Yeah, he's still trying to complete the career Grand Slam. And despite a winless drought that now stretches more than three years, he still just turned 27. Anyway, Spieth splits the fairway—something that's been a major problem for him—with his opening tee shot.
11:12 a.m.: The threesome of the past three major winners -- Brooks Koepka, Gary Woodland and Shane Lowry -- are now on the course. Koepka might have a new driver in the bag, we'll have more details on that once we confirm. He found the left rough. Woodland's drive hopped out of a fairway bunker on the right side to find the short rough (we continue seeing that ... those lips on the bunkers on the right side are really not too high). And Lowry also finds the rough.
11:02 a.m.: Scottie Scheffler's hot streak continues with another birdie at the difficult par-4 13th hole. The young Texan has it to 3-under through 4 holes already, now one better than Tony Finau, who just hit a glorious greenside bunker shot at the 12th hole.
10:54 a.m.: Tony Finau rolls in a second birdie after a great tee shot at the par-3 11th to join Scottie Scheffler at 2-under. Patrick Cantlay also had a sporty up-and-down after a poor tee shot to the left. Cantlay remains even-par.
Jason Day also starts his round with a birdie at the par-5 10th hole after he reached the green in two. The 2015 PGA champ got a great bounce out of the fairway bunker allowing him to go for it. He starts his day 1-under.
10:44 a.m.: Tony Finau starts his PGA Championship off with a birdie at the par-5 10th hole, with a nice 11-footer or so to get under-par to start his round. Patrick Cantlay, also in Finau's group, failed to get up and down after a nice pitch from behind the green. Cantlay missed his 6-foot uphiller to remain even-par in his round. They're playing with Danny Willett, who bogeyed the par 5 after finding the right fairway bunker on his tee shot.
10:33 a.m.: We have some early highlights from club pros early on Thursday! Danny Balin, club pro from Fresh Meadow, holes a beautiful chip shot at the par-3 11th hole to move to 1-under. And John O'Leary, another club pro (at Trump National-Washington D.C.), nearly holed his approach at the par-4 first hole. O'Leary just misses the birdie putt, but got a nice shoutout from ESPN's Scott Van Pelt in the process.
Scottie Scheffler follows that up with his second straight birdie to start his round, holing a long 25-footer for his birdie. Scheff moves to 2-under early! Like we said, the scoring's supposed to be difficult here at TPC Harding Park. The afternoon, at least, the winds are expected to pick up...
Tom Hoge, in the same group as Scheffler and Balin, also birdied the par-3 11th -- holing a 10-footer. That's three birdies from this hot group!
10:23 a.m.: Scottie Scheffler joins C.T. Pan at the top of the leaderboard with a birdie at the par-5 10th hole. The young Texan got up-and-down from the right greenside bunker before holing an eight-footer for his birdie. And we're off!
10:12 a.m. (eastern time): C.T. Pan records the first birdie of the major season at the par-4 opening hole. Impressively, Pan found the rough off the tee but put his approach to 6 feet before holing the putt. The first hole is a relatively benign, less than 400-yard two-shotter to open, but still a good birdie. And the groups off the 10th tee will be starting on a par 5, so we might see some birdies from in these groups just teeing off. But don't let that fool you: The par-70, 7,250-yard TPC Harding Park is supposed to play a little more difficult today in some chilly weather.