News
PGA Championship 2020: The 8 pairings we're most excited for at TPC Harding Park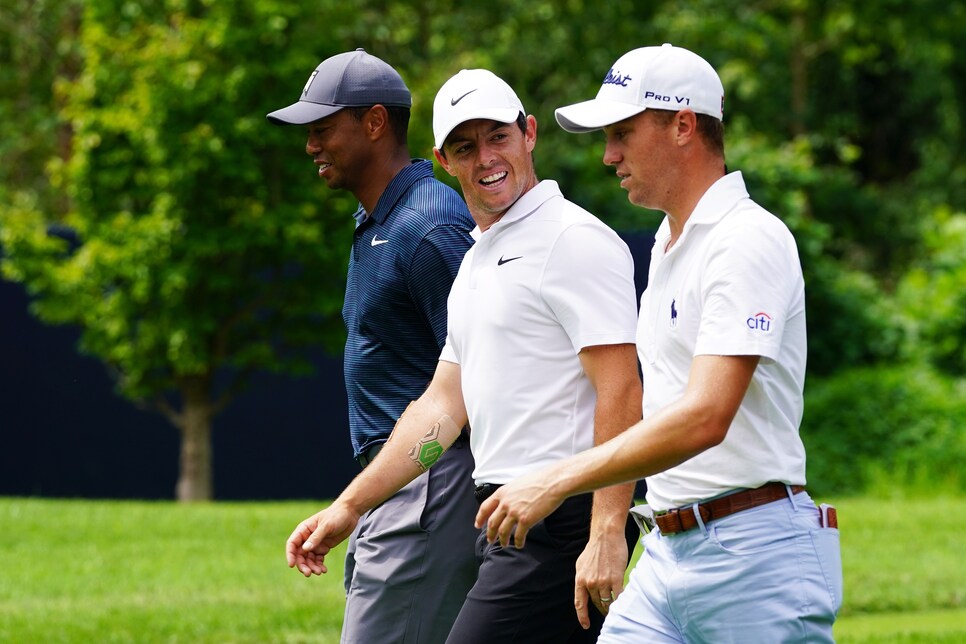 Tiger Woods, Rory McIlroy and Justin Thomas are grouped together for the first two rounds of the PGA Championship.
Stuart Franklin
The first and second round tee times for the 2020 PGA Championship were announced Tuesday, headlined by the supergroup of Tiger Woods, Rory McIlroy and Justin Thomas. But this trio of former Wanamaker champs are far from the only marquee attraction. Here are the eight pairings we're most excited for at TPC Harding Park.
(All tee times are Thursday ET)
11:11 a.m.: Brooks Koepka, Gary Woodland, Shane Lowry
Woodland has refined his diet and slimmed down in hopes of added vitality, and it's worked. He is quietly enjoying a nice campaign, finishing T-12 or better in half of his starts and ranking 19th in strokes gained. Throw in playing conditions that are similar to his triumph at Pebble Beach last summer, the 36-year-old should be on the short list of contenders.
Lowry had a couple decent showings in the Euro Tour's desert swing in January and is coming off a T-6 at Memphis. He also proved at Portrush he excels at playing in less-than-deal weather. It hasn't been his best year of golf ... then again, he's gets to hold the claret jug for another season, so life remains good for the Irishman.
As for Koepka, not a lot riding this week, other than a chance to three-peat, something that hasn't been done at this event in, oh, a century. Although a knee issue is the likely cause of Koepka's woes in 2020, Koepka turned in his best performance of the year last weekend, and as an added bonus, purposefully* dunked his tee shot on the last hole to give himself added motivation. (*Possibly.) At first sight there's not a strong correlation between Harding Park and last year's PGA venue at Bethpage Black. In that same breath, hard to bet against a big hitter who can manage the rough.
5:09 p.m.: Paul Casey, Ian Poulter, Webb Simpson
There needs to be a dedicated channel for this group's second shots. Would easily trade five years of my life to have the iron games of these cats.
11:22 a.m.: Jordan Spieth, Dustin Johnson, Justin Rose
Eighteen months ago Justin Rose was World No. 1. He's down to No. 16, missing the cut in six of nine tour starts in 2020 [albeit with a T-3 at Colonial]. The former 2013 U.S. Open champ does not have an exceptional record at this event, with three top 10s in 17 tries. Getting right on the greens [173rd strokes gained/putting] will go ways in retuning Rose to form.
After a runner-up finish at Bethpage, Johnson went into a year-long slump, one snapped with a win at the Travelers Championship. He followed that victory with 80-80 at the Memorial and a WD at the 3M Open, but bounced back by turning in four rounds in the 60s in Memphis. DJ is already 36 years old, and though players can enjoy success in their 40s, it remains a rarity. The next wrap-around season (2020-'21), with seven majors jammed together, is a crossroads for Johnson, and could ultimately dictate how he is remembered.
On Jordan ... has any player come into a potential career Grand Slam clinching tournament received less pub? We know, everyone is well aware of the roller coaster that is the Jordan Spieth Experience, yet because of Harding Park's length, it feels like some aren't giving Spieth a chance. A sentiment that initially checks out, until remembering he finished T-3 at Bethpage last May. However, any conversations of a Spieth comeback begin with his driving. On the year he ranks 202nd in accuracy. If he doesn't remedy that come Round 1, it will be a short stay in the Bar Area for Spieth.
11:33 a.m.: Tiger Woods, Rory McIlroy, Justin Thomas
Look, it stinks that fans remain barred from attending events. There are benefits to crowd-less venues, but the game is richer with spectators, period. So while there are no winners with a PGA Championships sans gallery, it's fair to say McIlroy might be its beneficiary in Rounds 1 and 2.
Two years ago the four-time major winner noted that playing with Woods—and the circus that engulfs him—can be a pain. "It's tiring," McIlroy said at the Genesis in 2018. "I need a couple Advil just to — I've got a headache after all that." Later that year, McIlroy played with Woods on the final day of the Tour Championship and never looked comfortable in front of a very pro-Tiger horde. In short, don't expect such a dramatic Tiger effect on Rory—who won the WGC-Match Play at Harding Park in 2015—on Thursday and Friday.
Thomas recaptured the No. 1 ranking after winning in Memphis. With three victories and nine top 10s, Thomas is the leading candidate for Player of the Year, and favorite this week. The only thing that could encumber JT is the tall stuff. Although he leads the tour in strokes gained/approach, he's 133rd in rough proximity. Precision off the tee is not exactly Thomas' forte either, ranking 131st in driving accuracy. For Thomas to grab his second Wanamaker, he, more than others, desperately needs to keep it in the short grass.
For Woods, most are using his past success at Harding Park as grounds for hope. Don't have to go that far back: In his only appearance in the tour's restart, Woods finished fifth at the Memorial in approach. He remains a grinder at 44, and a tough set-up could play into Tiger's favor.
4:36 p.m.: Tommy Fleetwood, Hideki Matsuyama, Viktor Hovland
Matsuyama has finished outside the top 15 in eight major appearances since his near-miss at the 2017 PGA. He is second on tour in tee-to-green, but, as usually the case with Hideki, the short game (199th in strokes gained/putting) is holding him back. Harding Park's green complexes are, well, not that complex, perhaps giving Matsuyama the chance to earn his breakthrough. Harding Park should also set up well for Fleetwood, but with only seven tournaments under his belt in 2020, there is the worry of reps coming in.
Riding with rookies is usually a recipe for disaster at majors. But Viktor Hovland proved at Pebble Beach last summer— when he broke Jack Nicklaus' record for lowest amateur score in the U.S. Open—that his game is not afraid of the spotlight. He's sixth in approach and 11th in tee-to-green and has five top 25s in the tour's return. Like Hideki, he'll need his short game (192nd around-the-green, 149th putting) to behave, but don't be surprised to see Hovland on the leader board heading into Saturday.
10:49 a.m.: Daniel Berger, Xander Schauffele, Steve Stricker
Berger has finished T-5 or better in five of his last six starts. Schauffele has finished T-6 or better five times in 11 major starts. So we fully expect Strick Show to beat them both on Thursday, because it's golf.
4:47 p. m.: Adam Scott, Rickie Fowler, Bryson DeChambeau
Adam Scott is making his first appearance since the Players Championship, and Rickie Fowler, as you may have heard, continues to search for his first major championship. All due respect to those gentlemen, our attention is elsewhere.
There's no question Bryson DeChambeau's pursuit of distance gains has worked. He boasts a win and eight top 10s on the year, ranks first in strokes gained/off-the-tee and second in strokes gained total. And it's not just power that's fueling his success, arriving in San Francisco sixth in strokes gained/putting.
But Bryson has struggled at the majors in his career, missing the cut in five of his last 11 starts, his best finish a T-15 at the 2016 U.S. Open. Like Thomas, DeChambeau's had his share of troubles in the rough (112th in rough proximity). There are also the non-play oddities that continue to manifest, which, while mostly innocuous, are starting to form a pattern.
Basically, Bryson will win his first major and silence his doubters or toss himself into Lake Merced after miscalculating the fog's effect on a 50-yard pitch. Either way, it's must-see theater.
10:27 a.m.: Patrick Cantlay, Danny Willett, Tony Finau
For one who hasn't played well in the restart, Cantlay is getting a lot of love from the gambling community. Then again, the guy has no weak spots and finished T-3 at Bethpage, so who are we to bet against him. Don't think many people realize Danny Willett has worked himself back up into the Top 40 in the world, and presents himself as a nice longshot pick. And Finau ... well, if he wins, we only pray that Jim Nantz cries, "The Puerto Rico Open's fog has been lifted!" on the 72nd hole.