News
Dustin Johnson, golf's gunslinger, gets hot then stays cool to win Travelers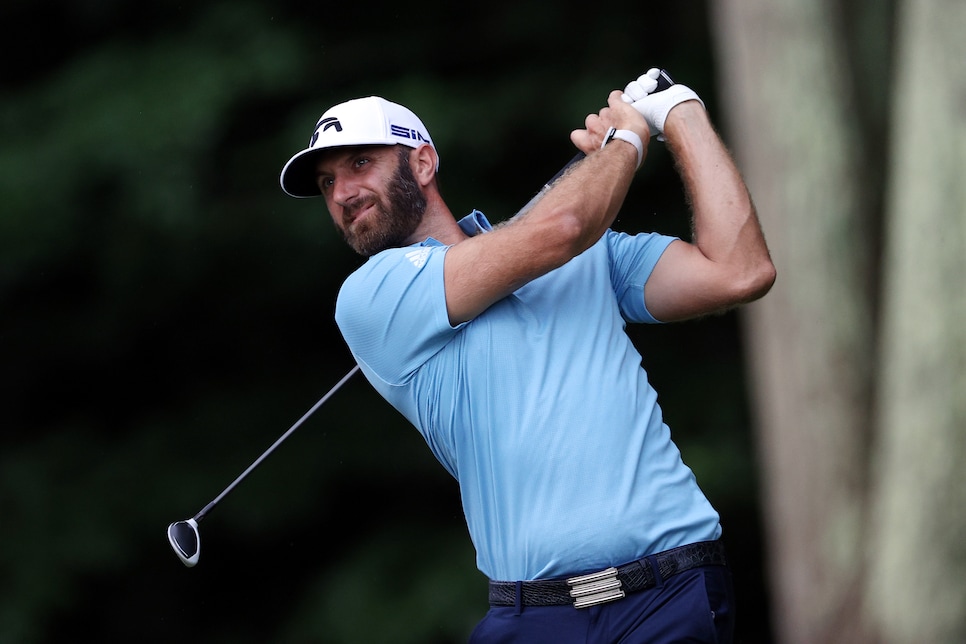 CROMWELL, Conn. — There was no celebration. No animated fist pump or primal yell. Not even a grin. Which makes sense. Gunslingers are not prone to smile.
But they do collect their bounty.
The Travelers Championship was won by desperado Dustin Johnson, who got hot then stayed cool, beating Kevin Streelman by one at TPC River Highlands.
A bad man in these parts for more than a decade, it had been some time since Johnson rolled into town. His last top five was more than a year ago, a byproduct of lingering knee issues in the second half of 2019. He underwent arthroscopic surgery following the Tour Championship and was back in the saddle come January. He wasn't bad in return, notching a T-7 in Kapalua and T-10 in Los Angeles. He also wasn't the force the sport knew him as, ranking 52nd in strokes gained and 103rd in the FedEx Cup prior to Travelers while falling outside the World Ranking's top five for the first time since his U.S. Open win in 2016.
However, any beliefs that the 36-year-old was losing a step were soundly shattered on Saturday, Johnson turning in a bogey-free 61 to earn a spot in Sunday's final pairing.
"I hadn't played very well," said Johnson, who shot a Sunday 67 to finish at 19-under 261 for the week. "But I put in a lot of good work the last couple weeks after Colonial, and so it's nice to see the game just start coming around."
Johnson began his final round two shots behind 54-hole leader Brendon Todd. Spotting any professional golfer two shots for 18 holes is less than ideal. Conversely, so is going mano a mano against golf's Dirty Harry.
Johnson erased the deficit by the fifth hole, and though he bogeyed the seventh, birdies at the eighth, ninth and 10th put him up two with eight holes to go. While the driver is usually Johnson's weapon of choice, he was making his charge with the putter, sinking a 27-footer on the eighth and 24-footer at the 10th.
The tournament was seemingly sealed on the 12th. After his approach shot on the par 4 nestled 10 yards from the hole in thick rough, Todd—perhaps rattled by a rattle of thunder—sent a shot soaring through the air, it's trajectory so foreign it could only be described as a UFO. He was too delicate with his fourth, the ball rolling back off of TPC River Highlands' shaved greens, with his fifth barely reaching the putting surface. The sixth didn't come close. The final damage was a triple-bogey 7 for Todd. Even as Johnson missed his 12 footer for birdie, DJ now held a five-shot advantage over Todd. His closest competitor was Streelman, three shots back. The parade was on.
Except the parade's float stalled out and rammed into a street light on the next tee box.
The 13th played as the second-easiest hole this week, surrendering 12 eagles and 197 birdies. However, there's a lake to the right of the fairway, a perilous visual for Johnson's left-to-right ball flight. So he tried to play safe, only to get hurt. Hitting driver, his tee ball barreled left towards the train tracks. It came to rest a foot out of bounds at the same time Streelman sank an eight-footer on the green for bird. The issue, closed just minutes before, was re-opened.
"It's a tough tee shot. I pulled it just a hair," Johnson said. "It wasn't that bad of a tee shot."
Such a fate would unnerve men of lesser grit. But Johnson is a fusion of restraint and swagger, staring at trouble as if trouble is the one in trouble. He saved bogey off his provisional and erased the mistake by sticking his approach at the 14th and converting a 15-footer for birdie. Lead back to two.
What transpired next is something of a Rorschach test. The par-4 15th at TPC River Highlands is risk-reward incarnate, just 294 yards but water on the left and the green's contours kicking away anything less than right. Johnson gave himself the greenlight by ripping a hybrid, but the shot was left the entire way. It headed into the penalty area, although, miraculously, stayed dry.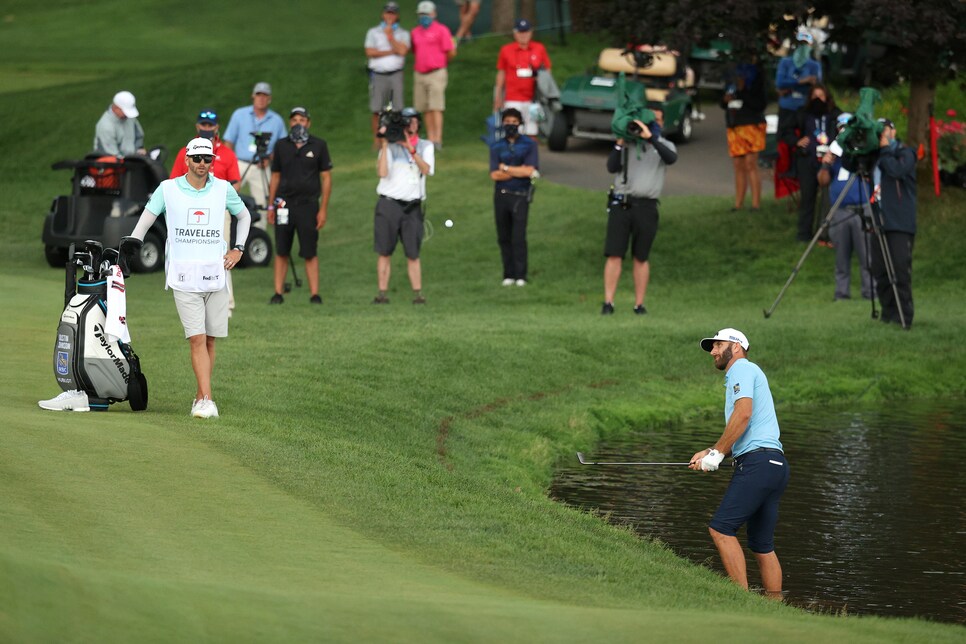 Johnson's wayward drive on the 15th stayed dry, even if he didn't as he played his second shot.
Maddie Meyer
That Johnson went for it had to drive a sect of observers mad. They assert, with a lead like Johnson's, the play is to lay up, pitch safely onto the green and walk away with par.
There is credence to that strategy, especially after Johnson's second shot—after rolling up his pants and jumping in the lake—fell short of the green. Yet it discounts the moxie that buoyed Johnson over the previous two holes, the same moxie that allowed him to save par by chipping his third to three feet. Besides, gunslingers don't pick their spots. They open the chamber and ask questions later.
"I had the confidence," Johnson said. "I was ready to finish out the golf tournament."
An hour weather delayed attempted to derail Johnson's victory lap over the final three holes, and a bogey out of a greenside bunker at the 16th appeared to create a showdown with Streelman. But Streelman missed a birdie putt at the 17th and a wayward drive and pulled approach did the veteran in at the 18th. Johnson took care of business by cleaning up a four-footer for par on the 17th.
Then, in case the previous 71 holes failed to convey the message, Johnson fired a 351-yard drive on the final hole, leaving just 80 yards off the carpet. Through the smoke, a wedge to 20 feet, with a lag to inches the final blow to Streelman.
"I knew where we stood," Johnson said. "I knew what I needed to do, but sitting there, you're cold, you're coming out, you start on a par 3, it was difficult. But I managed to get it done."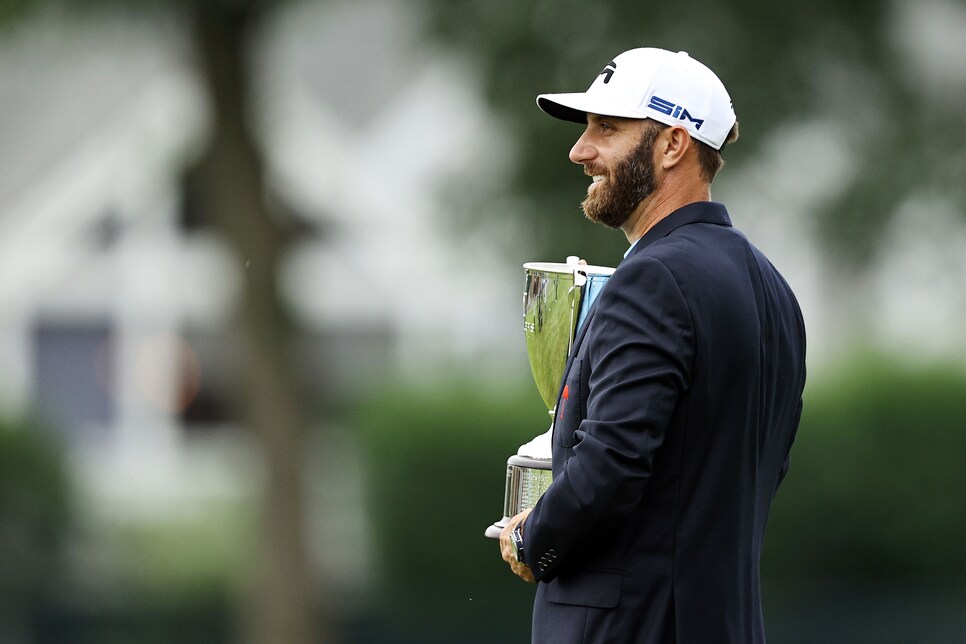 Johnson now has 21 PGA Tour wins and a victory in 13th straight seasons.
Elsa
Johnson's reward is his 21st win on tour. With a trophy case that mammoth—filled with prizes from the U.S. Open, WGCs, playoff events, Player of the Year honors—it's easy and fair to wonder what shelf, if any, this tournament occupies. But, mentioned above, Johnson's been gone for some time. Though few were wondering if he'd come back, there's always the possibility of not returning from the wilderness. Not that Johnson was among the doubters.
"I put in the work, so I feel like I've put in enough hard work to where my game should be spot on all the time," Johnson said. "Obviously coming off of an injury, or surgery last fall, and then only playing a couple tournaments before our shutdown, so I didn't really get a lot of golf to get back in a rhythm.
"I felt like it was really good, it was really close to being great at Hilton Head, and then obviously coming here, I really felt good about things."
Even with a substandard past 12 months, it's worth noting Johnson did win in 2019, and Sunday marked the 13th straight season Johnson has notched a victory on his belt. In his estimation, he's never had a bad year on tour. "And I hope I don't start anytime soon," he added.
With that, the desperado left with the sunset. Expect him back real soon.