Equipment
Winner's Bag: Dustin Johnson's equipment at the Travelers Championship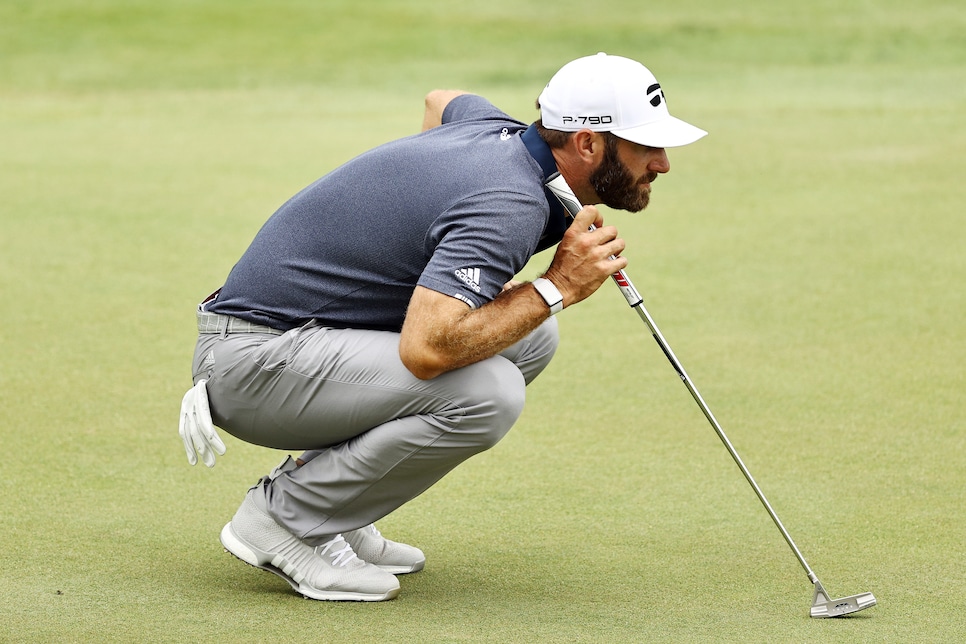 Dustin Johnson is anything but relatable to the everyday golfer, his 300-plus-yard drives out of reach for mere mortals. Equipment-wise, however, D.J. is very much the everyman in some areas. Prior to play at the Travelers Championship, Johnson tested no less than six different putters, eventually settling on the TaylorMade's blade-style Truss TB1 and also put a second hybrid in the bag, giving him 19- and 22-degree TaylorMade Sim Max rescue clubs.
All those clubs proved useful for Johnson at TPC River Highlands in Cromwell, Conn., particularly the putter. Johnson, who came into the event ranked 134th in strokes gained putting, was fourth for the week in the stat, picking up more than six shots on the field. His work with the Truss was particularly solid on Sunday, as he made a curling 27-footer on the par-3 eighth, a 24-footer from the fringe on the following hole and a 16-footer on the par-4 14th along with a number of shorter birdie putts as well as a solid two-putt on the 17th. It all added up to a one-stroke win over Kevin Streelman after a final-round 67.
The Truss line is named for the Y-shaped beam structure (similar to what is used in tennis rackets). The triangular hosel structure is designed to create stability in the head while mostly hiding the look at address. According to TaylorMade's research the Truss structure creates up to an 80 percent reduction in face deflection compared to a traditional blade putter. Johnson's Truss TB1 is 35.75 inches in length with 3 degrees loft and a swingweight of E-0. The grip is a SuperStroke Pistol GT 1.0.
All of which meant for one week, where Johnson's biggest weapon was a putter instead of his driver, he was more relatable than ever.
What Dustin Johnson had in the bag at the Travelers Championship:
Driver: TaylorMade SIM (Fujikura Speeder 661 Evolution 2.0 X), 10.5 degrees