News
PGA Championship 2018 live blog: Brooks Koepka cards third-round 66, leads by two over Adam Scott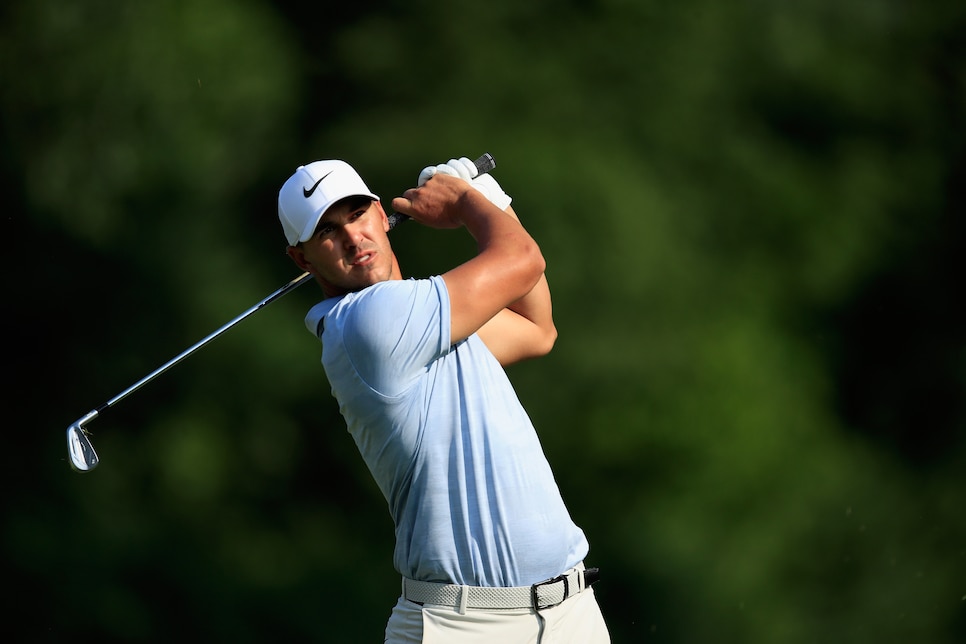 7:39 p.m.: Koepka and Woodland both just miss birdie at the 18th. Impressive resolve from Woodland, who finished with a one-over 71 despite the chaos at the 10th hole. He's just three back of Koepka, who finished with a four-under 66 to take a two-shot lead into Sunday over Adam Scott.
7:33 p.m.: Fowler's birdie putt wouldn't go, so he joins Rahm in the clubhouse at nine under. Could it be Rickie's time? Where have we heard that before ...
7:21 p.m.: For what feels like the first time all day, Koepka misses a makable putt, this one for eagle at the 17th. Two-putt birdies will do though, especially when they get you to 12 under. He's up two on Scott, who could soon be joined by Fowler following his approach into the 18th.
7:14 p.m.: Rickie Fowler came inches from dunking his third for eagle at the 17th, setting up his first birdie in nine holes. He's at nine under with one to play, which is only two back at the moment. That will not last long, as Koepka has just hit one inside 15 feet at the 17th. Could be a dagger eagle coming up.
7:08 p.m.: Scott's birdie effort at the 18th just slides by on the low side and he settles for par and back-to-back 65s to grab the clubhouse lead at 10 under. Thomas makes bogey for a two-under 68, joining him with Tiger, Cink and Day in the Clubhouse at eight under.
7:03 p.m.: Facing a delicate chip at the 16th, Koepka hit it well past the hole, but was still able to make the par putt to stay at 11 under. He could be at least four over in his last three holes and he's managed to keep it at two over. He leads by one over Scott, who just hit one close at the 18th.
Rahm is in with a 66, putting him at nine under in the clubhouse. Thomas and Woodland are also at nine under but have yet to complete their rounds.
6:52 p.m.: Scott is the latest to take advantage of the 17th, two-putting for birdie to get to 10 under, just one back of Koepka, who finally hit his tee shot at the 16th, just over the green. Justin Thomas, who we haven't seen much of in awhile, also makes birdie, putting him at nine under.
6:48 p.m.: With a birdie at the 17th, Jon Rahm moves into a tie for second at nine under. Hadn't heard much from him early in the day, but three birdies on the back nine has changed that quickly. Up at the 18th, Jason Day gets in at eight under with a three-under 67.
A lot of guys still at seven or eight under still have the 17th to play, and it's been the easiest hole on the course on Saturday. Expect plenty more birdies coming in and some more movement at the top of the leader board, and you can pretty much pencil in Koepka for one of those as well. He's still waiting to hit his tee shot at the 15th thanks to Brandon Stone, who caused some serious damage to the hole with his tee shot:
6:31 p.m.: Unreal shot from Koepka behind 15 green, leading to a tap-in birdie. He'll only drop one shot to 11 under.
6:29 p.m.: Well, well, well, maybe this thing isn't over yet. Koepka's ball rolled up against a tree, forcing him to take an unplayable. From there he flew the green with his third. Bogey would be a good score at this point.
All of a sudden, Gary Woodland is now firmly back in the mix following his birdie at 14. He's tied with Scott at nine under. Jason Day and Jon Rahm have also just joined the group at eight under. Depending on what happens with Koepka here, everybody might be back in it.
6:26 p.m.: Frustrating finish for Tiger as his birdie putt never had a chance. Ten straight pars gives him a second straight 66 though, and he'll head into Sunday at eight under, which may not be as bad as we think. Koepka has just missed his drive way to the right at the 15th, but it did stay in bounds.
Also getting in at eight under with Woods was one of his playing partners, 45-year-old Stewart Cink, who also fired a 66. He's not finished inside the top 10 in a major since he won the Open Championship in 2009. Could be a special week for the veteran.
6:16 p.m.: For the first time in 44 holes, Koepka makes a bogey at the 14th following a poor drive into the left rough. He drops to 12 under, still good enough for a four-shot lead over seven players. Yup, we have a seven-way tie for second at the moment. Tiger has a chance to break that up after smoking a drive at 18 and hitting one to about 10 feet. A make could get him into the final group.
6:05 p.m.: Strong effort from Tiger, but he "gunned it" past as Gary McCord said, missing on the high side. And he just missed the comebacker for birdie. An absolute killer of a three-putt.
Meanwhile, Koepka the machine continues to hum along, as he saves par at the par-3 13th.
5:56 p.m.: Just as the energy had been completely sucked out of this tournament, save for a Matt Wallce hole-in-one, Tiger rips a driver at the 17th and then pures a 4-iron to about 15 feet. An eagle here would bring the roof down, and it would put Woods in solo second. Right now, Adam Scott holds that spot at nine under. Pat Perez, Rickie Fowler, Justin Thomas and Gary Woodland are tied for third at eight under. Check out the full leader board here.
5:38 p.m.: Make that eight straight pars for Tiger, as his birdie effort at the par-3 16th comes up just short. Big opportunity coming up at the par-5 17th though. He needs one, badly, especially after Koepka somehow saved par with easy from over the 11th green. Shades of Shinnecock.
5:27 p.m.: Oh, and while all that was going down, Tiger was making his seventh straight par at the 15th. In desperate need of one more birdie, and maybe two, on the last three holes.
For seemingly the first time all day, Koepka hit a poor shot off the 11th tee, finding the right rough. From there he flew the green and will have a pretty difficult challenge to get up and down for par. But he can afford a bogey as he now leads by four over Fowler, Scott and Kisner.
5:23 p.m.: Wild scene at the 10th just now. After hitting his approach in the bunker, Gary Woodland flew his third over the green into another bunker. Then, Kevin Kisner played his out of the front bunker to a few feet, but none of the caddies went in to rake that bunker. When Woodland hit his fourth, it went BACK into the first, unraked bunker, and his ball rolled into either he or Kisner's footprints. Unbelievable. Woodland went on to make triple, dropping him all the way to seven under.
While all that was going on, Matt Wallace aced the 16th hole, getting him to five under for the week. It's all happening now!
5:12 p.m.: Another fairway, another green for Koepka as he continues this all-out assault on Bellerive. If he makes that one, it looks to be about a 15-footer, we might as well just call it a week.
In the group ahead, Koepka's buddy Dustin Johnson is putting together one of the more disappointing rounds of the year. He has not made a single birdie and is currently two over on his round. Not good.
5:06 p.m.: After a great approach shot into the 14th that left him eight feet below the hole, Tiger misses an easy birdie putt to remain at eight under. That's six straight pars and he's now five back of Koepka, who does not appear to be slowing down any time soon. Fun run while it lasted for Big Cat ....
5:00 p.m.: Brooks Koepka makes another birdie at the ninth, turning in five-under 30 and opening up a three-shot lead after a Woodland bogey at No. 9. Scary stuff when this guy gets going. Hasn't made a bogey and hasn't really missed a shot yet.
4:42 p.m.: Another birdie at No. 8 for Fowler, which gets him to 10 under. That's about to be two off the lead, as Koepka sticks his third at the eighth and should have no problem making his birdie to get to 12 under. That means Tiger will be four back after making another par at the 12th. Have to figure Woods will need to get to at least 10 under to have a legitimate chance tomorrow.
And don't forget about Gary Woodland, who just made his first birdie in five holes at No. 8 to get to 11 under.
4:33 p.m.: Triple bogey for Jordan Spieth. Don't want to write him off yet, but feels like that just ended his week.
How about Adam Scott? The guy with just one top 10 since last June is just two off the lead following a front-nine 31 that has him at nine under. Guess he can still play.
4:28 p.m.: Tiger striped an iron at the 11th, but his approach shot left quite a bit to be desired and he settled for par to remain at eight under. Meanwhile, up ahead at 12, we've got major drama, as Jordan Spieth had to hit a provisional off the tee but wound up finding his first ball in the trees. From there, he attempted to hit a heroic punch out that clipped a tree and went out of bounds, forcing him to hit another one from the same spot. He punched out and now has to somehow get up and down to "save" double. Going to be tough to come back from this one, even for a guy known for bouncing back.
4:05 p.m.: Tiger holes the par putt and avoids a third straight bogey at the 10th hole. Goes without saying, but that's a big one, especially with a birdie hole coming up at the 11th.
The better par save came from Woods' playing partner Webb Simpson, who continues to hole out bunker shots like it's his job (which, I guess it kind of is?):
But seriously, it does feel like he does this more than anyone. Webb's quietly lurking at five under.
3:59 p.m.: Tiger continues to struggle with the par-4 10th, missing the fairway right and chopping one out down the fairway. He just put his third beneath the hole about 12 feet away. Could be a huge par save to keep the momentum going.
3:50 p.m.: After five straight pars to open his round, Rickie Fowler gets on the board with a birdie at the sixth to get to nine under, which is now two off the lead as Koepka makes his third birdie of the day at the fifth. Fowler's playing partner Dustin Johnson has struggled, making five pars and a bogey to fall to six under. One of the few big names to not get in on the birdie barrage yet.
3:42 p.m.: Par for Tiger at the ninth for an almost-blemish-free 31. He heads to the 10th at eight under, two back.
3:32 p.m.: Look OUT! Jordan Spieth drains one from deep at the ninth, turning in four-under 31. He's within three at seven under. Kisner just dropped one from long range as well, which gets him back to nine under. Adam Scott also makes birdie, his third of the day, to get to eight under. How are we supposed to keep up with all of this?
3:28 p.m.: Tiger joins the group at eight under with his fifth birdie of the day at the eighth, then follows that up with a striped iron down the ninth fairway. He's two back in a major championship.
Thomas Pieters, who has flashed so much potential in the last few years, has also joined the group at eight under with a 27-footer for birdie at the fifth. He hasn't had the best season, but he could change that real quickly at Bellerive with a breakthrough win.
3:16 p.m.: Strong bounce back from Woodland at the par-3 third, as he drains a birdie from 20 feet to tie Koepka at 10 under. Koepka made par, so he's human. That gives them each a two-shot lead after Kisner's bogey at the second. He's tied for third with Fowler and Thomas, and they could have a new member of that group shortly, as Tiger is tight at the par-5 eighth. Oh, then there's Dustin Johnson and Jason Day at seven under and Jordan Spieth, Justin Rose and Adam Scott at six under. Decent leader board.
3:09 p.m.: Tiger's approach at the seventh was all over the flag, leaving him another makable birdie putt. Boom:
For a brief moment, that got him within two, until Koepka made his second birdie in as many holes to get to 10 under. If he's going to start rolling like this, he may be tough to catch today.
3:02 p.m.: From the drop zone, Woodland nearly makes it for par. He'll gladly take the bogey and only drop to nine under.
3:00 p.m.: Oh boy. Woodland's nerves from the first hole carried over to No. 2 as he badly hooked his tee shot with an iron again, but it stayed dry. The approach shot, however, did not, ricocheting off the rocks and back into the drink. Not the best of starts for the solo leader.
2:57 p.m.: Tiger rolls it right in the center of the cup and he's back at six under. At No. 1, Gary Woodland recovers nicely from a poor tee shot to save par and stay at 10 under, but now he's got two guys at nine under, Kevin Kisner and Koepka, who tapped in his birdie putt. Justin Thomas and Rickie Fowler are at eight under. Check out the latest leader board here.
Don't look now, but Jordan Spieth is quietly making a move, having just made his second birdie in his last three holes. He's at five under, just five back as he looks to get himself in position to take a shot at the career grand slam on Sunday.
2:46 p.m.: Tiger, who is on his FOURTH shirt of the day, hits a beautiful fade into the par-3 sixth. Good look at a much-needed bounce back birdie coming up.
The final two groups are off and running, and Dustin Johnson is through one hole with a par. Ahead at the third, Justin Thomas' smooth swing sets up a nice birdie putt, which he rolls in to get to eight under. Just as we finished typing that, Brooks Koepka nearly spins in his approach at the first. Kick-in birdie coming up. All the big boys are starting to get rolling.
2:38 p.m.: Ouch. Tiger's par putt misses on the high side and he drops a shot. That hurts the momentum.
2:35 p.m.: Another missed fairway for Tiger at No. 5, but it only ended up in the first cut. However, that made it tough to stop his second shot on the green, which was a great one, but it rolled out to 58 feet. Facing a slick, long downhill look at birdie he rolled it past by about six feet. Tester coming up.
Meanwhile, back at the par-3 third, Jason Day rolls in his second birdie of the day to get to seven under.
2:24 p.m.: All signs are pointing to another birdie fest this afternoon at Bellerive. Justin Thomas just joined in on the fun with a birdie at No.1 and he's now at seven under, three off the lead. Speaking of the lead, the final two groups are just about set to tee off. It's all happening now.
2:16 p.m.: A poor drive from Tiger at the fourth forced him to hack one up as close to the green as he could from the thick, juicy Bellerive rough. From there, he spins a wedge that nearly drops for birdie, almost sending the crowd into a frenzy. Big up and down par to keep the card clean.
Up ahead at the eighth, Chris Kirk just made another birdie as he continues to creep up the leader board. He's now tied at six under with Tiger, Jason Day and Emiliano Grillo, who has just made back-to-back birdies at the second and third holes.
1:59 p.m.: Not the closest tee shot from Tiger at the par-3 third, but a good two-putt par from 37 feet to stay at six under. Joining him at six under just now is Jason Day, who opened with a six-foot birdie conversion at the first. Of the guys on the course, Day and Woods are the two closest to Woodland's lead at 10 under, but there's a few other movers as well, including Chris Kirk, who has the best round on the course right now at three under through seven. He's five under overall.
1:47 p.m.: At the par-4 second, Tiger throws a dart to five feet from 145 yards, setting up another birdie to put him at six under. What a start.
1:33 p.m.: One hole, one birdie, one LOUD roar for Tiger Woods. That gets him to five under, five off the lead.
1:12 p.m.: Big bounce back birdie from Rory at the second to get back to three under for the week. Pretty remarkable considering he did this during his warm-up session:
12:54 p.m.: Just as Rory was beginning to make progress, he opens with a bogey to start his third round. Not ideal.
12:47 p.m.: Moving day is officially underway as the early groups are off in the third round. Check out the full tee times here. Only one birdie so far, and it belongs to Daniel Berger, who has moved to three under on the week despite being five over on Thursday as rumors swirled he might withdraw with a wrist injury. Impressive stuff from Berger battling back. A few more birdies and he's right in the mix.
12:10 p.m.: Some key third-round tee times (All ET). Tiger Woods will tee off at 1:21 (so about an hour from now). World No. 1 Dustin Johnson, Rickie Fowler, and Charl Schwartzel play in the penultimate group at 2:27, and leader Gary Woodland, Kevin Kisner, and Brooks Koepka tee off in the final group at 2:38. The PGA decided to stick with threesomes and split tees as they try to get the tournament back on track. Good choice. OK, sit tight, folks. We've got a great leader board and a great afternoon forecast. Should be fun.
11:25 a.m.: A couple quick Ryder Cup notes while we wait for the third round to start. With the PGA Championship being the final event to earn points and Phil Mickelson missing the cut, he'll officially need to be a captain's pick if he is to play in a 12th consecutive Ryder Cup. Remarkably, Mickelson has qualified based on points in the previous 11. Meanwhile, Bryson DeChambeau will need to be picked by captain Jim Furyk if he's to play in a first Ryder Cup after he also missed the cut. Two other guys looking to make a first U.S. squad, Xander Schauffele and Tony Finau, both made the cut while playing alongside Furyk. And he certainly looked impressed when his pair of younger playing partners both made tap-in birdies on the par-3 16th: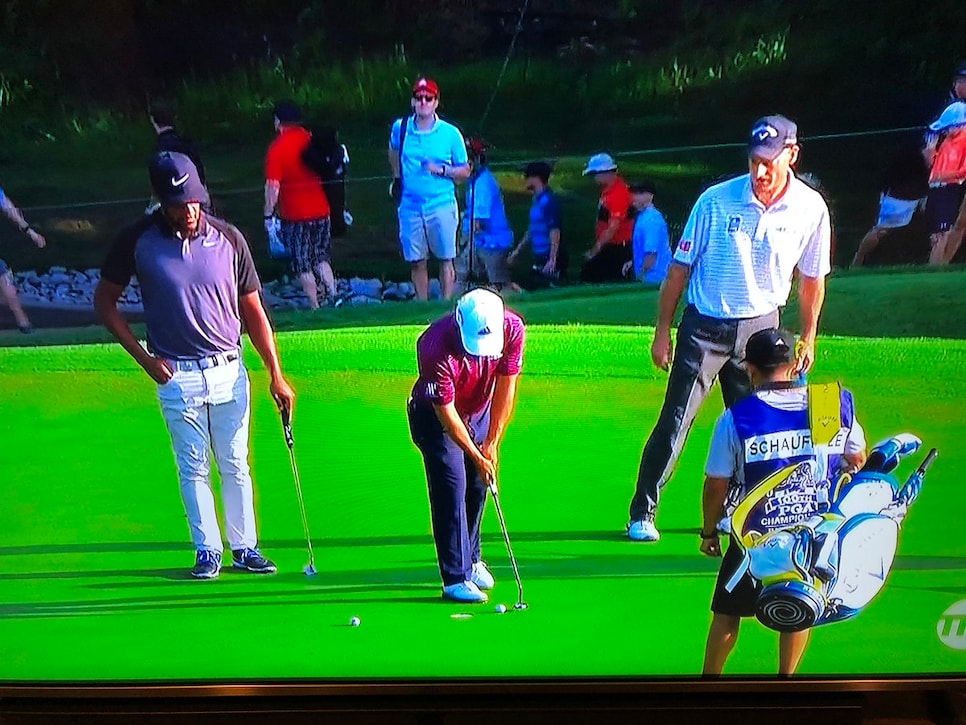 Furyk will announce three of his captain's picks following the second FedEx Cup Playoff event, the Dell Technologies Championship, with the final pick coming the following week after the BMW Championship. Those with potentially the most to gain this weekend? Tiger Woods also has a chance to impress Furyk over the weekend. . . LOL, he locked up a spot on the team the minute he contended at the Valspar Championship in March.
11:11 a.m.: While the second round wraps up and we wait for the start of the third, here's a special treat. Co-worker Chris Powers discovered there's an ALTERNATE, longer version to that wretched Jeep commercial that has plagued everyone watching on TNT this week. Enjoy!
That should be nominated for a short film Oscar. Great stuff.
11:00 a.m.: Woods seemed pretty pleased by his 66, but you have to wonder if he would have shot lower had it not been for Friday's weather delay. The guy basically got robbed of a 62. Hey, just stating facts here, people. On a serious note, here's what he had to say about his upcoming afternoon round.
"I just have to make birdies," Woods told TNT's Amanda Balionis following his round. "This leaderboard is bunched. And if you hit the ball well enough, there's not a single putt that you have to be worried about getting away from you . . . you can be really aggressive."
10:48 a.m.: After a wild tee shot, Tiger finds the green with his second and two-putts from 88 feet for par. He shoots 66 to move to four under entering the third round. Over the first two rounds, Tiger tops playing partner Rory McIlroy by one, but loses to Justin Thomas by two shots. Thomas was particularly impressive this morning, shooting a four-under-par 31 on the back nine to move into the top 10.
10:28 a.m.: No eagle for Tiger, but he'll settle for his first birdie since the 11th hole. Playing partners Justin Thomas and Rory McIlroy also take advantage of the par 5 and make birdies. One hole to go. That is, until their afternoon rounds.
10:20 a.m.: After a perfect drive, Tiger hits a low, hard cut with a 3-wood and... finds the front of the green! He'll have a 30-footer for eagle.
10:07 a.m.: Tiger Woods makes a solid par on the difficult par-3 16th. He'll head to the par-5 17th desperately needing a birdie to salvage what looked like it would be a really low round. Meanwhile, Rickie Fowler makes another lengthy par putt on No. 18 to post 67 and finish his second round at eight under. Here's a look at the top of the leader board, which hasn't changed much this morning:
9:49 a.m.: Rickie Fowler rolls in another birdie on the 17th hole to get back to eight under and in a tie for third. Meanwhile, Phil Mickelson misses for par on 16 then misses his near tap-in for bogey. The bad news is Mickelson won't make the cut. The good news is that he didn't make matters worse by hitting a moving golf ball.
9:42 a.m.: Tiger makes a solid par on the par-4 14th, but he gets shown up by both his playing partners. Rory McIlroy holes a pitch shot for birdie from behind the green while Justin Thomas rolls in a 20-footer for his own birdie. Woods now trails Thomas by one in the side Super Group battle.
9:29 a.m.: After hitting what he thought was a perfect 7-iron on the par-3 13th, Woods' ball finds a ridge behind the hole and rolls some 40 feet away. He two-putts for par, but at three under, he's going to need to rally over the final six holes to be a serious factor heading into the third round.
9:17 a.m.: Welp. Tiger's tee shot on the par-4 12th finds the right rough and sits down. He does a decent job to find the front of the green with his approach, but he three-putts (understandably) from 101 feet. That being said, Woods' par putt was only from about five feet, the same distance putt he missed on No. 10. Now at three under with six holes to go, Woods finds himself seven shots back again.
8:58 a.m.: And the Tiger Train gets back on track on the drivable par-4 11th. Coming off a bogey, you'd think Woods would be tempted to go for the green, but his discipline pays off. After finding the fairway with an iron (Something he didn't do on Thursday, leading to a double bogey), he spins a wedge to tap-in range for a bounceback birdie to move to four under again.
TACTICAL TIGER is in contention.
8:44 a.m.: The Tiger Train hits a minor road bump on No. 10. After a perfect tee shot, Woods comes up a little short on his approach and can't get up and down for par. His pitch was OK, but Woods finally misses a short-ish putt, this time from five feet. Back to three under. Up ahead, Rickie Fowler also drops a shot on the par-3 13th to fall back to seven under.
8:34 a.m.: Rickie Fowler makes a terrific sand save on the par-4 12th, curing in a 10-footer for par to stay at eight under. Meanwhile, Woods, playing the difficult par-4 10th, hits his first driver of the day and. . . it's absolutely perfect. McIlroy and Thomas also hit great tee shots.
8:27 a.m.: Tiger gets a bit of a break thanks to Justin Thomas facing a similar long putt first on the par-4 9th. After Thomas comes up woefully short, Woods strokes one to gimme range for par to remain at four under. Thomas three-putts for bogey and McIlroy two-putts for par. That's a four-under 31 for Tiger to begin his second round. Could we see him seriously contend for a second consecutive major? This upcoming back nine in perfect scoring conditions will play a major role.
8:13 a.m.: Rickie Fowler begins his Saturday with a birdie on the 11th, the hole that's been turned into a drivable par 4 for this round. Fowler moves to three under for the round and eight under overall. He's now tied for third, and yes, in great position yet again to finally win that first major championship.
8:10 a.m.: After a beautiful wedge shot, Tiger Woods rolls in a six-footer for birdie to begin his day and get to four under for the round and the tournament.
Playing partners Justin Thomas (three under) and Rory McIlroy (one under) also take advantage of arguably Bellerive's easiest hole.
8:06 a.m.: TNT shows Tony Finau's approach shot on the par-4 12th. This is notable because despite Finau putting together one of the craziest front nines of all time yesterday with no pars (7 birdies, a bogey, and a triple bogey), the network didn't show him during its coverage that was panned by critics everywhere, including yours truly. Here's to a better showing from TNT today. . .
8:02 a.m.: The marquee group of Tiger Woods, Justin Thomas and Rory McIlroy resumes in the middle of the par-5 8th. Thomas hits a spectacular 3-wood that lands right by the hole and rolls to the back of the green. McIlroy also goes for the green, but finds the front bunker and Woods lays up from the left rough as expected. Woods was three under thru 7 holes when play was suspended on Friday. It will be interesting to see if he can keep that momentum going and get back into this tournament.
8:00 a.m.: As the guys resume play, here's a look at the top of the leader board: