News
PGA Championship 2018: Un-raked bunker costs Gary Woodland dearly (UPDATE: Opponent's caddie takes blame)
Playing in the final group at a major on a weekend for the first time, Gary Woodland overcame a not-so-surprising shaky start on Saturday at the PGA Championship. However, he came undone on a surprising occurrence on the 10th hole.
Woodland still had a share of the lead after a birdie on the eighth hole. A bogey on the ninth wasn't great, but it was the following hole that really cost him. Specifically, the right greenside bunker. First, Woodland blasted his third shot over the green and into another bunker. Then, be blasted his fourth back into the same bunker. Making matters worse, it had yet to be raked after both Woodland and playing partner Kevin Kisner hit out of it. Here's a look:
Before you ask, yes, the bunker could have legally been raked once both players had hit out of it. So why wasn't it raked? Fox Sport's Shane Bacon provided the best explanation:
Regardless of why, it was a pretty bad break (Of course, you could argue it was a combo of bad shots by Woodland that got him into this predicament). And from an unfortunate lie, Woodland hacked out into the rough. He then nearly chipped in, but had to settle for tapping in for triple bogey. That dropped Woodland all the way back to seven under after having been at 11 under two holes before, and just like that, Brooks Koepka had a four-shot lead. Here's how Woodland's bizarre bunker adventure looked on ShotTracker: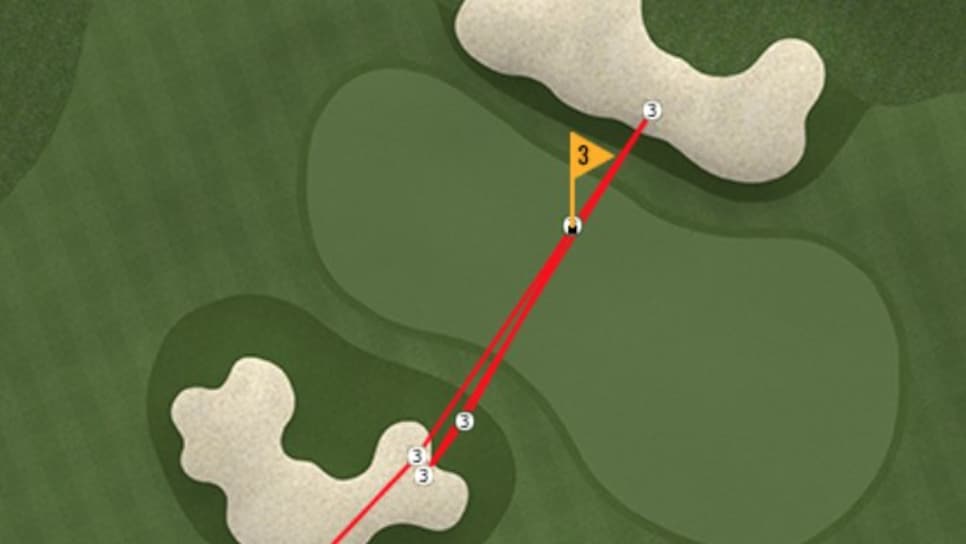 On the bright side, Woodland got a little extra practice in Bellerive's bunkers. And he shouldn't face another sandy lie like that for a long time.
UPDATE: To Woodland's credit, he bounced back from the triple bogey to shoot two under over his final eight holes on Saturday. He'll enter Sunday final's round at nine under, three shots behind leader Brooks Koepka.
And Kisner's caddie, Duane Bock, took the blame for the un-raked bunker on Twitter:
We appreciate the honest explanation, but don't beat yourself up about it, Duane. You meant well, and it was just a fluky situation. Besides, Woodland's first two bunker shots were the main reason for his disastrous hole.