News
PGA Championship 2018: Saturday was a dizzying, dazzling scoring explosion at Bellerive—and Sunday promises more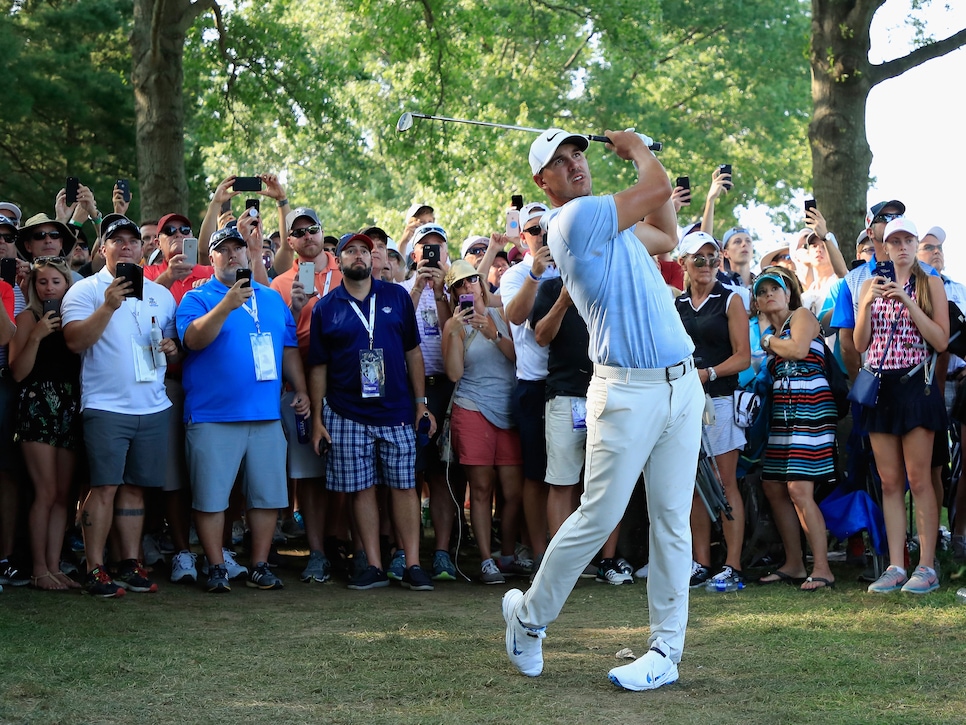 Photo By: Andy Lyons/Getty Images
ST. LOUIS — Some days a golf course is heaven. Today was such a day. The sun was golden and healing, the earth green and comforting. Men became boys at play. Every tee shot was beautiful, every putt true. Tiger Woods took us back five years to when he was a Tiger who could win. Brooks Koepka kept us in the moment, this moment, showing us, again, that the game's big moments now belong to him. Whatever else this Saturday did, it gave us orders. Cancel tomorrow's backyard barbecue. Put a six-pack on ice. Get in front of a TV. Watch the boys have more fun.
Saturday we saw Tiger twirling irons the way he did back in the day, a maestro in command. We saw Koepka's guns, reminiscent of those hanging from the young Arnold Palmer's shoulders, sending drives down range. Little Rickie Fowler got it up-and-down from bunkers he couldn't see over, at last moving with the confidence of a kid growing into a major winner. And, just when we were about to forget him, we recognized Adam Scott, the Masters winner five years ago, suddenly back among those who matter.
Everywhere on the grounds at Bellerive Country Club for this 100th PGA Championship, we saw birdies after birdies after birdies, except for the time we saw a young Englishman, Matt Wallace, make a hole-in-one from 224 yards. One bounce, a curl left and then the ball's disappearance, set off a raucous celebration by every citizen of St. Louis, and I mean every citizen, for it seemed certain, the crowds so immense, that only recluses, hermits, and Cubs' fans stayed home.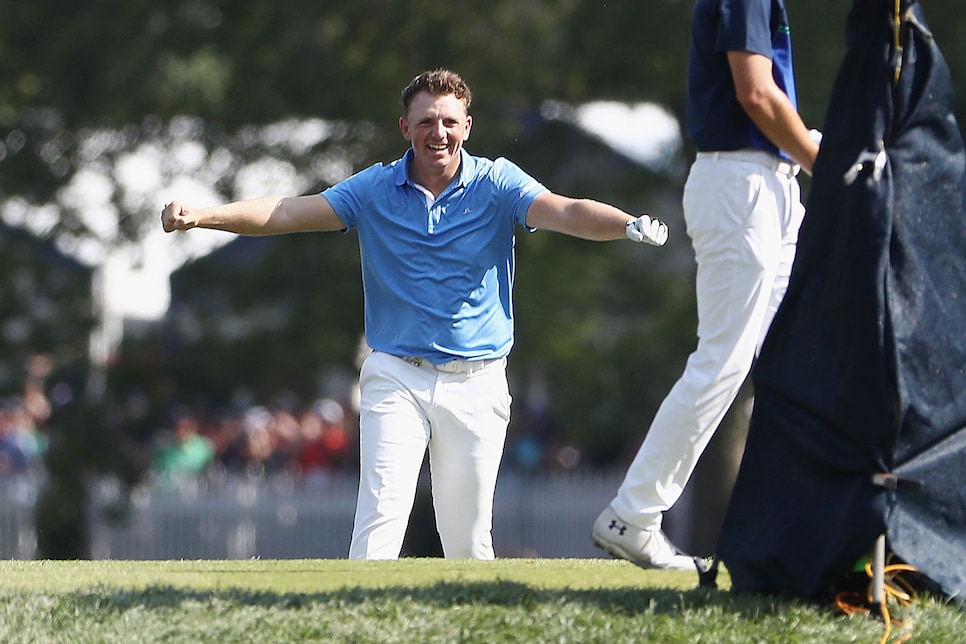 Some days a golf course is hell. We have seen such places and have seen grown men weep. They cry on sight of narrow, firm fairways bordered by rough that rubs their socks. Greens designed with diabolical, undulating topography and mowed to 13 on the Stimpmeter have reduced the world's best players to quivering masses at the edge of nervous breakdown. On those courses, the game becomes a forced march to doom. Perhaps the PGA poohbahs had such suffering in mind and had resolved to do something about it when they decided to celebrate the association's centennial at Bellerive Country Club. Here the fairways have been soft and wide, the greens so soft and kind as to embrace most every approach shot, seldom allowing a ball to bounce more than a foot or two from where it first touched ground. If a day or two of rain helped make Bellerive pillowy, let's hear it for rain.
What's more fun, after all, than seeing Tiger start his third round birdie-birdie en route to five birdies in his first eight holes? He set the place on fire, the Big Cat again on the prowl, again on the Nicklaus scent, searching for his 15th major. And here came America's darling, Jordan Spieth, making four birdies in five holes to shoot 31 on the front. And second-round leader Gary Woodland hung in with two early birdies, and the earnest workman Kevin Kisner, always good in majors, wouldn't go away. At 2:36 in the afternoon, there were 20 players within four shots of the lead, including some named Suri and Pieters and Perez, less familiar names, there because all things were possible on a day when Bellerive was forgiving and vulnerable.
Though once the leader by five shots, Koepka ended the day only two up on Scott with three others three back—Jon Rahm, Justin Thomas and Woodland—and Woods in a six-man group four strokes behind. Of 20 players within six shots, nine have won major championships.
More times than not, Koepka, the 28-year-old strongman who has won the last two U.S. Opens, seems to have reduced golf to its basics. Hit it 310 yards down the middle, throw a gap wedge onto the green near the flagstick, roll in the putt, take two putts if absolutely necessary, and do it again on the next hole. Following his second-round 63, he finished the third with a 66 and goes into Sunday's finale 12 under par.
Yes, Koepka was wonderful. He may become great. We'll know more about that when Sunday's fun is done. But for all that, Saturday belonged to Tiger and he was asked, after his second-straight 66, what it would take to win here.
"Another low round," he said. "The golf course is playing soft, it's gettable, you have to make birdies. Look at that front nine. Seemed like everybody was between two and four or five under par. That's just the nature of the way it's playing right now. It's soft, it's plugging, we're able to hold 4-irons, 5-irons, whatever we want, at the flags. Because of that, you got to make birdies."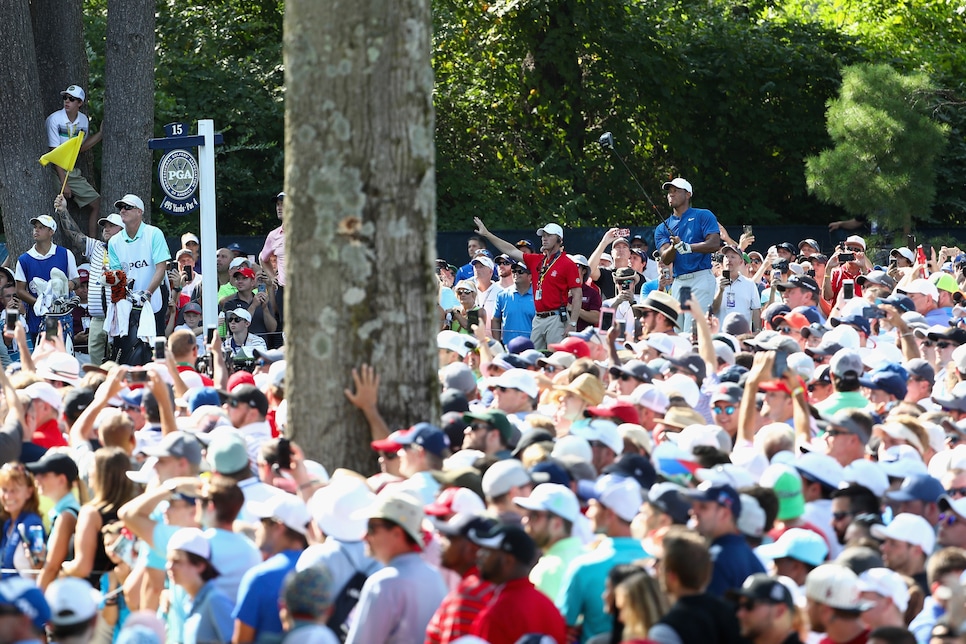 Jamie Squire/Getty Images
Truth is, the soft course may have helped the 42-year-old Tiger. But tigers don't change their stripes, and today's Tiger still talks as if he would have preferred a hellacious course. The more difficult a course is, the fewer players can handle it. The Tiger who won 14 majors liked it that way.
What's missing here, he said, is "the creativity of the greens," which negates the imagination necessary to succeed on them. "The putts are very straightforward," he said. "They don't break very much, and just go ahead and take a rap at them. So there's no feeding putts, there's—there aren't putts that you're afraid that they're going to get away from you. We don't have any, the greens are too slow and too soft for that."
All good and fine, Tiger. But we're here for one thing. What's your thinking about the 15th major?
"A long way to go before that happens," he said. "I got to shoot a low round tomorrow and hopefully it will be enough."