News
PGA Championship 2018: What Tiger Woods' final rounds in 2018 say about his chances on Sunday at Bellerive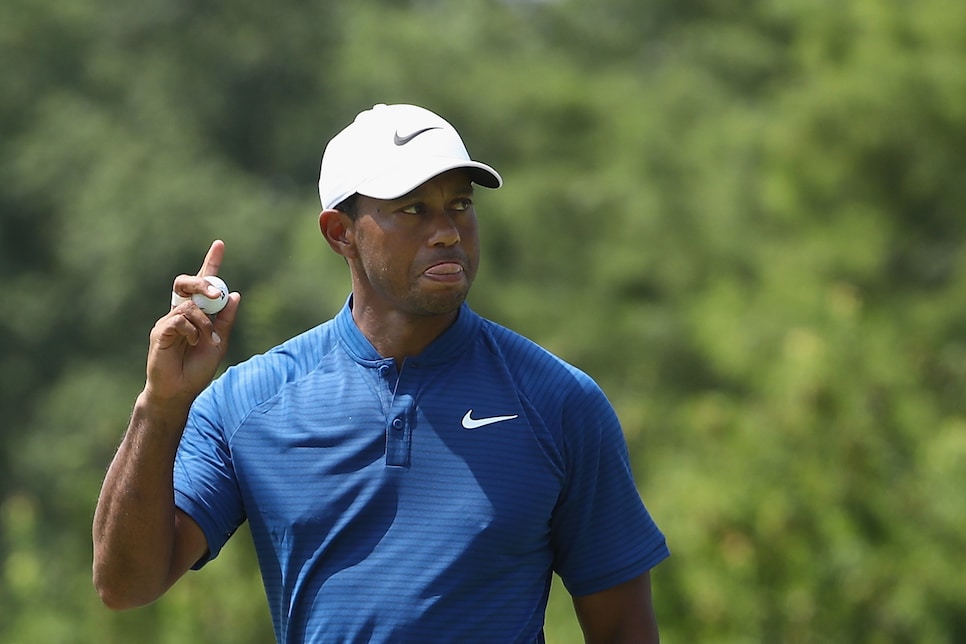 Just a month ago, Tiger Woods trailed by four strokes heading into the final round of the Open Championship, only to hold the outright lead with eight holes to play at Carnoustie. He stumbled down the stretch, of course, losing by three to Francesco Molinari. Still, he offered hope that a comeback win in a major was possible.
That hope is what his fans will cling to once more on Sunday at the PGA Championship, where Woods will start the final round four strokes back of Brooks Koepka, in a tie for sixth place—just like at Carnoustie. And yet there are two significant historical roadblocks working against Woods in his quest to win a 15th major.
The second—and arguably the more relevant to this Sunday—is that during his comeback season, Woods has struggled to mount any real final-round charge.
Woods has played 13 tournaments this year and made the cut 11 times. In those 11 events, he has a final-round scoring average of 70.45, which ranks T-73 on the PGA Tour. It's OK, although falls short of his 68.64 third-round average, which ranks third on tour.
Meanwhile, in those 11 events, when you compare how many strokes Woods trailed the third-round leader to how many he fell short of the ultimate winner after 72 holes, something interesting emerges. Just four times has Woods been able to shrink the gap, while six times he's actually trailed by more at the end of the tournament.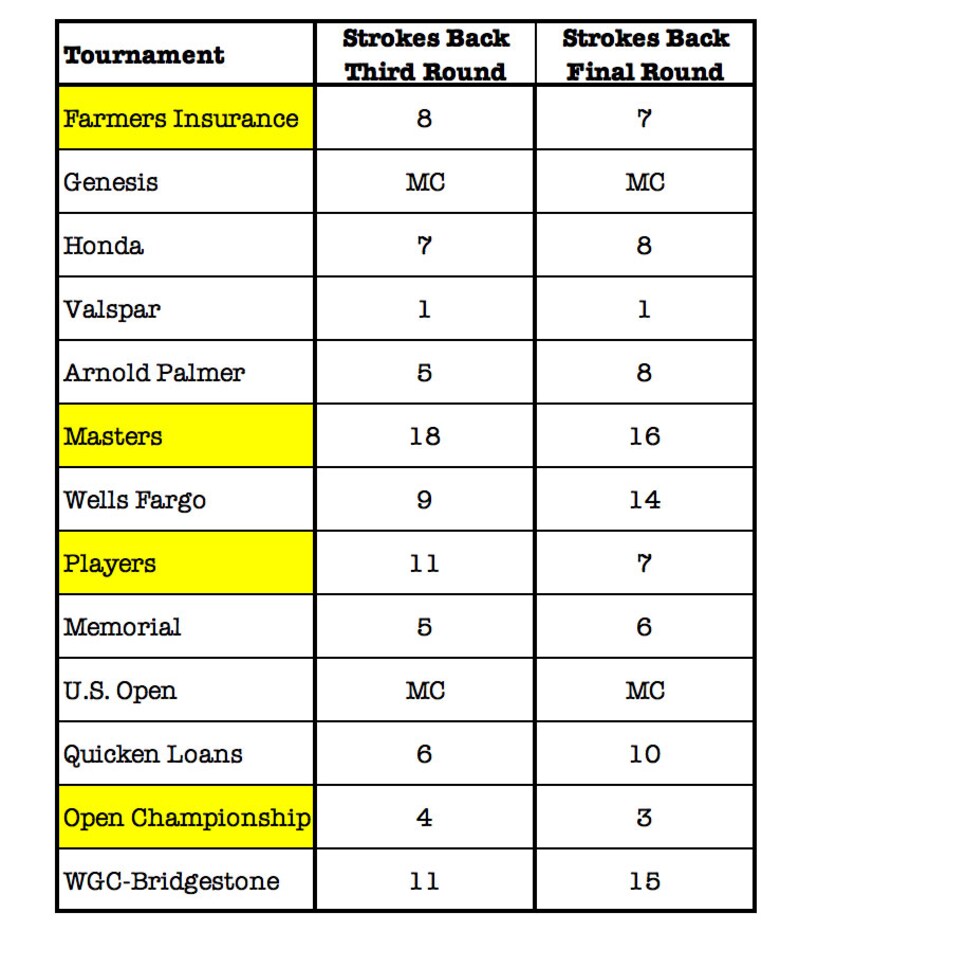 Interestingly, of the four in which he cut the deficit, only once did he cut it by more than two strokes (the Players, where he started 11 back and finished seven back).
The closest that Tiger ever came to winning this year was his T-2 finish at the Valspar, where he had a birdie chance on the 18th hole to get into a playoff with Paul Casey. Turns out that was the one event that Tiger didn't pick up or lose ground on the leader, starting the final round one stroke out of the lead and finishing the same way.
Another way to break down final round is to see what place Woods started out on Sunday and where he finished. Similarly, Woods has only managed four times in his 11 starts to pick up ground on the leader board.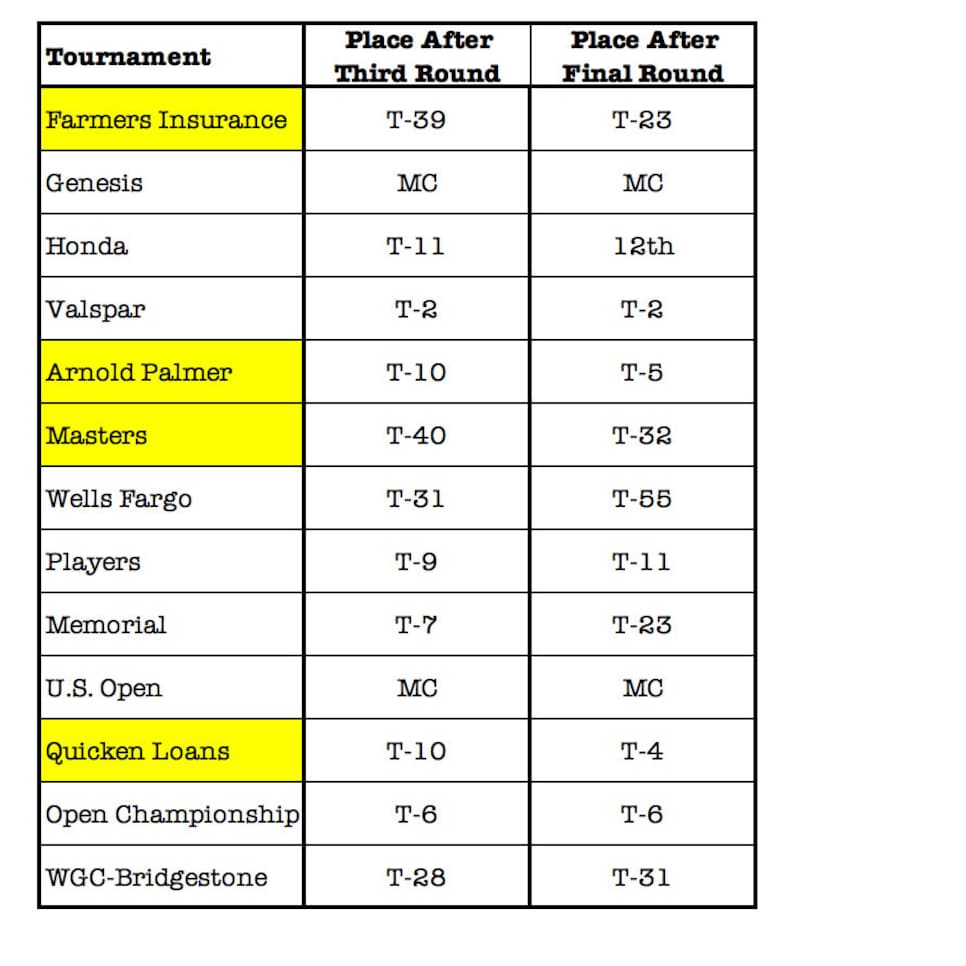 The biggest move here: Going from T-39 entering the final round of the Farmers Insurance Open to T-23.
Here's all the numbers in one place: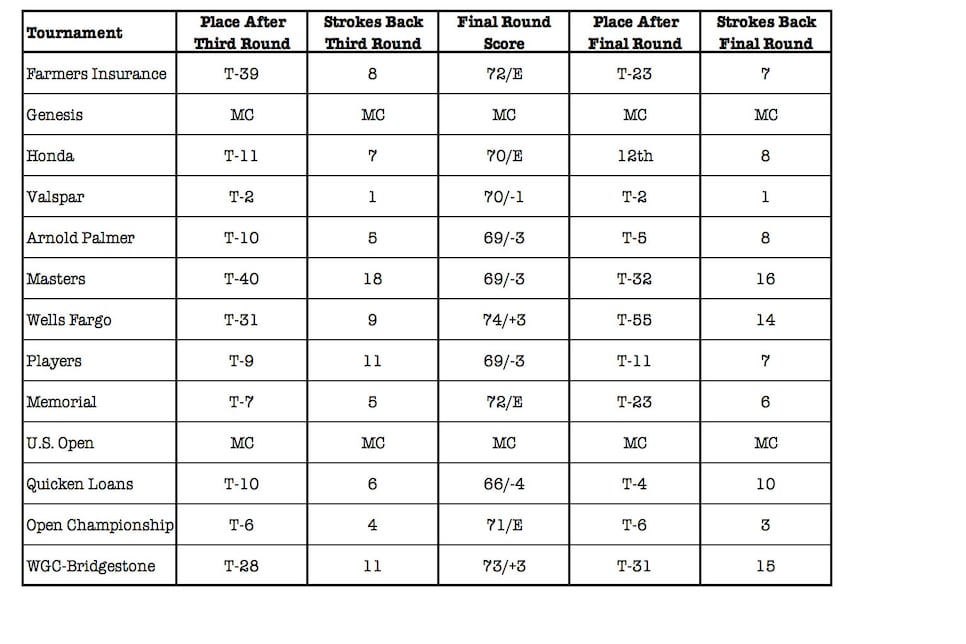 Long story short: Tiger has to make a little personal history if he's going to hold the Wanamaker Trophy on Sunday at Bellerive.