News
PGA Championship 2018: Tiger Woods snaps back to life, but a big test is still to come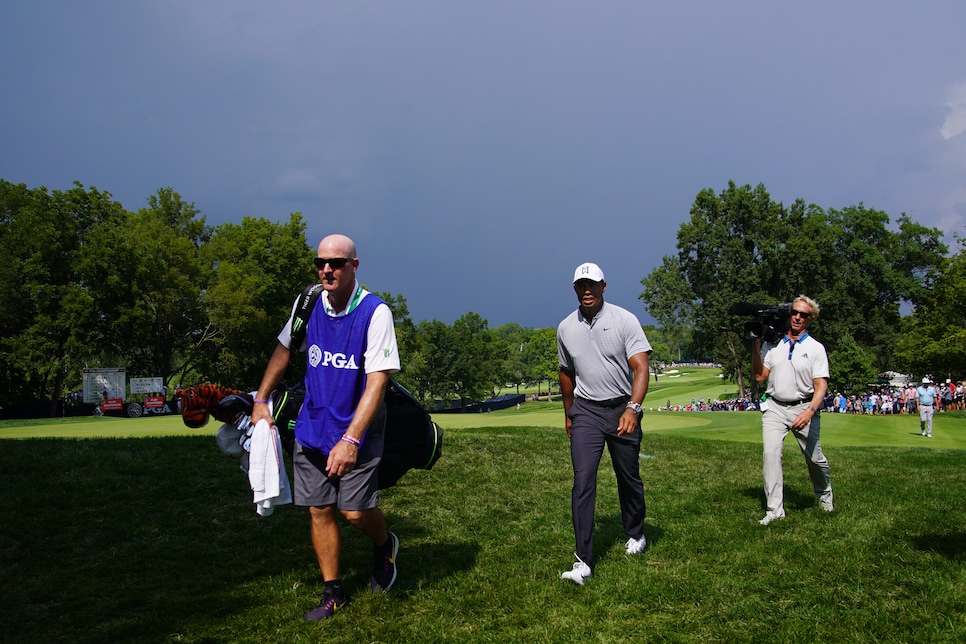 ST. LOUIS — Last weekend in Akron, Ohio, Tiger Woods looked tired. He wasn't alone. Firestone Country Club's South Course can wear out even the most spry among golf's elites, and Sunday's final round of the WGC-Bridgestone Invitational was a battle of attrition that 25-year-old Justin Thomas won amid high heat and emerging ennui.
Of course, no one else in the field had sat out the previous two years, as Woods had to do before finally getting his creaky back surgically in order. The season is long and tiring, but it has to feel especially so for the 42-year-old who hasn't won a tournament in five years and hasn't claimed a major title in 10. At Firestone, where he has won a record-tying eight times, Woods trudged home 15 shots behind the winner with a pair of dyspeptic 73s on Saturday and Sunday.
Four days later, in the opening round of the 100th PGA Championship on Thursday at Bellerive Country Club, Woods looked as if he had brought with him the same lethargy he was fighting in Akron. But after starting the day three over par after two holes, he somehow summoned enough grit to grind out an even-par 70.
On Friday afternoon, he appeared more bright-eyed and determined. Whatever doldrums he had been battling he had shaken off. Perhaps the ice baths he has admitted taking in recent days were doing the trick. Whatever it was, Woods was sharp, his momentum stalled in the second round only by heavy thundershowers that eventually halted golf for the day.
When the horn sounded to suspend play, Woods was three under through seven holes. He had birdied the second, third and fifth holes, and he also sank a nine-foot par putt on the par-3 sixth to keep his card clean. His birdie at the third was of the kick-in variety after sniffing an ace with his tee shot on the 132-yard par 3. Starting with the birdie he registered on the 18th hole yesterday, Woods has played 17 holes without a bogey while making six birdies.
Playing alongside Thomas, the defending champion, and Rory McIlroy, Woods had just driven it 321 yards into the left rough at the par-5 eighth hole when the second round was interrupted by a storm that dumped not only heavy rain on an already soaked golf course, but also hail.
His energy will certainly be tested Saturday. Play resumes at 7 a.m. CDT, and after completing his final nine-plus holes, and providing he makes the cut—which, given his newfound vim, he should accomplish without much problem—he'll file back out for another 18 in the anticipated sauna that will envelop the remaining contestants.
The third round begins 30 minutes after the completion of the second round.
He won't have time to be tired.