News
PGA Championship 2018: The field is burning down the score board at Bellerive. And thank the golf gods for that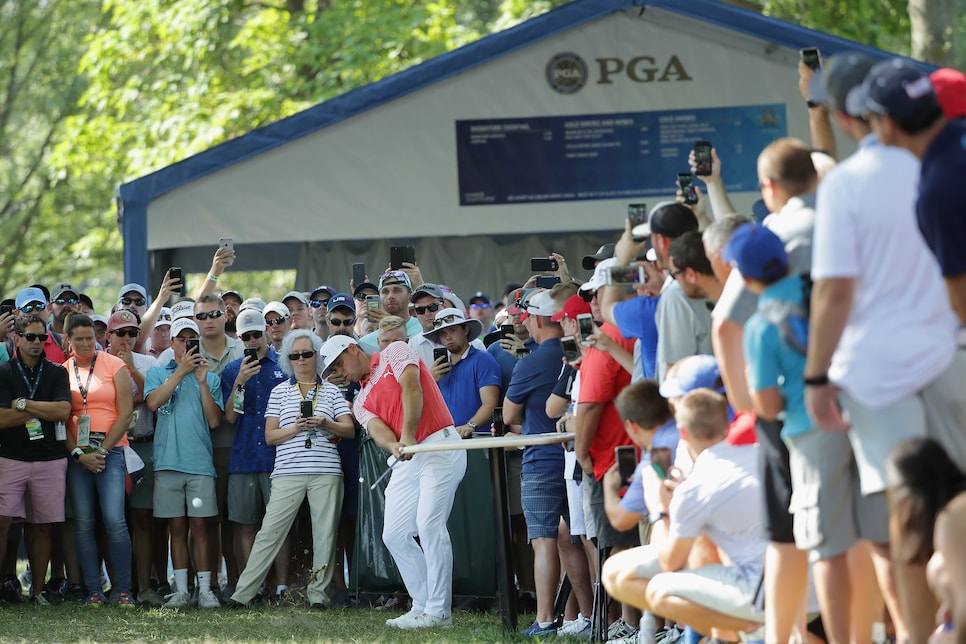 Photo By: Richard Heathcote
ST. LOUIS — The signage suspended throughout the property at Bellerive reads 'PGA CHAMPIONSHIP.' Save for the score board, that is, its numbers signaling a different sort of proceeding. Not that the good people of St. Louis seem to mind. This tournament has provided them something their beloved Cardinals have not this summer: scoring, and lots of it.
After holding its own on Day 1, the field set Bellerive Country Club aflame Friday. Gary Woodland set the PGA's 36-hole scoring record at 10-under 130. Brooks Koepka and Charl Schwartzel tied the 18-hole mark with a pair of 63s. Kevin Kisner toured his front nine in 29 strokes, Andrew Landry was on 59 watch and Tony Finau made seven birdies in his first eight holes. A record number of players were in red for the day. You don't see that many fireworks on Fourth of July.
"I think this morning was very scorable," said Schwartzel, a quote that captured the clubhouse lead for Understatement of the Year. Rickie Fowler went to bed one out of the lead Thursday night; before striking a shot in Round 2, he had fallen out of the top 10.
What changed from Day 1 to 2? Pin placements, chiefly. Six hole locations or so straddled ridges on Thursday, helping keep scores at bay. That wasn't the case on Friday, with flags as accessible as they come.
"Couple more feet of pins today, I think," said Justin Rose. "Yesterday saw some pins up on little knolls and knobs and stuff."
With the greens still spongy, players were as accurate in approach as Bluto Blutarsky at beer pong.
"You just fire in and you get away with more," said Jordan Spieth, owner of a four-under 66. "You don't have to be as precise."
Sticking on the dance floors, the early week rains kept the players from getting comfortable on the furry greens Thursday. On Friday, the players looked like they were putting on their home course, with the average strokes per green lower than Thursday's figures on 15 holes.
A presentation Spieth found vexing, as the three-time major winner—one of the game's premier iron players—believed his strength was weakened. "I would prefer more difficult and firmer faster conditions on the greens," Spieth remarked. "I'm not saying that my score would be any better, I'm just saying what you would like to see in a major championship. It is what it is."
Which raises a compelling, and valid, question: Does the rash of red numbers marginalize this major championship?
The host of "62" pursuers did feel, as one veteran scribe eloquently stated, a little "Sony Open-y." Pat Perez's inadvertent takedown on Thursday doesn't offer much of a counter.
"I'm not saying there's no strategy. I'm not saying that," Perez said. "I'm just saying it's—you know, it's not—it's a big course, and there's only really one way to play it. Try to hit as far as you can and hit the fairway and try to attack the pins when the greens are soft. That's kind of what it is."
A game plan that's, ahem, slightly divergent from those at Shinnecock or Carnoustie.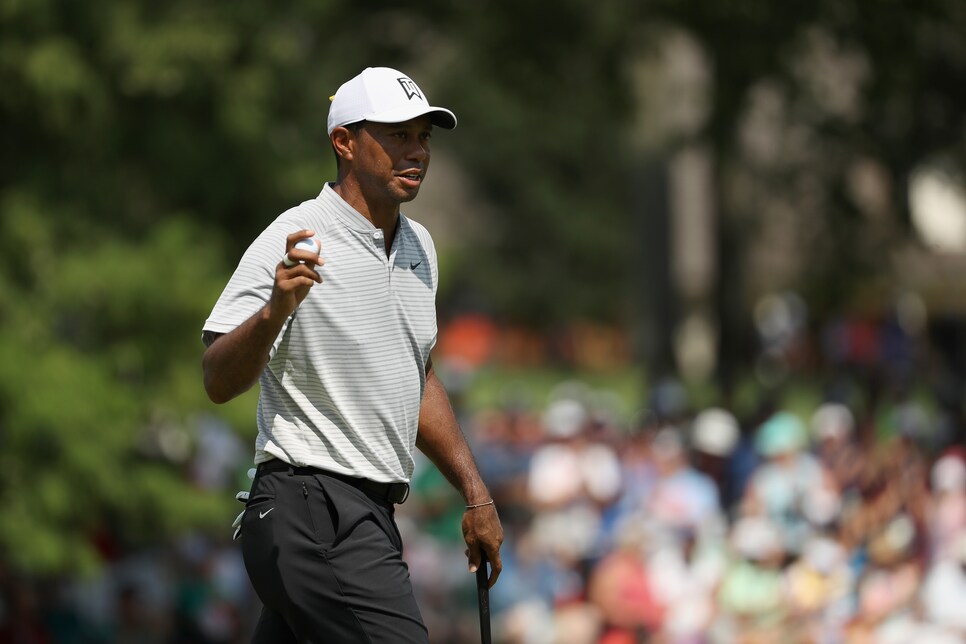 Streeter Lecka/PGA of America
But here's the thing: Don't we want this tournament on the lower side of the scoring spectrum? Certainly we have at recent Wanamaker visits at Whistling Straits, Valhalla and Baltusrol. Let the U.S. Open chase par. Kerry Haigh, chief championships officer for the PGA of America, said the course was set-up to facilitate action, and he's delivered on that promise.
"Certainly, the rain has soften things up, but I look at that as a very positive because I think we could have one of the most exciting PGA Championships ever played," Haigh said. "If you put 98 of the top 100 golfers in the world on a beautifully manicured golf course with soft greens and little or no wind, I certainly hope and expect we'll see a lot of birdies."
A creed in tune with the R&A's set-up for its Open Championship. Carnoustie looked like a landscape Matt Damon was stranded on, and instead of attempting to meddle with Mother Nature, the governing body merely put pins in the ground and let the boys play ball. Give Haigh and his crew credit for letting the course play as is, instead of chasing an arbitrary score. If that sounds elementary, clearly you weren't watching golf around Father's Day.
One could even posit that this scoring is not just acceptable but welcomed. For a tournament that, frankly, was lacking some pizzazz, the birds on birds on birds were a much-needed injection of vitality. Things are happening.
It's not as if the leader board has been compromised. When a thunderstorm halted afternoon play, Woodland was leading Kisner by one, with Koepka two shots back. Following suit are World No. 1 Dustin Johnson, former Masters champ Schwartzel, young gun Thomas Pieters and arguably the most popular player not named Tiger Woods in Rickie Fowler. Jon Rahm, Justin Rose, Adam Scott, Francesco Molinari and Patrick Cantlay are also in shouting distance, while a certain 14-time major winner was mounting a move before rain intervened. Be it a green jacket or claret jug at stake, that's a board fans will gladly sign up for.
And though we hammered this theme throughout the week, it bears repeating because it's true: the fans have been marvelous.
"The spectators are incredible," said Brandon Stone, in the mix at six under. "The actual energy that you get off the crowd is spectacular this week. Everyone's so thoughtful and so motivating. There's not one negative comment coming out of the crowd as you might get from other places. Everyone is rearing you on, cheering you on."
They boast a contagious fervor, one that's elevated this PGA from golf tournament to sporting event. An observation this tournament has historically lacked.
So yes, the scores at Bellerive resemble a game of Golden Tee. That's fine. Video games are fun. Through two days, so is this PGA Championship.