The Loop
Peyton Manning once pulled off an all-time devious prank with a golf cart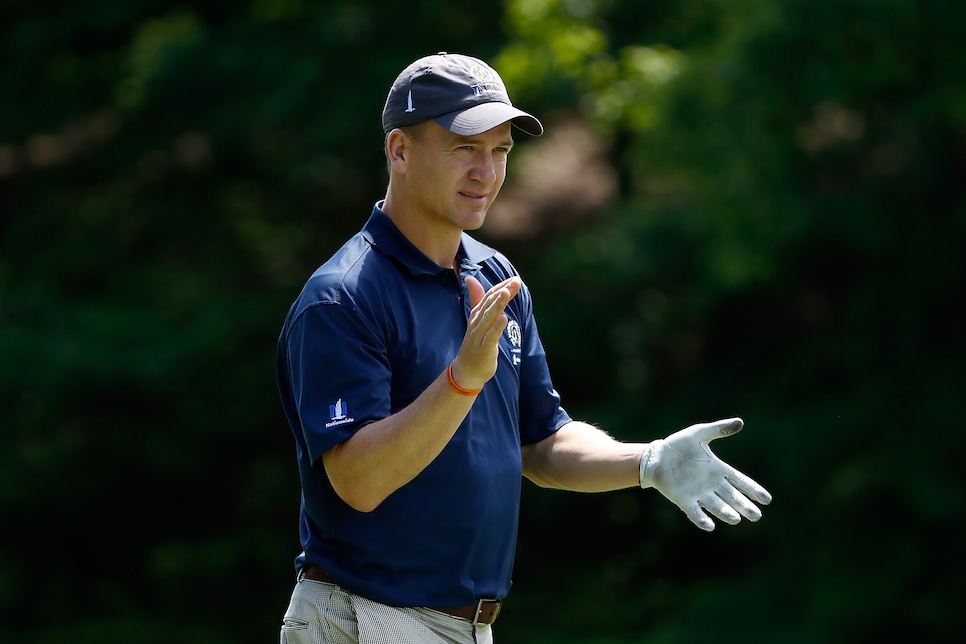 Peyton Manning will have his No. 18 jersey retired at the Indianapolis Colts game on Sunday, a day after a statue of the all-time great is unveiled outside of Lucas Oil Stadium. And if anyone deserves such a tribute, it's a man who owns just about every NFL record for quarterbacks. But before Manning's big weekend, the Indy Star honored him with a collection of stories from those who knew him best during his legendary career.
There are plenty of great tales from Peyton's former teammates and coaches that help explain what made Manning such an incredible field general. But there's also some fun stuff in there, too, including a few stories that involve golf. One of which, courtesy of former Colts punter turned Barstool Sports personality Pat McAfee, we touched on last year, but it's worth mentioning again because it's so ridiculous. Essentially, Manning stopped by a casino roulette table McAfee was on while the two were on a golf trip and told him to bet on his number. McAfee -- and everyone at the table -- listened and went crazy when 18 hit on the next spin. Apparently, Manning didn't stay to see it happen, because he didn't need to.
"I saw him the next morning," McAfee said. "I go, 'Did you know red 18 hit?'"
Amazing. Then there's this little nugget from former Colts offensive coordinator and wide receivers coach Clyde Christensen about how prepared Peyton always was -- even on the golf course.
"I never went on a trip with him where everything wasn't set — where he was going to lift, throw, watch film," Christensen tells the Indy Star. "We'd be on vacation, and we'd be doing throwing sessions on the ninth fairway before we golfed."
That's dedication to your craft. And finally, this story from one of Manning's favorite targets, tight end Dallas Clark, about Peyton pulling off an all-time devious prank with a golf cart during training camp. Here's how Dallas tells it:
We're at Rose-Hulman (Institute of Technology) one year in Terre Haute, and they had this pond right in the middle of the quad. And there was this raft in the middle of the pond. One night, we're coming back from eating supper, and someone kind of mentions, "Man, how awesome would it be to put someone's golf cart on that raft?" We all drove golf carts around campus every year at camp. Everyone had one with their name on it. Peyton gets an idea.
So a few days later, a couple of the offensive linemen get in the pond, drag this raft to the shore, put a golf cart on it and drag it back to the middle of the lake. It was a staff member's cart, but I won't say who. This guy wakes up the next morning and sees his golf cart, sitting there, in the middle of the pond. We all just lost it. Peyton? He may or may have not been the commander in chief of that one.
Well played, Peyton. And to any Lucas Oil Stadium staff with access to a golf cart, keep your eyes peeled this weekend.