Dangeruss Words
Carefullll, it's getting spicyyyy between Pete Carroll and Russell Wilson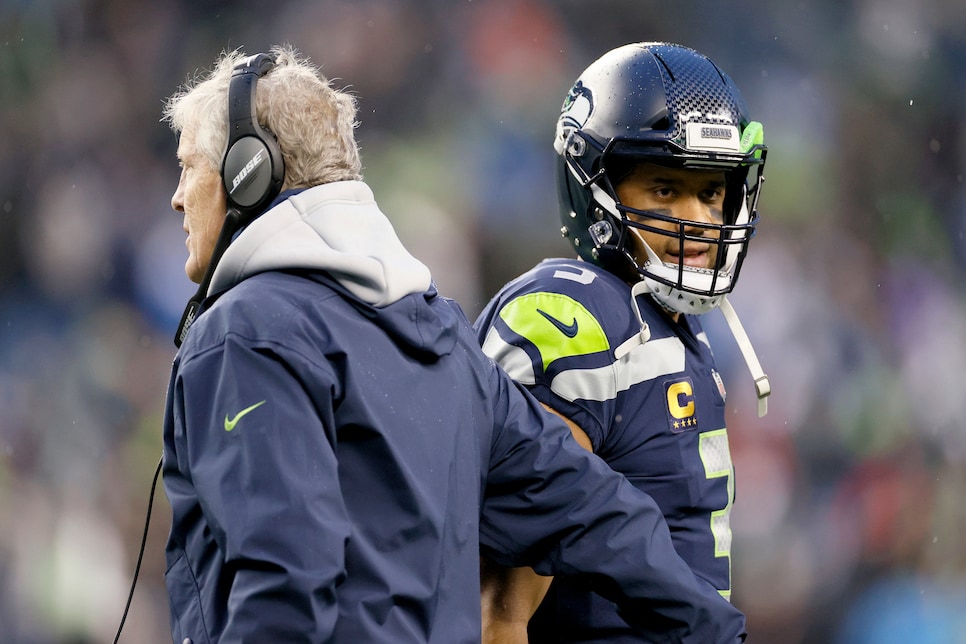 For years, the Seattle Seahawks were viewed as one of the most functional franchises in the NFL. They had football Steve Kerr in lockstep with a golden-boy QB, which produced consistently deep playoff runs and a Super Bowl title (coming mere inches from two). Eventually, however, the cracks began to show. Many blamed the issues on aging head coach Pete Carroll, who was said to be resistant to a rebuild at best and wasting Russell Wilson's prime at worst. This offseason, Wilson was traded to Denver in a blockbuster deal and the once-dynamic duo broke up for good.
Since then, Wilson's numbers have gone off the cliff, sitting near the bottom of the league in most significant passing categories. Meanwhile Geno Smith—yes, THAT Geno Smith—has seamlessly stepped into the Seattle offense and started balling, leading the Seahawks to a 6-3 start and a two-game lead in the ultra-competitive NFC West. Was Carroll really the genius all along? The 'Hawks ball coach didn't come out and say exactly this week, but he did throw some shade at his former QB, critcizing Wilson's refusal to wear a wristband and operate within the offense while in Seattle. Here's what we had to say to Seattle Sports 710 AM on Monday:
"If you notice, Geno's going off the wristband, and that's a big help," Carroll said. "It's smoothed things out, sped things up, cleaned things up. And that's part of it, too. We never did that before. There was resistance to that, so we didn't do that before."
Well, well, well. As you can probably guess, Wilson got wind of Carroll's comments and when asked about them at his Wednesday press conference, he unwrapped a Dangerwich of his own.
Forget spicy, that's downright ATOMIC by Wilson and Carroll's standards, two guys who have largely managed to avoid controversy throughout their lengthy NFL careers. The Broncos and Seahawks have already played each other this season, and the Super Bowl seems out of the question for Denver, so The Wristband Game will have to wait. But look on the brightside, America:
There's always next year.