PGA Tour
Kurt Kitayama leads, Justin Rose scores a quiet ace, Pebble takes and gives on a rainy Friday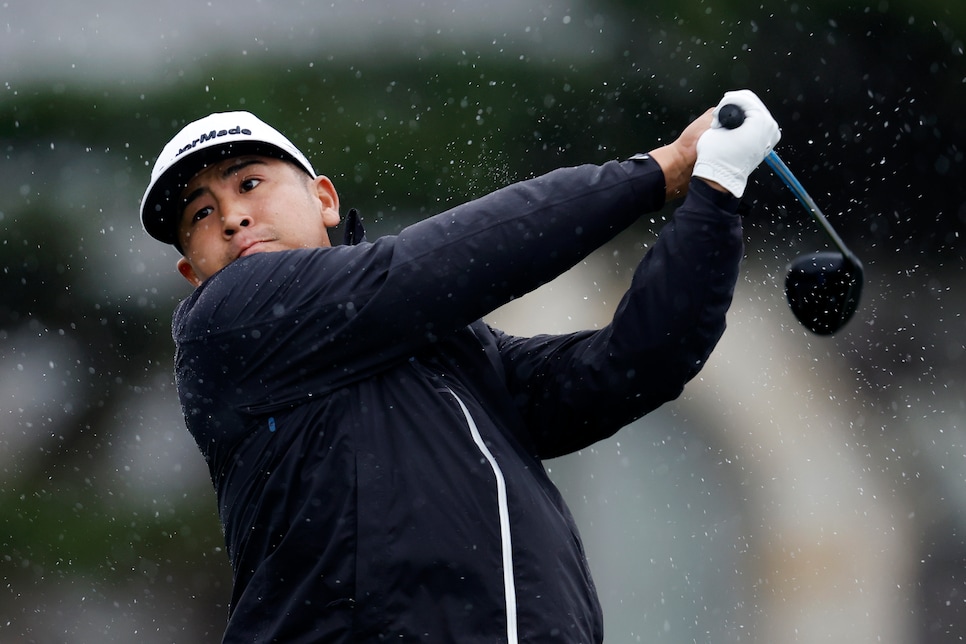 Kurt Kitayama plays his shot from the 11th tee during the second round of the AT&T Pebble Beach Pro-Am.
Jed Jacobsohn
On a day that Justin Rose aptly described as "kind of English"—as in dreary, gray, rainy—it was the Northern California guy, Kurt Kitayama, who held on for the 36-hole lead at the AT&T Pebble Beach Pro-Am.
Playing at the course from which the tournament takes its name, Kitayama followed up his brilliant Thursday 64 at Monterey Peninsula Country Club with a more modest, but perhaps harder earned 70. At nine under, he holds a one-shot lead over the quartet of Keith Mitchell, Scott Stallings, Joseph Bramlett, and Hank Lebioda. It's a terrific start for the 30-year-old, two-time DP World Tour winner as he seeks his first PGA Tour triumph. But on a day like Friday, even the tournament leader tipped his hat to the conditions.
"Today was really tough," Kitayama said after his round, and went on to characterize his strategy for Saturday as "stay patient."
Kitayama was born and raised in Chico, about 250 miles northeast of this weekend's tournament, and while Monterey Peninsula and Pebble Beach itself were not overly familiar to him as a youngster, he did get a good amount of time on Spyglass Hill, where he'll play on Saturday. His familiarity is the good news; the bad news is that he already knows Spyglass is getting hit hardest by the weather and playing even tougher than the course he survived Friday.
Like Kitayama, Lebioda was fortunate to have his Monterey Peninsula round on Thursday, and he took major advantage with a spectacular 63. But like Kitayama, things proved to be a little tougher at Pebble Beach, where he followed an opening birdie with nine straight pars, and watched his two-under round go up in smoke with a double bogey after a yanked tee shot on the par-3 fifth. He recovered with another birdie, but three-putted his closing hole to remain one back of Kitayama as he heads to Spyglass on Saturday. He'll also be seeking his maiden PGA Tour win, but Friday's challenges are only the start.
Rose-colored (Spy?) glasses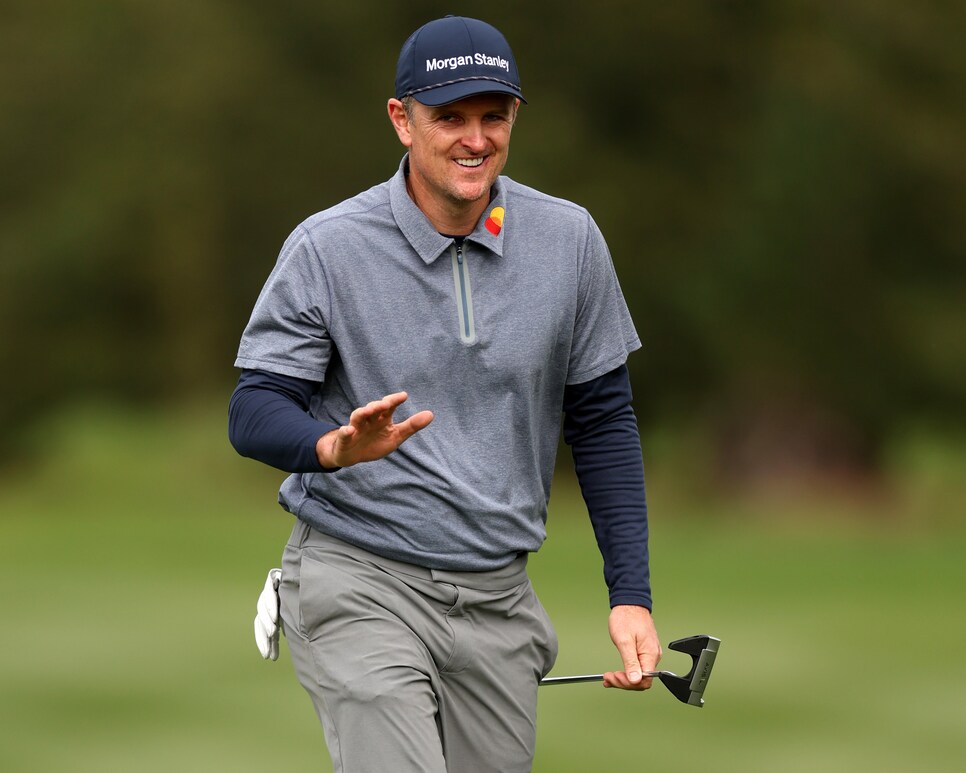 Justin Rose reacts to his putt on the ninth green during the second round of the AT&T Pebble Beach Pro-Am.
ezra shaw
If a player makes a hole-in-one but there's no video to commemorate it on the internet, did it really happen? That's a question we can ask of Rose, who did just that on the 15th at Spyglass Hill, jarring the 12th ace of his career en route to an opening nine of 32.
"A special day always when you manage to have a hole-in-one," he said, a master of understatement. "I believe it's my 12th. Really fun to do, obviously in front of a couple friends, obviously James [Gorman] at Morgan Stanley [its CEO]. So really that was a nice moment."
Nice, indeed. Less nice were the two bogeys late in his round that dropped him to six under for the tournament, three shots off the lead. Still, he had the worst of it on Spyglass Hill, a course that was playing extra long in the wind, and his 69 was a relative gem in those conditions.
Even better, he'll head to MPCC on Saturday, which was once again the easiest of the three courses in the rotation, and should give him a chance to make up some ground on the leaders.
The best round of the day belonged to Ireland's Seamus Power, who shot 64 on—you guessed it—Monterey Peninsula. His only blemish of the round came with a bogey on the par-3 11th, his second hole of the day, and it was at that approximate point that he caught fire, shooting eight under for the rest of his round to rocket up the leaderboard into a tie for eighth place, two off the lead.
It also feels like it might be Power's time; he's won each of the last two years on tour, first at the Barbasol and then in Bermuda, and he's been successful enough that he seems ready to win at a bigger venue. With more wind and rain in the forecast for Saturday, watch out for the Irishman who knows those conditions quite well.
Quote of the day: Viktor wants Chipotle
Viktor Hovland is having himself a nice tournament, safely ensconced at six under heading into the weekend, but the highlight of trip to Pebble so far came when he was asked about playing with Brian Niccol, the CEO of Chipotle, as his amateur partner.
"Yeah," he said, "trying to get that gold card by the end of the week."
Hovland is very much in the know, Chipotle has a VIP card that mostly goes to celebrities and grants them free Chipotle for a year. Hovland and Niccol are currently T-36 in the pro-am competition, and if Hovland can lead them into the top 10 on Saturday, you have to think he deserves it. Give this man his chips and queso!
Pebble Beach is ... being nice?
OK, forget the rain for a second. I would never accuse any golf course of kindness, but especially not one as treacherous (and admittedly beautiful) as Pebble Beach, which has the teeth to host a U.S. Open. But folks, the bounces are merciful! More than merciful! Look at these three straight shots from Rose, Jordan Spieth and Dylan Wu:
Here is your contractually obligated Bill Murray clip
Sorry, folks, I do not make the rules. Bill Murray is at Pebble Beach, so we have to show you Bill Murray at Pebble Beach. It's a real-life, golf media version of "Groundhog Day." Here he is greeting Washington Commanders head coach Ron Rivera and telling one of the caddies to suck in his gut: