Takeaways
An out-of-nowhere 63, as the weather turns and a major champ's neck issues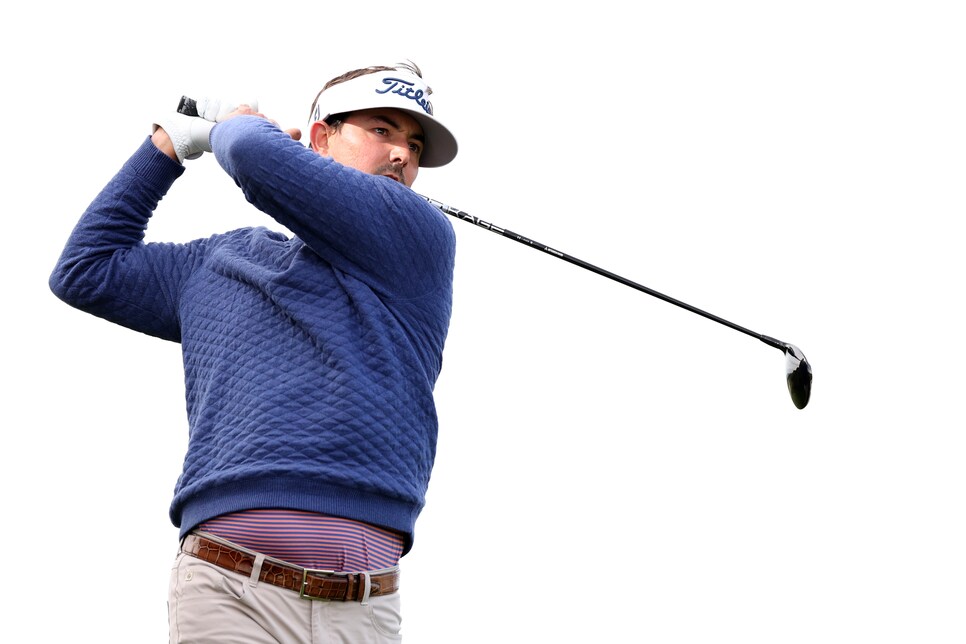 Hank Lebioda's timing couldn't have been better—in regard to both what he shot Thursday in the opening round of the AT&T Pebble Beach Pro-Am and when he shot it.
Having missed the cut in all five starts this season and seven straight overall, and ranked 420th in the world, Lebioda carded an eight-under 63 at Monterey Peninsula's Shore Course to stake himself to a one-stroke lead in Pebble Beach, Calif. The left-hander from Florida completed his round of nine birdies and one bogey just a few minutes before the weather changed on the Monterey Peninsula and gusting winds kicked up.
At one point, Chad Ramey, Harry Hall and Will Gordon also got as low as eight under—Hall at Monterey Peninsula, and Ramey and Gordon at Pebble Beach Golf Links—but they struggled coming home in the stiffening breezes.
Ramey finished at seven-under 65 at Pebble, tied with Hall and Kurt Kitayama, each who took advantage of the calm conditions to shoot 64 at Monterey Peninsula, the shortest of the three courses used this week.
Lebioda said "pretty much everything" was working for him, but the key was that he hit 17 greens in regulation on the Shore Course and his putter got hot. Six one-putt greens starting at the ninth, five resulting in birdies, was a crucial stretch.
"For probably the last couple weeks or so I felt like my putting had really turned a corner. Even though I may not have shown the results," Lebioda, 29, said after just his second round in the 60s this season. "But I felt more confident standing over the ball. I liked what I was looking at visually standing over it. I knew it was just a matter of time. So today, fortunately, it was one of the days where quite a few of them did go in. Not every day is like that. I was glad I was able to take advantage of it today."
Lebioda finished 153rd in the FedEx Cup standings last season on the PGA Tour, but he rose inside the top 150 due to defections to LIV Golf, so he has conditional status. However, he needs a good week at Pebble Beach because his position in that category could drop with the priority reshuffle after the Genesis Invitational in two weeks. That could hurt his chances of gaining entry to upcoming events.
Despite the pressure, Lebioda said his game plan was to relax and get enough rest. Oh, and have fun, a thought he repeated twice for good measure. Of course, fun might be a little harder to come by on Friday, however, with rain and more wind in the forecast. "If it's blowing as it is right now it will be definitely a tough challenge playing Pebble Beach," he said. "But I'm going to rest tonight, get my body ready and try to go out and do more of the same."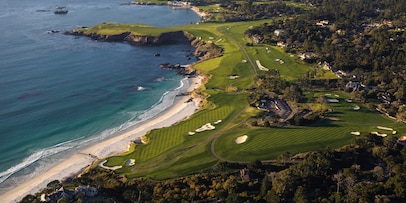 Not just the greatest meeting of land and sea in American golf, but the most extensive one, too, with nine holes perched immediately above the crashing Pacific surf—the fourth through 10th plus the 17th and 18th. Pebble's sixth through eighth are golf's real Amen Corner, with a few Hail Marys thrown in over an ocean cove on the eighth from atop a 75-foot-high bluff. Pebble hosted a successful U.S. Amateur in 2018 and a sixth U.S. Open in 2019. Recent improvements include the redesign of the once-treacherous 14th green, and reshaping of the par-3 17th green, both planned by Arnold Palmer's Design Company a few years back—and the current changes to the iconic eighth hole.
View Course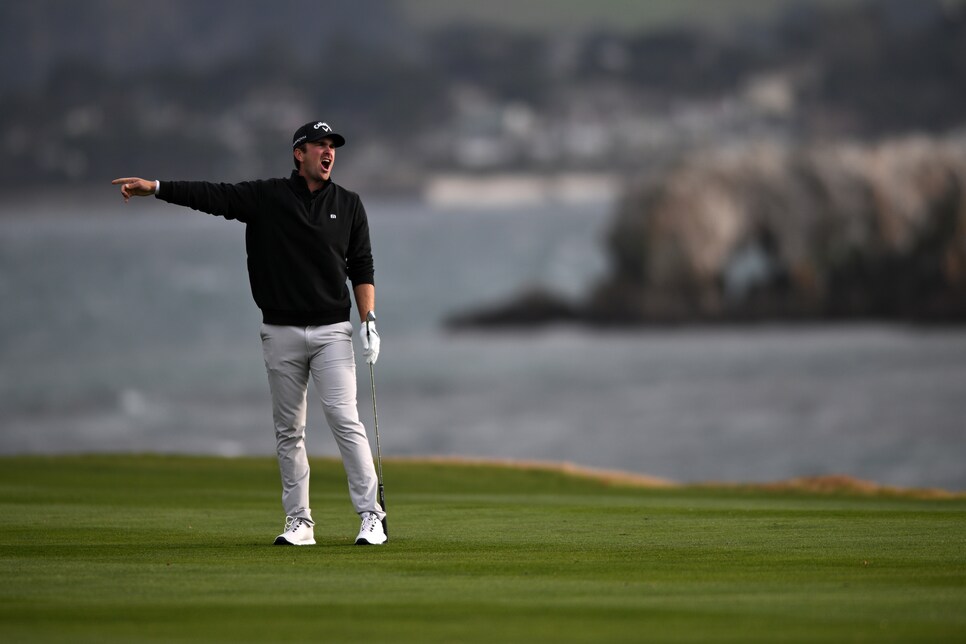 Speaking of timing, Will Gordon got caught up in the gales the final three holes at Pebble Beach, and let's just say that he probably feels differently about the holes along the Pacific Ocean than most people.
Gordon, 26, was cruising along at eight under par and tied for the lead when the weather turned. He proceeded to play the final three holes in five over and finished at three-under 69.
The crusher came at the iconic par-5 finishing hole along the coastline, where he pulled his first tee shot into the water. Gordon got the second drive in play, was short right of the green with his fourth, but then made another error hitting into the left bunker with his next shot. He couldn't get up and down and carded a triple bogey.
Gordon could use a good finish this week to get into next week's WM Phoenix Open, which is now a "designated" $20 million event. Currently, he is registered to play in the Monday qualifier in Scottsdale, Ariz. A top-10 finish at Pebble Beach would allow him to skip the qualifier.
A stiff wind and a pain in the neck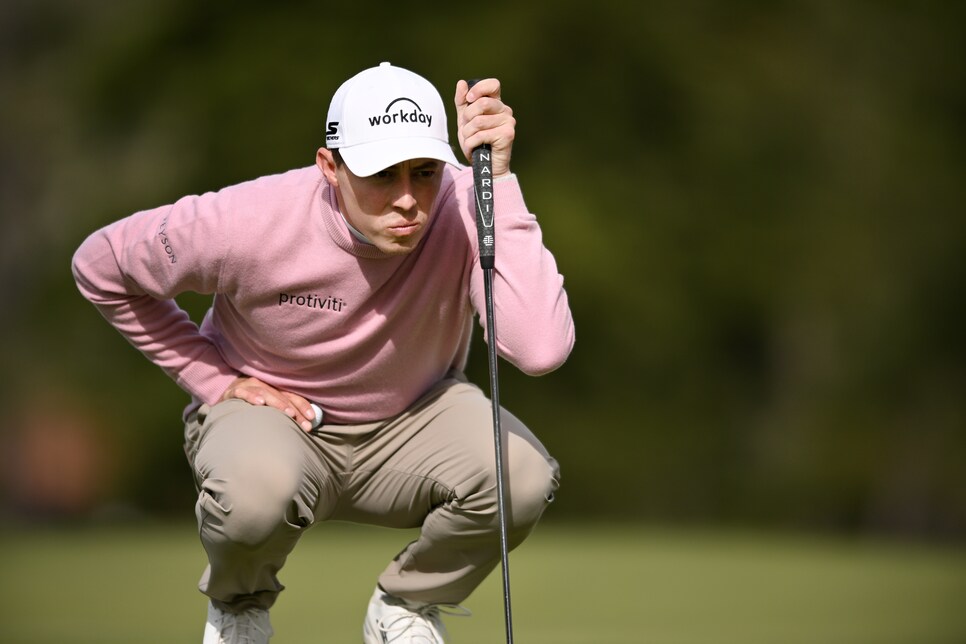 U.S. Open champion Matt Fitzpatrick opened with a one-under 71 at Spyglass Hill that included a double bogey on his final hole—yet another victim of the weather turning mean by mid-afternoon. But the Englishman probably wasn't wholly disappointed in what transpired.
Ranked No. 10 in the world, Fitzpatrick arrived on the Monterey Peninsula with a neck injury that he has battled on and off throughout his career. He admitted on Wednesday that he wasn't 100 percent, so his expectations for the week were modest. In fact, he said he was using the event more as preparation for next week's $20 million WM Phoenix Open.
"I'm kind of playing this as a warm-up week for me. It's just kind of see where I'm at," said the 28-year-old Englishman. "Hopefully, it's going to die down a little bit more. Like I can still play, but I'm not, I've not got like full speed or anything like that."
Fitzpatrick, who finished T-6 last year at Pebble, said his neck makes it difficult getting through his right side in his swing. He bogeyed his opening hole and went on to record five birdies to offset two bogeys and that late double.