Pebble Beach
Harry Higgs wants to be happy. He's trying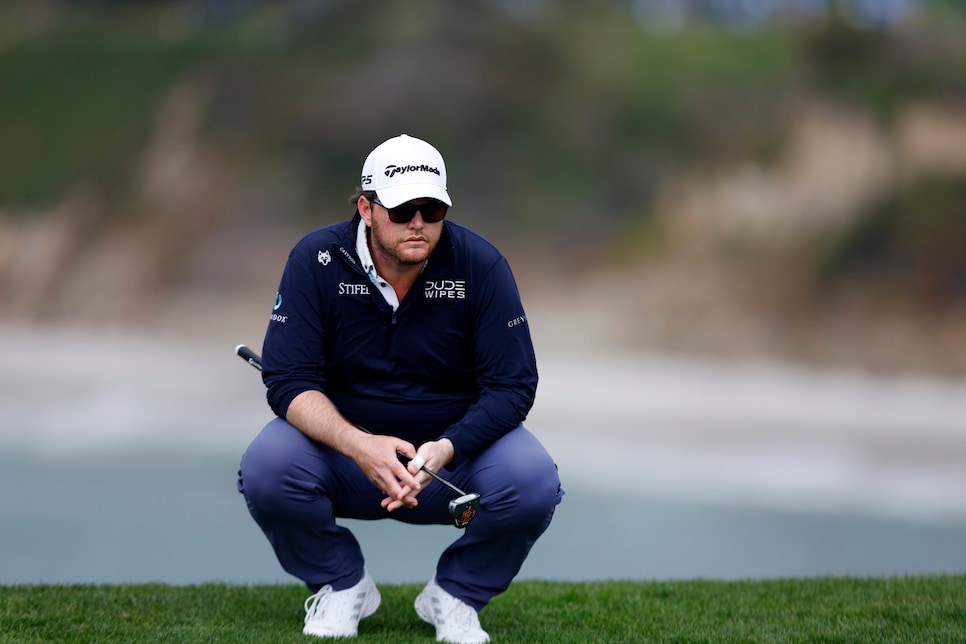 Harry Higgs lines up a putt on the seventh hole during the second round of the AT&T Pebble Beach Pro-Am.
Jed Jacobsohn
PEBBLE BEACH — He had been in the lead minutes earlier, but that was no more, the byproduct of a bad drive and poor approaches and a failed up-and-down attempt at Pebble Beach's par-5 sixth. Pros have no stomach for bogeys, especially on par 5s, especially when things are going as good as they were for Harry Higgs on Friday afternoon. He had every right to look over his left shoulder toward Stillwater Cove, to take a deep breath and let whatever frustration out, before heading to the seventh to figure out how he was going to keep his ball down as the winds were picking up.
Instead, Higgs stayed on the green to watch his amateur partner, Fred Perpall, clean up a tap-in for a net par. When Perpall's putt dropped—his score counting for the first time on the day—Higgs extended a fist bump and grin. "Welcome to the party," Higgs said.
Make no mistake, Higgs was still running hot. As he relayed after his round, for a variety of reasons today was not fun. To most observers, he looked like he was having a hell of a time, grinning wide with his collar unbuttoned in the cold and his sunglasses on against a sunless sky. That's the duality of Higgs, a man whose competitive fire can be concealed by a vibe that seems impervious to his surroundings. Even if it's a dynamic he's still trying to suss out.
"This should be a ton of fun. And it's not always," Higgs said after a Friday 71, his two-day 137 three shots off the lead at the AT&T Pebble Beach Pro-Am. "I am human. We are human. And sometimes, this is no fun."
Often in sports fans can make its rare characters into caricatures, and Higgs has a depth that doesn't fit into that one-dimensional perception. He's funny, yes, but also shrewd and introspective. He can be self-effacing but is a prideful soul. Though he has a carefree persona he cares desperately about what he does. He has a magnetic presence that exudes conviction, yet he's not afraid to be vulnerable.
It is that last point that has been a battle over the past year. Higgs followed up a strong rookie year with a solid sophomore campaign during the tour's superseason, highlighted by a runner-up at the 2020 Safeway Open and T-4 at the 2021 PGA Championship. Yet after a T-14 at the 2022 Masters, Higgs' game went south, missing 10 of the next 13 cuts. More than any other sport golf is a meritocracy, a results-oriented business, so when Higgs lost his card, he lost his confidence with it. He failed to get full status in the Korn Ferry Tour Finals and felt himself going to a dark place. "I have to be careful when I hit a poor shot or make a bad decision to not react as poorly as I have been because that spirals me straight down," Higgs admitted last fall at Mayakoba. "Honestly, I've acted so poorly for so long at shots that were not even really that bad ... I don't have a chance to gain that certainty and gain that confidence, right?"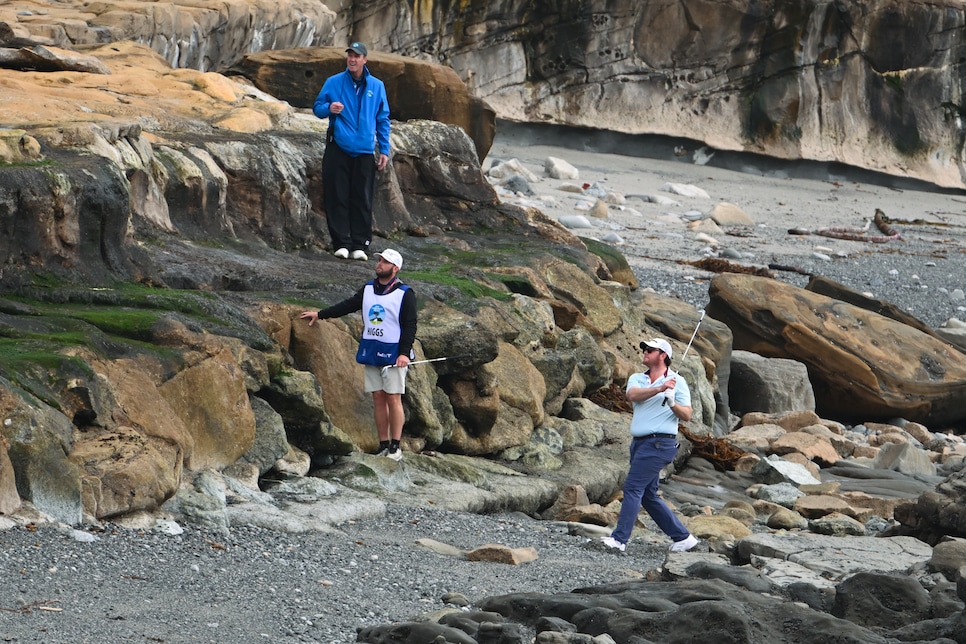 Harry Higgs hits his third shot on the 18th hole from the rocks at Pebble Beach.
Tracy Wilcox
That has been Higgs' mission since, to "spiral upwards" as he looks to regain tour status and more importantly the version of himself he wants to be. He's trying to divorce himself from outcomes and finishes, something easier said than done when the game is your occupation and your job is jeopardy. But to get where he wants to go, he knows the way to get there is through happiness, and that is his focus. Find peace, performance will follow.
He worked with Dr. Bob Rotella after Christmas to improve his mindset. Higgs says he didn't learn anything new ("No offense to him," Higgs adds), although that wasn't the point.
"The key that I brought out is giving yourself the gift of a great mindset and then nothing result-based," he says. "And painting a picture, seeing the shot before you hit it, walking in there and hitting it. Then just you got to live with it if it doesn't go as you plan.
"I still need to be better at my reaction, and I react to it still a little bit too, errr," Higgs continues, grimacing as he does. "And it's frustrating because, man, I'm painting some awesome pictures. I'm seeing shots—which is really good."

As Higgs mentioned, it is a process, and progress is not linear. He's had some success in limited starts this season, including a T-18 at the American Express. It could have been better; Higgs made 31 birdies on the week, one shy of tying the tour record, and needing to make improvements to get his card back, failing to finish in the top 10 can be a tough swallow.
That's also missing the point, because he feels like he has a roadmap now to tackle the wilderness ahead and believes his direction to be true.
"Once my skills continue to get better then it's just like it's the most fun you could ever have. You're playing golf again like a 12-year-old," Higgs said. "But I need to be careful that I don't get all riled up and angry at the world because my golf ball didn't do what I wanted it to do. So I don't know, there wasn't really anything work-wise that I did. This is all stuff that I know. That every one of us know. I'm trying to make the choice every day to give myself the gift of a great mindset."

Higgs is also a competitor, and a damn good one at that. After an opening-round 66 at Monterey Peninsula he birdied the first on Friday at Pebble Beach, followed with an eagle at the second and added another birdie at the fourth to take the lead.
Higgs is going so far as to note where the leaderboards are situated during practice rounds—that way he knows not to look in their direction during tournament play. He wants to be easier on himself. To hold his game accountable while knowing it's OK to give himself a pass.
That conflict was on display on the final hole Friday. Higgs' drive went left into the rocks between Pebble's 18th and the Pacific, and his approach was swatted away by the sea wall. His ball somehow remained dry so he went sideways with his third shot to finally depart the beach, and hit a beautiful approach from 140 yards out to give himself a look at an all-time par. His par putt looked good the entire way, until it didn't.
Higgs turned away, first toward his caddie then to the endlessly blue in front of him. Playing without status is a bit like walking a tight rope with a parachute; you can only go so far before being blown away. A win this weekend would be a game changer, but so would a high finish, getting him into more events and helping chip away at the FedEx Cup points needed to return to where he was once. When you're in such a position, every stroke, every shot counts, and we mentioned pros hate making bogeys, yes? So when Higgs' try for 5 turned into a closing 6, he looked very much like the man who wanted to scream some four-letter words.
Instead, he bit his lip, shook his competitors' hands, and did his best not to put his first through the grandstands tarp.

"If I allow myself to have more fun, I know I play better golf doing that anyway," Higgs says. "But, obviously, there are things that come up in each and every day that sometimes make it difficult to have more fun."
On tap for Saturday is Spyglass Hill, a course that has been Higgs' "nemesis." It's going to be windy and wet and cold. His primary goal is to stay patient. The other?
"To be 'Happy Harry,' no matter what."

He repeats it so there's no doubt. He repeats it to convice us, and to convince himself. Harry Higgs wants to be happy. He's trying.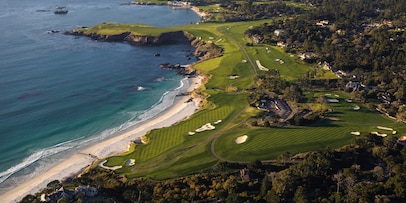 Not just the greatest meeting of land and sea in American golf, but the most extensive one, too, with nine holes perched immediately above the crashing Pacific surf—the fourth through 10th plus the 17th and 18th. Pebble's sixth through eighth are golf's real Amen Corner, with a few Hail Marys thrown in over an ocean cove on the eighth from atop a 75-foot-high bluff. Pebble hosted a successful U.S. Amateur in 2018 and a sixth U.S. Open in 2019. Recent improvements include the redesign of the once-treacherous 14th green, and reshaping of the par-3 17th green, both planned by Arnold Palmer's Design Company a few years back—and the current changes to the iconic eighth hole.
View Course