Valero Texas Open
Patrick Rodgers suffers another 'disappointing day' as first PGA Tour title eludes him again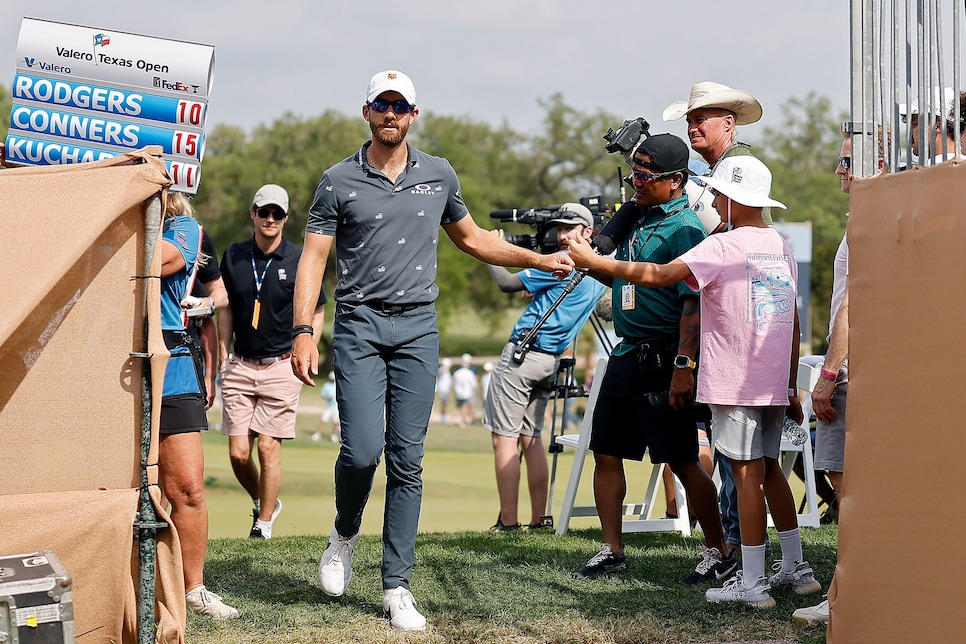 Patrick Rodgers, the leader entering the final round of the Valero Texas Open, was the only player in the top 20 to finish over par on Sunday at TPC San Antonio.
Mike Mulholland
There are 14 golfers in PGA Tour history who can claim the bittersweet distinction of having earned $10 million in their careers, but not tour titles. Patrick Rodgers is one of them, and if you had asked him Saturday about that distinction, he would have dearly hoped that the "is" at the start of this sentence would have changed to "was" come Sunday at the Valero Texas Open
Unfortunately for the 30-year-old former college golf standout, he failed to hang on to his 54-hole lead at TPC San Antonio, shooting a closing one-over 73—the worst round for any player in the top 20—and finishing in solo fifth, four shots behind playing partner and eventual winner Corey Conners. That means Rodgers will add $364,900 to his career earnings, but not the coveted victory that has eluded him.
As Rodgers began his surge to the top of the leaderboard on Friday, it was an occasion to remember the amateur career that seemed to augur big things on the professional level: the way he tied Tiger Woods' wins record at Stanford, winning the Ben Hogan Award as the nation's top college golfer and spending 16 weeks as the No. 1-ranked amateur in the world. Now, he has held four 54-hole leads in a PGA Tour career that is creeping up on 10 years, but hasn't converted any of them.
"Yeah, disappointing day, but great experience, great to be in that environment," he said after his round. "Honestly, hats off to Corey ... he was clearly quite a bit better than I was today, but definitely something I'll learn from and bounce back stronger."
Rodgers' day started off with promise after a birdie at the par-5 second, and he seemed to be handling both the pressure and the high winds well. His first big mistake came on the fourth hole, when after a near-perfect tee shot, he pushed his approach into the right rough, and couldn't get up and down to save par. That began a stretch of four bogeys in six holes that included errant drives and two more wayward approaches.
"I felt like I made some good swings that kind of the wind got or they just landed a few yards in the wrong spots and it ended up costing me bogeys," he said. "It's one of those golf courses where it doesn't take much to get pretty far off and that was my day today. Disappointing result, but I'll be back strong."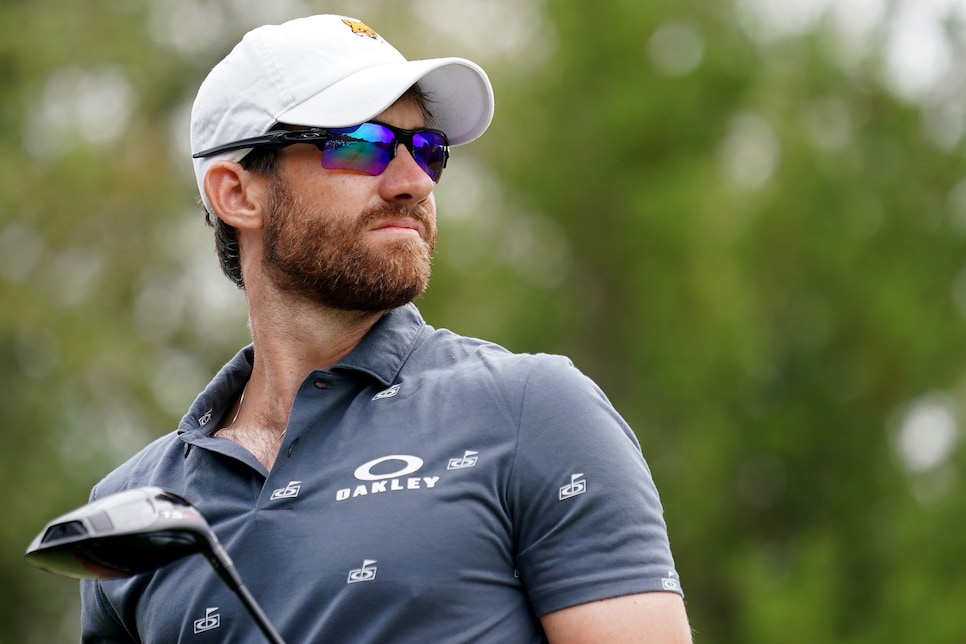 Patrick Rodgers is now 0-for-4 in converting 54-hole leads on the PGA Tour.
Alex Bierens de Haan
By the time he made bogey on the ninth hole, he was already four shots behind Conners, who was unyielding in his ball-striking all day, a continuation of his consistent play all week. Rodgers recovered to birdie 15 and 17, but by then it was too late to do anything but improve his final position.
In the end, it was the approach game that cost him; on Thursday and Friday, he was firmly in the top 10 of the SG/approach category against a full field of 144, but on Saturday he slipped to 50th after the cut, and on Sunday he was one of the worst of the 71 golfers remaining, finishing 68th in that category.
"I definitely felt like I leaned into the experience, I felt like I put my best foot forward there mentally," he said. "I just didn't have the quality of golf that I needed to get the job done."
And while he lost his chance to win—which would have earned him a first career Masters appearance—there's more good news than just the nice paycheck for Rodgers; he gained 15 spots on the FedEx Cup points list, moving from 52nd to 37th. Needless to say, it's also an infusion of positive momentum for the player who had missed six of eight cuts on the year coming into San Antonio.