Valero Texas Open
Patrick Rodgers takes weekend lead in pursuit of elusive first PGA Tour victory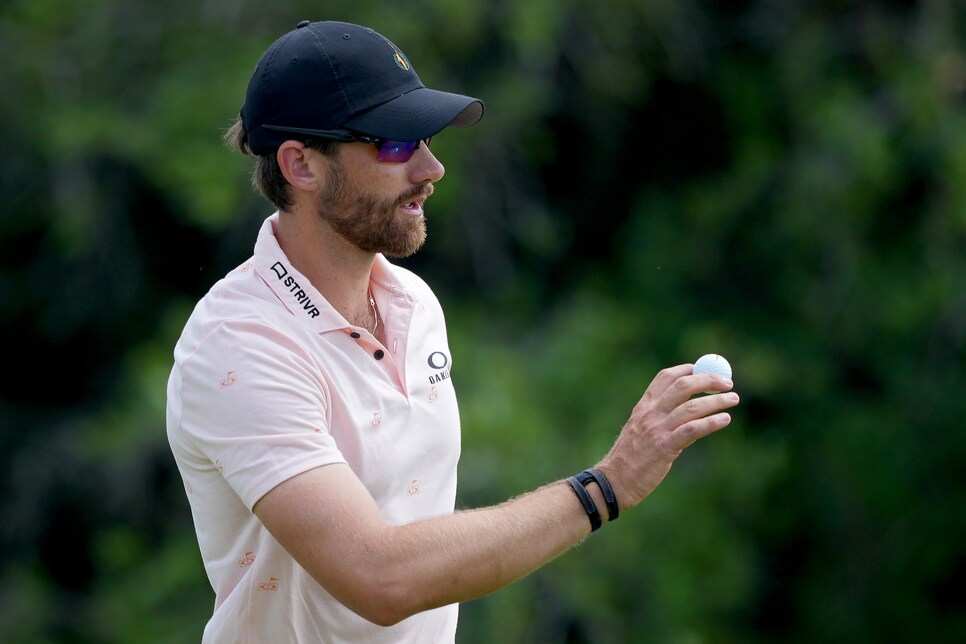 By some measures, Patrick Rodgers has had a very consistent career. Since his first full year on the PGA Tour in 2015-16, Rodgers has never finished better than 74th in the FedEx Cup standings, and never worse than 128th. He hasn't won on the PGA Tour, though he does have several close calls, and by that profile you could call him a journeyman and have the data to back it up.
Where things get tricky is the nasty realm of expectations; Rodgers is the guy who tied Tiger Woods' wins record at Stanford. He's the guy who won the Ben Hogan Award as the nation's top collegiate golfer. He's the guy who spent 16 weeks in 2014 as the No. 1-ranked world amateur. He's the guy who was "supposed" to do more.
This week at the Valero Texas Open, now a 30-year-old veteran, Rodgers could be looking at his best chance yet to capture a PGA Tour win. With a two-day score of 11 under in San Antonio, he leads Corey Conners by three shots, and seems to be thriving in most aspects of his game. In particular, his approach play has been stellar.
"That's been a huge area of focus for me," Rodgers said, after being told that he was first in strokes gained/approach for the week. "It's been what's keeping me from playing better golf and yeah, I'm really proud that the work that I've been putting in week in and week out even when it wasn't paying off on the golf course. Now it's starting to and I'm happy with the patience that I've showed to get here."
Due to weather delays, Rodgers only finished 13 holes on Thursday, reaching four under, and didn't lose any steam over the course of the 23 holes he played on Friday to complete his first and second rounds. He caught fire at the tail end, in fact, making birdie on five of his last six holes to surge to the top of the leaderboard. Those holes tell the story of his play—the longest birdie putt he made was eight feet, and he reached two par-5s in two, highlighting how strong his approach game has been in San Antonio. For his entire second round, he only missed two greens.
Yet despite the hot start, Rodgers struck an almost cautionary tone.
"I'm fortunate now to be almost a veteran out here, so I have plenty of experience and hopefully kind of draw on that to not ride the highs and lows too much and just chip away at improving," he said. "We're only halfway done and especially on this golf course, a lot can happen."
Prior to this week, it had been a tough start to the calendar year for Rodgers, who missed six of eight cuts through last week's Corales Puntacana Championship. But despite hedging his bets in his post-round comments, there's an unmistakable sense of confidence about his play. He feels that when his irons are working, he gives himself chances to win tournaments, and he called it the "low-hanging fruit" of his game. If he's right that his hard work away from tournaments has begun to pay off, he knows he could be on the verge of finally breaking through with a PGA Tour win, one that would also send him to the Masters for the first time.
"It's something I've always dreamt of," he admitted about a potential win. "It's the reason why I'm out here. I love this job because I love to compete and I do my best to win a golf tournament every time I tee it up. I'm excited for the chance. This is, like I said, why I play. It's going to be a really fun next couple of days."