The Loop
Patrick Reed's first-world whining, Tony Romo's crazy QB sneak, and why Bryson DeChambeau is a black hole
Welcome to another edition of The Grind, where we're starting to regret dropping out of AP physics. Sure, as a high school senior the extra free period was beneficial to my NBA Live skills on PlayStation (I was so good with the Lakers that a friend called the game "Robert Horry Live"), but little did I know how much it could have helped my golf game. Bryson DeChambeau, on the other hand, kept with this scientific discipline and now he's morphed into a FedEx Cup Playoffs black hole, crushing and consuming all 223 of his opponents in the first two postseason events.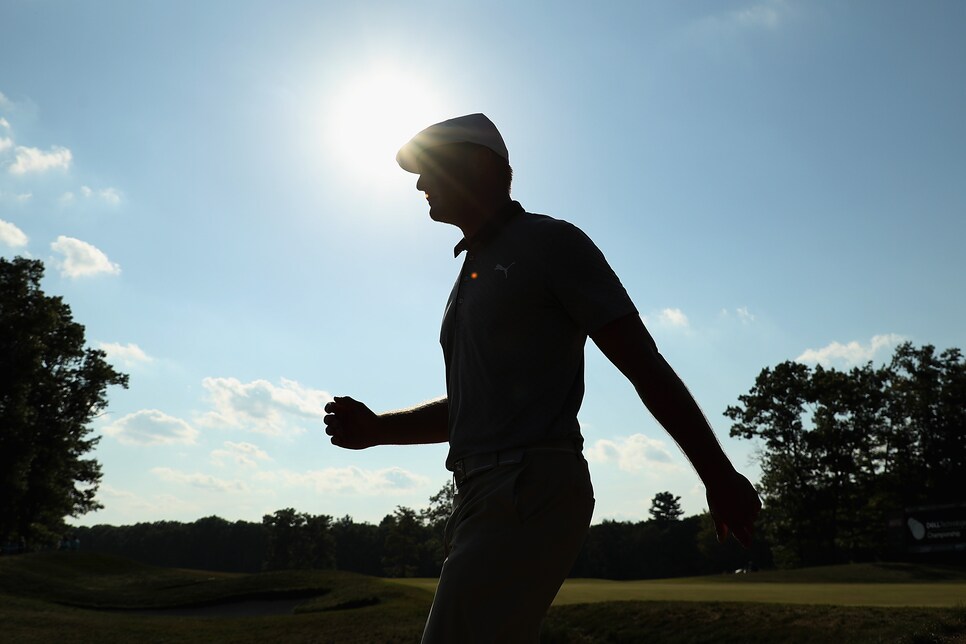 So kids, stay in school. And take physics. One day it may come in handy when you're figuring out how far a gap wedge will fly on an uphill approach in 87-degree weather with a 3-mile-per-hour wind. Sigh. . . And the really sad thing is that I bet Bryson would still beat me at NBA Live. Anyway, here's what else has us talking this week.
Bryson DeChambeau: Another week, another win for Bryson, who now has as many career PGA Tour titles in the past 14 months as Rickie Fowler does in his career. His two-shot victory at the Dell Technologies Championship guarantees he'll be in the pole position to win that $10 million bonus at the Tour Championship. And with him turning 25 later this month, that kind of cash could pay for one heckuva birthday bash.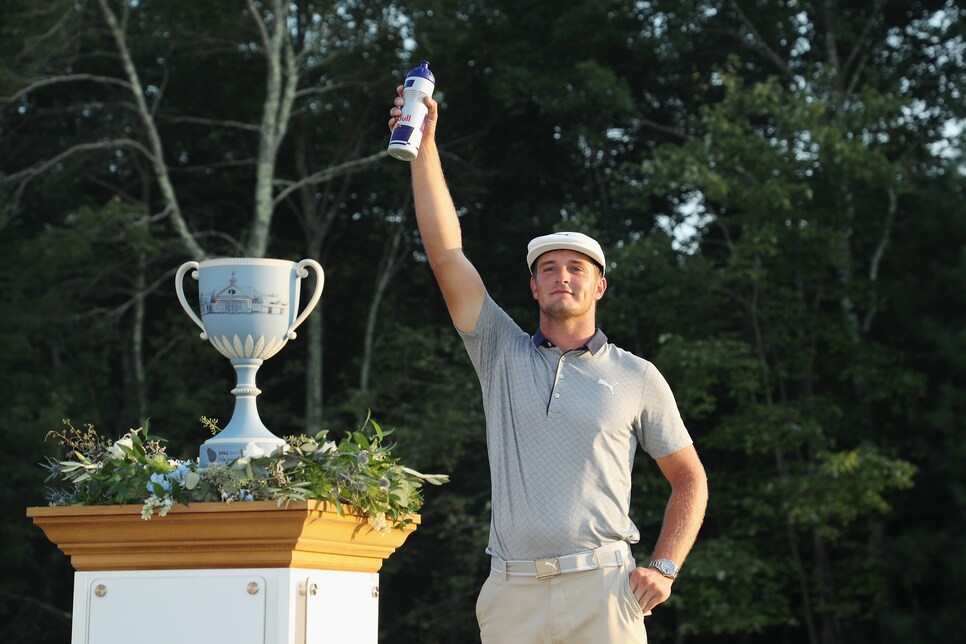 Yep, Bryson. You can have all the Red Bull you want. Go crazy, man.
Tony Romo: The former Dallas Cowboys star turned CBS play predicting guru entered the pre-stage of the Web.com Tour qualifying tournament. . . and passed. Romo shot rounds of 72, 72 and 74 and looked like he'd miss by one shot until another player was DQ'd for signing an incorrect scorecard. Talk about a QB sneak! Romo still has three more stages to get through to earn his Web.com Tour card, but as we know with his football career, making it past one round is a big deal.
This Golden Tee shot: We'd love to hear Professor DeChambeau's take on the physics behind this hole-in-one:
And while we're asking, how did this Tyrrell Hatton shot NOT go in?
If Bryson can explain that, then we'll really be impressed.
Dustin Johnson's memory: When the asked about a potential Ryder Cup pairing of himself and buddy Brooks Koepka, DJ responded, "I feel bad for anyone who would have to play us." There's just one small problem. These bash bros played together at the last Ryder Cup — and got smoked by Rory McIlroy and Thomas Pieters. Of course, Johnson and Koepka weren't the world's top two players two years ago, but still. . . Then again, maybe DJ is so good at shaking off losses that he truly has forgotten the entire experience.
Golfer first pitches: A few days after Bryson DeChambeau threw a strike (Obviously. His calculations these days are flawless) at Yankee Stadium, Justin Thomas threw a ball (way) high at Fenway Park:
And then Hal Sutton bounced one in Houston:
If golfers are going to keep taking the mound, the PGA Tour might want to start offering an off-season course on throwing a baseball.
Joe Durant's tap-in game: This one hurts to watch. Tied for the lead on the penultimate hole at the PGA Tour Champions Shaw Charity Classic, Durant decided not to mark his ball from inside of two feet. Mistake.
He wound up losing to Scott McCarron, who happened to make a freaking hole-in-one on the 14th hole, by one. What a dagger. And congrats to Scott — especially since the ace didn't require him using his putter and drawing more questions about whether he's illegally anchoring. Anyway, here's a freeze frame of that missed tap-in (Look away, Joe!):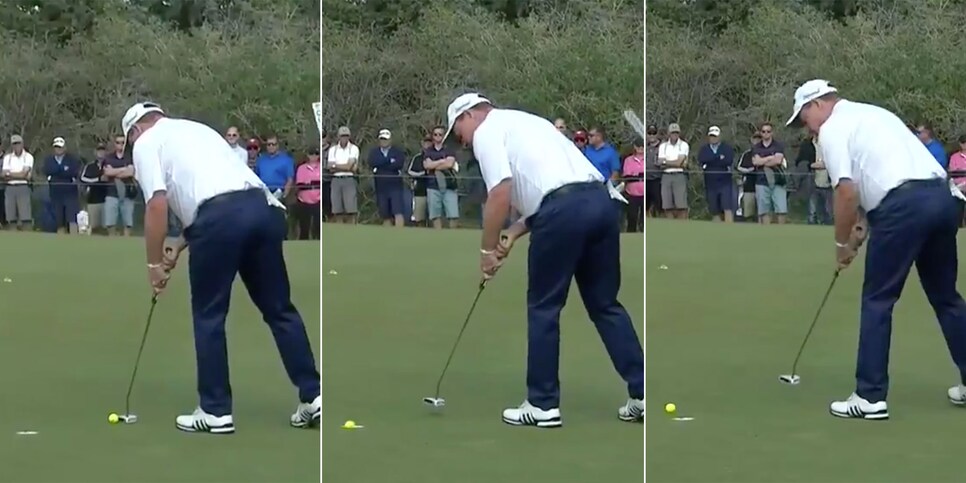 The PGA Tour heads to Aronimink for the BMW Championship, AKA that event that used to be called the Western Open, but can now be contested on the East Coast. Of the 70-man field, only 30 will advance to the Tour Championship in two weeks. Tiger Woods is currently No. 25, so he needs a solid week to move on to East Lake.
Random tournament fact: Gary Player won the 1962 PGA Championship at Aronimink at age 26. He'll be 91 when the PGA Championship returns to the venue in 2027 for the first time since that victory. Player plans to do 91 push-ups before striping a 300-yard ceremonial tee shot.
RANDOM PROP BETS OF THE WEEK
— Bryson DeChambeau won't mark a two-foot putt in the playoffs: 10 MILLION-to-1 odds
— Bryson DeChambeau will win this week: 10-to-1 odds
— Bryson DeChambeau would win a PGA Tour Science Fair: LOCK
Patrick Reed posted this smiling photo while absolutely ripping the Red Sox and the PGA Tour — which he tagged TWICE in one tweet! — for his seats in "the line drive section" at Fenway Park. Not surprisingly, the comments weren't kind to the Masters champ.
Complaining about free tickets to a baseball game at Fenway Park is as first-world whining as it gets. A couple of Patrick's peers had fun with this as well. First, Colt Knost:
Boom. Roasted. And it wasn't difficult.
Not only was this guy lucky enough to make a hole-in-one (Must be nice), but his buddy captured it on video:
VIRAL VIDEO OF THE WEEK (AWWW, THAT'S CUTE DIVISION)
Remember last year when that kid in the crowd gave Phil Mickelson the perfect response to whether he should go for the green in two? Well, Mickelson put him on the bag this week for a hole in a practice round and the results were awesome, because Riley is such a precocious kid and you can never go wrong hearing Phil talk about the exact yardages of his different wedges:
VIRAL VIDEO OF THE WEEK (TRICK-SHOT DIVISION)
Jack Nicklaus and Gary Player urged Dustin Johnson to try out Jack's old 1-iron and persimmon driver. And DJ didn't disappoint.
The World No. 1 carried the 1-iron 232 and the 1-WOOD 290 (318 with roll). Yeah, yeah, he probably wasn't using an old golf ball, but still, that's mighty impressive.
THIS WEEK IN PHIL BEING PHIL (ON TWITTER)
We gave Mickelson mixed reviews for his first week on Twitter, but this is so random and impressive that it's awesome:
Would you rather have Phil high-kick over you or hit a flop shot over you? I think I'd actually feel safer with the flop shot.
"How much better can I get? Oh, man, in short, layman's terms, yes, absolutely, you can always get better. How much? I would say it depends on what I can do in the restrictions of my biomechanics. So it's all about air, air tolerances and being able to be more sensitive—less sensitive to air. So that when you do feel like you mess up it's not going to be that big of a mess up. I hope that makes sense." — Bryson DeChambeau. Nope. That doesn't even come close to making sense to me, Bryson.
Jordan Spieth's former college teammate and roommate Kramer Hickock won on the Web.com Tour to look up his PGA Tour card for next season. As we've seen with Justin Thomas, guys who become known for being "good buddies with Jordan Spieth" tend to fare pretty well. . . Bryson DeChambeau is a great Ping Pong player (Perfect for the Ryder Cup) thanks to a Ping Pong robot he practiced with as a kid. Imagine the kind of robots he can buy if he wins the $10 million bonus? . . . In other Ping Pong news, apparently I missed the company-wide tournament. Whoever won is lucky I didn't show up. . . . And finally, after 36 years of being a soda lover, I discovered Dr. Brown's diet black cherry: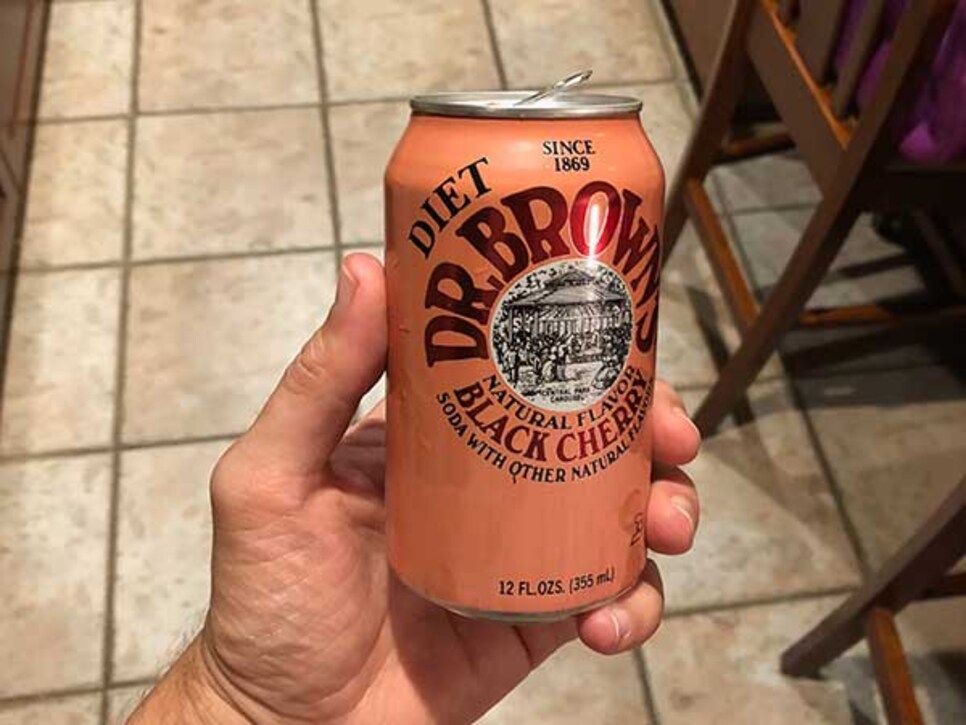 And now I can't stop drinking it. This stuff is outrageously good. Especially in a can. If you know of any establishments that serve a fountain version, please let me know ASAP.
RANDOM QUESTIONS TO PONDER
Where is "the line drive" section at Yankee Stadium?
How many points could I score on Bryson in ping pong?
Where has Dr. Brown's soda been all my life?