Voices
A year after controversial drop Patrick Reed continues to be a prisoner of his past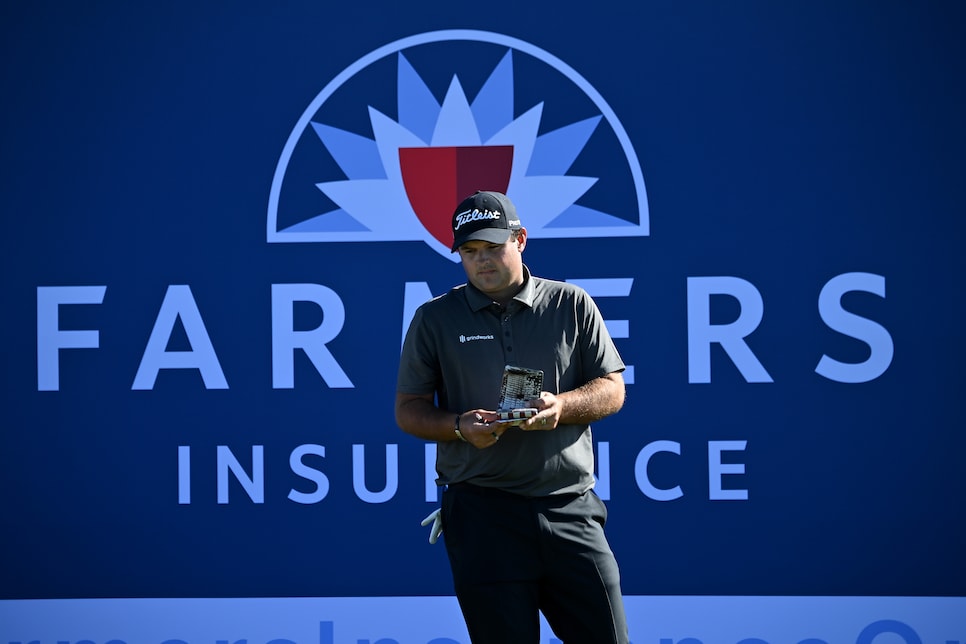 Patrick Reed contended he was in the right then and he has never been one for remorse or reversal. Still, the question needed to be asked—"How should we remember last year?"—because Reed was back where it happened and because a lot has gone down since that ball went up.
"It should be remembered as a victory," Reed said Tuesday of last year's Farmers Insurance Open. "At the end of the day, the rules officials said we did nothing wrong. When you have rules officials that come out and say that, as well as you sit there and they're able to go by the book and go by the rules and you don't do anything wrong with that, and there's no real discussion about it ... go out there and play the best I can and do everything I'm supposed to and win the golf tournament."
He's right. It was a victory, breaking away from the field by five shots for his ninth win on tour. He's also correct in that he was not penalized for his quick grab; he was found not to violate the letter of the law. But despite Reed's wishes it is unlikely that few will recall that weekend as one of victory.
It's been a busy year, so a quick rewind is in order. Reed, holding a four-shot lead on the Saturday of the Farmers, was shown on TV calling a rules official about possible relief from an embedded lie in the rough beside Torrey South's 10th green … only Reed had already picked up the ball. Reed said volunteer marshals told him the ball didn't bounce and he believed the ball broke ground. He then poked his finger into an indention in the deep grass and asked the official to do the same to feel if there was a "lip" created by the plugged ball.
Reed was ultimately granted a free drop and saved par. Adding to the confusion was video replay that showed the ball did indeed bounce. "I've never seen a ball plug on the second bounce," said CBS analyst Nick Faldo. Added CBS anchor Jim Nantz: "The optics aren't great."
Neither were the comments from Reed's fellow competitors. "The talk amongst the boys isn't great," Xander Schauffele said the following day, with Lanto Griffin seconding, "It's sad. Kind of pisses us off." Such remarks are as combative as tour players get against the fraternal vibe that dominates the modern tour landscape, and many fans echoed Griffin's response. Reed, they contended, had literally and figuratively pulled a fast one.
Reed, who returns to Torrey Pines this week to defend his title, was asked Tuesday about what he's done to put distance between that moment and now and all the backlash the controversy conjured. It became clear Reed has no appetite for dabbling in the past.
"Really, I mean, the only thing I can do is keep on moving forward, keep trying to get the best I can on the golf course and handle myself how I feel like I'm supposed to off the golf course, whether it's with my peers, whether it's at home, whether it's out on the road or anything like that," Reed said. "As long as I feel like I'm doing the right things, all of it will take care of itself."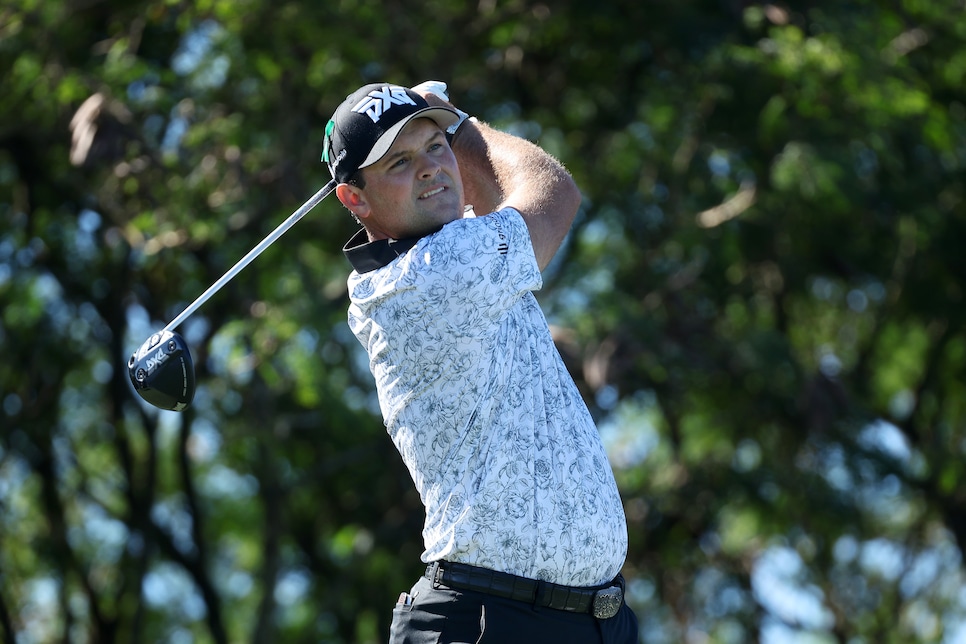 Reed's career is noted for its accomplishments. A 2018 Masters triumph, two FedEx Cup playoff wins, a two-time Olympian and six combined appearances in the Ryder and Presidents Cup. It's also known for, well, "other" things. There were cheating allegations in college and a rules violation at the 2019 Hero World Challenge, the latter leading to videos of similar incidents surfacing from other tournaments with former CBS Sports reporter Peter Kostis saying he'd seen Reed improve his lies "up close" in an interview with No Laying Up. Reed yelled at camera crews during a tournament and was caught uttering a homophobic slur after a missed putt. He insinuated that Jordan Spieth would have received a better ruling from an official at the 2018 Arnold Palmer Invitational then threw Spieth and his American teammates under the bus following their defeat at the Ryder Cup that fall.
Some of these matters can be explained in themselves, and Reed has staunchly defended himself against charges of dishonesty. "Being called a cheater. That's so far from the truth," he told Golf Digest in 2021. "No athlete, no golfer who works to make it to the highest level is a cheater." But in the aggregate they threaten to overshadow what he's accomplished, and against that backdrop what happened at Torrey can be viewed not as an aberration but an extension of this list.
Not helping matters was the list continued to grow in 2021. There was the curious activity of a Twitter account with the handle "useGolfFACTS" believed to be tied to his family, one that supported Reed against his critics while making critical and disparaging remarks about the tour and its players, that Reed's own account replicated a message from during the Torrey incident. Reed's lawyer told Golf Digest last year that the person who manages Reed's account does not run "useGolfFACTS;" still, that the "useGolfFACTS" account continues to fire shots at the tour (it recently took umbrage with a PGA Tour story that left Reed out of a 2022 Presidents Cup projection) and float conspiracy theories on Reed's behalf (one of which stated the footage from the Hero was doctored to make Reed look like he was cheating) has not turned down the spotlight.
There was also a mysterious illness that Reed suffered last year. Reed has said he was suffering from bilateral pneumonia when he was hospitalized in mid-August in Houston. It was a dire situation by Reed's account, one that left him wondering if he was going to make it. "Really, I felt really bad," Reed said Tuesday. "Obviously, when I was in the hospital and then when the doctor told me that, hey, there's a good chance you might not survive this, and you might not see your family again … when you hear that you go from feeling really bad to a really dark place mentally."
In speaking of that experience Reed has arguably never been more human. Yet there were odd elements to the story, too. Reed said in September he was vaccinated for COVID-19 and was tested for the disease when he left the hospital. Yet the hospital issued a statement that all patients were tested for the coronavirus when they were admitted.
To be fair, Reed is under no obligation to disclose his private health. But it underlined the notion that even in a circumstance that should emit sympathy, there is always a catch.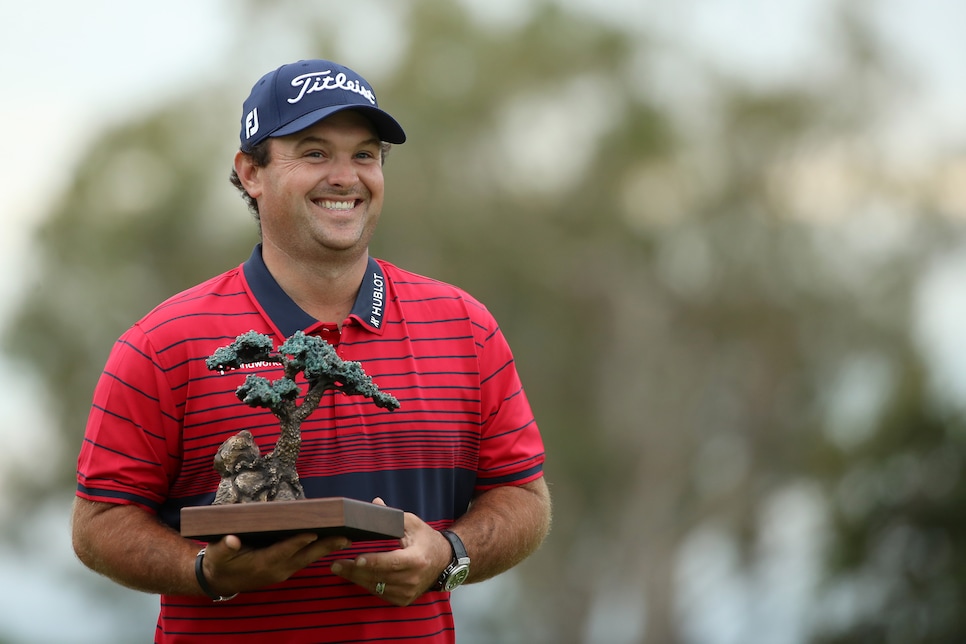 There is no denying Reed's ability. He is a tenacious competitor, a throwback to when the game wasn't so powered by power. His short game is absolute. "I don't know if there's anybody I'd want on tour other than him with the wedge and putter in their hand," Justin Thomas said Tuesday. "He gets up and down from everywhere." But the performance continues to be usurped by the performer and the circus that seemingly surrounds him at all times.
Perhaps Reed himself wants to distance himself from the 2021 Farmers. It is tradition for the reigning champ to take part in the tournament's media day, but Reed wasn't involved in this year's event. The feeling may be reciprocated; Reed is listed in several promotional materials but was nowhere to be seen in the marketing of the tournament.
In his defense Reed has acknowledged the disconnect between himself and the game. He has dismissed any assertions he revels in being the villain. "I don't think there's a human being alive who thrives off negative energy," Reed told Golf Digest last year. "You have to compartmentalize the noise and throw it away rather than allow it to be distractive. It can be a challenge to maintain your mental and physical health listening to hateful things, but that can happen no matter who you are or what job you're in."
However, he maintains the divide that exists is brought on by actions other than his own.
"Well, I definitely feel like everyone who has actually got to know me compared to what they read is completely different," Reed said. "Really, at the end of the day I can't control, really, what's been written, I can only control what I do and how my interactions are with people, with fans, with people who get to know me and things like that."
Unfortunately for Patrick Reed, a large sect of the game believes it knows who Patrick Reed is. Short of a stunning about-face from the man, the game has largely made up its mind. And that is a lie that he can't improve.