Farmers Insurance Open
Players speak regarding Patrick Reed rules affair: 'Obviously, the talk amongst the boys isn't great'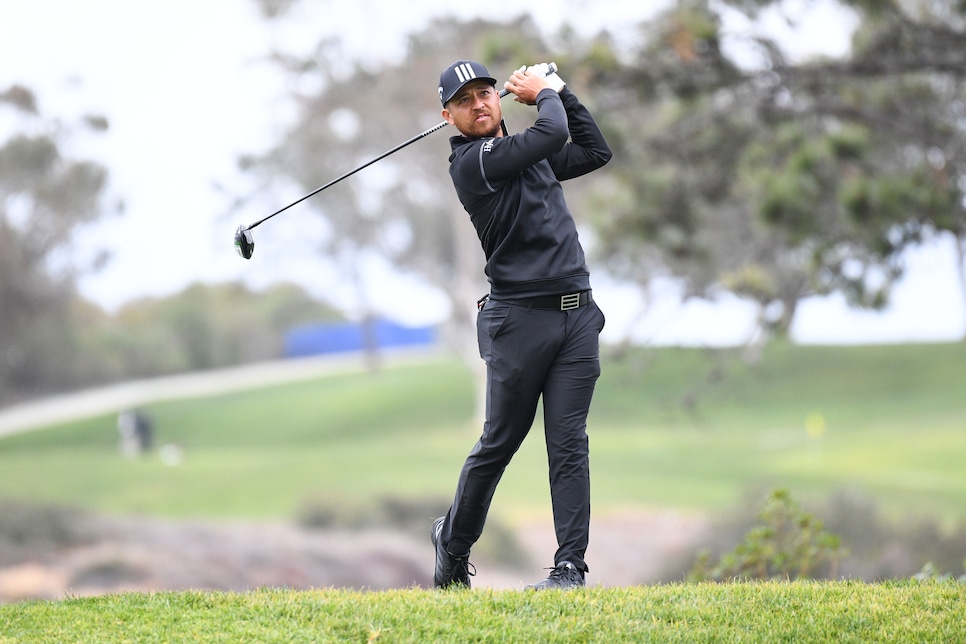 Xander Schauffele finished in a five-way tie for second, five shots back of Patrick Reed at the Farmers Insurance Open.
Icon Sportswire
You didn't have to scroll far on any social-media platform to figure out the sentiment toward Patrick Reed and his use of the embedded-ball rule Saturday at the Farmers Insurance Open. But Twitter hate and Instagram vitriol are so ubiquitous that the shouting becomes white noise. Plus, there is really only one group whose opinion on the subject would carry real resonance: his fellow players
In that respect, Reed, who went on to win the tournament by five shots on Sunday, might have work to do to make amends for the events of the weekend.
"It's sad," said Lanto Griffin, who finished tied for seventh, six shots back, when asked about the Reed affair. "Kind of pisses us off."
"Obviously, the talk amongst the boys isn't great, I guess," echoed Xander Schauffele, "but he's protected by the tour and that's all that matters, I guess."
Schauffele, who finished tied for second after a Sunday 69, spoke about the matter despite noting he had not seen the video of what happened. Informed that Reed has picked up his ball on the 10th to check on whether it was embedded and then called in a rules official, Schauffele said that would not have been the way he would have handled the situation.
"If my ball's embedded, I usually will wait and call someone and kind of wait until everybody's on the same page, wait to look at video," Schauffele said. "So I try to avoid situations like that just for that reason."
"I mean, it's tough," Griffin said. "Golf's a game of sportsmanship, and it's tough to put us in the spot to call him out because we weren't there. But at the end of the day, I think 99 percent of the golfers out here, if it's in question one way or the other, they're going to go the other way, not taking a drop, it didn't cross [a penalty line], that type of deal. So it's tough to see. It's sad, kind of pisses us off, but it's the way it is. Hopefully something changes and come to a conclusion."
Rory McIlroy was also asked about the matter on Sunday. He had a different perspective on the incident in that McIlroy had similarly employed the embedded-ball rule on Saturday while playing the 18th hole. Like Reed, McIlroy had not seen his ball land, but upon looking at his lie, he questioned whether he was entitled to relief. McIlroy picked up his ball without calling in a rules official and decided on his own that the ball was embedded (which is allowed under the rules).
"I was sort of giving … Patrick the benefit of the doubt because it seemed to me like it was a bit of a storm in a teacup," McIlroy said. "You're trying to deal with the info that you have at the time, and the info that Patrick had at the time was the ball hadn't bounced, and the info I had at the time was the same. I went down, and on my life that ball of mine was plugged; it was in its own pitch mark, so I took relief."
The PGA Tour released a statement on Sunday saying that McIlroy and Reed were virtually the same situations and that they were comfortable with how both players handled the situation.
Suffice it to say, not everyone was ready to out Reed. Some players when asked came to his defense.
"At the present time, the circumstances they were in, I think all the procedures that they went through were proper," said Tony Finau, echoing the tour's sentiments. "The official deemed that it was an embedded golf ball, so he took his club length and took relief."
In other words, opinions vary.