Dubai Desert Classic
Patrick Reed doesn't let Rory/tee-gate frenzy distract him, jumps into contention in Dubai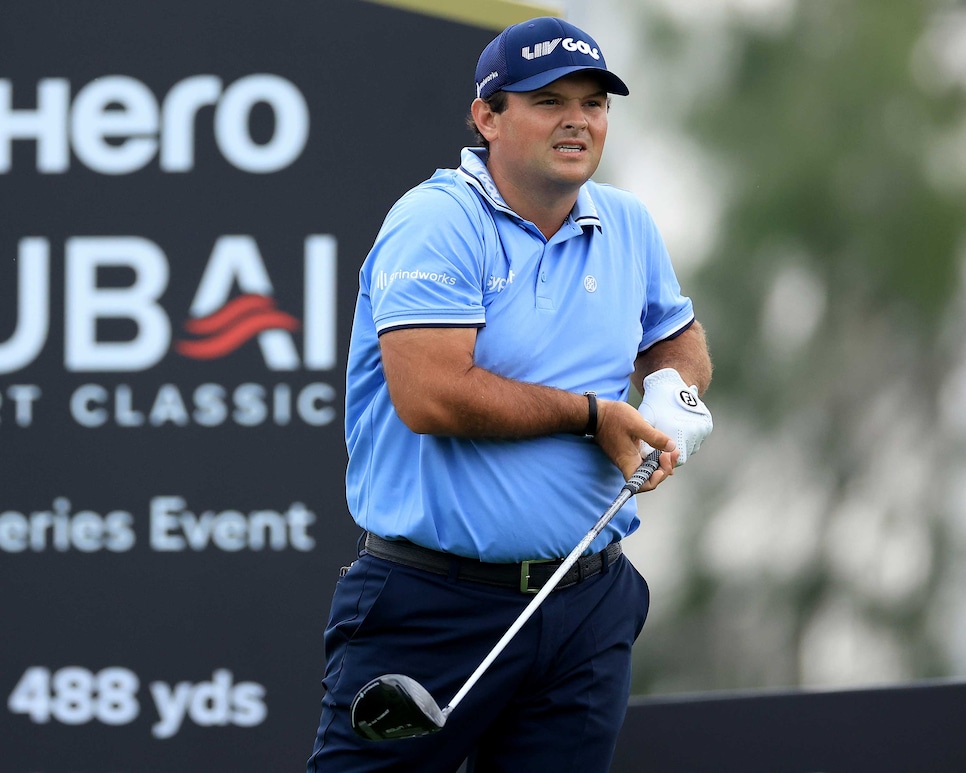 With the first round delayed by heavy rain, Patrick Reed only got in 16 holes on Thursday at the Dubai Desert Classic. Still, he was four under when darkness fell, one off the lead.
David Cannon
DUBAI, U.A.E. — Say what you like about Patrick Reed—and many have over the course of his controversial career—the man has an inordinate ability to focus on the golf course. Having endured three days of unwanted and high-profile attention ranging from mild ridicule to near humiliation over the so-called "tee-gate" encounter he had with Rory McIlroy on Monday, the former Masters champion is four under par and one-shot off the lead through the 16 holes he completed of his opening round in the Hero Dubai Desert Classic. Truly, Reed is a remarkable individual, seemingly able to enjoy, or at least shrug off, even the most vehement criticism.
So it was that, as you might expect, the details of his play were not top of the agenda when Reed spoke with a couple of journalists by the side of the 16th green. And, to his credit, the 32-year-old Texan seemed happy enough to discuss all that has gone on since Monday. Less surprisingly, he was also at pains to downplay its significance.
"Honestly, you are all blowing up this so-called 'teegate' way bigger than it really is," he said. "Once you get inside the ropes, you put the blinders on and go play golf. I don't really feel like I did anything wrong on the range. Rory, could have said 'Hi,' but he chose not to. That's really the only thing. He didn't attack me. He didn't do anything. He just decided not to respond. That's his choice. At the end of the day, it is nothing. I'm already over it. I was over it when it happened. I'm pretty sure he was over it right after it happened as well.
"It's hilarious, it is funny," Reed continued. "It just shows you how immature some people can be and how funny some people can be. Some of the stuff that has been posted and said has been hilarious, the memes and things on social media. It is creative. At the same time, I am never for taking shots at somebody without doing it to their face. I think it is cowardly to do that on social media or in writing. If you have something bad to say, or want to make fun of somebody, do it to their face. If you can't do that, there is no point doing it at all."
As for his day on the Majlis course at the Emirates Club, Reed was clearly encouraged after missing the cut at last week's Abu Dhabi HSBC Championship. A lack of recent competitive play was, he felt, the biggest factor in that uncharacteristic failure, as was a memory lapse that has proved to be unexpectedly significant in the unusual weather prevailing here in the desert.
"This shows you how rusty I am," said Reed with a smile. "I normally don't forget things, but I have left my umbrella at home in the States. If there is going to be one run of events where you would leave it, it is this one: Abu Dhabi, here, then Saudi Arabia. You are in the desert; it never rains. Of course, we find the one period when it rains."
Still, things do seem to be improving. Having spent the weekend working on his game, playing the nearby Montgomerie course and visiting with his wife's cousin who lives in Dubai, Reed managed to eliminate most of the mental errors that had so plagued him a week earlier. One overly aggressive play on the par-5 10th led to a sloppy bogey, but otherwise his card was free of serious error.
"The game feels solid," he said. "It is close. I still made a couple of unforced errors, but on the whole it was steady. I got the ball on the fairway and when I didn't, I took my medicine and played to areas where I could get up-and-down. I was very rusty last week. I had put in all the work at home and felt great but under the gun, hitting shots is different. Pressing never seems to work, you need to go the opposite way."
There was one potentially delicious moment during all of the above. The ninth/18th green at the Emirates is a vast 'eight-shaped' putting surface that often calls for the group playing to one flag to wait for the other. And, wouldn't you know it, at the exact moment Reed marched towards the pin on the ninth, McIlroy was doing the same on the 18th.
"The only time I really looked over was to see who was going to play next," said Reed, a vague smile playing on his lips. "On a double green you have to be courteous. We never really locked eyes."
Elsewhere, after a six-hour, five-minute delay caused by flooding that was the inevitable result of a series of torrential downpours that began on Wednesday afternoon and did not abate until mid-morning Thursday, only half of the 132-man field was able to start their rounds. Of those, only 12 played all 18 holes. But as many as 41 are currently under par, taking advantage of the soft conditions, preferred lies and only a light breeze. That said, former Ryder Cup player Thomas Pieters is the only man five-under par, in his case through 15 holes. McIlroy is two under the card, again with three holes to play.