Takeaways
Cantlay goes low, Rahm keeps pace, a pair of 400-yard drives and Phil's 'uh-oh' moment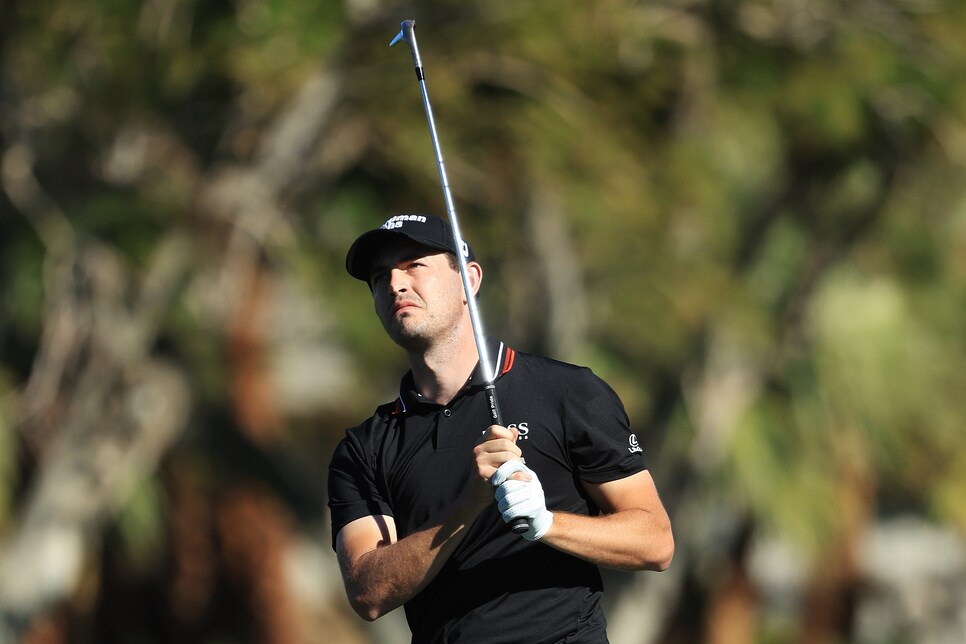 Give Patrick Cantlay this: The man knows his brand. Because nothing is more on point to Cantlay's personality—a reserved soul that eschews self-promotion and cheap publicity—than chasing history in the shadows.
Cantlay gave a run at 59 on Thursday in his opening—and untelevised—round at The American Express, ultimately "settling" for a 62 to own a share of the lead.
"Yeah, I got off to a roll at the start and kind of made a bunch of putts and then I kind of lagged on the way coming in," Cantlay said. "But I was happy with everything, I thought I did everything well and it's a golf course I really like. It's in perfect shape and so if you get the ball rolling on line it should go in."
It was probably best that Cantlay didn't break 60, because, well, there wouldn't have been much to document the occasion. The tournament's first three rounds are spread across three venues, with broadcast cameras setting up shop at PGA West's Stadium Course. That proved problematic Thursday as Cantlay's round took place at La Quinta C.C. ShotLink data is also not provided outside of the Stadium Course, meaning no play-by-play or visual details on Cantlay's effort. All fans have to go by are the numbers on the scorecard.
And here's what those numbers said: 3-4-2-3-4-3-2 on Cantlay's first seven holes. For those scoring at home, that would be five birdies and an eagle, Cantlay sitting seven under through seven holes en route to a front-nine 29. He continued lighting La Quinta in flames with three birdies over his first four holes on the back, putting a sub-60 round very much in play. Unfortunately, the birdie train had reached its final stop, with Cantlay parring the final five holes to sign for a 10-under total.
"I just tried to keep making as many birdies as I could, and like I said, I stalled out a little bit," Cantlay explained. "This golf course, definitely every hole is a birdie hole, especially if you drive it in the fairway. And like I said, it's in such good shape that if you start to read the greens really well it's easy to make a bunch."
It continues Cantlay's success at this tournament, as he turned in a final-round 61 at last year's American Express in a runner-up finish. It's also his 20th consecutive round in the 60s and follows up a strong outing (fourth) at the Sentry Tournament of Champions earlier this month. Though Jon Rahm and Collin Morikawa are battling for rights to World No. 1 this week, Thursday was a reminder that the reigning FedEx Cup champ deserves to be mentioned in the conversation. And probably some TV time, too.
Four other takeaways from Round 1 at The American Express.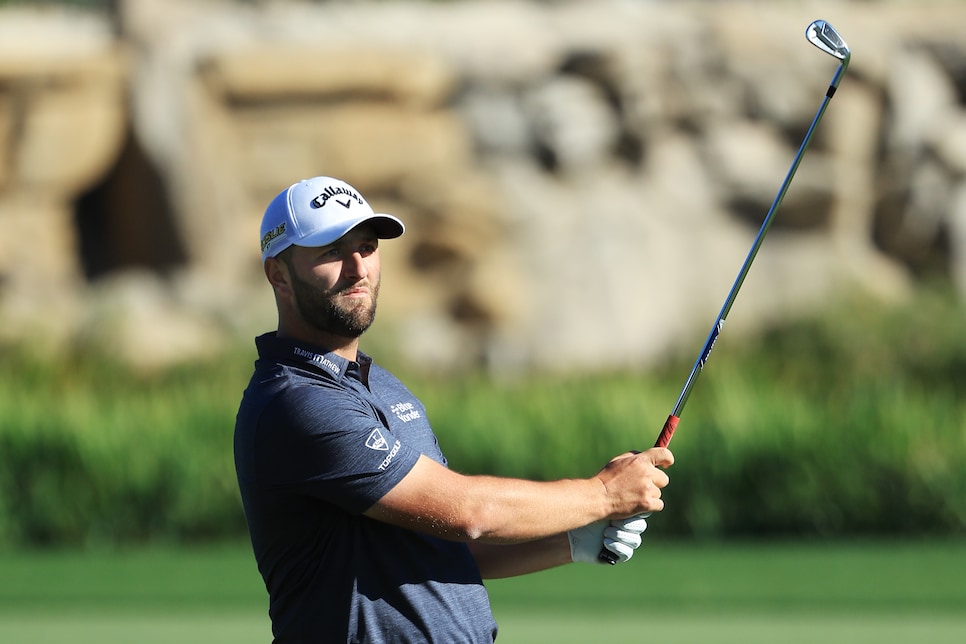 Can a 66 be disappointing? That feels like an absurd question. But Jon Rahm has made a habit of making the absurd routine.
Rahm, fresh off a runner-up finish in Maui, began The American Express with a bogey-free 66 at La Quinta, doing so despite a swing that didn't feel "100 percent."
"But I kind of adjusted a little bit and I played some good golf," Rahm said. "Hopefully I can tidy up a couple putts. My first few holes, I didn't hit the best putts, but then starting on I think it was on 8 or 9 I started rolling the ball better and it showed. Made a couple clutch putts on the back nine."
Yes, his score at La Quinta is somewhat of a prerequisite for contention, especially with wind in the forecast for his round at the tougher Stadium Course. But Rahm (despite what some media members recall) is a former winner at this event, to say nothing of riding a heater that at this point is less of a streak and more of a sustained tour de force performance.
The scary part? Rahm struggled out of the gate.
"For me early on more than anything it was adjustment to the speed. Those greens are a little bit better shape than what I putted on yesterday or maybe just because they're in tournament shape and I played earlier today, barely anybody had walked on the greens. And once I adjusted it became a little bit better," Rahm said. "But, yeah it can get frustrating. I was two under through seven and missed three putts pretty much from 10 feet, and you always like thinking well what would be, but then I ended up I made a great par putt on 4 and a great par save on 12."
If Rahm can get right on the greens early on Friday? That sigh you just heard was the rest of the field. Rahm ended the day four shots back of the lead, in a tie for 13th.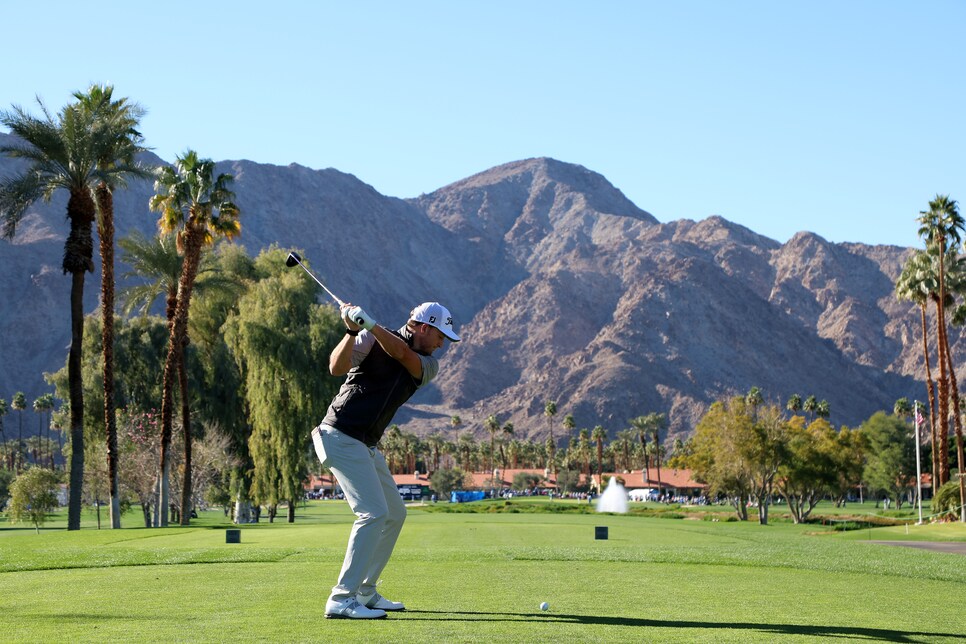 Hodges introduces himself
Cantlay wasn't the only player to make the most of La Quinta's friendly confines. Lee Hodges, a recent graduate of the Korn Ferry Tour, also danced with 59 thanks to eight birdies and an eagle in his first 13 holes. Like Cantlay, he somewhat sputtered down the finish with five straight pars, but his 62 tied for the lead at day's end.
"Kind of changed a little mindset I guess going into today," Hodges said. "I guess I was—it's tough being on the PGA Tour sometimes as a rookie, you know. You expect a lot and get a little sometimes. So today I just really tried to go out and have a good time and enjoy myself and know how blessed I am to be out here."
Hodges, 26, credited a missed cut at the Sony Open for spurring a new approach heading into the week. "I was playing great last week, leading up to last week in Hawaii I was playing some of my best golf I played in a long time. And then just kind of didn't play well in the tournament," Hodges said. "Here, there, you can say what you want, but I knew that my game was there to play really well, so just got to try to change a little bit of my attitude, I think that was a big help."
A product of the University of Alabama, Hodges won the 2020 Portland Open in the Korn Ferry Tour's super-season and added 17 top-25s in 37 starts to earn his card. Hodges hasn't necessarily been bad in his freshman campaign, making the weekend in five of seven appearances thus far in the 2021-22 season. Conversely, he's not thriving, either, with just one finish in the top 40 and ranking 166th in strokes gained. Thursday was the first step back into the right direction.
Let us preface this by saying we are not completely confident this is correct. But we're not going to let a little thing like facts get in the way of entertainment.
James Hart du Preez, a 6'10" South African, is making his PGA Tour debut this week. The 26-year-old led the Sunshine Tour in driving distance with a get-out-of-town 373.07-yard average last season, and though altitude factors into those numbers it is still 15 yards longer than anyone else on the circuit. By score it was an inauspicious start Thursday for du Preez, only five players turning in a higher card than his four-over 76. However, if the ShotLink data is accurate, du Preez connected on two drives that crossed the 400-yard barrier.
The first came at the Stadium Course's par-5 fifth, where a 407-yard moon shot left him with just 150 yards and change.

The second missile was launch at the 452-yard ninth, which, according to this illustration, was a bittttt of a foul ball. If foul balls traveled 406 yards.

Those are numbers that make Bryson DeChambeau look like Ben Crane.
Of course, du Preez could have used Crane's iron prowess, losing a whopping five shots to the field in approach. The man clearly has the "bomb" part down, though. If he figures out the "gouge," oh baby.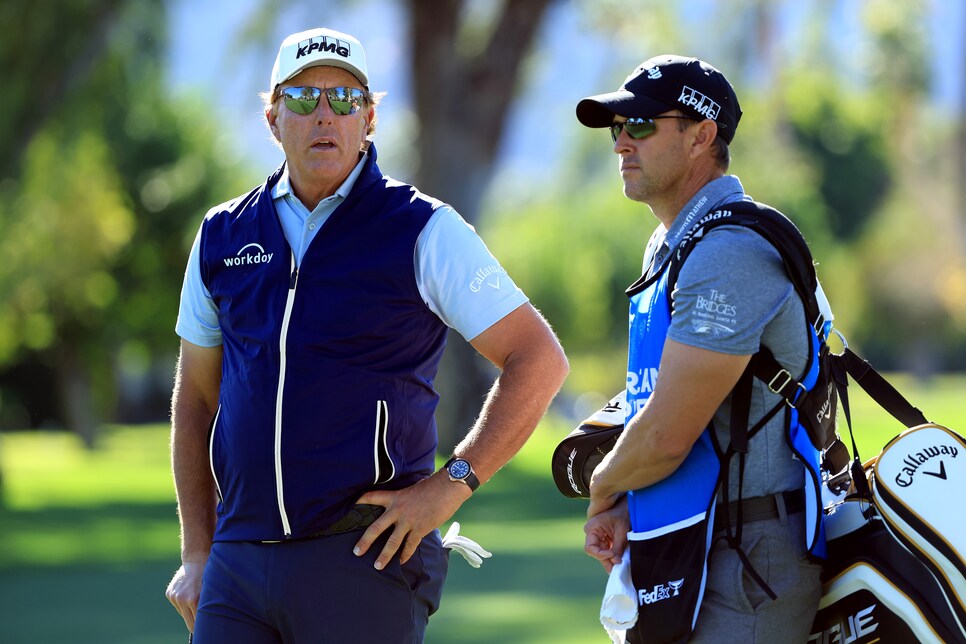 Phil Mickelson has played more than 40,700 holes in his PGA Tour career. On Thursday, he did something that's only happened a handful of times. And it's something Mickelson would like to forget.
At La Quinta's par-4 eighth Mickelson blew two balls out of bounds off the tee and it didn't get much better from there. (We can't tell precisely since, mentioned above, ShotLink data is not available.) But whatever happened was not good, as Mickelson walked away with a quintuple-bogey 9. If that sounds rare, it is, just the 11th score of 9 or higher in Mickelson's career, according to the PGA Tour Comms team.
Mickelson somewhat righted the course on the back, offsetting three bogeys with an eagle and birdie, but the damage had been done, leaving the six-time major champ in a tie for last place at six over. (In 2019, he shot 1 12-under 60 at La Quinta in the opening round.) He has two days to remaining to make a charge, although with his bad round coming at one of the easier of the three tracks, the 51-year-old will need some magic, and need some help.