PGA Tour
Pro hits consecutive shots backward, makes catastrophic 7 on par-3 17th at PGA West's Stadium Course
The good news for Jonas Blixt, who opened with a two-over 74 on Thursday at The American Express, is that he's guaranteed two more rounds with this week featuring a 54-hole cut. Two more rounds are precious for a guy like Blixt, who is playing on a major medical extension and needs to make as many cuts as he can to rack up FedEx Cup points with only so many starts remaining.
However, Blixt might not want to make it to Sunday, because that will mean he'll have to play the treacherous par-3 17th at PGA West's Stadium Course again.
In his opening round, which began at the par-4 10th on the Stadium Course, the 37-year-old from Sweden was the first victim of Pete Dye's second-most famous island green. Blixt arrived at the tee box at one over for his round and left the green at five over after making a catastrophic quadruple-bogey 7, which was partially caught on tape on PGA Tour Live. Hide the women and children, folks:
Back-to-back backward shots, possibly the only relatable thing we'll see all week at what appears to be the tour's latest birdiefest. Who among us hasn't tried something this dumb and ended up hanging their head in shame? The difference here is, Blixt has to finish the hole by any means necessary, while the rest of us can scoop up the ball, shove it in our pocket and say "put me down for a 6."
For those wondering why Blixt just didn't take a drop, the yellow line surrounding the green—a devilish touch on an already devilish hole—means Blixt would have to return to the drop area back by the tee box, as opposed to just dropping it in the fringe and taking a penalty stroke. Instead, Blixt decided it was worth the risk, twice, to try and get it over the lip and onto the green to set up a par or bogey putt. Obviously, he went 0-for-2, then was forced to return to the drop area by the tee box to hit his fifth: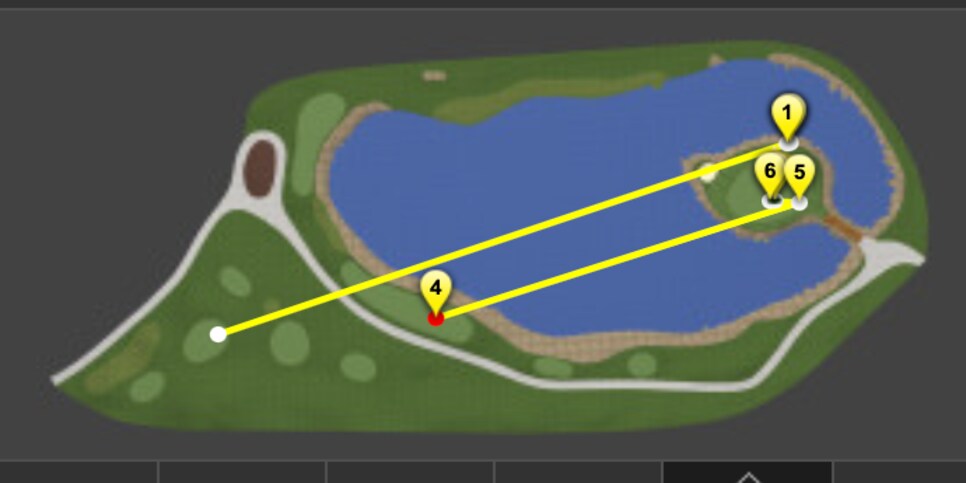 Any time the shot tracker looks like a John Madden telestrator job (RIP), you're gonna have a bad time. Blixt, to his credit, climbed all the way back to two over with a back-nine 33. Now, he'll get the easier two courses on Friday and Saturday in La Quinta and the Nicklaus Tournament Course, where he should be able to avoid any more quads.