News & Tours
Jon Rahm politely (and hilariously) saves interview after question goes sideways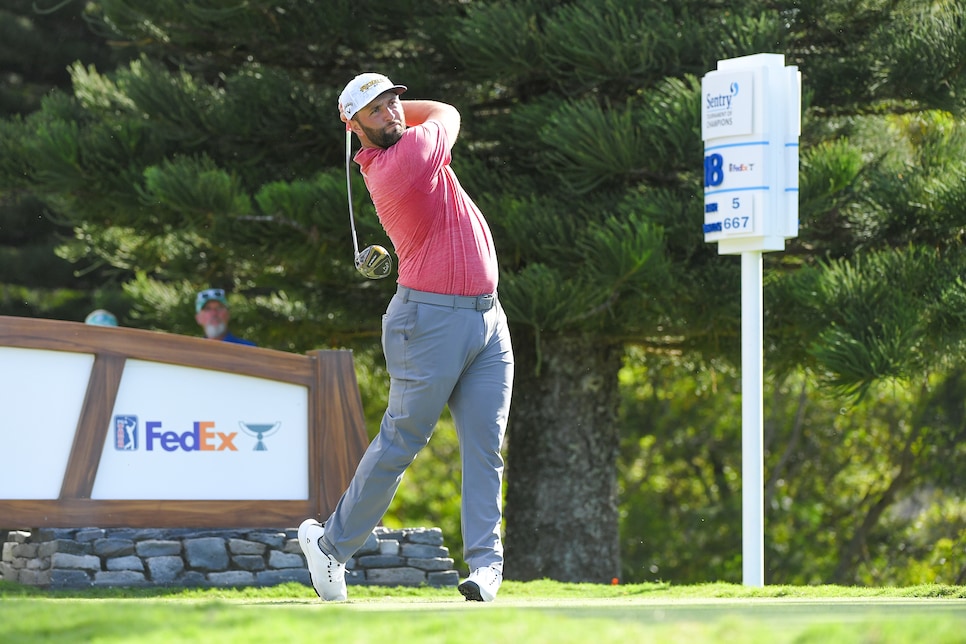 Jon Rahm is racking up so many accomplishments that it's easy to forget the individual pieces that make up the puzzle. Moreover, sometimes writers, like the athletes we cover, are prone to the occasional slip-up.
We say that to say this: Instead of pouncing on a foul ball by a media member Wednesday afternoon at The American Express, Rahm handled an error-filled question with grace and a touch of humor.
The question posed to the World No. 1 ahead of this week's tour stop in La Quinta:
"You used that Ted Lasso quote about trying to be a goldfish. Where are you, like what was the difference between how you felt after losing the playoff here to Adam Hadwin versus coming up one short in Hawaii to Cam Smith?"
For context, the quote is referring to the AppleTV show "Ted Lasso," which details an American football coach taking the reins of a European soccer football club. In one of the program's first episodes, the eponymous character tells one of his struggling players to be a goldfish, one of the happiest animals on earth "because they only have a 10-second memory." During last year's FedEx Cup playoffs, Rahm credited the mantra when explaining his bounce-back mentality coming off a rough finish at The Northern Trust. "Played great golf last week, just a couple bad swings down the stretch, and that's the most important thing to remember," Rahm said.
But the problem lies not in sentence one but sentence two, and on two fronts. Rahm didn't play Adam Hadwin in a playoff at this event in 2018; he faced Andrew Landry. And Rahm didn't come out on the business end.
"Well I won the playoff. Yeah, yeah. So the difference was big," Rahm said with laughter.
At this point Rahm could have deep-sixed the question and moved on. However, to Rahm's credit, he grasped what the interviewer was laying down and stayed with it.
Rahm noted the Lasso perspective still rings true, particularly after beating the previous PGA Tour scoring record by two shots at the Sentry Tournament of Champions yet still finishing in runner-up to Cam Smith in that tournament.
"But from other times that I finished in second place—when I said that I think it was just, I was just trying to be funny, but which, it's just true, I mean sometimes forgetting certain things is good," Rahm said. "But what I meant more is not forgetting but just getting over it, right? Get over yourself. It's that simple.
"You play bad, you did what you did, it's over, move on to the next thing. All you can do from that is learn. Learn from what happened, analyze what you did and move on. And that's it. And you don't want to forget everything, right, because then you repeat the same mistakes over and over again, but I meant exactly that, right, just learn and get over it as quickly as you can, because luckily in golf there's always a next week."
Rahm, who also has a sixth-place finish at this event, goes off Thursday at La Quinta C.C. with Tony Finau at 11:50 a.m. ET.