FIRE PIT COLLECTIVE
Padraig Harrington's win at the U.S. Senior Open is a reminder what a treasure the Irishman is to the game
Editor's Note: This article first appeared in Fire Pit Collective, a Golf Digest content partner.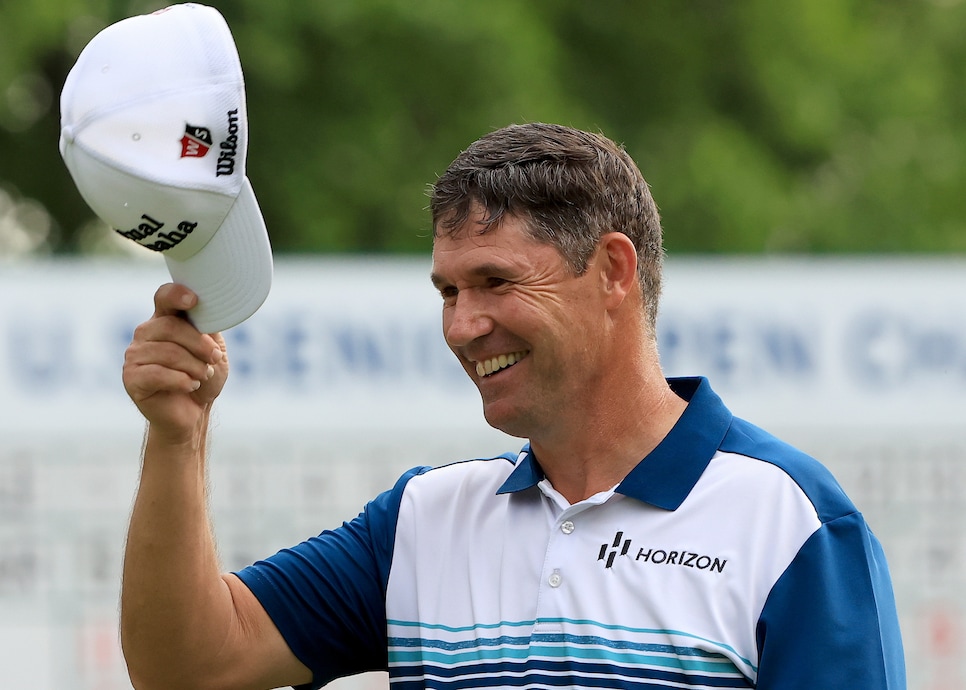 GETTYIMAGES/Sam Greenwood
BETHLEHEM, Pa. — At the risk of wearing out this hit from a current playlist: The painful beauty of professional tournament golf lies in the adventures a golfer endures on the way to the bottom of the 72nd hole. That has been true for a hundred years and then some. Who can forget Walter Hagen at the '22 Open Championship at the notorious RSG? Went around in an even 300. The installments have been coming steadily ever since.
Which brings us to Sunday. In Gee Chun by a shot at the LPGA Championship at Congressional. (Nice!) Xander Schauffele by two at Hartford. (Dude!) And then there was Padraig Harrington at Saucon Valley at the U.S. Senior Open. (Paddy!) He managed three white-knuckle cross-country two-putts on 70 and 71 and 72 to win by a shot over Steve Stricker.
Your yipping correspondent, watching from close range, could barely breathe, so wracked with anxiety was he.
By the way, at one point in the tournament Harrington had a six-shot lead (just as Chun led by seven and Schauffele led by five).
Stricker posted 9 under early, after a stunning 65 on the par-71 Old Course at Saucon Valley, which features three 18-hole courses. After a birdie on 15, Harrington rode 10 under from 16 to the house.
Maybe you saw the billboard on your way to the airport:
Tournament golf. Makes you feel alive. Pass it on.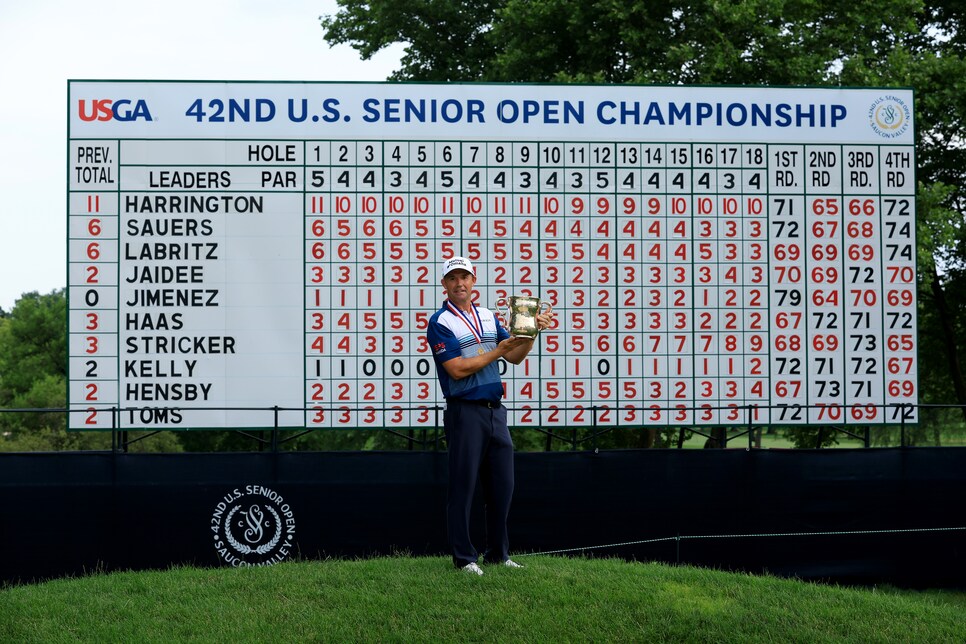 This question comes to you from one of our new sponsors, Twilight Zone Golf Queries, makers of fine golf trivia questions:
Q: We all know that Phil Mickelson, at age 50, won the 2021 PGA Championship at Kiawah. Name two 2021 Ryder Cup captains who also made the cut in that championship.
A: Padraig Harrington (Europe) and Steve Stricker (United States).
Yep, Harrington finished three shots behind Mickelson. Stricker finished 10 shots behind Mickelson. Harrington's T4 at the Ocean Course got him into this year's Masters. Mickelson did not play in this year's Masters. He didn't play in the U.S. Senior Open at Saucon either, though a spot awaited him.
"I wish Phil had played here — I would have liked to have the chance to try to beat him," Harrington said on Sunday night, Sharpie in hand, signing country-club flags, as winners are always asked to do.
Here's a foursome of great golf talkers active in the game today: Paddy; the Fire Pit's own Geoff Ogilvy; natural-born talking genius Colin Montgomerie; and (by his own admission) Phil his own self. Maybe you remember Mickelson in the CBS booth with Nick Faldo and Jim Nantz at the 2020 PGA Championship: "Thank you, it's nice to be here. There are three things I do well: play golf and talk golf."
As for Harrington, the Golf Writers Association of America threw a party when he was announced as the European Ryder Cup captain. His thing is not the quip, although he has delivered a steady stream of those. (Years ago, at the Masters, a Scottish amateur in the field said to him, "Would you sign this for me mum? You're her favorite golfer." To which Harrington said, "I would have thought that you are her favorite golfer.") Harrington's main thing is the long, discursive nuanced answer.
Below are some questions I posed to Harrington after his win at Saucon and his responses, with some speed-and-style editing. The questions were posed at Harrington's USGA press conference, while walking to the USGA winner's reception and later, in a manly Saucon Valley pub with a Ping Pong table and, on Sunday night, an engraver.
Q: It's hard to believe that only 13 months ago you finished three shots behind Phil Mickelson at the PGA Championship. So much has happened in golf since then, with the Ryder Cup and all the rest. Does it seem like forever ago?
Harrington: You remind me — the Ryder Cup. It would have to be Steve Stricker chasing me down. Steve, give me a break, please!
Steve's a tough competitor. Certainly he seems to have one on me over the years. So it's nice to get one back on him this time.
It's only been 13 months since that PGA? Wow. I had a lovely partner, Shane Lowry, at the PGA on that Sunday. He's a great partner to play with. Gene Sauers was excellent to play with today. You'd be surprised how much that makes a difference in how well you play on a Sunday, if you get a nice group, somebody you're very comfortable with. Gene was very nice to be with, as was Angel, his caddie.
Thirteen months and a lot has gone on in that time, no doubt about it. As they say, "Interesting times is a curse." Something like that.
Q: I know this question is a little crazy, but if you took you and 155 guys from last week at Brookline and brought them here this week, and had them play the exact same golf course, do you think anyone would shoot lower than 274?
Harrington: I would think so, yeah. But I would have shot lower than 10 under par if the other guys were here. I wouldn't have been defending. I would have been attacking. I would have shot lower. If there was somebody out in front of me, I think I would have shot lower.
But if you put a field of those young guys out there, the depth is very strong. You fancy your chances playing one-on-one against a player, but when you're playing one against 155 of those young guys, they're pretty good when they're on form.
Q: Did you ever hear Seve say there is nothing harder in golf than playing with a big lead?
Harrington: Some players are good with a lead. I never, ever felt comfortable out there. It's easier to be one shot behind with nothing to lose. I can get it done, but it's no fun when you always have on your mind not making mistakes.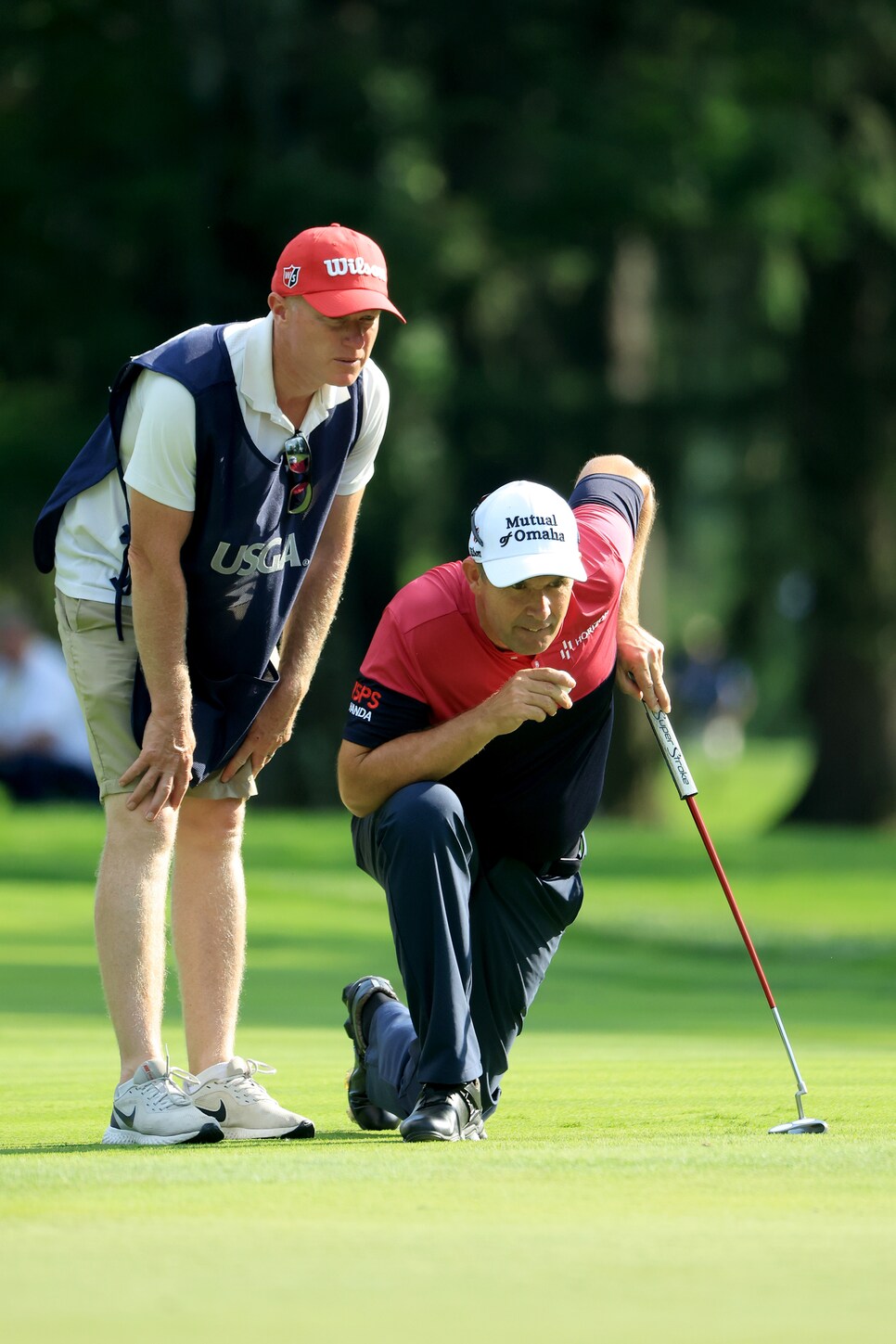 Q: Are you worried at all that LIV Golf could hurt Champions Tour golf, that you could have golfers like Phil and, years from now, Sergio and Dustin Johnson and others who will never play on the senior tour?
Harrington: I hadn't thought about it like that. We've already seen what the LIV money has done to the U.S. tour. What my main concern is what it will do to the European Tour. You wouldn't want to see it become a second-tier tour. But it could have an impact on the Champions Tour. Phil could have played here this week. But he played last week in the U.S. Open and now he has a LIV event this week. I wish Phil had played here—I would have liked to have the chance to try to beat him. It would have been good for the tournament to have him here.
By the way, Harrington's win paid him $720,000. Not exactly chicken scratch, though sixth place at the LIV event in Portland this week will pay $800,000. On Sunday night, Harrington was not focused on the size of his payday, although it's one of the largest of his long career. He was looking at the trophy, named for Francis Ouimet, and coming up with the names of golfers who have won two or more British Opens and a U.S. Senior Open, as he has.
"Let's see. Gary Player. Jack Nicklaus. Arnold Palmer. Lee Trevino. That's pretty good company. No Tiger!"
Woods has the British Opens—three, in fact!—but he won't be 50 until the 2026 U.S. Senior Open. I could see him turning the senior triple crown—the Senior PGA Championship, the U.S. Senior Open and the Senior British Open—into a thing.
One more thing from Paddy Harrington as a warm, still Sunday night settled in at Saucon. This was to a group of club members and USGA officials:
"I think the highest compliment I can give you is this: I'd like to bring my friends back here to play golf."
That implies a lot of things, and one of them is this: The guy likes playing golf.