Honda Classic
Padraig Harrington wishes he'd warned Rory McIlroy about chasing distance: 'It's a bit of a Pandora's box'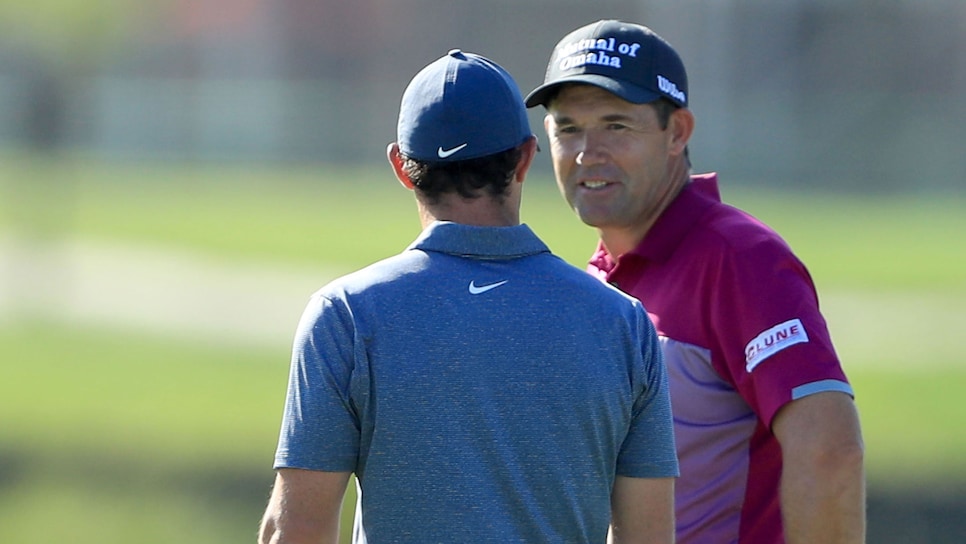 Rory McIlroy and Padraig Harrington played together three years ago at the 2018 Honda Classic.
David Cannon
After missing the cut last week at the Players Championship, Rory McIlroy acknowledged that his swing has been off since going down the distance rabbit hole beginning last fall because of the success of Bryson DeChambeau. It was a telling admission by the four-time major champion and former World No. 1, who was already one of the longest hitters in the game, B.D. (before DeChambeau).
But it's also something another Irishman can relate to.
"It's not like I haven't done it myself, so I'm not going to sit here and pass judgment on him," Padraig Harrington said Tuesday at the Honda Classic. "I've chased distance every day of my life. The one thing I'm obsessed about is chasing distance. It's something I started doing when I came out as a pro."
Two years after turning pro, Harrington averaged 273 yards off the tee in the three PGA Tour events he played in 1997. That would have been good enough for 46th on tour. Currently, the 49-year-old is averaging 297.6 yards this season, which ranks only 79th best on tour.
Along the way, Harrington has won 15 titles on the European Tour and another six on the PGA Tour, including three majors—back-to-back Open Championships in 2007 and 2008 and the 2008 PGA Championship. The latter two also came the same year he reached a career-high No. 3 in the Official World Golf Ranking.
But things haven't always worked out that way for Harrington. Between 2009 and 2013 Harrington won just once. He also fell outside the top 100 in the World Ranking and then outside the top 200.
"It's a bit of a Pandora's box you get into," Harrington said. "And I see the guys getting into it. I could see Rory getting into it. I talked to Rory about it, and I have to say I didn't … I couldn't have said I warned them away from it, but certainly I would have talked to many players and just said, 'Look, you're going down a road that you might have to go down, you might want to go down, you might make that mistake yourself.'
"I suppose it definitely has cost me at times. There's no doubt about it. I'd be looking at speed and focusing on my training at times more than just being mentally sharp at tournaments. So yeah, there was definitely a downside, and I see the addiction of chasing speed and I see the problem of if somebody, not young guys, medium-aged guys, go out there … if you're chasing speed and you hit a good drive down the fairway, you're very happy, but you're standing there thinking, 'I wonder could I hit it five yards farther, I wonder what speed that was, I wonder would it have been this or that.' "
Which is admittedly where McIlroy has found himself in the last handful of months. Outside the top 10 in the world for the first time since 2018 and winless since the fall of 2019, McIlroy has struggled to recapture the form of that year when he won four times, claimed the FedEx Cup and was named PGA Tour Player of the Year. In his last 10 starts dating back to the CJ Cup at Shadow Creek last October, he has four top-10s but no wins and has rarely contended. When he has, he has faded on Sunday.
"Where it all stems from, probably like October last year, doing a little bit of speed training, started getting sucked into that stuff, swing got flat, long, and too rotational," McIlroy said. "Obviously I added some speed and am hitting the ball longer, but what that did to my swing as a whole probably wasn't a good thing, so I'm sort of fighting to get back out of that.
"I'd be lying if I said it wasn't anything to do with what Bryson did at the U.S. Open. I think a lot of people saw that and were like, whoa, if this is the way they're going to set golf courses up in the future, it helps."
It can also be a seductive trap, however, according to Harrington.
"The field doesn't have to worry about one guy," he said. "Bryson obviously is a good player, a great player, so they do have to worry about him, but not excessively about his length. Obviously in five, 10 years' time there's going to be 10, 20 guys hitting it like that. I wouldn't like to be a young guy coming out on tour who didn't have a lot of speed because if he wants to compete on tour for the next 10, 15, 20 years, at some stage he's going to have to hit it up there because there will be, as I said, 10, 20, 30 guys doing it.
"But you don't have to do it right now. At the moment 180 [mph] ball speed is plenty good enough. Rory has that easily. He's the best driver of the ball in the game."
Or at least hopes to be able to say that again soon.