Strategy
Open Championship 2022: The least sexy shot in golf could decide who holds the claret jug at St. Andrews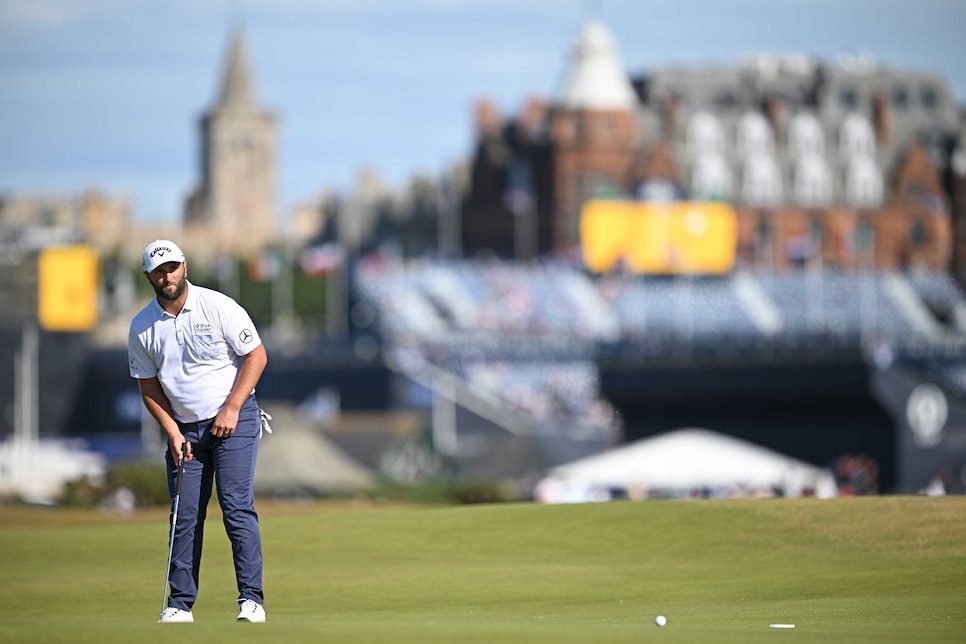 Jon Rahm putts during a practice round prior to The 150th Open.
Stuart Franklin/R&A
ST. ANDREWS, Scotland — It was Saturday evening, shortly after dinner, when Tiger Woods went out for a walk around the Old Course alongside Justin Thomas, putter and wedge in hand. There are many subtle points to ponder from the practice in the gloaming, but the most relevant has to do with the choice of clubs.
Much has been spoken about what scoring might be like at the 150th Open Championship. Speculation among some is that the most historic course in golf could yield record-low numbers. The firm-and-fast conditions at St. Andrews this week are different from the most recent times the Open has come to the Home of Golf, and have already challenged the players in distinct ways as they prepare for the test ahead.
"I think a lot of experience comes from playing here enough, but I don't think you ever see it in these conditions," Jon Rahm said when speaking at his Tuesday news conference ahead of the championship. "So even when people have played in the past, you're hitting different shots into the [greens]. The greens are reacting different. It's still a learning process when it's playing this firm."
No doubt to achieve those low scores—or any numbers that can challenge for the claret jug—players will need all parts their games to be on point. But perhaps more so than in 2000, 2005, 2010 or 2015, the 2022 champion golfer of the year at St. Andrews will need to master the art of the least sexy part of the game.
"You're just not used to having to putt from 30-plus yards from week to week," Jordan Spieth, 2017 Open champion at Birkdale said, "and you might have five of them in a round out here."
Spieth knows from experience. During the final round of the 2015 Open at St. Andrews, he was one shot off the lead when his tee ball found the green on the par-3 eighth hole but ended up roughly 100 feet from the hole. Spieth proceeded to hit his birdie attempt too firm, and his ball rolled off the green. Three more putts later, a double-bogey 5 cost him immensely as he would eventually finish one stroke shy of getting into a playoff won by Zach Johnson.
Such unusually long putts are courtesy of the Old Course and its own unique characteristics. Accounting for the seven double greens that are in play, the average size of the greens at St. Andrews is more than 22,000 square feet. Splitting the double greens in half and accounting for the other four single greens, the average size for the equivalent of 18 holes is still a massive 13,500-plus square feet. By comparison the average size of a greens at an American course is roughly 5,000 square feet.
Factor in putting from off the greens, and putts from great distances are something players have been accounting for in their preparation.
"If there's anything that I'll be doing specially [in practice], it will be lag putting," Rahm said. "You can hit greens and you can be really far away from it, so making sure your touch is there is very important. I've seen enough interviews and enough highlights to see if you can avoid three-putts here, you'll be putting from easily 40 yards away. If you can avoid three-putts, it's going to be a huge bonus."
Adjusting to the green speeds is also a priority. Scottie Scheffler, the Masters champion and World No. 1, is playing for the first time at the Old Course. During practice rounds, he's observed the firmness of the greens, and their slightly baked hue, but says that he's still training himself to what that equates to in terms of how hard he has to hit his putts.
"I think most of it is see, feel, and try and then you kind of get adjusted," Scheffler said. "Most of that is because of the green speeds. When we see browned-out greens like they are now in the States, they're usually running like a 13 or 14. Here they're a 10."
Indeed, the R&A put out a notice that the greens are running at 10.1 on the Stimpmeter. It's a number officials hope to remain at throughout the week.
"What I've done most of the time this week is just try to get on the greens and get around them and hit as many different shots as I can because it's so different than what we're used to," Scheffler said. "At the beginning of the week, I was kind of still popping the ball in my stroke, like they were smaller. So at home, if I take it back this far to hit a putt, here I would have to take it back this far so my rhythm is still the same
"At the beginning of the week, I was still only taking it back that little bit, and I was kind of hitting it instead of rolling it. Basically what I did was just get out there and get adjusted and just kind of get my mind in tune to the slower green speeds."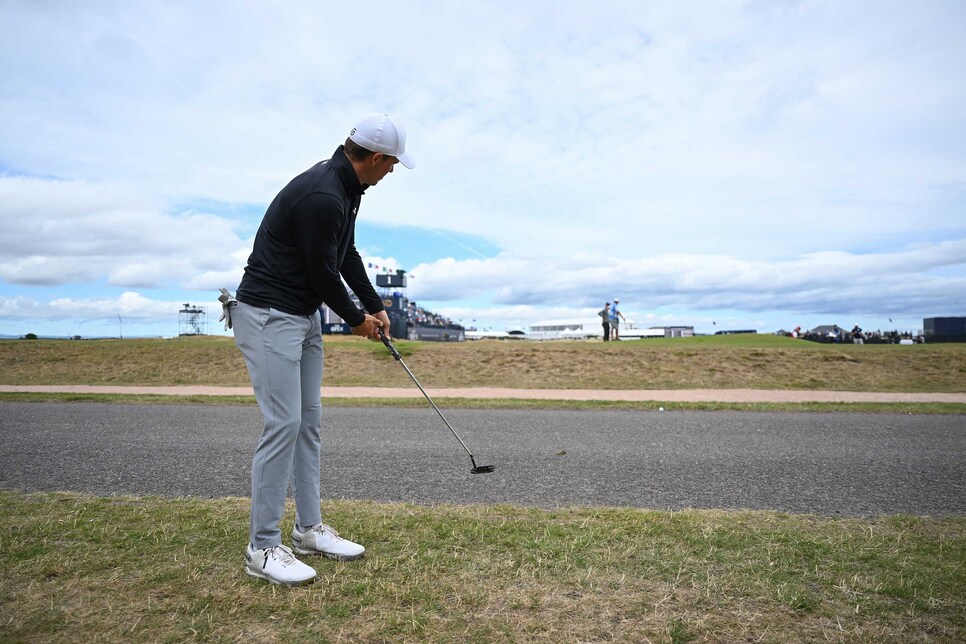 Jordan Spieth putts across the road on the 17th hole during a practice round prior to The 150th Open.
Stuart Kerr/R&A
The trickiest part of lag putting isn't necessarily gauging the speed, but rather the wind. The forecast mostly calls for manageable breezes in the 8-12 mph range with gust up to 20 mph. But if things pick up, it adds to the arithmetic—and to the psychological burden.
"You just have to have grace," Spieth said. "You have to give yourself grace because you can hit a putt with the exact same ball speed two different putts, and depending on which wind hit it, they can be 10 to 15 feet away from each other. You can have a one in 10 shot that would have been perfect, you could have five short and five long. And the more you become frustrated by it the next one becomes exponentially harder."
Which brings us back to Tiger. Since coming to St. Andrews to play in the Open for the first time as an amateur in 1995—this will be his sixth start at the Old Course—putting has been something Woods put a priority on, engrained from conversations with the likes of Jack Nicklaus, Lee Trevino and Arnold Palmer. The stroll this week with Thomas was nothing new, and more premeditated than coincidence.
"I stay at the Old Course Hotel, and I've gone out and putted a lot at 9 at night," Woods said of his past time at St. Andrews. "I just go out to one of the greens, and I just putt."
Woods isn't quite sure how he'll be playing some shots around the greens, practicing a little of everything—bump-and-runs, nip-spinners and the old-school putting from off the greens to keep things on the ground.
"The fairways, I think right now, are faster than the greens," Woods said. "So it's funny, when you hit some of the chip shots and some of the bump-and-runs, you have to allow more speed early, then play for breaks when they hit the green."
Woods infamously didn't have a three-putt en route to his historic victory at St. Andrews in 2000. Which means that, among other things, he was fully in control of his lag putting. Any player who can come close to repeating that feat in 2022 will have done a long way to adding his name to the claret jug.
MORE OPEN CHAMPIONSHIP 2022 STORIES FROM GOLF DIGEST